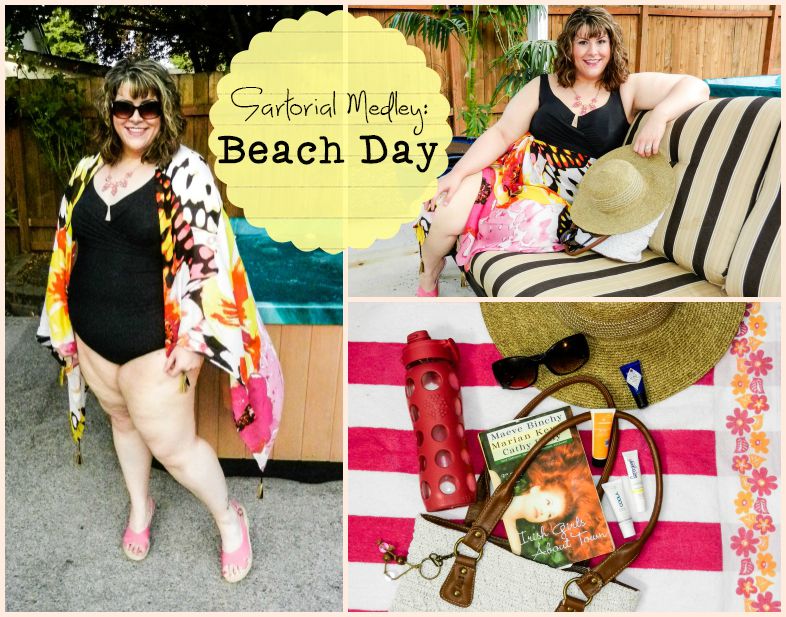 Today's post is a long time coming and a big accomplishment in my personal self-acceptance and self-love journey. I'm nervous and excited at the same time. This month's Sartorial Medley theme challenge is Beach Day, which gives me the opportunity to finally take this plunge. (
pun intended
)
While I don't see a beach trip in my near future, it was fun putting together a beach-worthy look and enjoying some sun. Enjoy the post and check the bottom of the page for how
YOU
can participate in this month's theme as well!
I've spent over a year thinking about doing a swimsuit post, but doubting I could ever bring myself to do it. I haven't worn a swimsuit since middle school, which was roughly two decades ago. Before my honeymoon in 2008, I bought this swimsuit thinking I would finally shrug off the confines of hating my body and wear it to the beach in Maui. But Aunt Flow had other plans, making it so I just couldn't don my first swimsuit in years. I haven't really had any other beach opportunities to attempt to wear it.
And honestly, I'm pretty nervous. I got my first blog troll this past weekend - an absurd and unoriginal comment aimed at my body. It was so off-base that it didn't really bother me much, which was great. But I have been planning this swimsuit post for a month and suddenly second-guessed myself. Unfortunately creepers, trolls, and perverts are a hazard of this job...and really a hazard of being a woman...on the internet...and fat. Nasty comments are not right, nor are they okay. But I know when I put myself out there, I know as more people read my blog, I am more likely to be found by the ignorant population. I don't have control over their ignorance, their opinion of me, or their reaction to me. Most of those people just want me to censor my voice and to police my body because of their own hang-ups and insecurities. I spent a majority of my life censoring my voice with everyone around me policing my body. That time is over.
It fires me up and gives me that extra confidence to do what I do. Your body is not shameful. It has gotten you this far. You should treat it with love and respect. Accepting it and loving it doesn't mean you never want to change it. Maybe you do and maybe you don't. It's okay. Accepting your awesome body is the first step to freedom. Let's celebrate!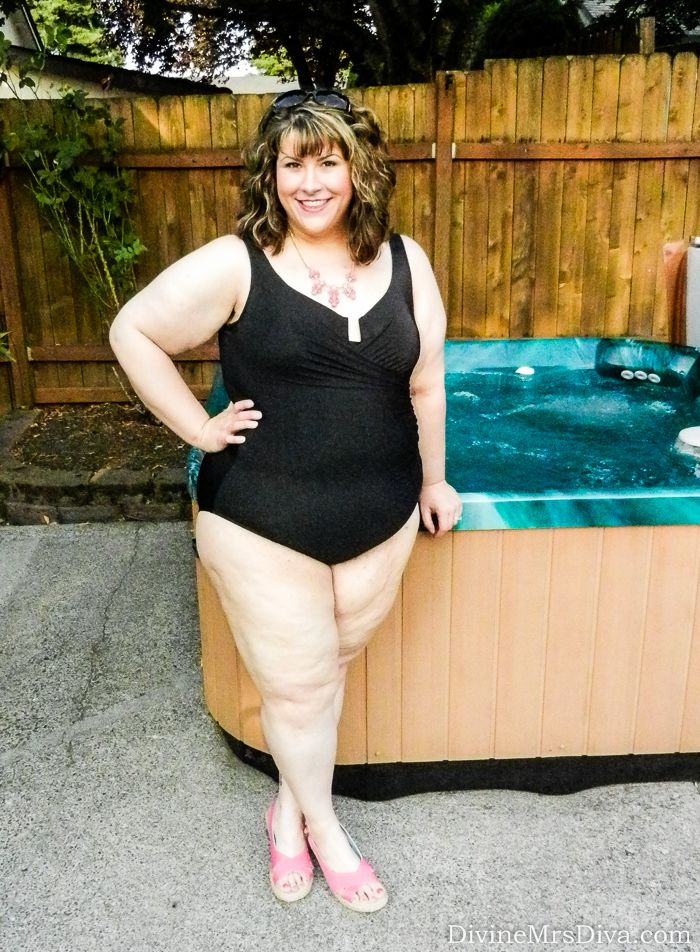 While this swimsuit was bought in 2008 from
Lane Bryant
,
Miraclesuit
continues to make similar styles and are found in a variety of stores. This particular style is the Escape. It has ruching at one side and a cross-over in the middle of the bust. There is a little low-cut notch, with padded cups inside. I am wearing a 24 and find it to be a very comfortable fit. (
My measurements are 52/50/59.
) The suit is well-made, smooths me out a bit, and contours my curves really well. It made me so happy when I bought it because I didn't think I could actually ever like the way a swimsuit fit me.
My only issue is a common one on this blog: the bra cups are really big. I wear a B-cup and these are easily Ds. It actually isn't really noticeable visually, nor does it feel weird wearing, until I sat down. Because I don't fill the cups out completely, the middle can lean out just a bit. It isn't crazy, but it is worth mentioning. Miraclesuit is an expensive brand, but investing in a great swimsuit was really important to me. It fits great and feels comfortable on, giving me some smoothing and structure. I firmly believe it is worth every penny!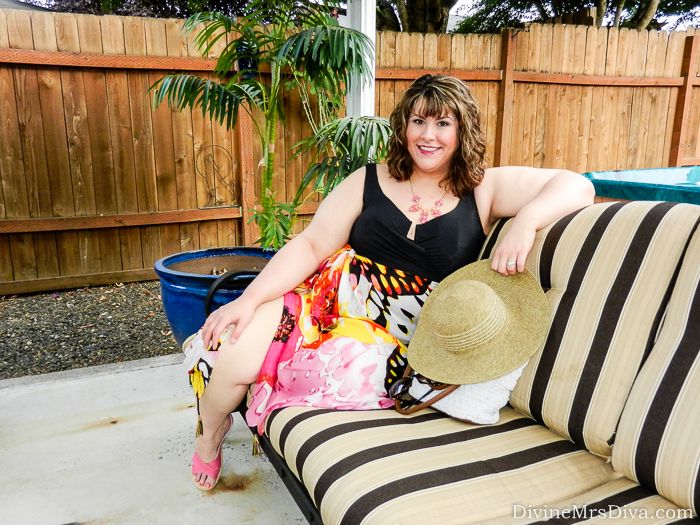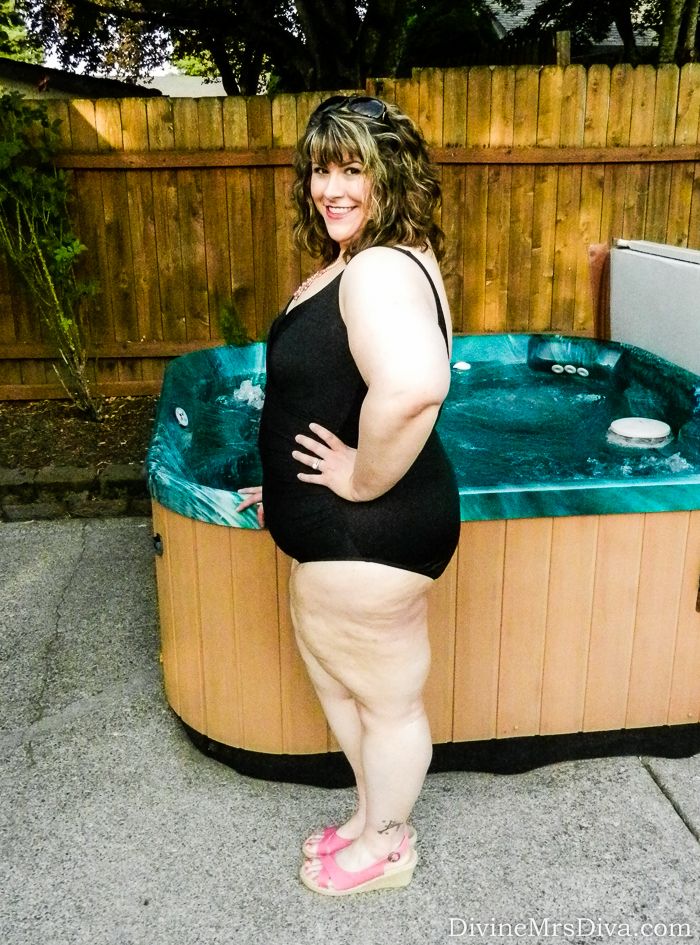 I also have a pink swimskirt I bought on clearance from Torrid, probably in 2008. It is comfortable and fits well and provides a little coverage of the top of the thighs. If you prefer to be more covered up, find a cover-up you adore. They make so many cute ones now - from giant scarves you can wrap in different ways to pretty kimonos to cute dresses in a knit material that can double as a regular dress. I'm wearing this butterfly-printed scarf from Lane Bryant as a sarong. (They have this style of scarf in turquoise and orange right now.) I appreciate how big the scarf is, which allows you to tie it in multiple ways. Not only do I adore the color combo in the scarf, but I love the butterfly pattern as well. The butterfly is a symbol for the thyroid because they have similar shapes. Since I no longer have a thyroid, I have been quite drawn to butterflies as a symbol. I stayed with pink for my necklace and shoe choice, rounding out the look with my trusty sunglasses and beach hat.
MiracleSuit Escape One-Piece Swimsuit
- MiracleSuit via Lane Bryant
Butterfly Floral Scarf - Lane Bryant (
similar
)
Pink Jewel Statement Necklace
- Dressbarn
(also in blue, red, green
)
A-Leigh Linen Slingback Wedge
- Crocs via Amazon.com
Pink Swimskirt - Torrid (
similar
,
similar
)
And what's packed in my beach bag?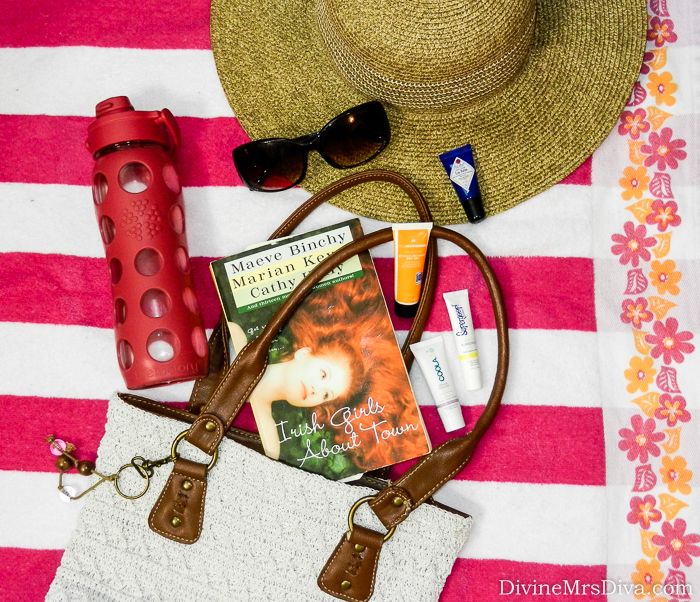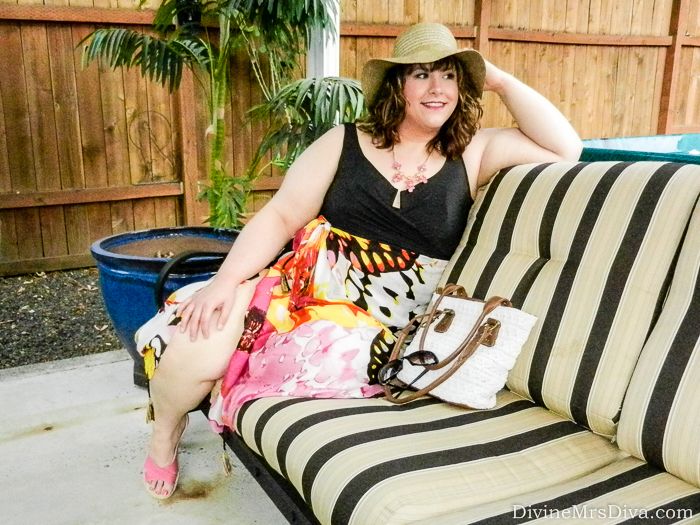 Sartorial Medley is a monthly themed fashion post hosted by myself and Aislynn of Aislynn's World. (Did you miss the previous posts? Check them out!) We welcome participation from anyone, regardless of your dress size. Email me your photo and link to your blog post - diva (at) divinemrsdiva (dot) com.
To participate, even if you don't have a blog, just Tweet/Instagram/Pinterest/etc. your photo with #SartorialMedley to be featured in the blog post. We can't wait to see you rocking your outfits! (Follow me on Twitter/Pinterest/Instagram @DivineMrsDiva.)
Visit the ladies below to see their "Beach Day" ensembles:
What's your favorite swimsuit or swimsuit brand? Has it been a long time since you wore a suit in public? Do you have a favorite cover-up option or a must-have for your beach bag? Chat with me in the comments!
SHOP MIRACLESUIT and MORE:
Disclosure: This post contains affiliate links.