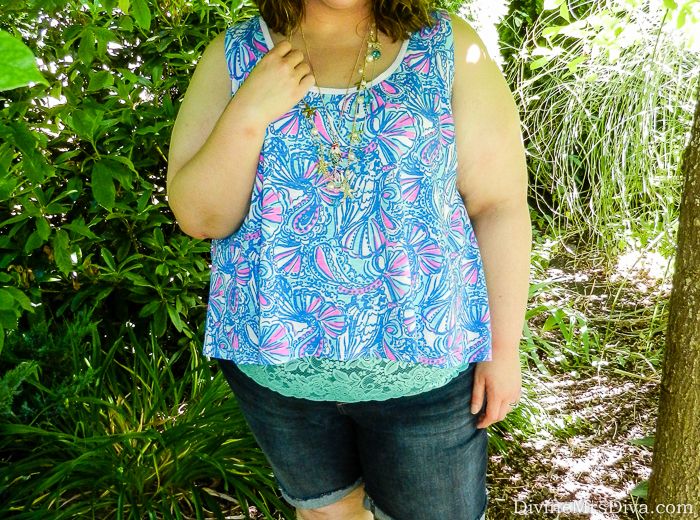 After going roughly twenty-two years without wearing shorts, you may remember that I caved and bought some
last summer
. I am so happy I did!! I pulled them out again this year and have been wearing them a lot. It has just been way too hot for my trusty denim capris. (
You can see some of my other shorts looks here.
) Also, as the weather has heated up, I was finally able to don my one Lilly Pulitzer for Target clothing purchase.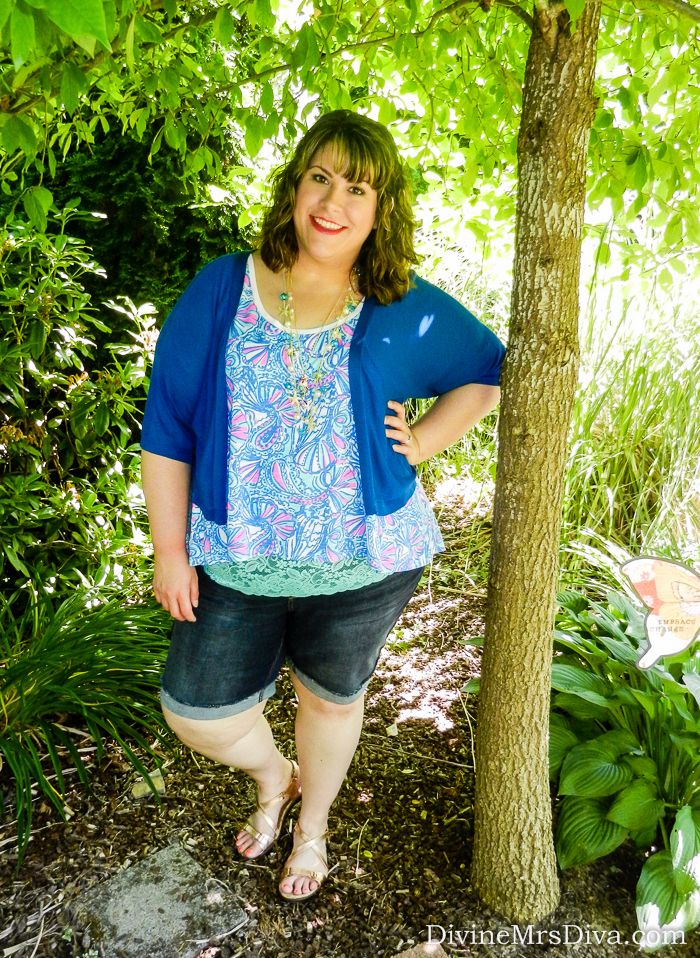 This tank wasn't in any of the plus size clothing previews I saw for the Lilly collection for Target. I just happened upon it during the online launch while I was narrowing down what I actually wanted to purchase. It was a swing tank style, so I knew it would fit. I ordered the 3X, though I could have sized down one for a better fit in the bust.
That being said, this high-low hem jersey tank fits pretty well as is. My main issue with it is the length in the front. I wish it was just a little longer to cover my tummy a bit (and shorter in the back). To balance that issue, I found this lace bottom cami from Lane Bryant in a complimentary color. Some times I think it looks great and some times I feel so-so about it. I think the lace has to stay put in just the right amount.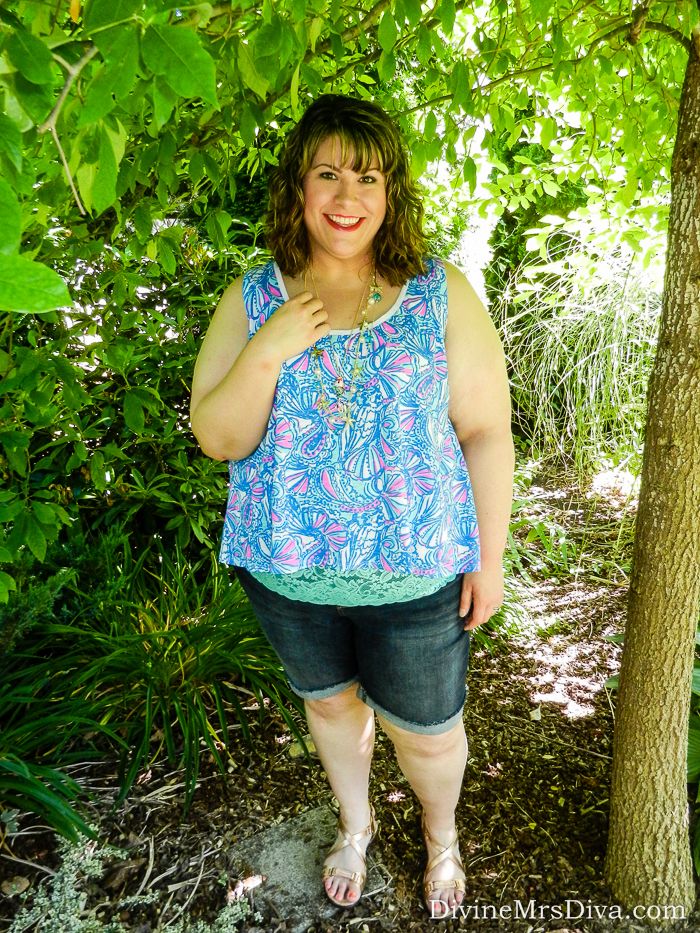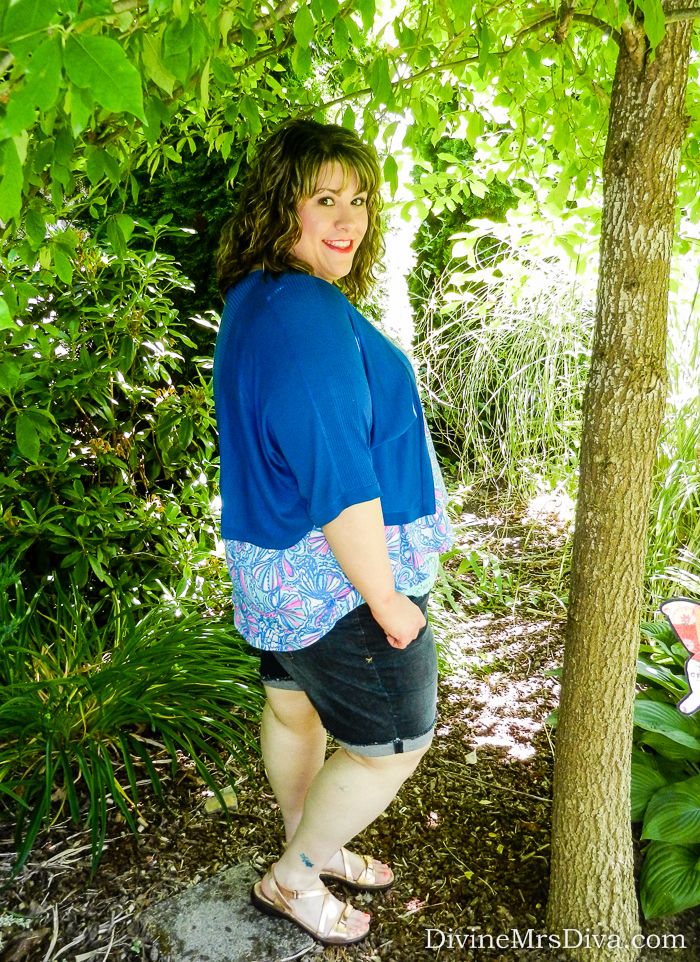 The back upper portion of the top features a crochet lace panel. These features normally get covered up in my clothing because I prefer to wear shrugs. But I like the way the top looks by itself. I did add this dark blue shrug for coverage and appreciate the way it frames the bright pattern. I accessorized with my rose gold sandals and three different necklaces I picked up at a Charming Charlie sale. I just couldn't decide which necklace to wear, so I kept them all! One necklace is silver with turquoise beads, one is gold with starfish and pearls, and one is a gold chain with a bright colored and rhinestone koi fish.
Overall, it is a great warm weather outfit. I love the ease of the swing style of tops and really want to grab a few more. If you are looking for this particular item, check eBay and Poshmark.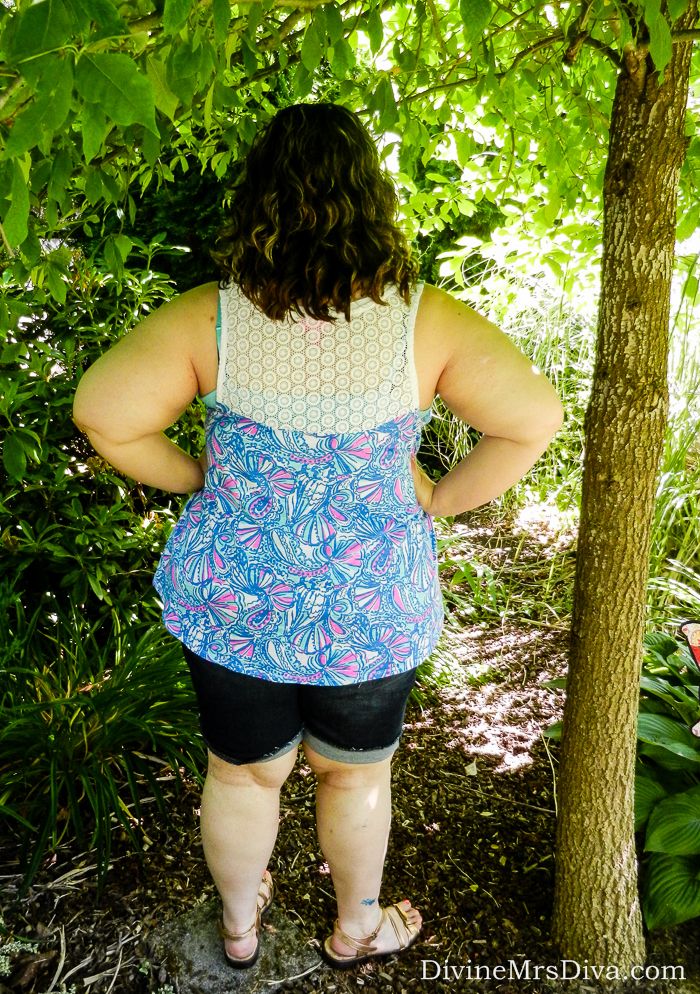 Lilly Pulitzer for Target Jersey Tank - Target
Lace Trim Cami
in Blue Radiance- Lane Bryant
Harborside Shrug
in Dark Turquoise - c/o Catherines
Genius Fit Bermuda Shorts - Lane Bryant (
similar
)
Kylie Sandal
in Rose Gold - Trotters via Amazon
Necklaces - Charming Charlie
What do you think of my layering tops? Did you make any Lilly Pulitzer for Target purchases? Were you happy with what you bought? I'd love to hear your thoughts.
Shop Similar Looks:
Disclosure: This post contains affiliate links.