I adore the outfit in today's post! You may remember this dress from my
Torrid dressing room post
at the end of May. I snatched up a few items from my try-on session right away - this floral dress,
the white embroidered dress
, and chevron soft pants. The pants should be up on the blog in the next couple of weeks, but today I wanted to show off this beauty!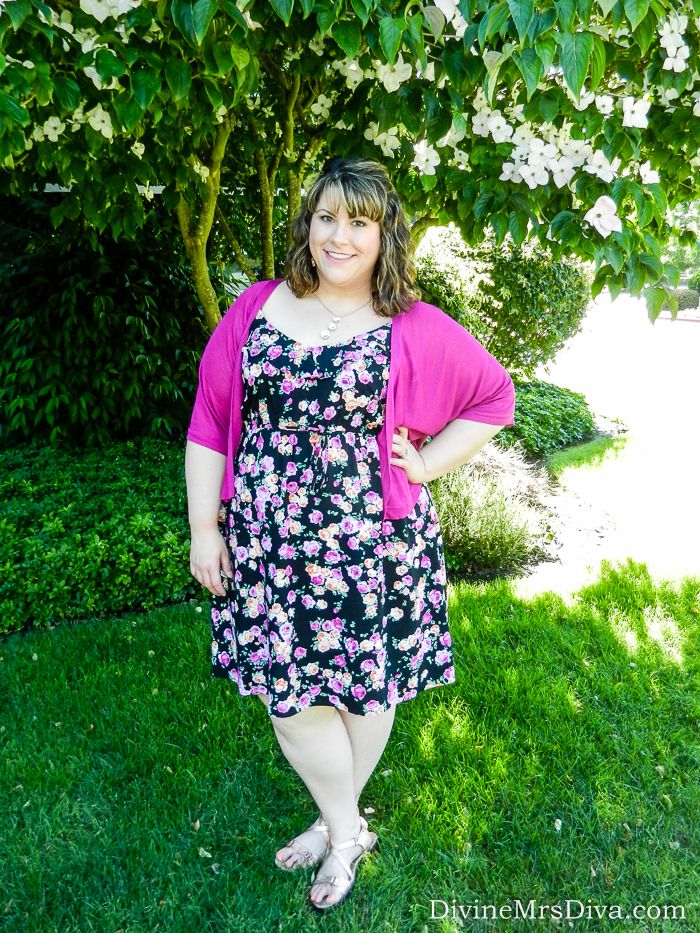 I've always been drawn to this style of dress at Torrid. They have carried it for many seasons now in a variety of colors and prints. However, the easily wrinkled rayon fabric always kept me from purchasing any of the previous dresses. When I saw this purpley-pink and yellow floral pattern, I just knew I had to have it! The colors are vibrant and gorgeous!
I'm wearing this dress in a size 3, which still gives me room in the hips. The hem is just a hair above the knee on my 5'9" frame. Adjustable straps and a drawstring waist make for a more personalized fit. There is elastic at the top of the bodice in the back that keeps the dress in place and gives a bit more fit. I love the ruffle detail at the bust as well. It is just such a lovely feminine look.
The rayon material does wrinkle easily, but at the end of the day it wasn't too noticeable and didn't make me look disheveled. I'm pretty picky about that stuff, so I was pleasantly surprised. I actually ended up
buying another one
with a recent coupon. The rayon is silky and cool against the skin, making this dress a perfectly lightweight, hot weather-ready clothing option.
This shrug is my favorite shrug style from Catherines. They recently introduced this gorgeous pinky-purple color called Neon Orchid and I had to have it! When I saw it online, I instinctively knew it would match this dress. I was
so
right! The color is spot on! It is also a lightweight piece that provides coverage but keeps me cool. Rose gold accessories rounded out my low-key look.
Overall, I am super happy I finally gave this dress style a chance. I am now open to purchasing more in all the gorgeous colors because the fabric behaved much better than expected.
Ruffle Floral Challis Tank Dress
- Torrid
Kylie Rose Gold Sandal
- Trotters via Amazon
Harborside Shrug in Neon Orchid
- Catherines
Bella Rose Gold Necklace and Earrings - Charming Charlie
I wore this outfit out for dinner and dessert to celebrate my mother-in-law's birthday. We went out to
Papa Haydn
in Portland. My scallop risotto was fantastic! Sean and Sharon's pasta dishes were tasty as well, but really salty to me. Keep in mind, I do not add extra salt to anything I cook, so eating at restaurants is always super salty to me. Papa Haydn's is super popular for their gorgeous dessert offerings. Sharon's Raspberry Gateau was dense and chocolatey, with fresh raspberries on top. It was so good! Sean ordered the Mint Truffle Torte, which was minty and refreshing. I splurged on a delightful Banana Coconut Cream Pie! It is a great place to visit for a special occasion or a special evening dessert. (
Our first time here was at the end of May after seeing Phantom of the Opera. My friend Nigel took his niece as part of her birthday treat.
)
Do you own this style of dress from Torrid? I'd love to hear your thoughts on the fabric. Do you have a special place in your town you go for special occasions or amazing desserts? Give me the deets in the comments!
Disclosure: This post contains affiliate links.