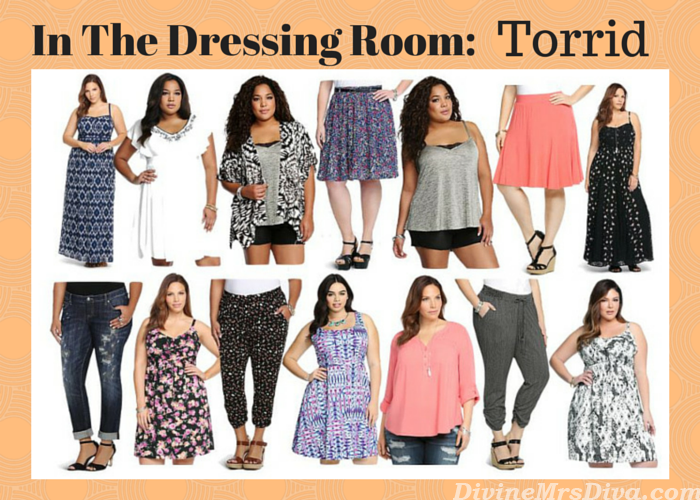 A few weeks ago, my mother-in-law and I went out for a little girl's day of shopping and lunch. We ended up meandering around the mall, so I was excited to stop in to Torrid and check out the latest collections for spring and summer. It ended up being an impromptu dressing room post because I found so much to try on! It was one of those trips where I just wanted to see what was in-store, but I loved almost everything I tried on and wanted to buy the whole store. I really wish I could. I have been obsessing over Torrid's latest offerings. With that said, I present you with my try-ons and thoughts:
Before we get started, I am 5'9", usually wear a size 22/24 and a B cup. My measurements are 52/50/59.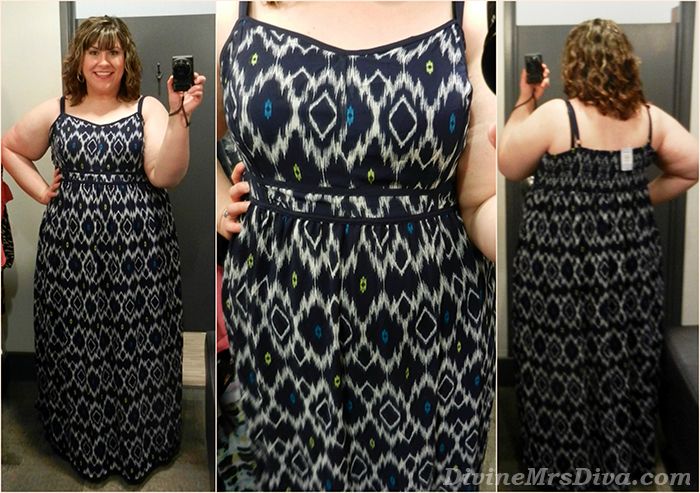 Ikat Print Maxi Dress
(Size 3) -
When the employee who took my items to the fitting room said she was adding something extra in the room that she thought I might like, I got this. I love the Ikat print with little flecks of turquoise. The fit was fantastic from the bust and waist to the length. I'm usually not a fan of the ruched backing because it clings to back fat, but this one looked great. I think the perfect fit of this dress was enough to break up the pattern so it wouldn't require a belt or anything. The fabric is a lightweight chiffon, so the dress isn't too heavy either. One of the straps on this one was broken or I would have seriously considered buying it. I'm still keeping an eye on the website.
Embroidery Flutter Sleeves Dress
(Size 4 & Size 3) -
I'm not one to wear white, but ever since I bought the
great embroidered dress from SWAK
I have wanted more and more embroidery! When I saw this dress, I snatched it up to try it on. The style is really pretty, along with the embroidery and flutter sleeves. I tried it on and just loved it so much! The Size 4 is the two pictures to the left. It fit good but was a tad big, particularly in the back. Thankfully, there was a Size 3 in stock, which is the two pictures on the right. It fit much, much better. I just adored it and definitely danced around a bit in the fitting room area. It just feels so girly and swingy and pretty. You know when a dress makes you feel like you are the main character in some romantic movie? My mother-in-law ended up buying this dress for me as a birthday gift. :-D I haven't worn it yet, hence no outfit posts on the dress, but I am hoping to wear it for my anniversary dinner. PS - It is sold out online.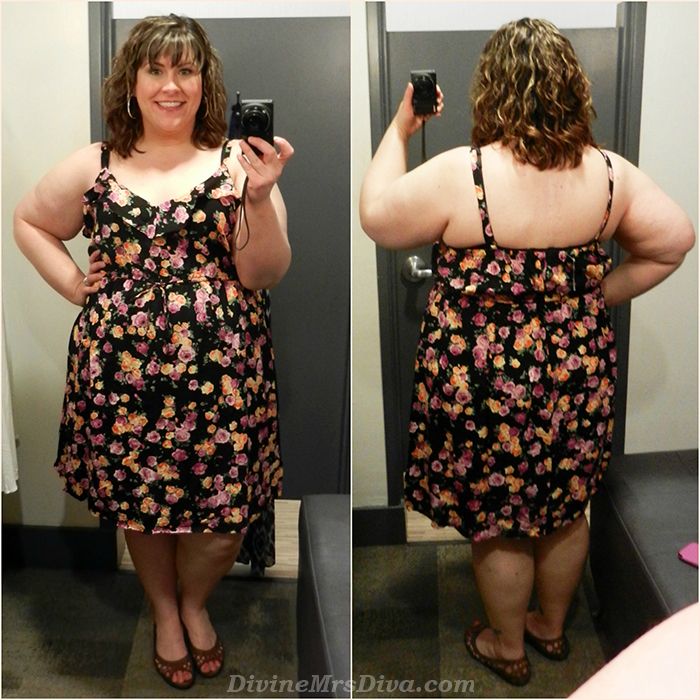 Floral Challis Ruffle Tank Dress
(Size 4) -
Torrid makes this style of dress every season in lots and lots of different colors and patterns. I've always been drawn to the look of the dress, but shied away from them because the rayon fabric can get really wrinkly. However, when I saw this yellow and pinky-purple floral pattern I wanted to go ahead and try it on. This one is in a size 4 and was a little big in the bust and back. The straps do adjust so that bubble of fabric on the upper back is remedied. It is clearly impossible to adjust them once the dress is on...at least for me. The store was out of a smaller size for me to try in this pattern, but I did try a smaller size in a different pattern, preferring the way the 3 fit me better. Sean LOVED this dress on me (
and I really like it too
), so I ordered it from the website when I got home. lol
Tribal Skull Print Challis Tank Dress
(Size 3) -
This is the smaller size of the ruffle tank dress that I tried on when gauging which size fit best. The bust is a better fit and the back looks better, though these photos still show the bubble from the pre-adjusted straps. It looks similar in photos, but I promise it fits better. Because I am so tummy heavy, I cannot always tell by the front fit if the item is too big. Typically it sags a bit in the back waist area when it isn't a proper size for me.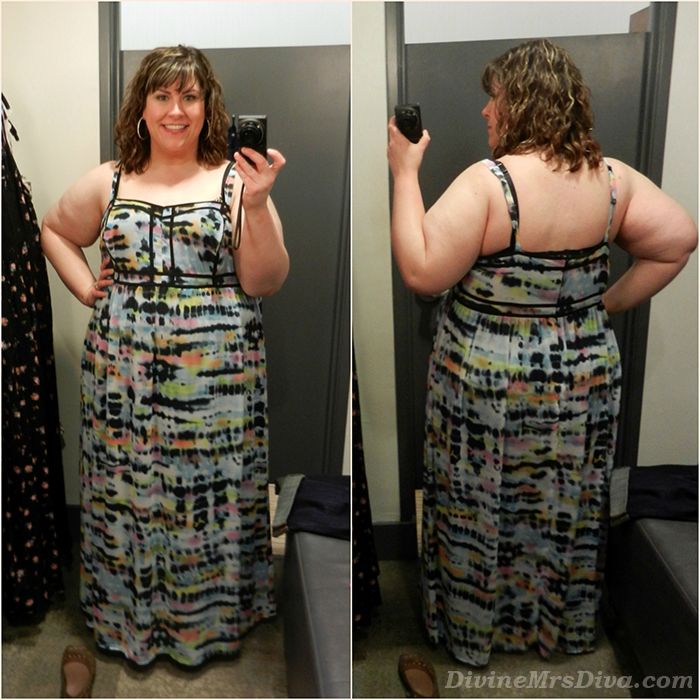 Tie-Dye Maxi Dress
(Size 24) -
I snatched this one up for the colors. I have never been much of a tie-dye girl, but I like the way this pattern includes multiple colors and is broken up with the navy. The piping along the bust is fun and the fit was overall good. The bust seemed almost molded from the way it was sewn together. Because I am a smaller busted gal, there was a bit of room that my boobs just could not fill out. It didn't look bad, but I knew it was there.
Ikat Print Scuba Dress
(Size 3) -
Um, LOVED this one too. The scuba material is lightweight, stretchy, and really comfortable. The blue/pink/purple color combo is so, so pretty in person. It fit really well and y'all know I am a sucker for a fit and flare. I have quite a few dresses in this style, so I opted for the different shapes when I did purchase. This one was high on my list though.
Floral Lace Gauze Maxi Dress
(Size 4) -
Another pretty dress! This one was an interesting mix of floral and lace . I was unsure of it at first, but it looks way better in person than the photos can show. I do wish the lace at the bust let more of the floral pattern through, but I love the way the black lace panels break up the pattern on the skirted portion of the dress. Again, the fit on this one was really great. My mother-in-law actually tried this dress on as well - and bought it! It looked really cute on her too.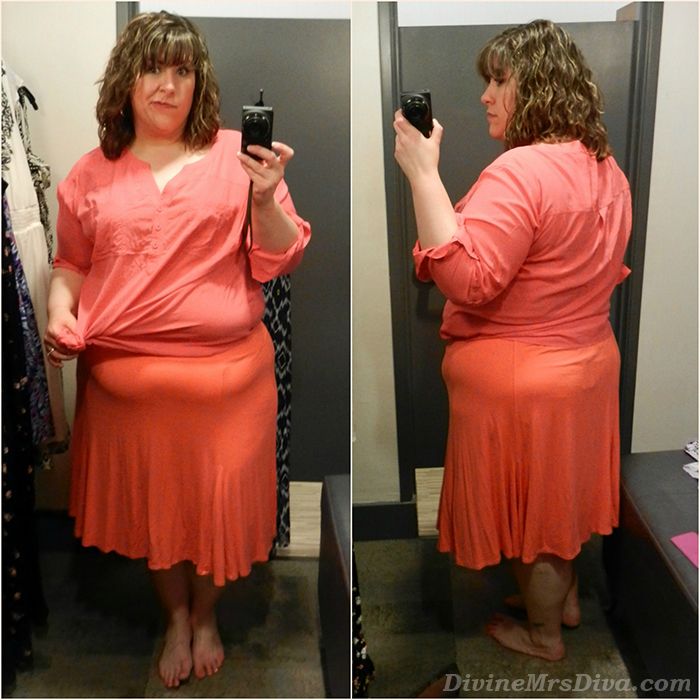 Godet Skater Skirt
(Size 3) -
Loved the coral color of this skirt, but the fit was NOT good. I took it off pretty fast. There have been a lot of these lightweight skirts lately that are cut really tight at the hips. I am not a fan.
Floral Chiffon Skater Skirt
(Size 3) -
This skirt was much better. The fit and length were better and I adore the colorful floral print. I did try this on in a 3 and it was a bit tight in the waist. So much so that it kind of flared out over my tummy roll and butt. I would need to size up so it lays better against my hips.
Lace Trim Cami
(Size 3) -
Gold shimmery swing cami had me at first sight. It isn't cut full enough to be a swing cami on me all the way around. It gets a bit caught up on my butt. Minus the visible tummy roll line on the front, I liked the shimmery fabric, lightweight feel, and pretty lace insert. The length was perfect as well.
Torrid Premium Boyfriend Jean - Dark Wash with Repaired Destruction
(Size 24) -
I didn't expect to love these so much. I usually don't go for overly destructed denim, but since I was trying things on.....These were on the clearance rack and in my size, so I figured "what the heck!?" I don't get in-store to try much Torrid denim on, but every time I do I find jeans I just love. These cuffed boyfriend jeans don't fit me as baggy as boyfriend jeans are supposed to fit. I like that because I don't like baggy jeans. They fit my legs and butt really well. The deconstruction looks a bit obnoxious on the hanger, but it seems more subtle (and a tad sparkly) on the body. I really, really wanted them. But even on clearance, they are still $73 - a good chunk of my monthly budget. So I didn't buy them.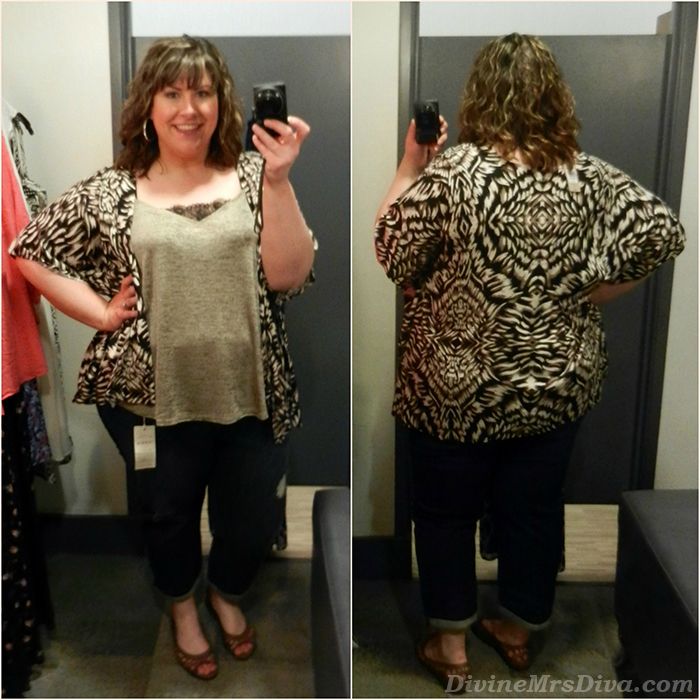 Abstract Zebra Print Kimono
(Size 2/3) -
I was surprised at how much a liked this kimono too. I love the way rayon fabric hangs on the body. It just feels cool and breezy and light and soft. It isn't the best traveling fabric for wrinkle reasons, but it feels good. The length and fit in this smaller size was perfect. This kimono totally matched my hair and made me feel like a badass, for whatever reason. I wanted to buy it too.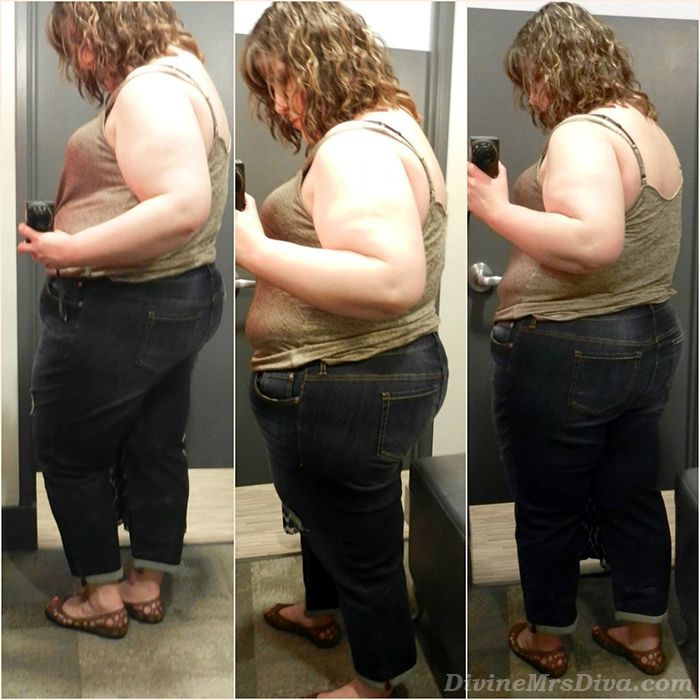 Torrid Ex-Boyfriend Jean
(Size 24) -
The Ex-boyfriend jean isn't online any longer. I don't know what makes it different from a boyfriend jean. It fit me pretty much the same, though slightly baggier in the legs. It was slightly deconstructed in front, with a couple little rips. I prefer the fit of those super expensive ones to these, but these weren't bad. They are a less expensive alternative.
Dotted Chevron Print Crop Harem Pants
(Size 4) -
I wasn't going to try these on, but as I ended up taking pictures for this post I decided to go ahead and do it. I've liked some of the "jogger pants" I have tried on lately. These harem pants fit similarly, with a tapered leg and more relaxed fit in the tummy and thighs. I tried these on in a 4 and ended up liking them a lot. My only issue was what I call "diaper butt", where it gave more weird, lumpy volume to my butt than anyone really wants. Still, I liked the dotted chevron pattern that is subtle enough to be a neutral. The pants are so comfortable (again with the rayon..and spandex)! There wasn't a smaller size for me to try on in the store. After I got home and showed Sean more pictures and thought about the pants, I ended up ordering them online in both a 3 and a 4 so I could better decide what worked or not. They've since come in the mail and I kept the 3, as it was a better fit. The 4 will be returned. The difference in fit in the 3: they are a little bit shorter, more fitted (aka streamlined) in the legs, and not so bunchy in the butt. No diaper butt situation!
Challis Tunic Top
(Size 3) -
I paired the pants with this top in the fitting room because I like the coral color and thought it would be a good "laid back", stylishly slouchy look. I really want to be a stylishly slouchy kind of girl sometimes....but I don't know if I can pull it off. This shirt didn't really help though. I initially liked the fit, but the hem seems really long for the overall look I wanted. Also, the roll tab sleeves just don't stay in place very well. If it fit more like the way it looks on the website model, it would be great. Alas, that is not what it looked like in my reality.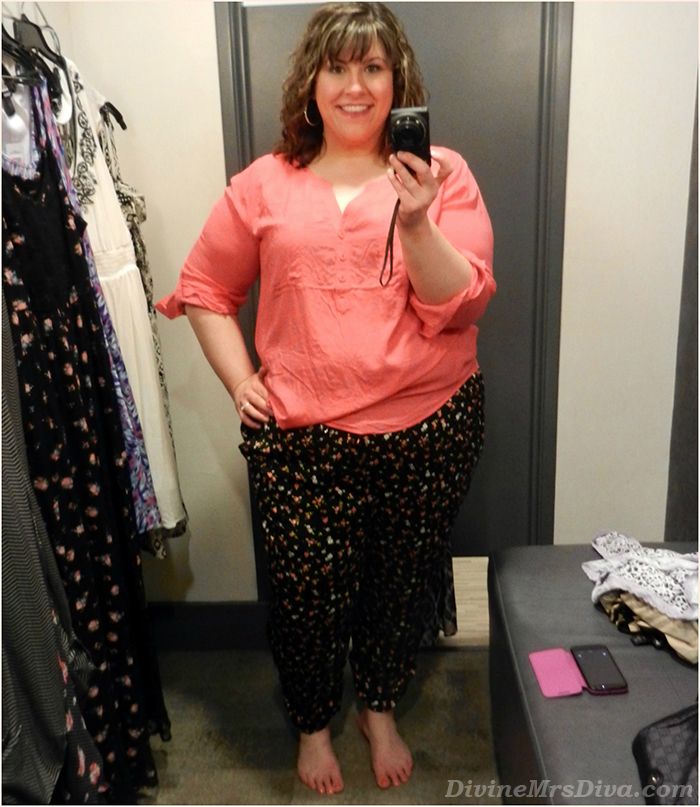 Floral Harem Pants
(Size 4) -
Because I liked the dotted chevron harem pants so much, I decided to try the floral ones as well. I wanted to see if it was the style that was working for me or just the combo of style and pattern. I wasn't feeling these floral pants that much. They looked a little more pajamas or something. Again, fit good, super comfortable, just not for me.
So there you have it. I hope you enjoyed this overview of items and styles. As always, I love doing these kinds of posts for y'all. I love, love, love trying stuff on. It's like a really entertaining science experiment.
What do you think of Torrid's latest collections? Do you have any favorites from this post or items in your wishlist? I would love to know what y'all like or don't like. Have you tried any of these items? Would you rock the harem pants? Do you want to see a dressing room post from another store soon? Give me all your feedback and words of wisdom in the comments!
Disclosure: This post contains affiliate links.