Just when I thought the weather was looking up, it has been rainy and cold a majority of the week. Such is the Pacific Northwest. Last Saturday though, it was sunny and a bit too hot for my delicate nature. Sean and I had a fun day with his mom, hitting up
Crafty Wonderland
and taking her out to dinner for Mother's Day. I decided to wear this floral frock that I recently picked up from Lane Bryant. Of course, maxi dresses are perfect for warm days and this one went great with this month's Sartorial Medley theme: Garden Party.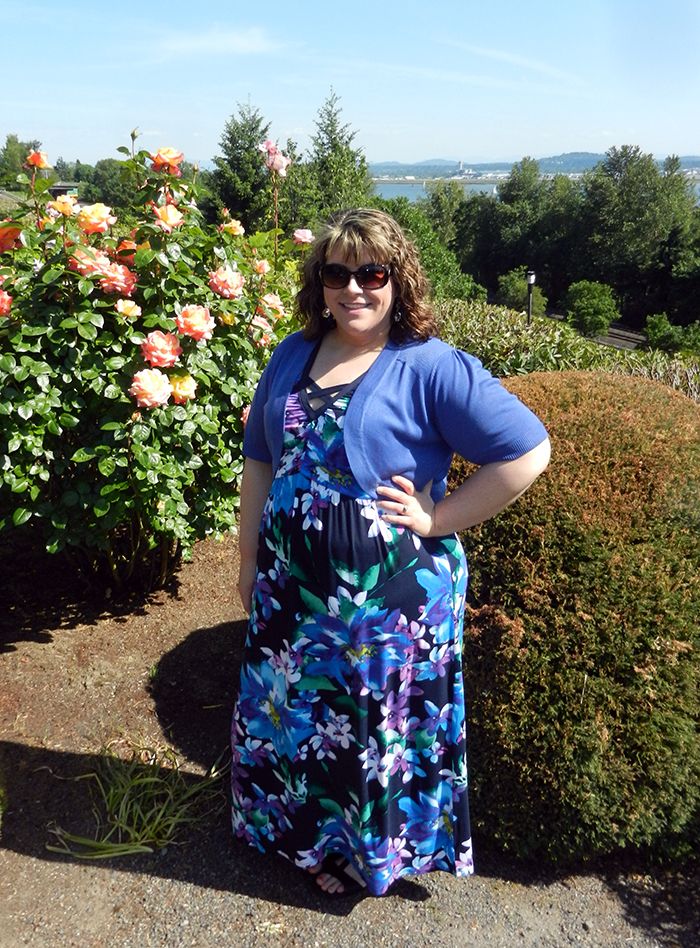 While Sean was busy working on a Saturday last month, I decided to do some shopping and have some fitting room fun. Lane Bryant had a new crop of maxi dresses out and I was only too happy to try them on. I ended up purchasing this one for the multi-hued floral print (
I have a ton of shrugs that will match
) and the pretty criss-cross design that I don't see very often.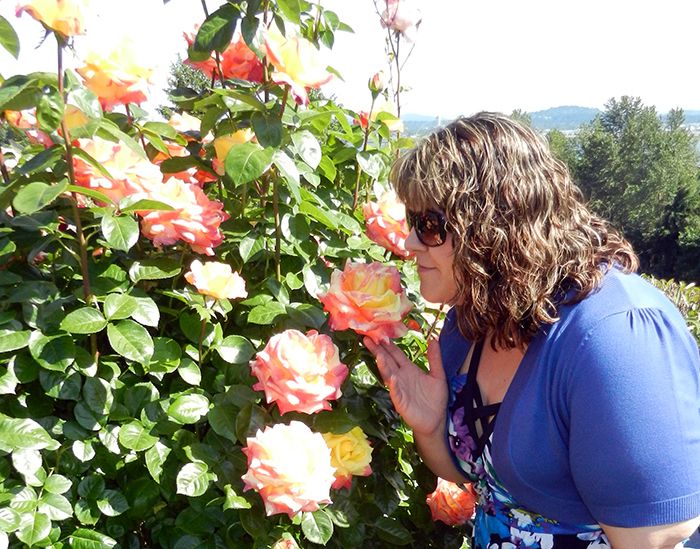 This dress is made from a cool and comfortable knit fabric that flows nicely and feels light and breezy against your skin. The dress has a slightly gathered empire waist, ruching in the middle of the bust, and the pretty solid navy cut-out halter style top. (
The dress online uses patterned material for the neckline and not a solid color.
) I am wearing this dress in a 22/24 and find it to be true to size. The skirted portion isn't cut very full, so it skims my hips and tummy. My small bust could not afford me to size up. At 5'9" this dress falls slightly above the tops of my feet. I receieved lots of compliments on it throughout the day. The purple and blue hues in the floral pattern are just gorgeous. It also has hints of white, green, and deep fuchsia. At my local Lane Bryant, they paired a teal shrug with it and that looked beautiful as well.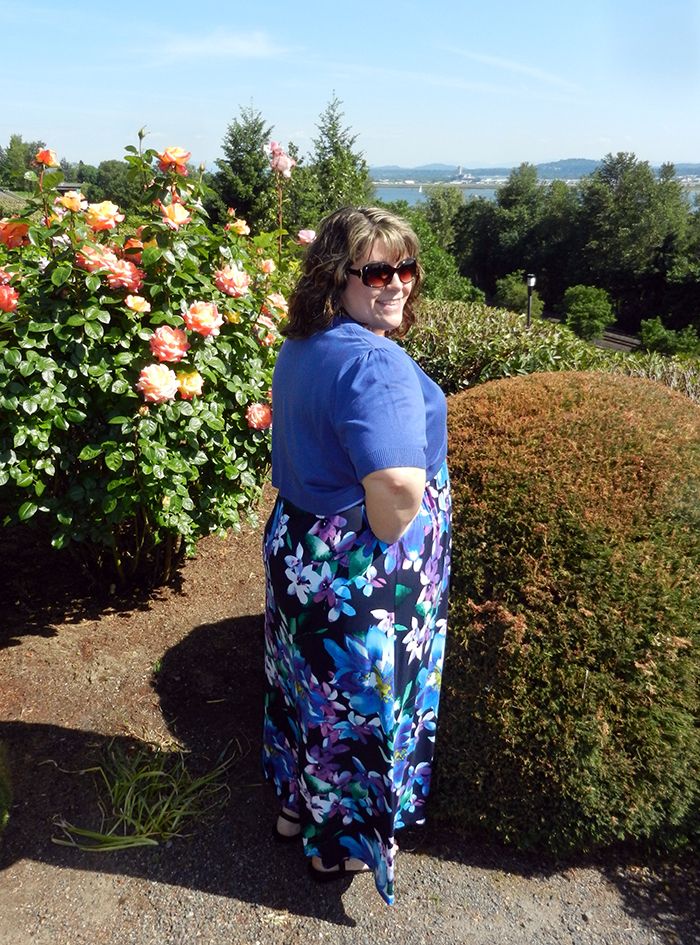 My shrug is an older one from Avenue that just happened to match the purple in the dress perfectly. The shoes are a recent find on Zulily. I've never owned Isotoner shoes that weren't house slippers. The 11 fit perfect and they seem to be incredibly comfortable. If you have larger ankles, you might need to poke some extra holes in the strap. The ankle straps aren't too short for me, but I am wearing them on the last available hole. They are definitely good for walking as I don't feel that vibration of foot hitting pavement. I'm looking to buy another pair!
For dinner, we decided to be adventurous and try a new-to-us restaurant, settling on
Broder Nord
in Portland. They feature Swedish dishes and apparently have a killer brunch. When we stopped in, we decided to have the Smorgasbord, a tasting menu served in the traditional Swedish style. For $25 a person, we were greeted with nine courses of incredibly tasty dishes with some flavor combinations I didn't think would work.
Top row: 1) Kale salad with radishes, fennel, chestnuts, hazelnuts braised in cider, and goat cheese. 2) Cod and potato fritters with aoli dipping sauce. 3) Arugula salad with warm potatoes.
Second row: 1) Fried poached egg with mustard seed, pork belly, and spinach. 2) Fried cauliflower with leeks and maybe beets on top of cauliflower puree. 3) A salad of radishes, pickled rhubarb, granola, yogurt, some kind of fruity thing. lol
Third row: 1) 20 minute roasted chicken that was SO JUICY served on top of a thick piece of walnut bread in broth with bean sprouts. 2) Clams in a creme fraiche broth with pork belly. 3) Swedish meatballs in a sherry cream sauce and lingonberry jam. YUM!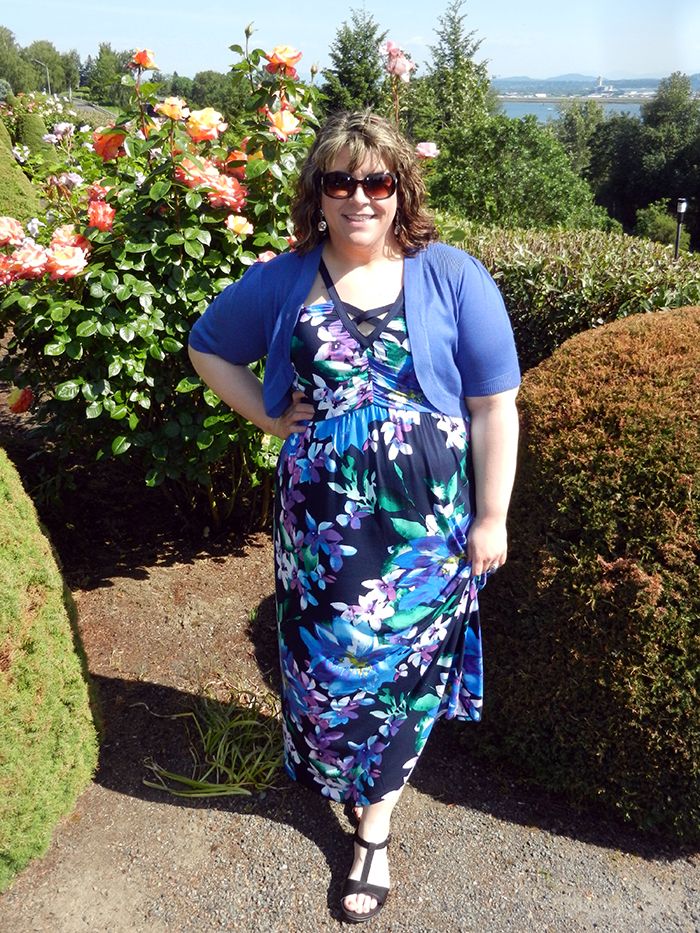 Floral Cut-Out Knit Maxi Dress
- Lane Bryant
Purple Shrug - Avenue
Bella Earrings - Charming Charlie
Black Pippa Sandal - Isotoner via
Zulily
(Also on
Amazon
)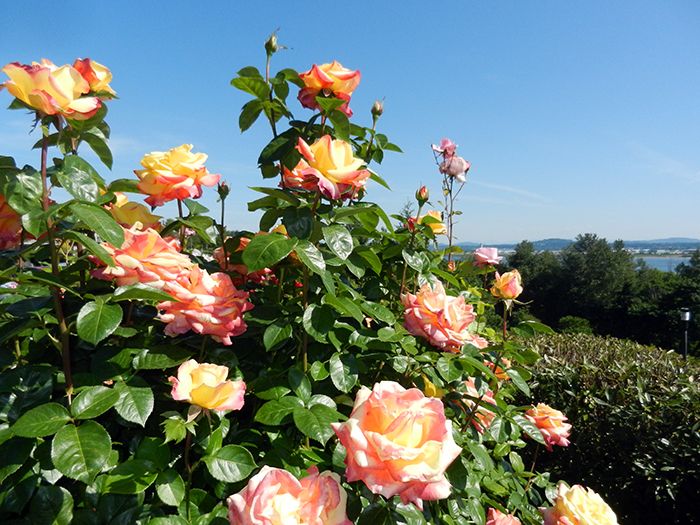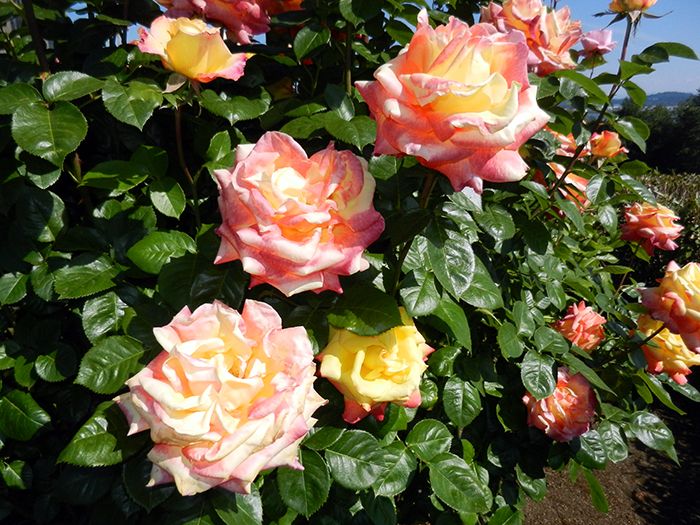 Sartorial Medley is a monthly themed fashion post hosted by myself and Aislynn of Aislynn's World. (Did you miss the previous posts? Check them out!) We welcome participation from anyone, regardless of your dress size. Email me your photo and link to your blog post - diva (at) divinemrsdiva (dot) com.
To participate, even if you don't have a blog, just Tweet/Instagram/Pinterest/etc. your photo with #SartorialMedley to be featured in the blog post. We can't wait to see you rocking your outfits! (Follow me on Twitter/Pinterest/Instagram @DivineMrsDiva.)
Visit the ladies below to see their "Garden Party" ensembles:
Shop similar looks below:
What would you wear to a garden party? Have you tried a new-to-you restaurant or food lately? Let me know in the comments!
Disclosure: This post contains affiliate links.