Welcome to my second post as the
May Style Ambassador
for
Catherines
(sizes 0x-5x)! It has been such an exciting time styling my favorite looks from their latest spring and summer collections. Last week I presented you with
a beachy chevron maxi dress
, just one of many color palettes and styles Catherines has to choose from this season. Today's post is about the dynamic mash-up of classic black and white with a splash of fresh citrus color in bold patterns and beachy palm tree prints alike. This trend can be found in shifts and maxis, tunics and tees, active wear, and skirts, capris, and pants. I love that there are so many options for participating in this trend, no matter your style and preference.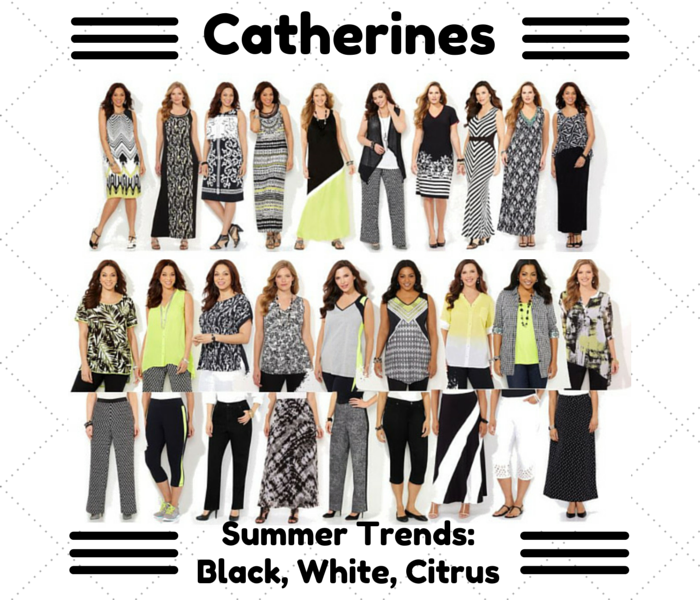 Source: Catherines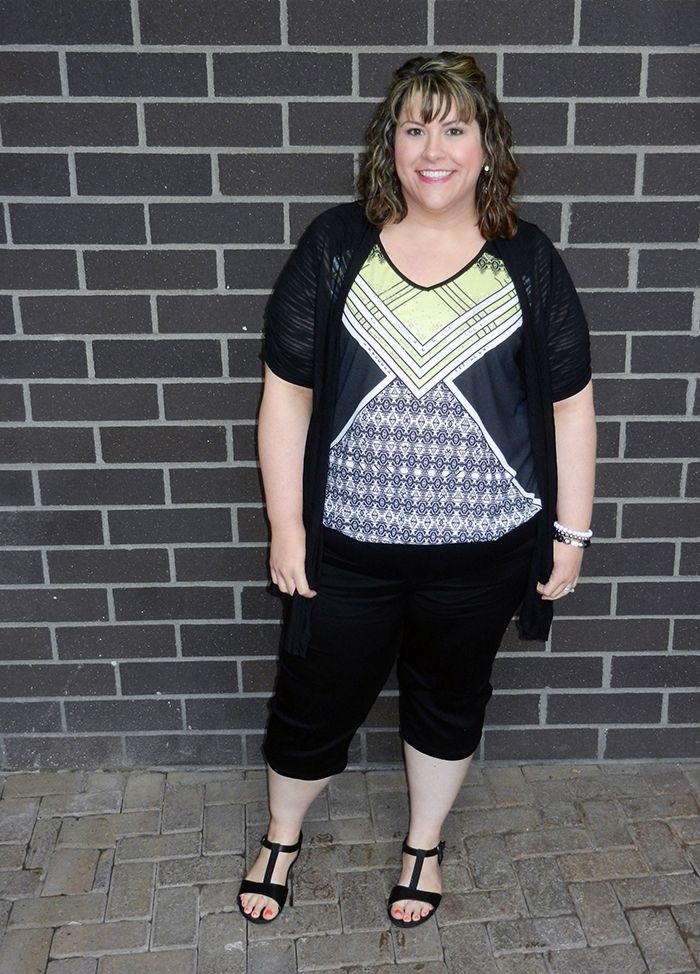 I was pretty hesitant about the inclusion of neon yellow in Catherines recent collection. While I am a fan of the color yellow, I don't remember a time when I wore it as the main color in an ensemble. I wasn't sure if this trend was for me at all. Working on this blog and sharing looks with all of you has really pushed me to try new things without over-thinking it. If I am unsure about how something will look on me, I just grab it and try it on anyway. At the very least, it is an education for us all.
So I must tell you, I was pleasantly surprised with how much I loved these citrus-splashed pieces. The first shift from the collage above, along with the horizontal striped maxi dress, were my other absolute favorites. Still, I thought I could push myself more and try something else that is a bit outside my comfort zone - tucking in a top.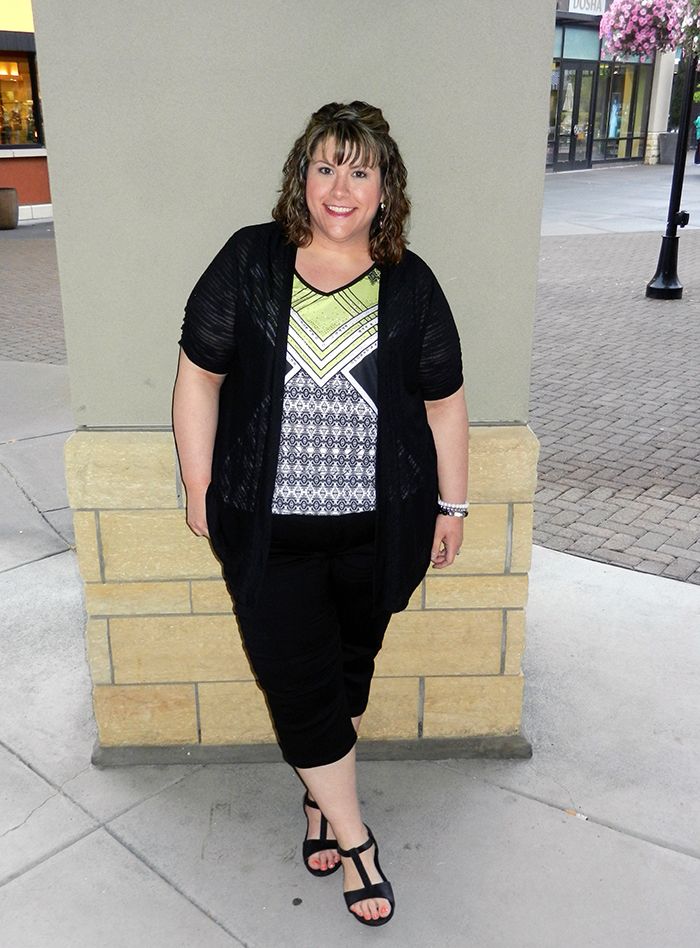 I've always been self-conscious about my tummy roll, so I never tuck anything in. The
Aztec Angles Top
is a tunic length tank that comes to a point at the bottom center of the hem. I loved the pattern-mixing and clean lines of the print, along with the subtle studs and sparkles along the bust and neckline. Because the top is pretty long on its own, I decided to tuck it in and blouse it out. I think it gives me a decent amount of tummy coverage, but still looks comfortable and more sophisticated than just jeans and a tee. Because the fabric is more lightweight, it is perfect for keeping you cool in the summer and isn't bulky to tuck in to pants or skirts. I always take forever trying on clothes because I like to think of all the ways I can wear an item before I choose to buy it. I think I could belt this top, tuck it into a skirt, tie it on the side, etc. I'm wearing this top in a 2x, which is a 22/24 at Catherines. The fit is true to size, skimming my curves as it should.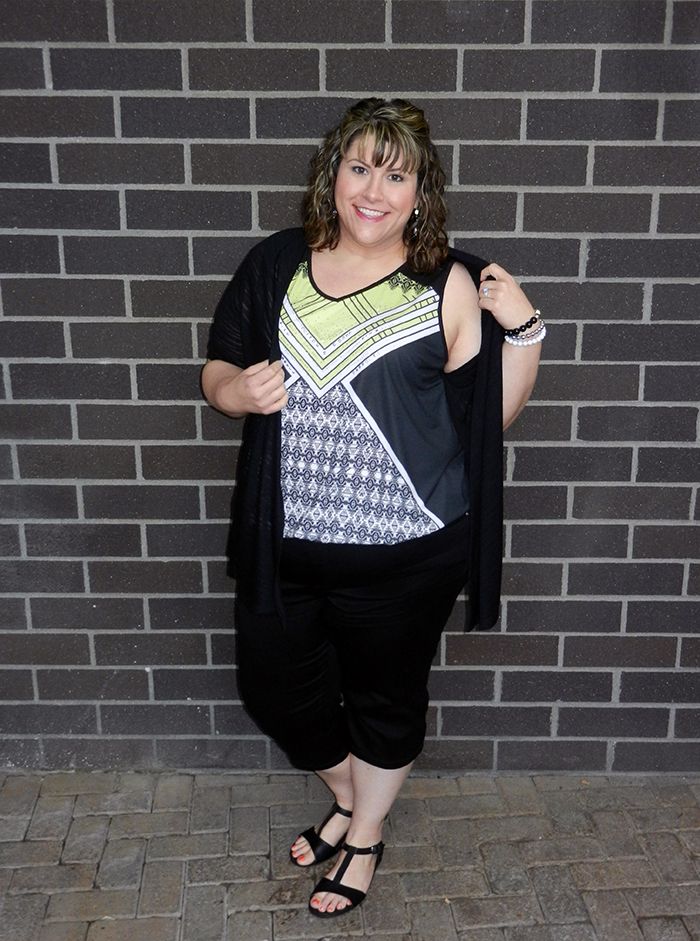 The top itself is tucked into the
Sateen Capri
. These capri pants are so insanely comfortable! They are a poly/cotton/spandex blend with a slight sheen and smooth feel to the fabric. The fabric is stretchy and comfy - almost like wearing a thicker knit legging - but with the structure and fit of capris. My point is - they feel so comfortable you could wear them as pajama pants. I am so glad I tried them on. They did seem to stretch out a bit during my half day of wear, but not enough to make them look sloppy. Still, I think I could have possibly sized down, but my thighs might differ. If you can try on a couple sizes, do it for comparison with the knowledge that they do stretch a bit during wear.
These capris, like many of Catherines capris and jeans, have elastic insets at the waistband. Please don't let that stop you from trying them on. Odds are, nobody is seeing your waistband, so your pre-conceived notions about elastic waists could hold you back from some seriously awesome options. The elastic on these capris are located at the sides of the waist towards the back of the pants. I also tried on some pants that had a concealed elastic waist inside the waistband. The elastic is a lot more comfortable, but it also allows for a better fit that adheres to your shape instead of having the infamous back waistband gap.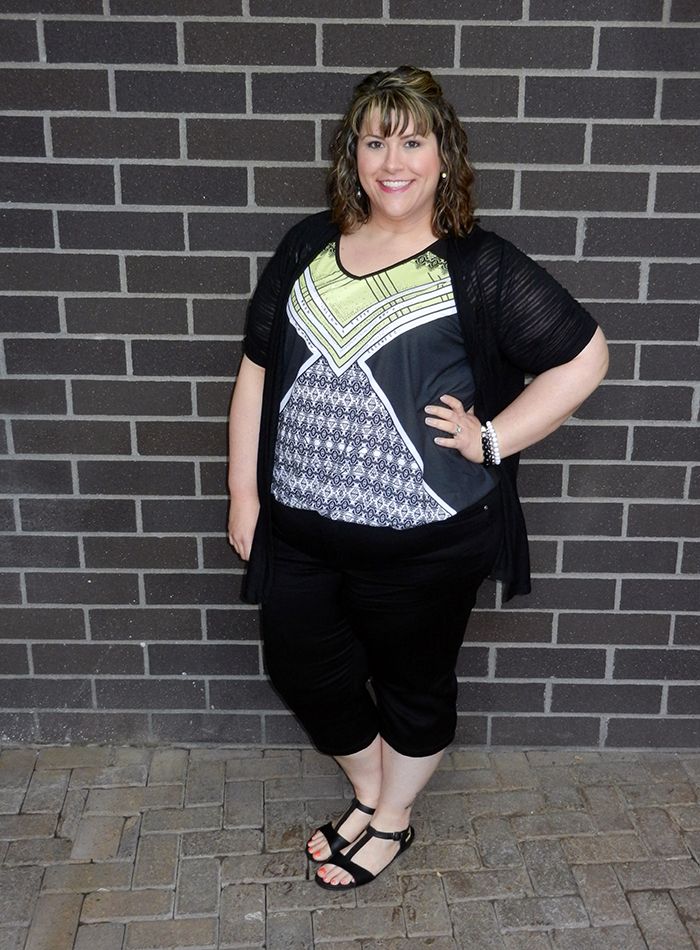 To top off the look, I added the
Southshore Drape Cardigan.
I chose this cardigan for its length and lightweight feel. Since I knew I was tucking in the top with this look, I wanted an over-piece that would cover the top in the back and give a long, seamless look. This cardigan is also slightly see-through, with subtle lines that mimic the lines in the top. The sheerness lets the pattern of the top show through and keeps the all-over black ensemble from looking too heavy. The short sleeves are a great length for summer. I am wearing this cardigan in a 2X. The fit is spot on, but I wish I had sized up just to have a little more room in the arms. It isn't a huge deal or anything that takes away from the piece, but I did find that I had to pull the sleeves down throughout the night. If they were just a little bigger, I wouldn't have that issue.
As I mentioned in my last post, Catherines carries coordinating jewelry that mixes and matches well with their current collections. You can put together a complete head-to-toe ensemble with no fuss! I opted for the
Tribal Terrain earrings
and
bracelet set
. The earrings are a small dangly pair with beads of shimmery yellow, black, and silver. The bracelet set features three elastic bracelets - one of white beads, one of silver beads, and one of black, silver, and yellow beads. They really pull together the whole look and give that thought-out presentation of an ensemble without you having to try too hard. I also find that coordinating jewelry can really dress up a casual look or simple silhouette.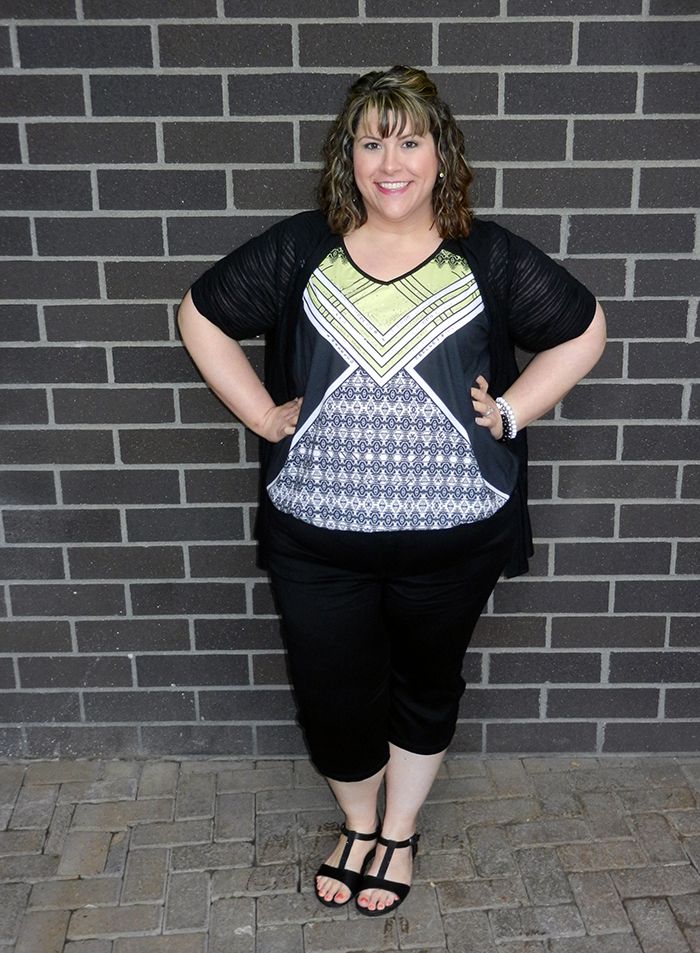 Aztec Angles Top
- c/o Catherines
Sateen Capri
- c/o Catherines
Southshore Drape Cardigan
- c/o Catherines
Tribal Terrain Bracelet Set
- c/o Catherines
Tribal Terrain Earrings
- c/o Catherines
Black Pippa Sandal - Isotoner via
Zulily
(Also on
Amazon
)
I wore this outfit out for my birthday on the 12th. Of course, it was cold and rainy, so I had to get creative with outfit photos. We walked around the
Clackamas Town Center
and headed to Dave and Buster's for dinner and games! This was my first trip to Dave and Buster's, so I was super excited. We played a ton of Skee-ball and some racing games. Sean tried his hand at blowing up the Death Star and I whooped him at trivia. On a whim, he decided to have a go at the claw machine with massive stuffed creatures inside - and he actually won a giant stuffed boxing glove! I was shocked. My mouth dropped open when the claw came up with that thing. hahahaha
It was a great day.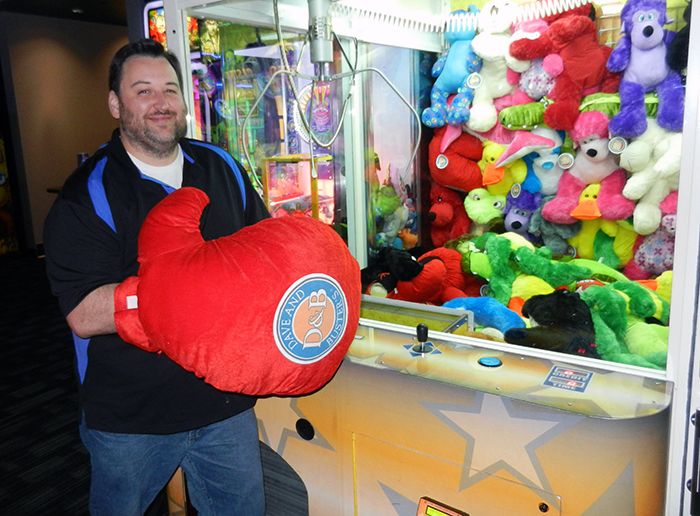 What are your thoughts on this fresh citrus take on black and white? Do you enjoy patterns and prints or do you mostly wear solid colors? I'd love to know what you think and how you incorporate or try out new trends and color palettes!