Hello again, everyone! I hope you all had a great weekend! I wanted to be sure to talk about my last three Rocksbox packages. You have until the 26th to use code
DIVINEMRSDIVAXOXO
to get a free month of this subscription service. To see more Rocksbox reviews and I how I styled the pieces, go
here
!
It has been a lot of fun trying out the Rocksbox service the last three months. I've enjoyed being turned on to brands I had never heard of and wearing these pretty jewels around town. My gifted subscription ends next week, so I wanted to make sure to bring you all up to speed on my latest boxes in case you want to get a free month with my code.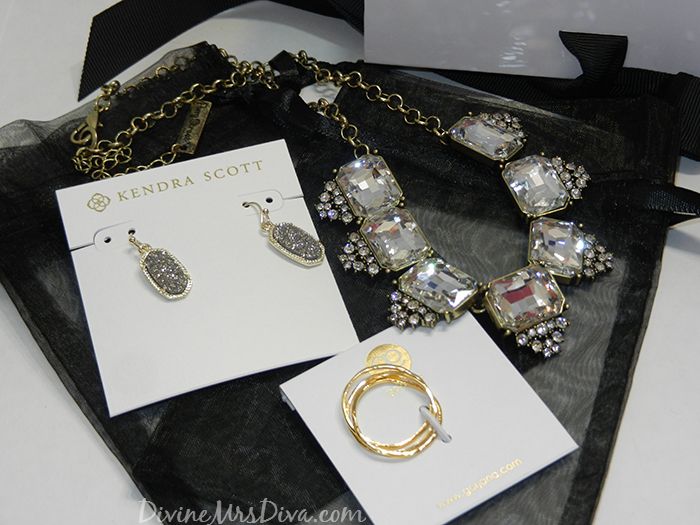 Box #3 was extremely sparkly and also included a new brand I had yet to try in a style I had yet to borrow. Two-thirds of the box were great, but not quite what I wanted.
Kendra Scott Lee Gold Earrings in Platinum Drusy -
$65
$52 Insiders' Price
These drusy earrings were extremely sparkly. I love the texture with the smooth gold. They dangled nicely from my earlobe but were just not big enough for my liking. Had they been about four times this size, they would have fit my aesthetic much better.
Perry Street Olivia Necklace -
$75
$60 Insiders' Price
This Perry Street Necklace was really pretty in person. It sparkled like crazy and I love the antiqued gold/bronze finish on the chain and settings. It could go with pretty much any outfit, but again, I wish it was bigger overall. None of the necklaces I have tried to this point were ever long enough. All of them needed an extender. That's fine; I'm used to doing that with a majority of my necklaces. But I also wish the jewels were bigger. I think that is why I bought
the first necklace
I tried from Rocksbox. The jewels were big and dynamic and much more "me".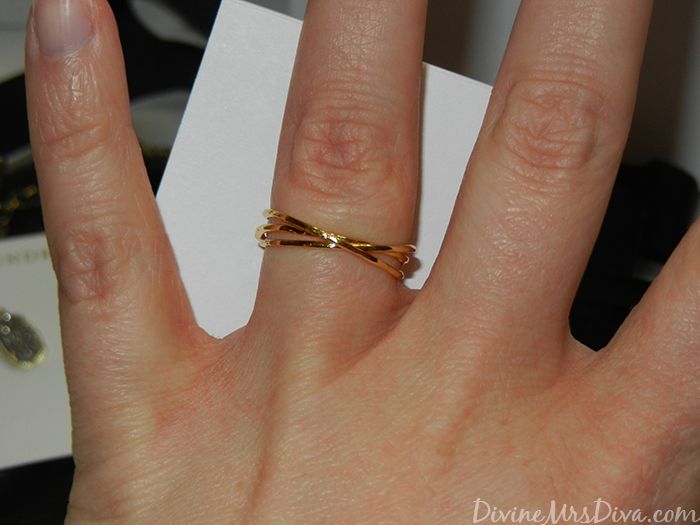 Gorjana Infinity II Ring in Gold -
$40
$32 Insiders' Price
On first try, this ring didn't even fit my finger. Later on when it was chillier in the house, I tried it on again and it fit. It is a bit simple for me, though it is pretty on. I hardly ever wear extra rings anymore, opting for statement necklaces and big earrings. If a more simple, streamlined look is what you seek, the Gorjana brand specializes in interesting shapes and designs in more simple and dainty pieces.
Box #4 was a bit more successful, with fun statement necklaces and some snazzy earrings. I made sure to wear the necklaces with some outfits before returning the box. I find that if you take a week or so to wear your jewelry before sending the box back, you only get a couple of boxes per month. I usually only leave the house on the weekends since I work from home, so the turnaround for me was longer than it may be for someone who wears the jewelry more quickly and sends it back.
Perry Street Julia Earrings -
$33
$26 Insiders' Price
Sparkly, dangly, more of the size I like my earrings....But they were a sort of periwinkle color that I didn't have time to try to match or wear before I wanted to send my box back. Again, I was trying to be faster to ensure I could try more pieces.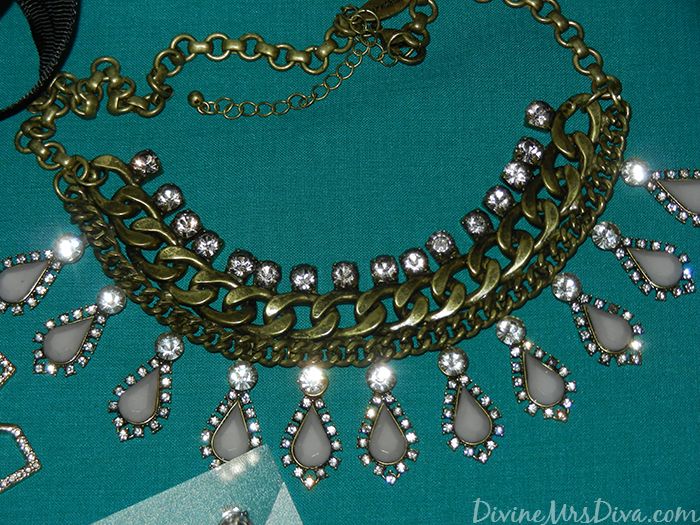 Perry Street Alice Necklace -
$88
$70 Insiders' Price
I liked the overall look of this, but the taupe stones were too subdued for my liking. While the necklace was heavy enough to lay well, it needed to constantly be attended and centered if I moved at all. I don't really want to babysit my necklaces, so this one was not for me.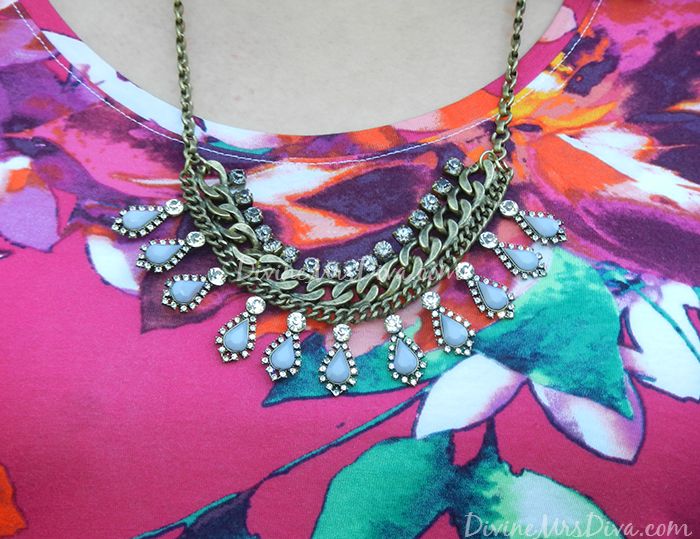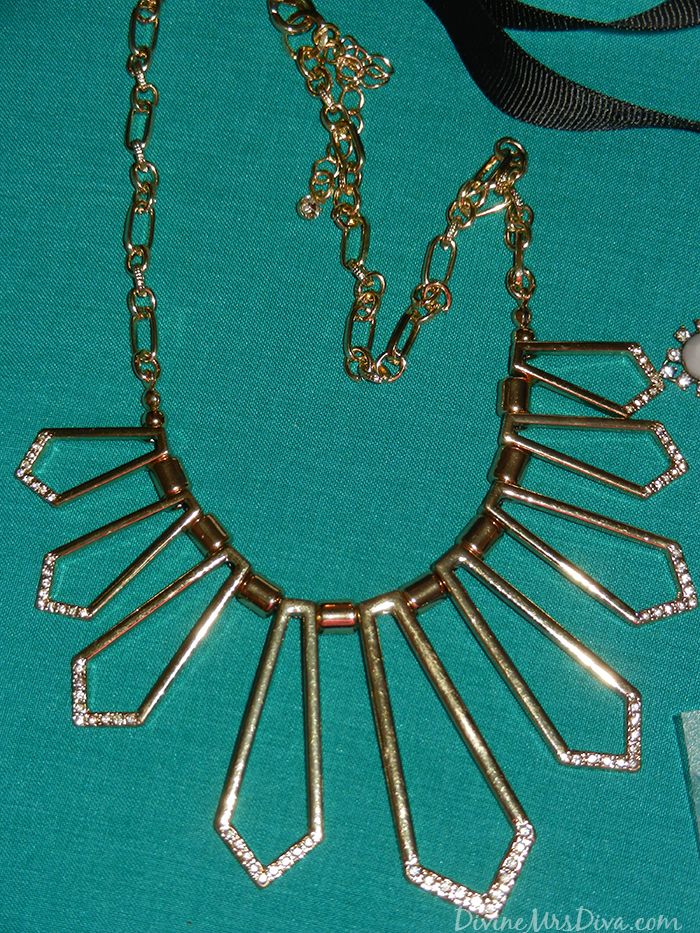 Slate Spectrum Necklace -
$68
$54 Insiders' Price
I liked the look of this bright gold necklace with rhinestones at the end of each shape. I can see it with a lot of outfits. Sadly, it also had to be babysat because the necklace is fairly lightweight and moved around a lot.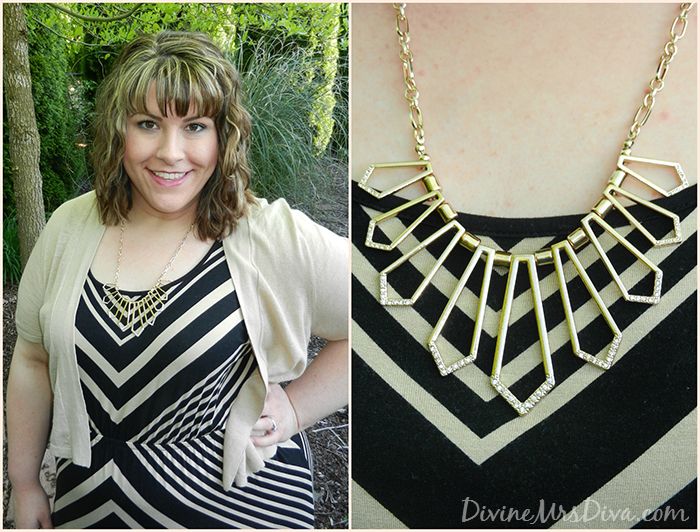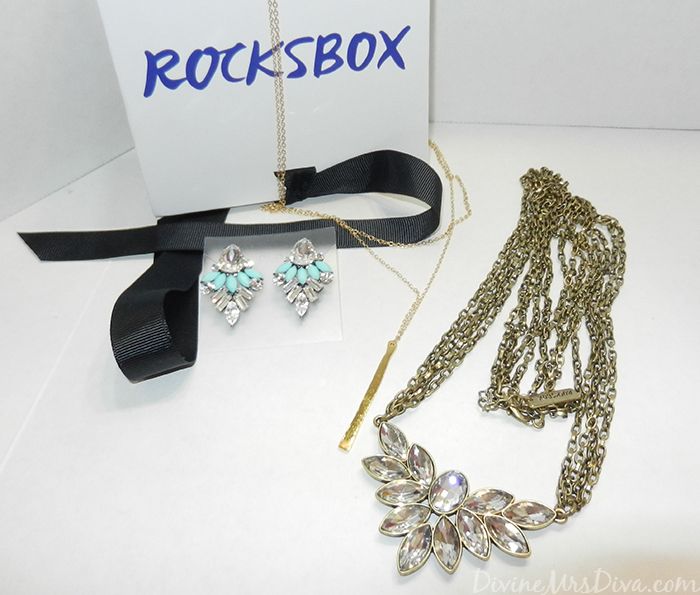 Box #5 was interesting. It contained two necklaces on completely opposite spectrums, but they were both rather long pieces - which I loved!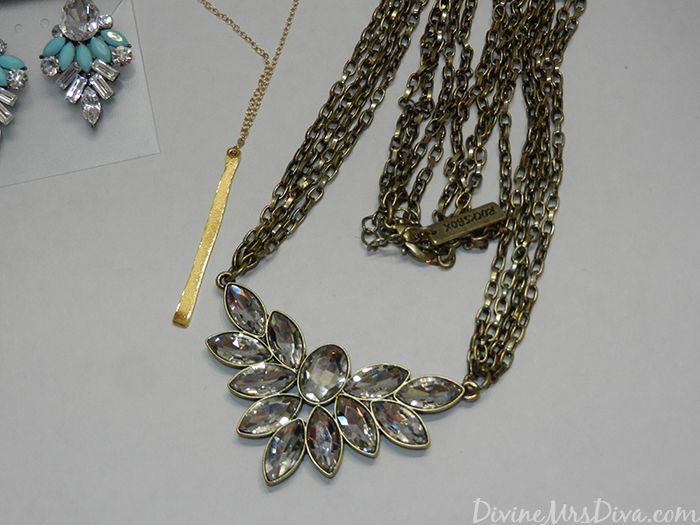 Perry Street Laurel Necklace -
$64
$51 Insiders' Price
This necklace is longer, hitting me about mid-chest. It sparkles and looks kind of superhero-esque to me. lol I had $35 in "Shine Spend" (basically Rocksbox Bucks you can use toward a piece if you choose to buy it)., which I used to purchase and keep this necklace. I think it will be a fun addition to my collection.
Urban Gem Dahlia Earrings in Mint -
$45
$36 Insiders' Price
The Urban Gem earrings were really pretty and sparkly. Although they didn't dangle, they were a great size. I thought they would look quite lovely worn with my hair up along with my new white Torrid dress. I just didn't have time to make that happen. Partly me wanting to hurry and send the box back, part me being way too busy.
Gorjana Pressed Taner Layer Necklace -
$115
$92 Insiders' Price
Like I said, Gorjana is a brand with lots of simpler, dainty options. I typically don't go that route. I much prefer more sparkle and big jewels. I'd accessorize like a drag queen if given the opportunity. lol So Gorjana isn't my aesthetic, though they do carry some interestingly shaped pieces in their collection as a whole. This necklace is longer, stopping right under the bust. It kind of looks like a golden bobby pin, but I did try it on. I love that they finally sent me some longer pieces that didn't need an extender. The addition of the second, slightly shorter gold chain made this necklace more interesting to me.
I am receiving one more box in the coming days before my subscription ends. Thanks to Rocksbox for giving me the opportunity to try the service and share all my findings with all of you!
Do any of you plan to try Rocksbox? Have you tried it previously? Do you have a favorite brand or style of jewels from those you have seen? I'd love to hear your thoughts!