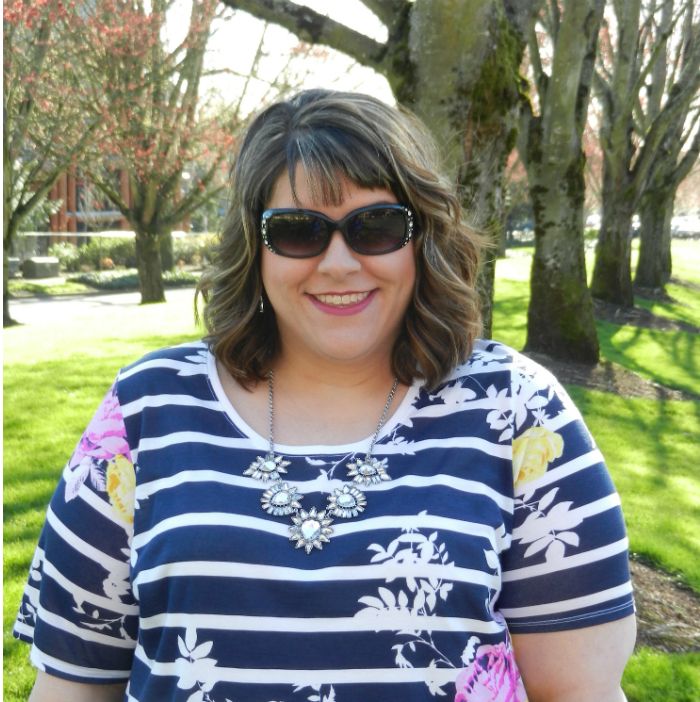 The weather was so amazing this weekend! I know I keep mentioning the weather in my posts, but it is just crazy how much sun we have had this winter. Usually it is raining from October to June. Sean and I soaked up as much of it as we could this weekend by running errands, walking around downtown Portland, and spending some time at the zoo!
Our Saturday was full of fun. I had my hair appointment before we ran around town. Happily, I was able to stop in to Catherines and Target to try on clothes for future "dressing room" posts. This post's outfit features some go-to warmer weather favorites of mine, as well as a few new items - a top from Lane Bryant and sparkly jewelry from Rocksbox! Read on for a review of these pieces and info on how to get a free month of Rocksbox for yourself!
I've been keeping me eye on this Lane Bryant tee since I first saw it online. It feels so cheery and fresh to me, but sometimes I hesitate to buy tees online until I can try them on. I am very picky about sleeve length and the way the fabric skims my tummy region. On a recent visit to a local Lane Bryant outlet, I saw this tee in stock and immediately took it to the dressing room with me.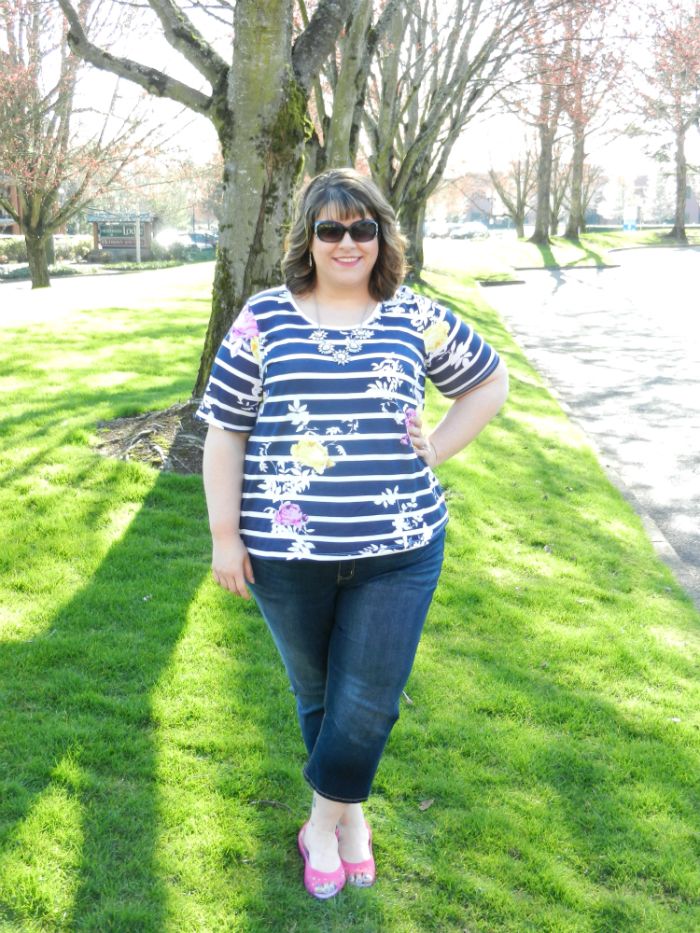 Thoroughly excited about the fit, I debated on purchasing the taupey-grey striped one as well, but that color didn't work well with my skin tone. The fabric is a thinner knit that feels light and breathable. It doesn't feel cheap, it is just a thinner but soft fabric that hangs well. I don't feel that it looks see-through on, but light can show through it if you hold it up to the sun. I wore a thin ivory tank underneath just to be safe. Both the length of the sleeves and the length of the top itself were pretty darn perfect for me. The pinky-purple and yellow flowers pop against the wide navy stripes. When I tried it on, I was wearing a lipstick that was the exact purple-pink of the flowers. That factor just amplified the bright cheeriness of the top!
For reference, I am 5'9" and am wearing a 22/24. My measurements are 52/50/59.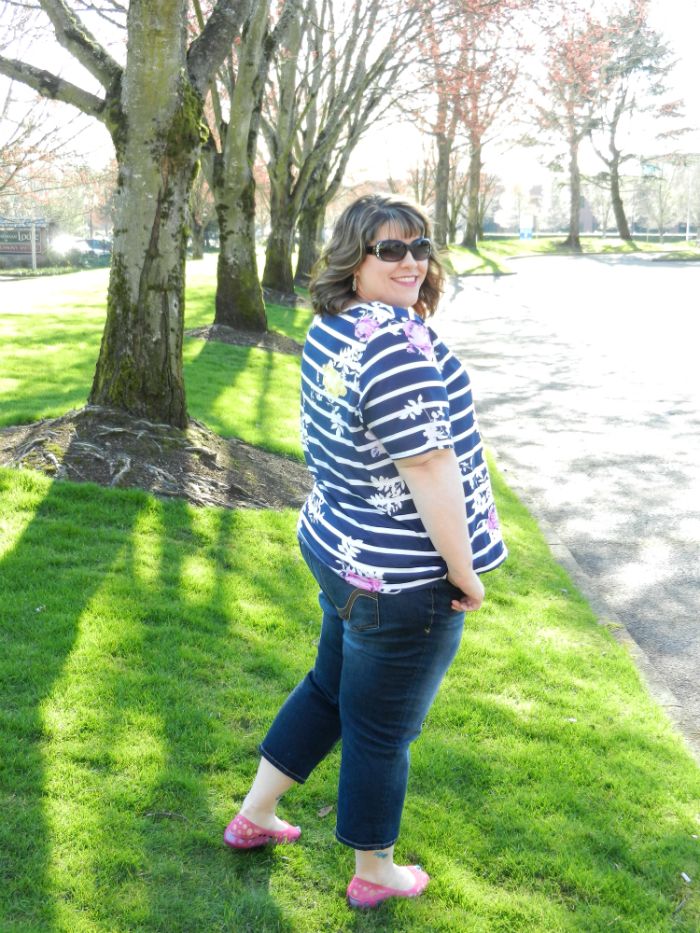 For comfort on this busy Spring day, I paired the tee with my trusty Genius Fit capris and Crocs flats. I also think this top would look so cute tucked into my full chambray skirt or paired with a pink flippy skirt I own. You could even dress it up with jeans and a blazer or dress it down with shorts and sandals. I have a feeling it will be a great versatile piece for my wardrobe.
For jewelry, I wore my rented Rocksbox pieces from my first box set, which I will discuss below. Keep reading!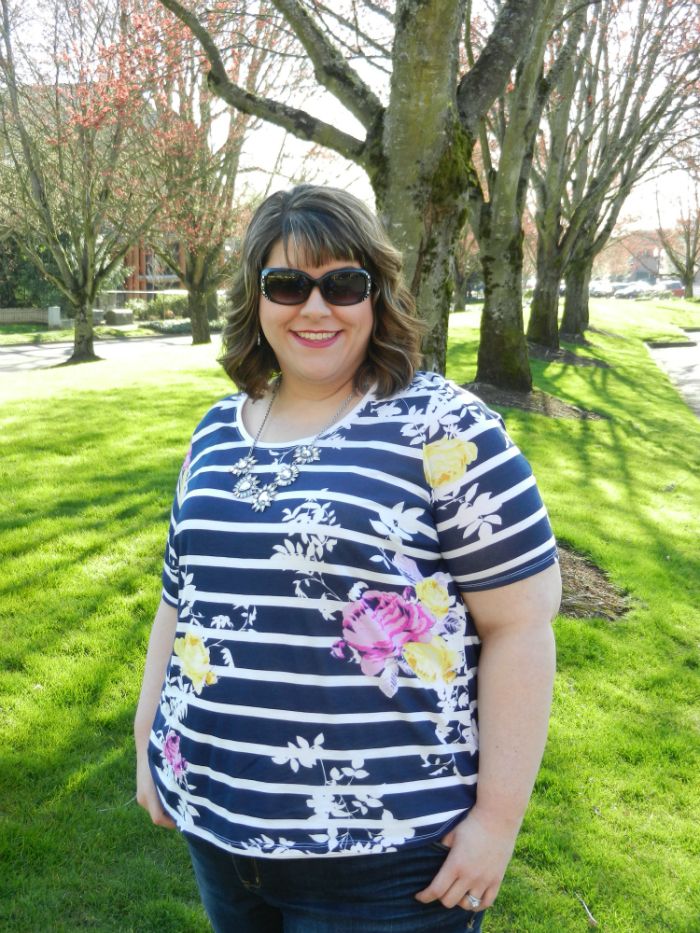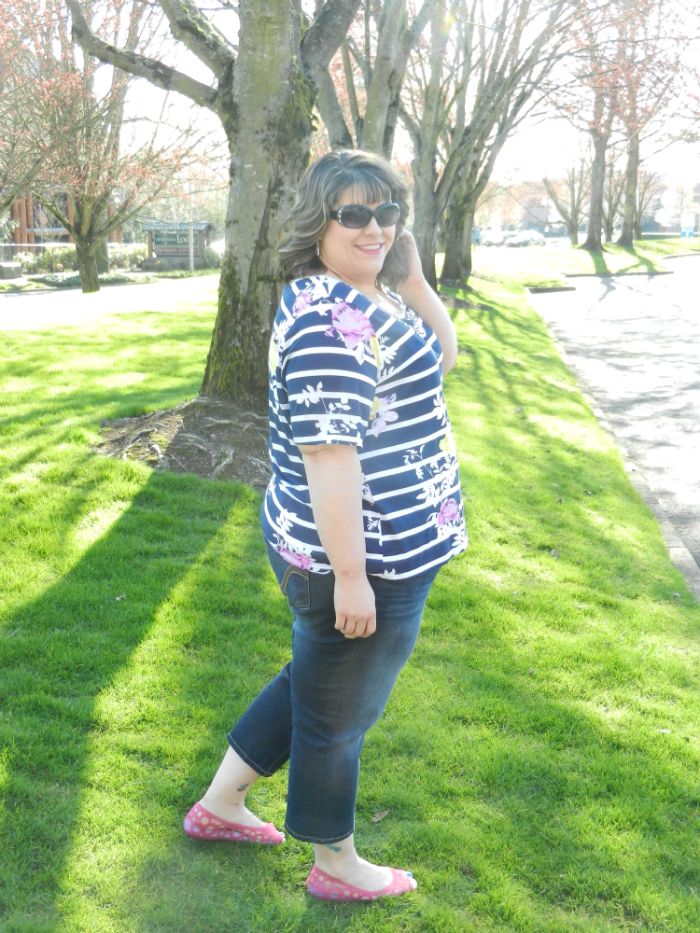 Floral Supima Modal Scoop Tee
- Lane Bryant
Genius Fit Dark Wash Capri
- Lane Bryant
Adrina Flats
- Crocs (Also check
Amazon
)
Rocksbox
Set: (Enter code
divinemrsdivaxoxo
for a free month if you sign up before April 10th!)
Perry Street Selina Crystal Necklace
Perry Street Chelsea Earrings
Urban Gem Gunmetal and Blue Montana Necklace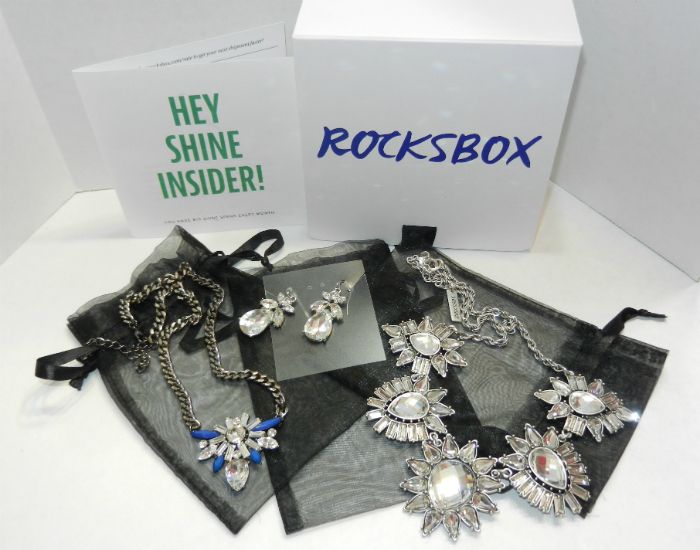 Rocksbox
is a jewelry subscription box (
$19 a month
) that offers lots of styles of necklaces, earrings, and bracelets. To get started, you take a style survey about your fashion and jewelry preferences to help your stylist better know you and what you might like. You can also add items to your Wish List within the website. Based on these factors, you will receive three pieces to wear on loan for as long as you like, or you can purchase the ones you want to keep. When you return your pieces, you get three new pieces to try. You can return items as often as you like throughout the month.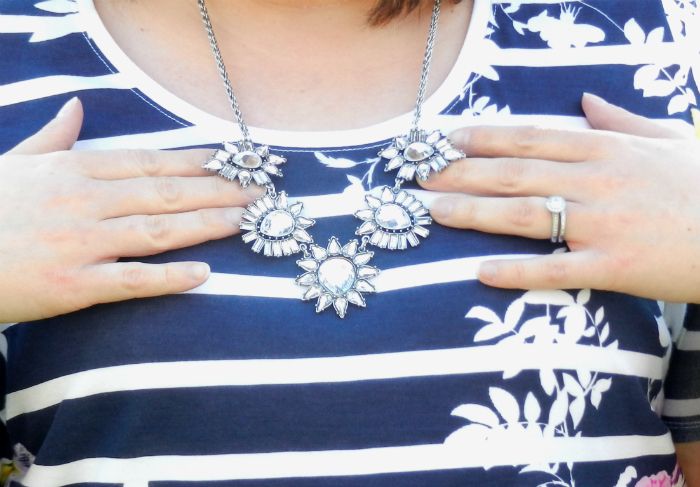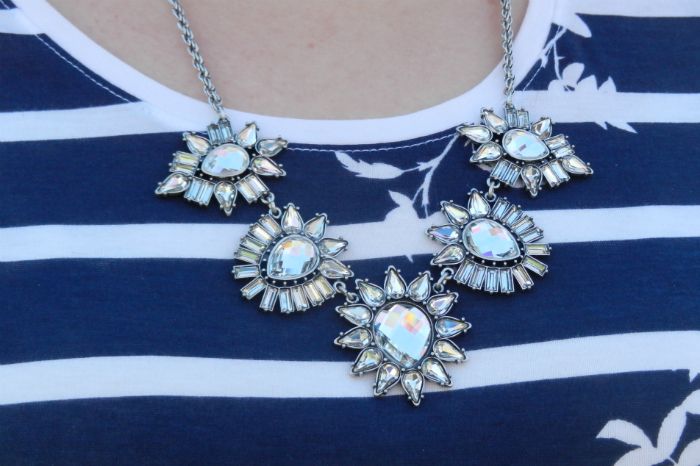 Rocksbox gifted me a three-month subscription to try out the service and tell you about my experience. I received my first box about a week ago and really loved the items included in it. I didn't add any bracelets to my Wish List because I have larger wrists, but I added a ton of necklaces and earrings. They offer so many pretty statement necklaces and earrings, as well as dainty and minimalist pieces. I received two items from the Perry Street brand and one from Urban Gem. The pieces are lightweight and easy to wear (though I did use an extender with both necklaces) and
super-duper
sparkly! Y'all know how I feel about sparkles, right?? I did end up buying the Perry Street Selina Crystal Necklace (
pictured above
) because it was too gorgeous and sparkly to pass up.
This brings me to two other tidbits: 1) Each month of your subscription, you receive $10 worth of Shine Spend to use towards a purchase. ($10 off, woohoo!) and 2) If you sign up with
Rocksbox
before April 10th and use code
divinemrsdivaxoxo
at checkout, you get one month FREE. If you sign up after April 10th, the same code offers you 50% off of the monthly fee.
Do you love cheery tees for the warmer months? Have you tried Rocksbox? Are you going to try it? If you have any questions or comments, leave a comment or shoot me an email!