It is time again for Sartorial Medley, a monthly themed fashion post hosted by myself and Aislynn of Aislynn's World. (Did you miss the previous posts? Check them out!) We welcome participation from anyone, regardless of your dress size. Email me your photo and link to your blog post - diva (at) divinemrsdiva (dot) com.
To participate, even if you don't have a blog, just Tweet/Instagram/Pinterest/etc. your photo with #SartorialMedley to be featured in the blog post. We can't wait to see you rocking your outfits! (Follow me on Twitter/Pinterest/Instagram @DivineMrsDiva.)
This month's theme is:
Rainbow
.
I am a little fashionably late to this month's Sartorial Medley. Allergies have kicked my butt this week! I can't breathe through my nose, my face is all dry, I constantly have a headache from lack of oxygen, and am just plain old miserable. That being said, I slept in today and am feeling a wee bit better. In our tradition of choosing a March Sartorial Medley theme that relates to St. Patrick's Day, we chose rainbow. This seemed like a perfect time to pull out my new City Chic top and rainbow heart ring!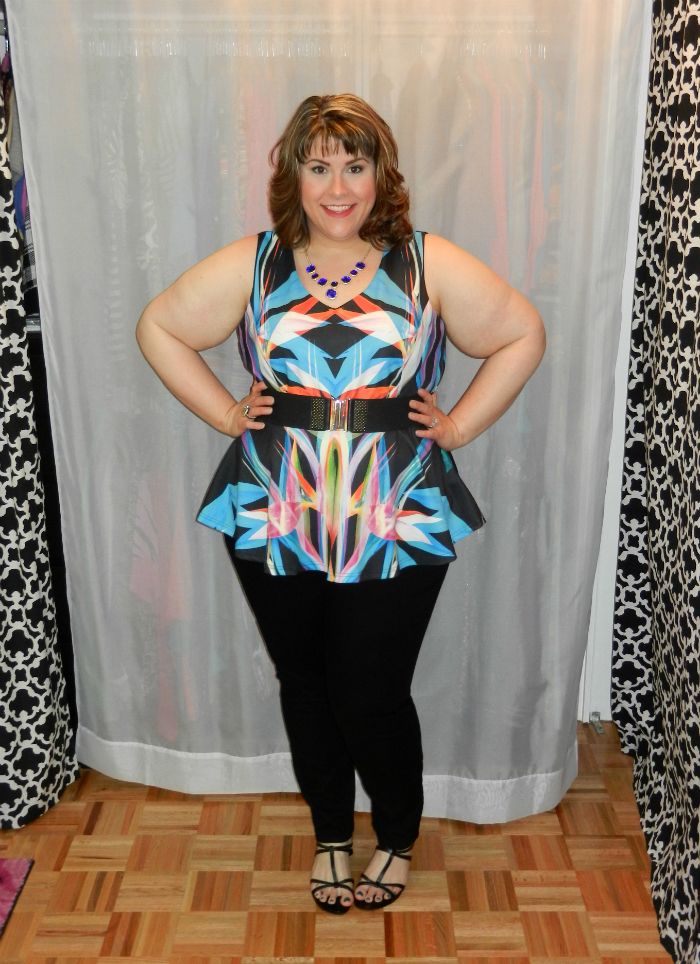 This colorful peplum top is my first purchase and try-on of the City Chic brand. I constantly see the lovely new fashions on Facebook and drool over the colorful prints and pretty fit-and-flare dresses. Over the holidays, they had an amazing sale! I took advantage and bought four tops in various styles as my first foray into City Chic. I'm excited to show off this peplum top and review the other tops at the bottom of this post.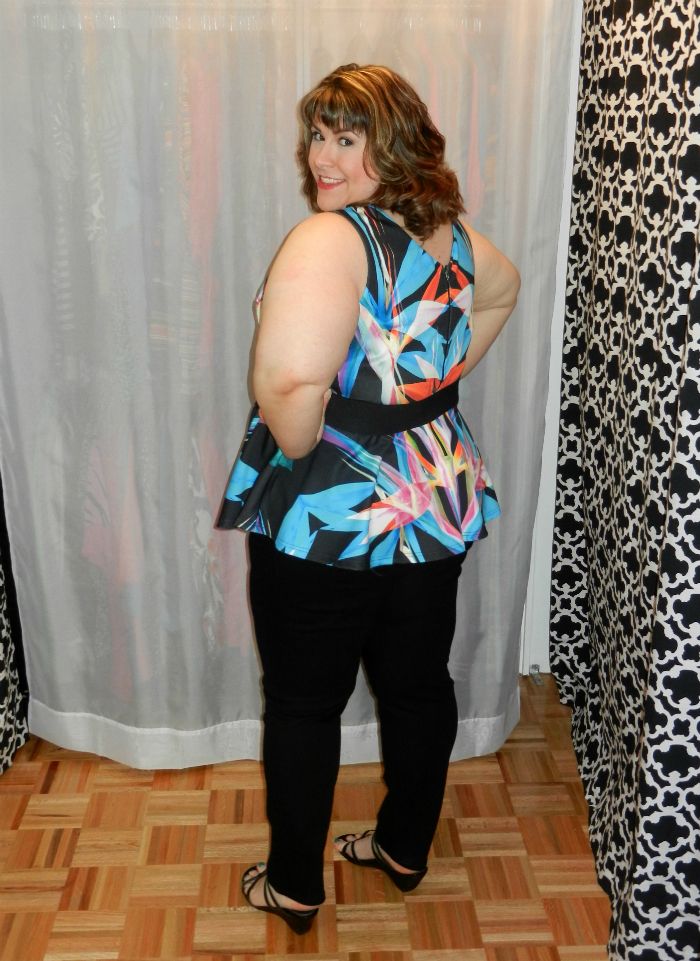 This top is made of a stretchy polyester that is very smooth, similar to the "scuba" dresses and skirts. It is heavy enough to hang well, but doesn't feel uncomfortable or too warm. I was really happy with the fit of this top. My only issue is that the bust is slightly big. This doesn't really show well and isn't noticeable enough to be a negative. The rest of the top is great, with a length that is pretty much perfect for me. I am wearing this top in a XXL, which is equivalent to a 24-ish in City Chic sizes. (For reference, I am 5'9" and my measurements are 50/52/59.)
I was playing around with the styling of this top because I haven't found a good arm coverage option for it. All my shrugs seems a little too long in the back and just don't look right to me. The top looks great with or without a belt, but I added one to try to balance out the dark jeans. Still, this styling seems a little unfinished to me. How would you style this top?
Paradise Peplum Top
- City Chic
Genuis Fit Black Skinny Jean
- Lane Bryant
Strappy Wedges - Payless (circa 2009)
Studded Stretch Belt - Lane Bryant Outlet
Gold-Tone Blue Y Necklace
- Monet via JCPenney
Below are three other tops I purchased during the sale. City Chic has amazing sales, so if you are on a budget keep an eye on the website. I will also point out that returns are free for US Customers, but you must return your purchase within 30 days of the shipping date. I had no issues with returning my items. The items I purchased were all well-made items, but there were inconsistencies with fit.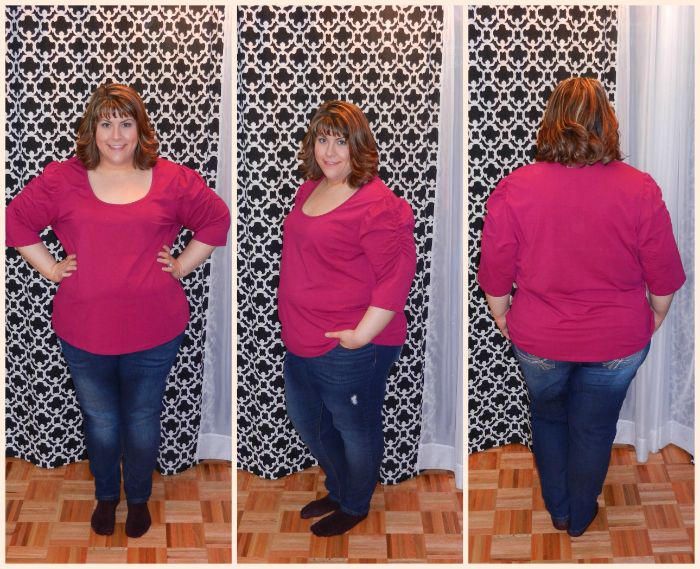 Colored Puff Sleeve Top
- (Similar
here
and
here
)
I love the way this top looks on the website model. The ruching detail on the sleeves and the little puff at the top are the type of flirty, feminine details that I adore. I bought this top in a XXL, but it just did not work for me. Had this been a more A-line or swing tee, I think it would have been good...a size smaller. The hips fit fine while the tummy area was a bit small. Bagginess at the bust, along with the extra fabric near the sleeves (the sleeves were really loose too), made this top obviously too large on top for me. The material is a thicker, super soft knit, and the raspberry color I ordered was gorgeous and vibrant.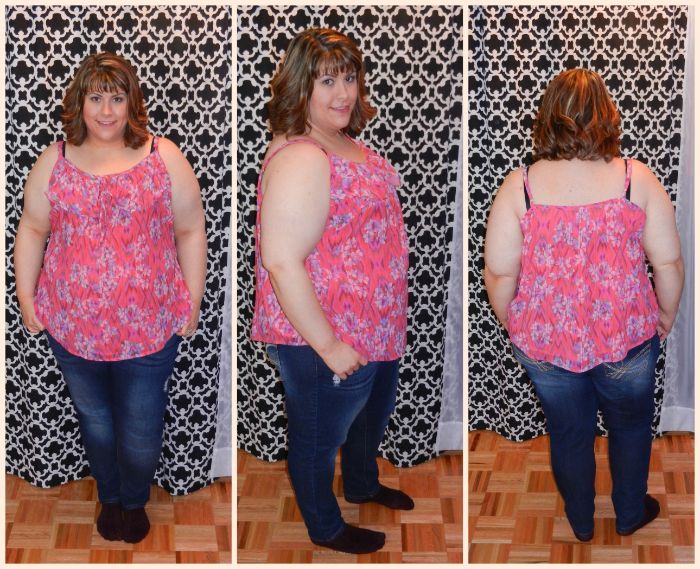 Sunset Floral Top
-
Next up is the Sunset Floral Top. Of course, I loved the colors and pattern, but I also bought it to have a flowy, breezy and romantic top to wear in the summer. It fit pretty well, though a tad loose. But the polyester blend fabric wouldn't be ideal for me in the summer. I just felt like it would be too warm and itchy. Sadly, I returned it because it just wasn't what I wanted it to be. It was really pretty though!
Venecian Strappy Top
-
I almost kept this top because it did fit and it was pretty, but I decided the fit wasn't quite right for me. I bought the Venecian because I loved the gorgeous color scheme and trellis pattern on the soft and silky rayon-like fabric. The empire waist is always a favorite of mine; and I thought the large ruffle at the bust would give the illusion that my boobs are bigger than they are and, therefore, balance me out a bit. As I said before, the top fit pretty well, though the bust was slightly too big. My main concern was the giant ruffle. It was just too big and way more fabric than I had anticipated. If you have a larger bust, I think it would lay out better, but don't quote me on that. Sadly, I had to return it.
Now, I know that three-fourths of my order were not up to par fit-wise, but I will order from City Chic again to try other styles. I love their use of color, patterns, and shapes in the clothing they offer and look forward to finding more gems. The clothes seem very well-made. If you love something and think it will sell out (as with a lot of the sale items), order it in two sizes if you can and return what doesn't work.
Have you tried City Chic before? What are your thoughts on the brand? Do you have a favorite City Chic item? Let me know in the comments! And don't forget to use #SartorialMedley to participate in this month's "Rainbow" theme!
Visit the ladies below to see their "Rainbow" ensembles: