Images Credit: Target
A couple weekends ago, I made it to my local Target to try on some of the new Ava & Viv line. There are a few pieces that I was really looking forward to trying on, but I also picked various items to test fit as well. My local Target was lacking in jean styles and that great olive green jacket, but I pressed on and worked with what they had. Read on for my reviews and photos...
For reference, I am 5'9", typically wear a 22/24, with measurements 52/50/59.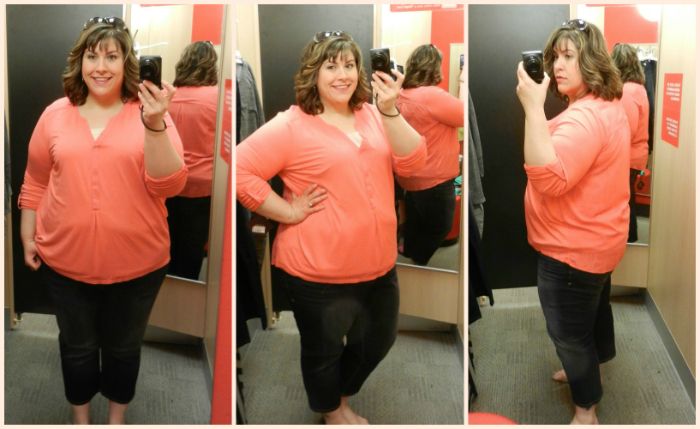 Ava & Viv Long Sleeve Popover Top
(Fifties Pink) - 3X
This popover top is made of a soft, thinner, jersey knit type fabric. I loved the coral color and the length of the top, but it was just not working for me. I don't like when my tummy roll is visible under the clothes. Also, the material is slinky enough that the rolled tab sleeves don't stay rolled up very well. It certainly has potential (
and I encourage you to try it on if you like it
), it just didn't work for me personally.
Ava & Viv Oversized Leisure Top
(Black/White) - 3X
This piece looks horrible on the hanger. It is basically a giant double rectangle of fabric with two tubes for sleeves. The fabric is soft and drapes really well, so from the front this top looks pretty cute. And then I moved my arms and it didn't look cute to me anymore. The giant fabric poncho just moved around too much. It might be cute belted to some extent, but I didn't have a belt with me to try. (
Think Princess Leia on the Forest Moon of Endor.
) The sleeves are really small. I could pull them up as high as you see above, but they were super tight. Again, this style was not for me.
Ava & Viv Bootcut Denim
(Dark Blue) - 24W
Going to the store, I was excited about trying on the dark skinny jeans. Not only did my store not carry the dark skinny jeans, but this bootcut jean was the only style available in my size. While I'm not a hug fan of whiskering, I really liked these jeans. They had a decent length (though a little long) and were really comfortable. I don't know how much they would stretch with wear, but they fit great just pulling them on.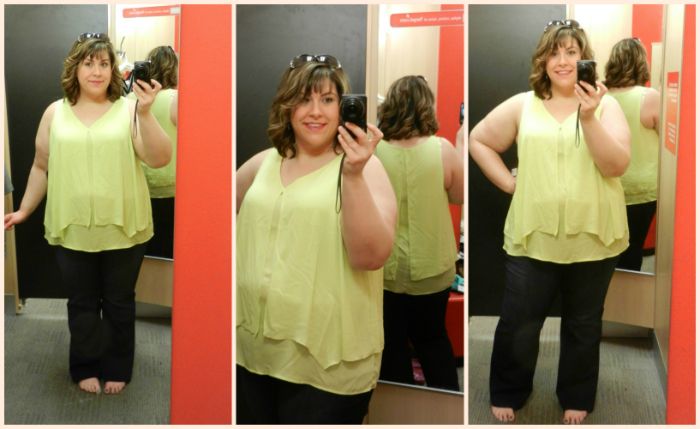 Ava & Viv Sleeveless Blouse
(DayBreak Green) - 3X
I don't usually wear lime green. I was curious about how the color and silhouette of the top would look on me. Honestly, I didn't hate it. It was kind of fun because I love the flowy fabric. But I do feel that it would look better on me if it was a bit shorter. It was kind of hi-low, so the back was a lot longer than the front. Also, I am not a fan of the split back tops.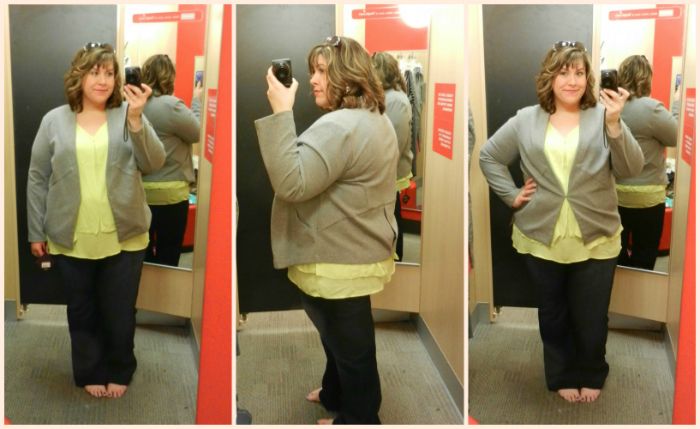 Ava & Viv Long Sleeve Blazer
(Heather Gray) - 3X
I have such a hard time with blazers. Plus sized blazers are always cut for women with large breasts, which I am seriously lacking. This is my same issue with most button-down tops. I tried this blazer in a 3X and it pulled too much when closed. Opened, it was okay. The sleeves were a decent length and the material is a great stretchy knit, which makes it a comfortable thing to wear. The bust was just way too baggy and
shoulder pads
!
Ava & Viv Sleeveless Maxi Dress
(Heather Gray/Ebony) - 3X
If my store had this in a 4X, I think it might have worked....even though the armholes would probably be too big. I liked the way this 3X fit my bust, with a length that was pretty perfect for me. I also love the way the lines are done; The dress looks very Egyptian to me. But obviously, you can tell it is too tight and I don't believe in showcasing my lumps and bumps in this way. Also, I don't think it needs the tie back.
Ava & Viv Maxi Skirt
(Fifties Pink) - 3X
I really wanted these two items to work together. I adore the color combo! The fabric is really soft and stretchy. But no....just no. The length of the skirt was great, but it is cut more fluted than A-line which makes it very clingy. The material is a thinner fabric, so it shows all the lumps and bumps. They didn't have a 4X for me to try on, but this waistline fit well so a 4X could possibly be too big in the waist. If you carry less junk in your trunk than I, this would probably fit you better.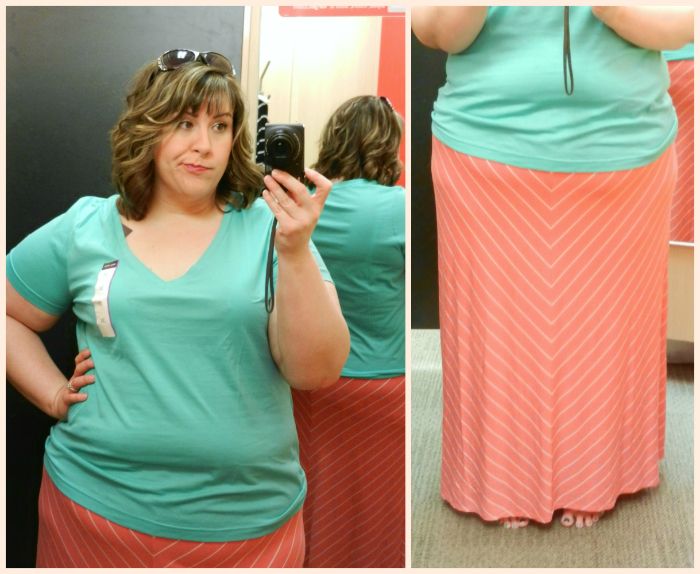 Ava & Viv V-Neck Fashion Tee
(Jade Haze) - 3X
While the t-shirt made my boobs look awesome, it was too tight everywhere else. Sizing up to a 4X would probably be fine. $10 for a basic tee is pretty good too. They did have some pretty colors available, so next time I pop in I will hunt down a 4X to try.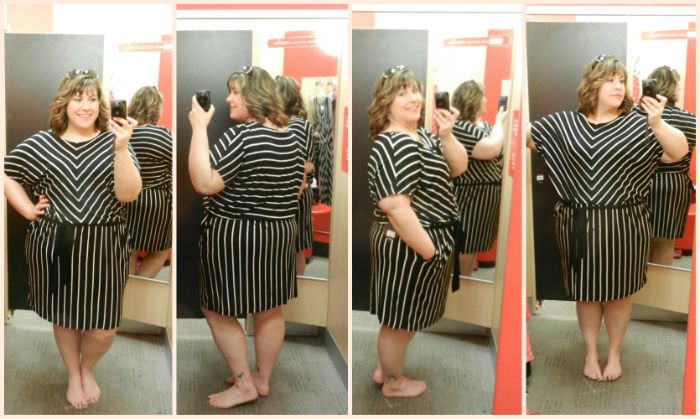 Ava & Viv Short Sleeve Dress
(Black/White) - 4X
After seeing this dress on several other bloggers, I was really excited to try this one out myself. I started with the black and white version in a 4X because I wasn't sure how fitted the bottom would be. While it looks fine in the photos it ended up being quite roomy, so I sized down to a 3X (below). I do love the different stripe patterns on top and bottom. The material is a comfy, soft knit that is easy to wear. This was such a comfortable dress! The skirt even has pockets! I do wish the neckline was more V-neck, maybe as low as the second V at the top.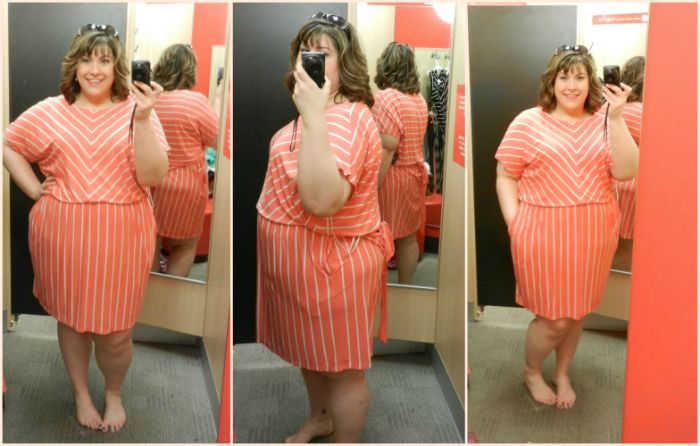 Ava & Viv Short Sleeve Dress
(Fifties Pink) - 3X
The 3X was better, but not good enough for me to buy it. I was really bummed. The idea is so cute, but the execution of it was a little off. As I stated above, I do wish the neckline was a V-shape and a bit lower. The 3X could be tweaked enough that it looked really cute from the front. This was done by pulling the skirt up to about mid-tummy and blousing the top over the skirt. But as you can see from the side shot, the back was not so cute. I had to tie the belt sash in the back to try to keep the dress in place. The elastic at the waist is really loose, so it doesn't stay in place when you move it up and instead slowly sags down. Trying to create this silhouette with a cinched belt to keep the dress in place would just be too much work for me. Sizing down was not an option as the skirt portion of the 3X was about as fitted as I would want it to be for this look. The coral color is really pretty and cheery though!
Ava & Viv Jogger Pants
- 4X
There is something about this jogger style of pants that I unexpectedly love. With the right top and shoes, they would be so cute. I tried on a similar style in my
JCPenney dressing room post
and loved those too. They always look cute from the front to me, but the back can look a little frumpy. Maybe if they were in a darker color, it would look better. What I do know is that these were, again, soft and stretchy and comfortable! This 4X fit pretty good, but the crotch was a bit baggy.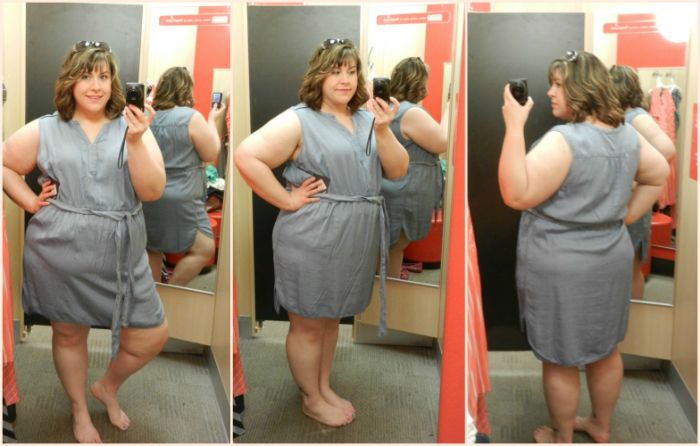 Ava & Viv Short Denim Dress
- 3X
This denim dress definitely has potential. It might be a great swimsuit cover up to wear to the beach or pool. Add leggings and a cardigan for any number of outfits. The fabric feels very soft and light and moves well. This is just a lot shorter than I would ever wear by itself. And seeing as how I am obviously still a Target 4X in my hips, I wasn't comfortable with the fit of this in the lower tummy region.
And while I was trying on clothes and taking all these photos, I had to listen to the teenage girls in the next stall sing 80s songs and talk about how they wished they were born in the 80s because they might have liked it, but maybe they just liked the music. Then they agreed that they are happier being born in the 90s. I was rolling my eyes big time. I should have jumped out of the stall and told them I was an ancient relic from 1980. lol
What are your thoughts on the Ava & Viv collection? Have you tried any items on or purchased any pieces from the collection? I would love to hear your thoughts, opinions, and experiences!