Both Birchbox and Ipsy are monthly subscription services. For $10 a month, you get a box of four to five samples from skincare, makeup, fragrance, and/or haircare brands. The boxes are catered to you, to the best of their ability, by a survey you take when you sign up that asks about your coloring and beauty concerns.
Birchbox features more high-end brands and includes some "lifestyle samples" like granola bars, specialty chocolate, tea, etc. Ipsy has some mid-to-higher end items, but focuses a lot on less expensive and drugstore brand items. There are pros and cons to each (and I love getting both!), but everyone has different preferences. I've been subscribed to Birchbox since early 2011 and Ipsy since December 2011!
Birchbox February theme:
Friendship!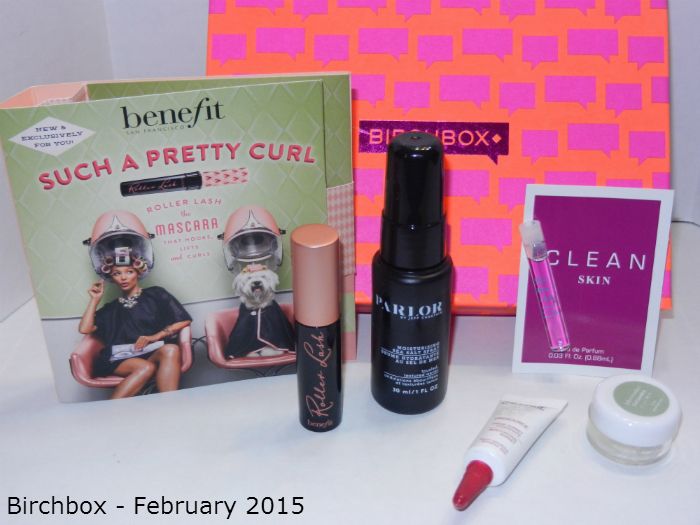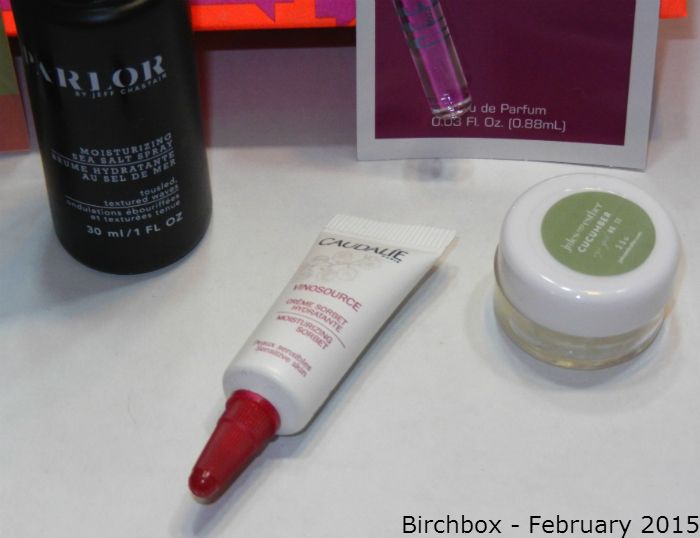 Caudalie Vinosource Moisturizing Sorbet
- This lightweight cream feels very hydrating without making my face feel greasy. It contains antioxidant-rich grapes and also claims to reduce redness. While I don't feel my sample was big enough to get a precise take on it, from the decent amount of uses I got out of it, I liked it a lot. I love the more gel-like texture. There isn't really a scent to me, maybe just a slight fruity one.
A full-size tube is $39.
CLEAN Skin Eau de Parfum
- So, I am never overly enthused about fragrance samples. Some smell perfectly fine, but they aren't for me. I have my perfume I wear and I am not switching. This perfume is a blend of lotus blossom, blue rose, honeydew, and white musk. It smells very "clean" - a little floral, a little musk. It reminds me a little of honeysuckle, but it is a very light and subtle scent. There is something alluring about it for sure.
A full-size 2.14 ox bottle is $69.
PARLOR by Jeff Chastain Moisturizing Sea Salt Spray
- This product line is a new launch by hairstylist Jeff Chastain. While it is a sea salt spray, and those can be really drying on the hair, this one feels good. It is definitely one of my favorite products from this month's round of boxes. It still gives you volume and waves and texture. My hair doesn't feel crispy when I use it like it does with other beach sprays. It also doesn't give a filmy, too-much-product feel like a lot of other beach sprays.
A full-size 4.9 oz bottle is $24.
Jules & Esther Cucumber Eye Gel
- This gel claims to battle bags, wrinkles, and dark circles. The small cucumber-scented sample provided was put into a small plastic container that wasn't really air-tight. Because of this, it congealed to a sticky clump (kind of like a giant booger, to be honest) and was really hard to use. I don't think that is the consistency it is supposed to be. I tried using it anyway by picking off a tiny clump and smoothing it under my eyes. Body heat warmed it up and it glided over my skin very well. This gel definitely has a nice cooling affect and felt hydrating without being greasy. The formula is very lightweight. I wish I could have tried the product the way it was intended, but I still think it is a quality product.
A full-size 1 oz container is $27
.
Benefit Roller Lash Mascara
- As with fragrance samples, I hate getting mascara samples because they never work for me. I only wear tubing mascara because it doesn't budge or smudge; and I'm pretty set when I find something I love. This one is different. I received it in my Birchbox at least a couple of weeks before it was available to the public, so I liked being able to try it and tell my friends about it. Not only did this mascara hold up all day with no smudging or migrating, but it made my lashes look fantastically long and curled up all day as well. The brush is pretty thin and takes some getting used to, but if you are looking for a new kick-ass mascara, I highly recommend you try this one!
A full-size tube is $24.
Ipsy February theme:
#IPSYLove!
Mitchell and Peach Fine Radiance Face Oil
- This face oil is fast drying and non-greasy. I know it seems weird to put oil on your oily skin, but I find it doesn't make my face more oily. I usually only use it at night by mixing a few drops with my moisturizer. This face oil boasts powerful antioxidants and vitamins that help to plump and firm skin. I don't know if I have used it enough to say it works for sure, but I am happy with the way my skin is looking these days. It has a very light, subtle, clean fragrance that isn't overpowering.
A full-size 20ml bottle is $45.
Eva NYC Up All Night Volumizing Spray
- This spray is gone because I used it all up! I love it! It gave texture and volume all day without feeling gunky or drying. I think it even shortened my blow-drying time. The light-weight formula also acts as a heat protectant, so you are getting a multi-tasking product and more bang for your buck. Another great thing about Ipsy is the discount codes you get for each product if you choose to buy something. I just bought two full-sized bottles of this because I love it and Ipsy had a 65% off code!
The 1 fl oz size is $10, while the 8 oz size is $24.
"Pencil Me In" Cosmetics Natural Eye Liner Pencil in Amethyst
- Eyeliner is another product I am
super
picky about. While this one is a beautiful metallic purple shade and nicely pigmented, it is easily wiped off and will therefore smudge and migrate with a passion. Love the color, but the formula is a no-go.
A full-size is $6.99.
See swatch below.
City Color Cosmetics Creamy Lip Stain in Flirtini
- Don't let the "lip stain" title fool you. This isn't a stain because it never sets. It is a non-drying lipstick/gloss hybrid. I love the smooth consistency and how it feels on the lips. It isn't sticky at all, but more smooth like a suede or something. It's hard to describe. The color I recieved is a really pretty mauve-pink color. I wish it was a lip stain, but this wipes right off and I have given it up to 30 minutes to set.
A full-size tube is $4.99.
See swatch below.
ModelCo BLUSH Cheek Powder in Peach Bellini
- This blush is a gorgeous peachy-pink color with a golden shift. It is quite shimmery, but can be blended out to a less shimmery look. It reminds me a lot of Orgasm blush by NARS. It looks a bit powdery in the container, but goes on smooth and blends beautifully. It also seems to last a long time.
A full-size is $22
.
See swatch below.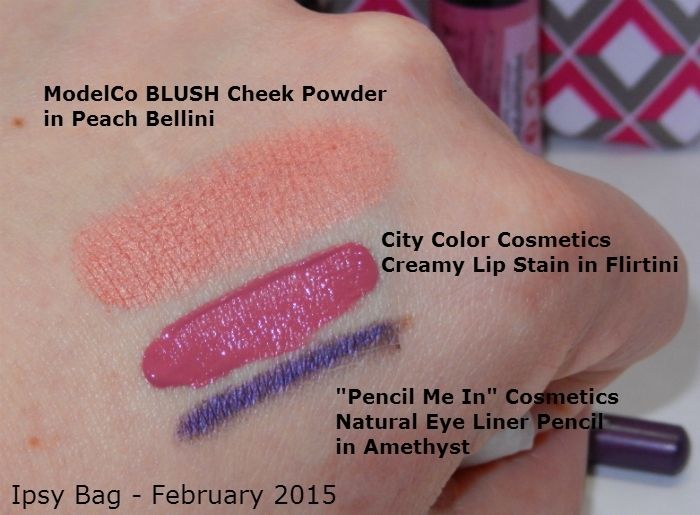 My Absolute Favorites:
If you want to subscribe to either one of these boxes, my referral codes are:
Birchbox and Ipsy
Shop selected items:
What did you think of Birchbox and/or Ipsy for February? Have you tried any of these products? Did you receive something different that you'd love to share? Let's chat!