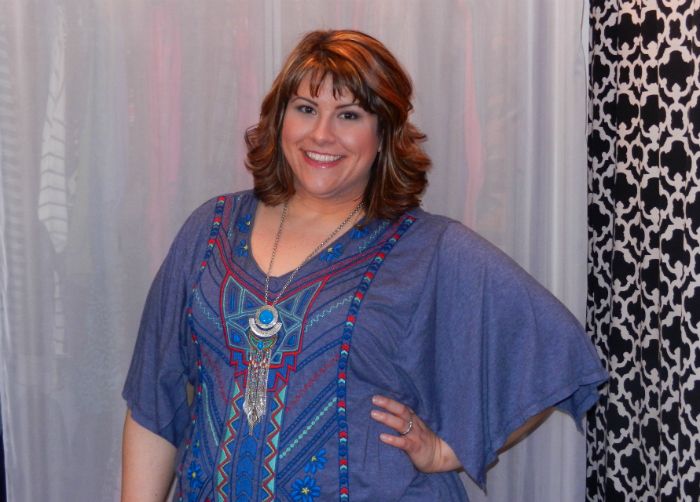 Sometimes clothes work and sometimes they don't. Sometimes they fall into both categories, like this beautifully embroidered knit dress from Johnny Was. Johnny Was is a new-to-me brand that I delved into through
Gwynnie Bee
. I was excited to see the dress in person as the embroidered design really appeals to me.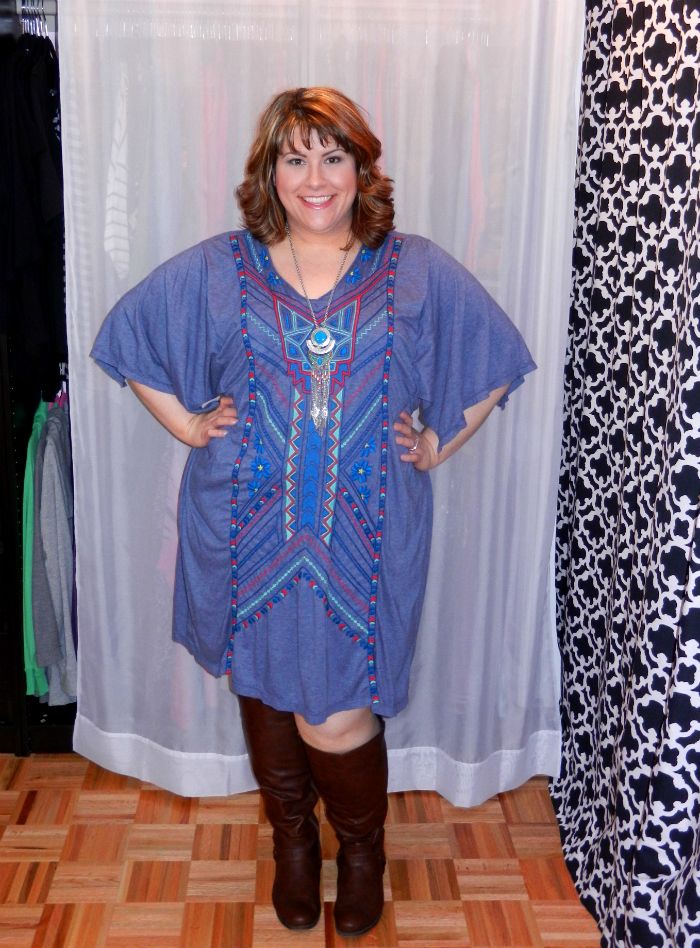 Johnny Was is a Los Angeles-Based company started in 1987. They feature six divisions that appeal to different types of women. From their website: "
The brand's hallmark JOHNNY WAS Collection offers a broad range of boho-chic clothing fit for ones daily wardrobe. The BIYA line offers bold silhouettes in opulent fabrications, while Pete & Greta delivers lifestyle basics with an edge. JWLA represents casual-yet-unique cool, while sister line 3J Workshop re-imagines the traditional menswear shirt with unique feminine details. 4 Love and Liberty's ethereal creations cater to the fashion-forward sophisticate."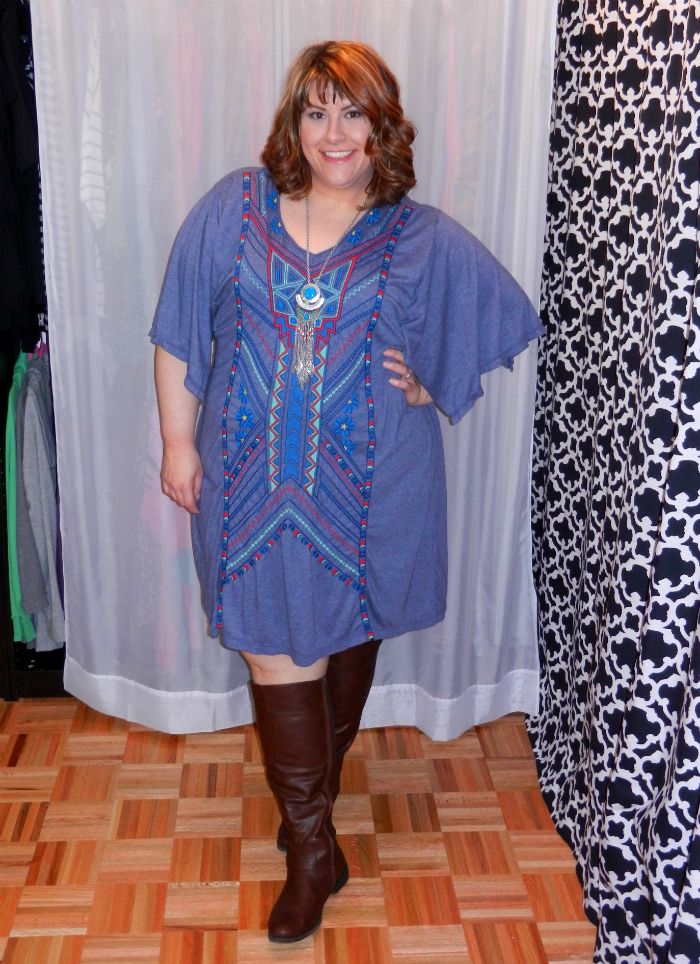 When I pulled the dress out of its shipping bag, I was taken with the embroidery but hesitant about the rest. It is a very loose-fitting dress without much shape. Still, I tried it on (because that is what I do), pleasantly surprised by the way it looked. This post should be more aptly titled "What I Tried" because I chose not to wear it out. I did want to style it for you, however, to give you a better idea of its charm.
The material is a thin knit that is soft, stretchy, and comfortable. I am wearing this dress in a 4X and it hits me right at the knee or slightly above. From the front, it was boho-cute. The large, fluttery kimono sleeves made me happy, as they provide coverage and air-conditioning on hot summer days. I liked the design going down the front. I felt it was a good scale for the dress and the design helped provide the illusion of a shape on a rather shapeless and over-sized piece. But this didn't save the back from being less than ideal.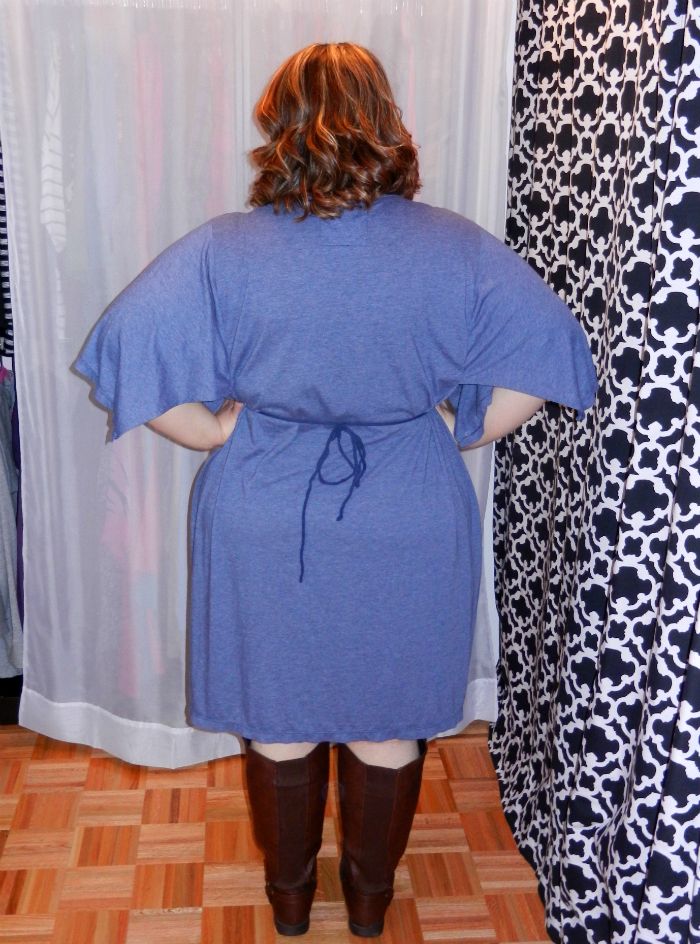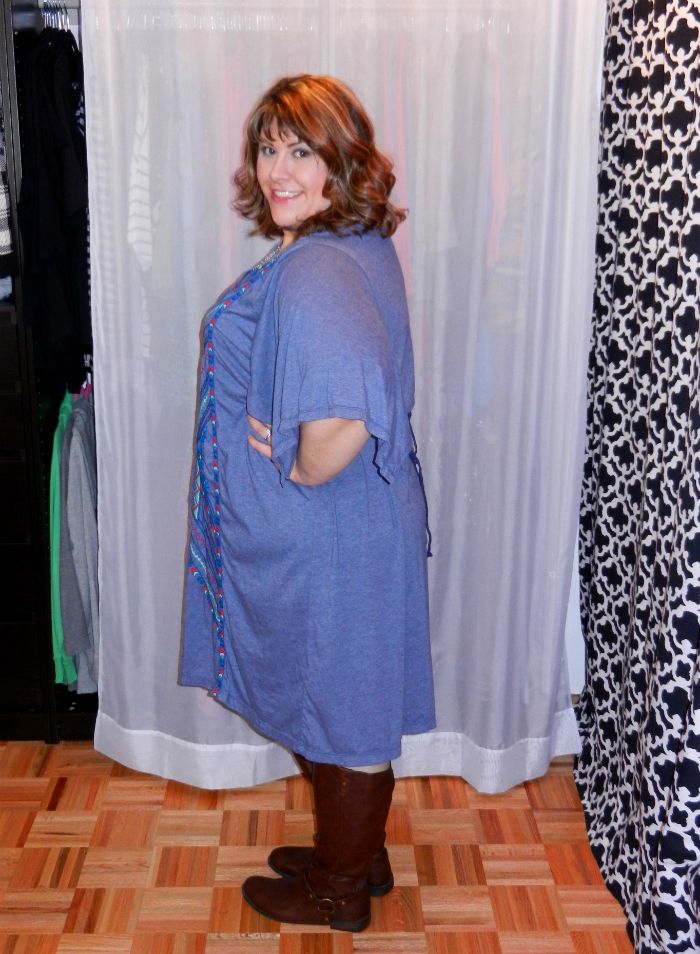 Granted it wasn't horrible, just not for me. The tie-back helped cinch it in at the waist, but from the side it did nothing for my body shape. It was like wearing a giant t-shirt, which is comfortable, but not the best silhouette on me personally. Still I loved the design and wished it had been used on a more structured dress. (
Searching the internet, I found this dress on a couple other women. I think I should have sized down, but it also seems to look better on women with a larger bust because the waist comes in more than it does on me. I kind of want to try it a size smaller now.
)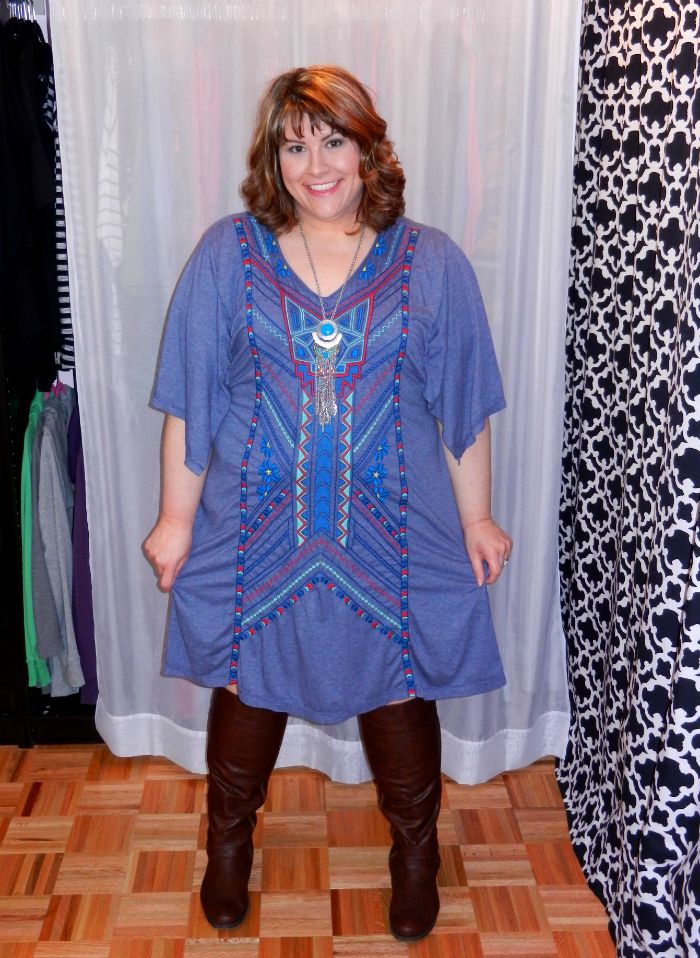 Kimono Dress
- Johnny Was via
Gwynnie Bee
(4X)
Stretch Riding Boots - Avenue
Turquoise Necklace - Forever 21
Have you worn any Johnny Was pieces? Are you a boho girl? Do you love colorfully embroidered looks? Share your thoughts!