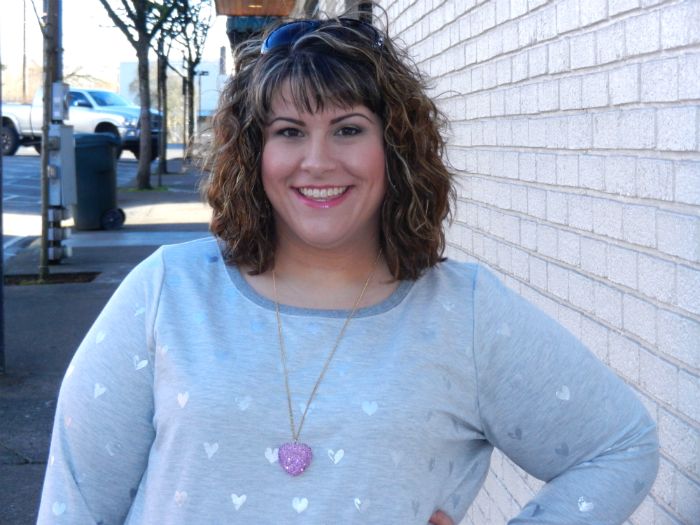 While a lot of you have had crazy snow and ice, it has been unseasonably sunny and pleasant here in the Pacific Northwest. I refuse to question this amazing sun and cool breezes, so I have tried to soak it up as much as possible! We have been very busy so far this year, so nice weather makes running around town that much more fun! For all this running around, I like to go the "cute but practical" route with jeans, a t-shirt and jacket or fun sweatshirt like this one, and my trusty pink Reeboks.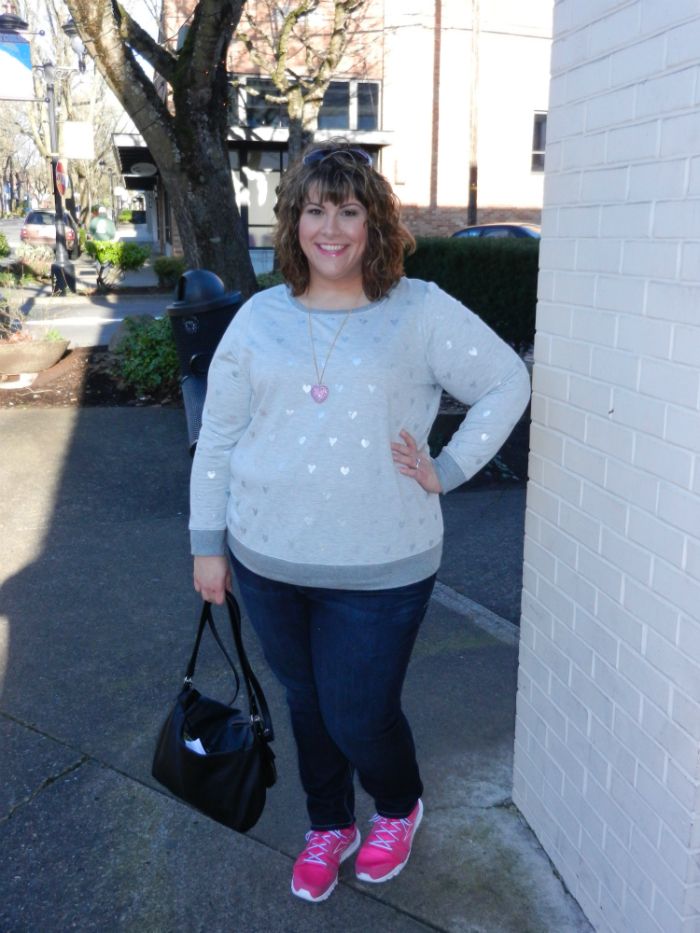 The day after Valentine's Day, I stayed on theme by donning my new shiny-hearted sweatshirt. I love the silver hearts that shimmer in the light. The great thing about the light grey color is that it goes with any other color you want to add to it. The material is thinner than a heavy fleece sweatshirt, so I didn't get overheated. The sweatshirt is definitely a bit more fitted than I expected, but it wasn't something I felt self-conscious in or thought was ill-fitting. If you carry most of your weight in your tummy or bust, you may want to size up.
I paired the sweatshirt with my TTT skinny jeans, also from Lane Bryant. I've talked about them
in a previous post
. I did wear a cami underneath the sweatshirt, tucked in, to keep the jeans from poking my tummy while I was sitting down. These trusty Reeboks though! I just found a black pair on eBay for $20! A few weekends ago I hit up the outlet mall to see about buying more colors, but the Reebok Outlet store was gone. I really wanted the coral and purple ones as well.
Foiled Heart Sweatshirt
- Lane Bryant
Skinny Jean with Tighter Tummy Technology
- Lane Bryant
YourFlex Trainette 3.0 - Reebok (
5.0s are the latest version
)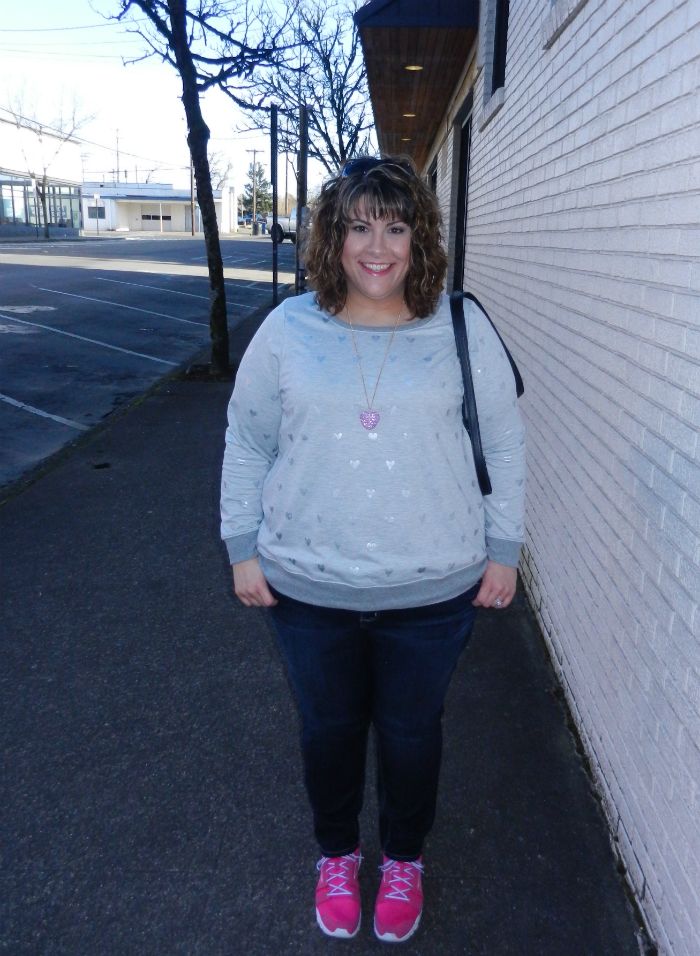 Our outing that day involved a couple errands, but our main stop was our friends' son's birthday party at
Cake Happy
. Our friend's sister Nikki, along with Nikki's husband Jon, own the bakery and offer lots of delicious treats! Nikki is super talented at cake-decorating and sculpting wonderful works of art from fondant. (She made Sean's
Yoda birthday cake
.) For her nephew's party, she made this awesome Star Wars Angry Birds cake with a gluten-free layer on top. I was so excited to have cake! It has been a while.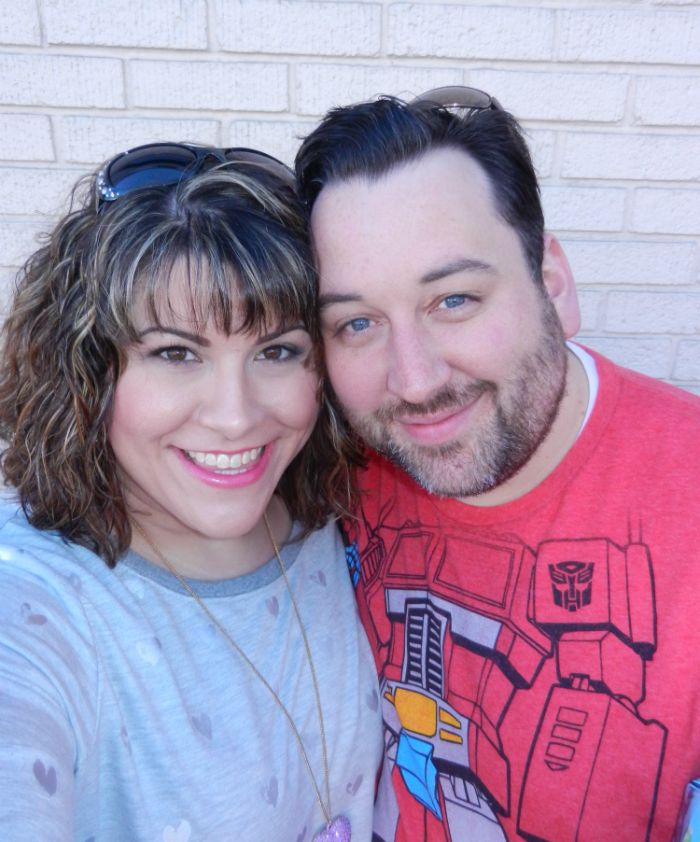 The other perk of great weather is being able to see
Mount Hood
in all its beauty. As someone not from the area, who lived in flatter places most of my life, this view never gets old. It always looks like a movie backdrop. I just stare at it in awe.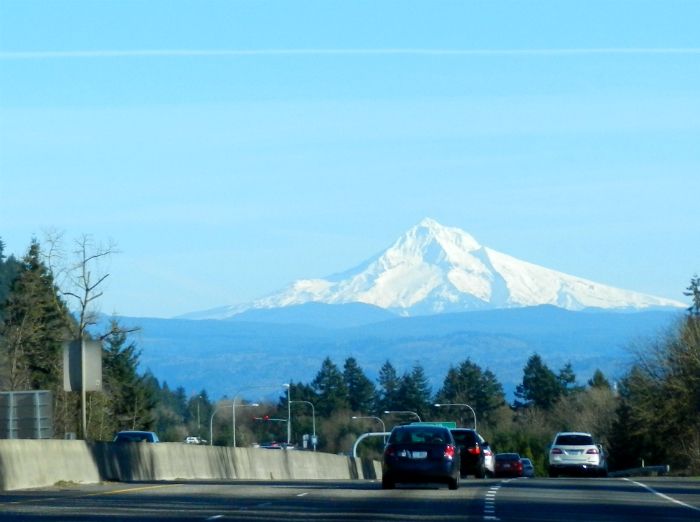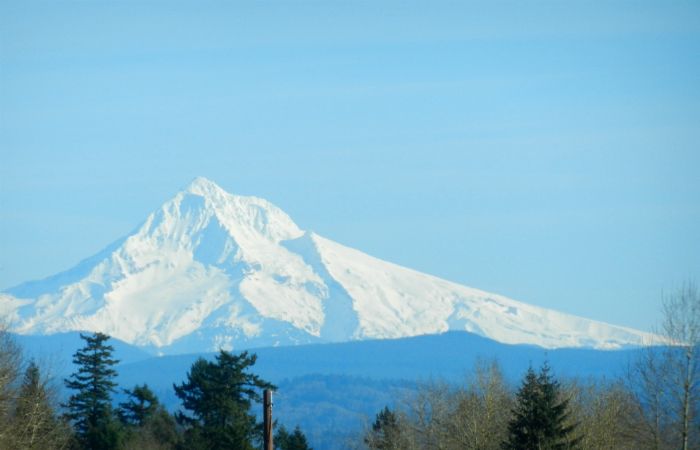 What's your local weather been like? Do you keep it casual for running around town or do you like to get dressier on your days off? Let me know in the comments!