As you probably know, Lane Bryant recently launched their #ImNoAngel campaign to promote their Cacique line of intimates. It is basically a more down-to-earth and plus size answer to the Victoria's Secret Angels. Lane Bryant sent me this t-shirt a few weeks ago and I had fun shopping my closet for a curve-hugging outfit to wear it with. Also, these t-shirts are
available online
as of today, so you can get your own!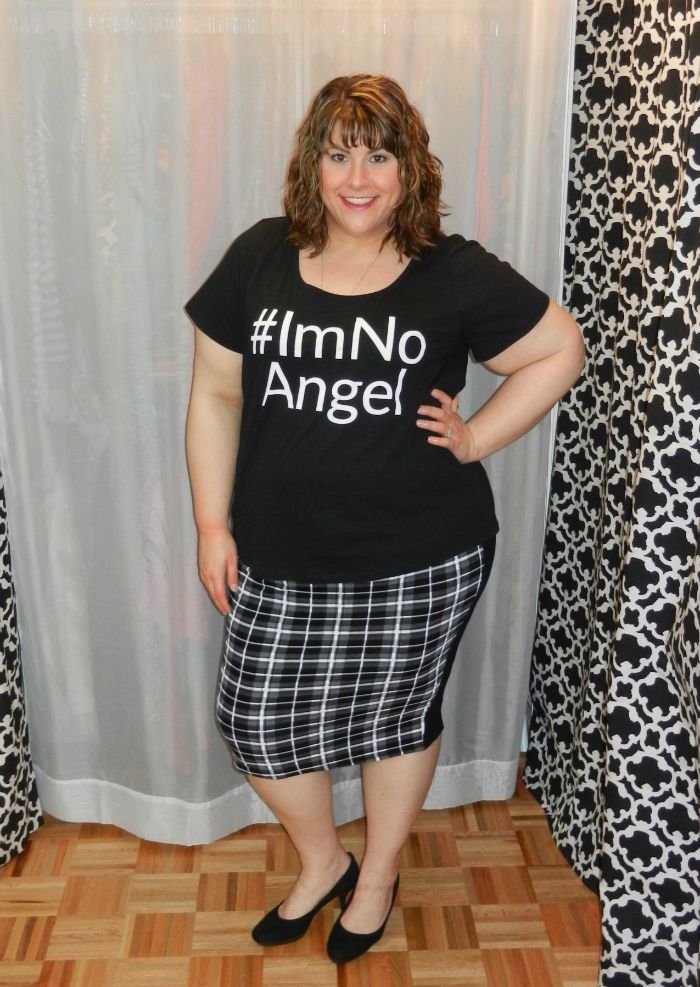 I was so excited to receive this shirt in the mail and think of the message I wanted to convey in my obligatory mirror selfie. I chose "
EVERY body deserves love and happiness!
" Because they do. No matter what you look like, no matter what size you are - you deserve to be happy and to love and be loved. Don't let anyone tell you different! Your body takes care of you in many, many ways, so take care of it by treating it nicely and being kind to it.
I'm happy that Lane Bryant is trying to bring a message of self-love and curve-embracing to people that may still think it is a radical concept. I was recently reminded that there are still so many women out there who hate their bodies and don't feel like they are worthy of being celebrated at all. In the scheme of things, it wasn't that long ago that I was someone who hated my body because I couldn't make it what I thought it should be. My whole life I was told how ugly and fat and disgusting I was - from dumb kids at school to my own mother. And they made me think all those adjectives are exclusive to each other! No, ma'am, they are not!
In the last five to ten years, I have taken great strides in changing my mindset and trying to rid myself of those toxic thoughts. It isn't easy. It takes a conscious effort every day until it is a habit. I still have crappy days where I beat myself up about something, but it is way fewer and far between than it used to be. Through blogging, meeting other like-minded individuals, surrounding myself with awesome people and getting rid of the toxic ones, and through the love and support of an amazing husband, I can honestly say that I love myself and I love my body.
When I was thinking of cute outfits to make with this t-shirt, I wanted something a little more dressy. Keeping with the black and white color combo, I pulled out this ASOS skirt. I call it a "magic skirt" because it makes my booty look AMAZING! As it is a stretchy jersey fabric, it ends up hugging all the right places. I bought this in a US 22, as I do most items from ASOS. It was a bit tight on me when I bought it because I was in a larger size then. It didn't fit quite right, so I haven't worn it much. But now, GURL! I want to wear it all the time! While this particular skirt is no longer available, ASOS does carry this style quite frequently through the year. Right now, I want this
tribal one
so bad!
#ImNoAngel T-shirt
- c/o Lane Bryant (
I'm wearing a 22/24.
)
Plaid Midi Pencil Skirt - ASOS Curve (
I'm wearing a US 22. See below for similar options.
)
Black Pumps - Avenue
What is your message of body positivity, self-love, and/or plus pride? I'd love to hear what you have to say!
Shop Similar Skirts: