Just a few weeks ago, Catherines reached out to me and asked me to be their Style Ambassador for May. As I discussed in a
dressing room post
back in March, it has been quite a while since I shopped with
Catherines
. I was pleasantly surprised by my trip and found some really great pieces there. When they reached out to me, I excitedly accepted the challenge of putting four outfits together from their recent summer-ready collection. They gifted the outfits to me so that I can feature a different one each week throughout May. In the coming weeks, I will be showing my fabulous finds and takes on trends for the season. First up is the practical, functional, and comfortable maxi dress!
Source: Catherines
As far as I am concerned, maxi dresses are always in style. They provide an ease of wear that makes them ideal for travel, as you can just pull it on and go. To me, maxi dresses give that pulled together look with very little effort and can easily transition into multiple seasons. Simply changing your accessories can offer a wide variety of casual and dressy. As I have discovered, Catherines offers maxis year round in fun prints, beautiful hues, and a variety of silhouettes. Plus, they look great on any body!
The
Chevron At Dawn Maxi
really jumped out at me as I scoured the website. I was happy to find it in-store as well. The lively chevron print is made up of beachy colors, another exciting element of Catherines' newest collection. White and shades of blue contrast beautifully against a dark navy background. The pattern is broken up throughout, with a smaller chevron pattern at the neckline and hem. This particular style of maxi - with its wide straps, v-neckline, gathered empire waist, and medallion embellishment - is my absolute favorite. You know me, patterns, bright colors, and bejeweled elements are my jam!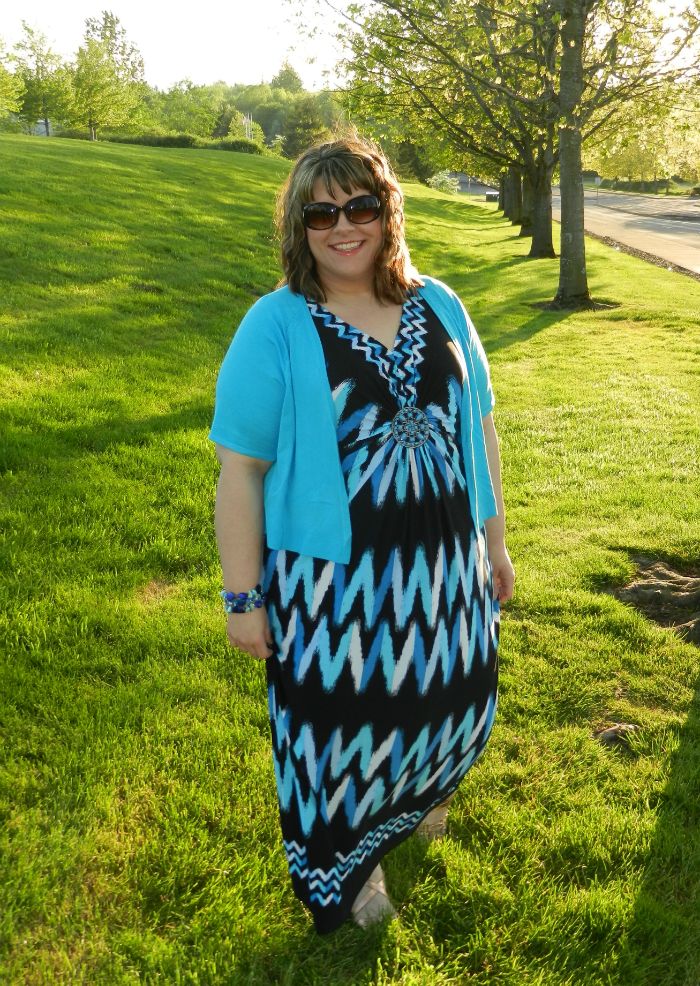 I am wearing this maxi in a 2X, which translates to a 22/24. (
Catherines carries 0X-5X
) Also, for additional reference, I am 5'9" and my measurements are 52/50/59. The length of this dress settles at the tops of my feet. Catherines also offers petite lengths in select sizes online and in-store. The V-neck is modest, so you don't need a layering tank underneath. I love how this dress accentuates my curves! The bust is pretty darn perfect for me, but can definitely accommodate a larger bust as well. The stretchy poly/spandex material is cool to the touch and slinky. The weight of the fabric allows it to hang beautifully and skim my body just right, without being heavy. This fabric is also pretty fool-proof for travel as it doesn't wrinkle and can be washed easily.
I'm also wearing the
Keswick Cropped Cardigan
in a bright turquoise blue. It highlights the lighter shade throughout the dress. I love arm coverage, but I wanted to keep that vibrant feel instead of pairing it with a darker shade. Because of the coloring of the dress (
the navy looks black in person
), you could opt for arm coverage in a variety of shades. I am wearing a 2X in this shrug because the sleeves are much more comfortable. I also tried a 1X, but my upper arms are too large for the sleeves in the smaller size. The thicker rayon knit is stretchy, lending to comfort, without feeling heavy and hot. This thicker material just feels more well-made and of higher quality than a lot of other thin shrugs I have purchased in the past. Most of the time, the shrug stays in place, but if I move around a lot it moves back towards my arms. I don't really mind this, but it can be an issue for some. The shape is shorter than your average cardigan (
which I love with longer dresses
), so it looks kind of like a shawl when it moves back, without looking unkempt in any way. Along with the cardigan, I accessorized with the De La Mer bracelet that is made up of faceted beads and shells in various shades of blue. Catherines has a fun array of jewelry that easily compliments their current collections and color palettes. This particular bracelet isn't online, but is made up of three stretchy strands for a chunky piece that stays put. I dislike when my bracelets constantly move around all the time!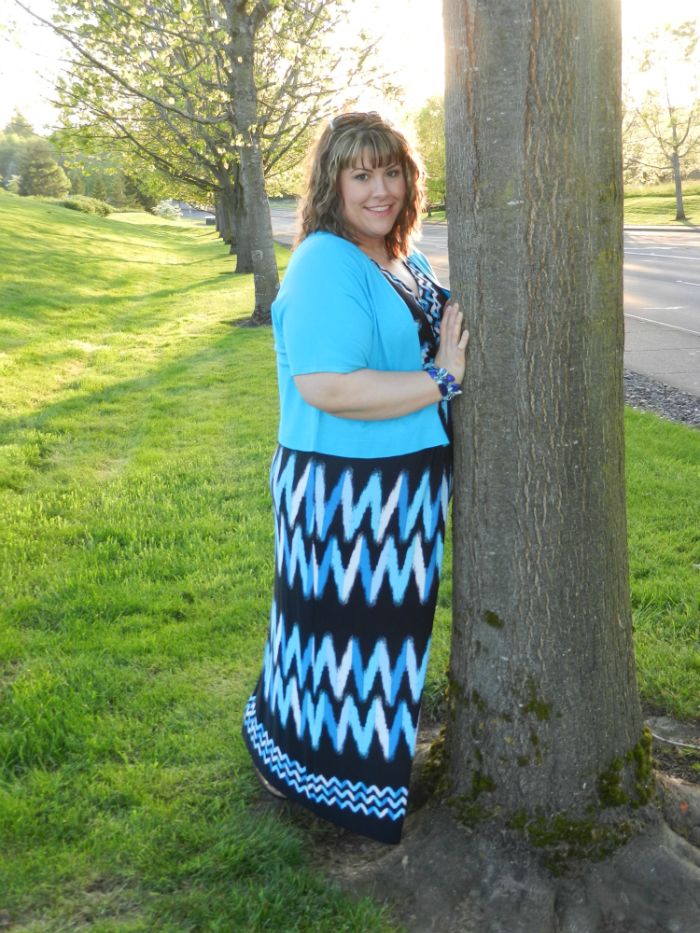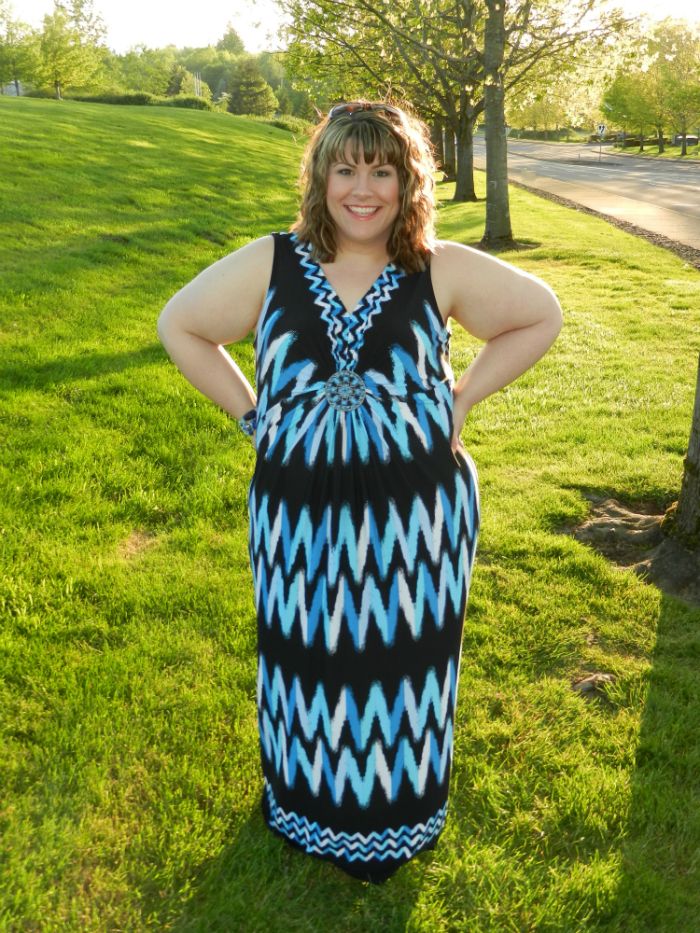 I wore this dress out on a date night with Sean. We drove around town enjoying the gorgeous sunshine and cool breeze before popping in to our favorite German restaurant for dinner. This restaurant is also the site of our first date almost ten years ago. Whenever we visit, we reminisce about those first awkward times of getting to know each other. Having been married for nearly seven years now, I much prefer the comfortable security of this phase of our relationship. He still gives me butterflies, so I have no complaints.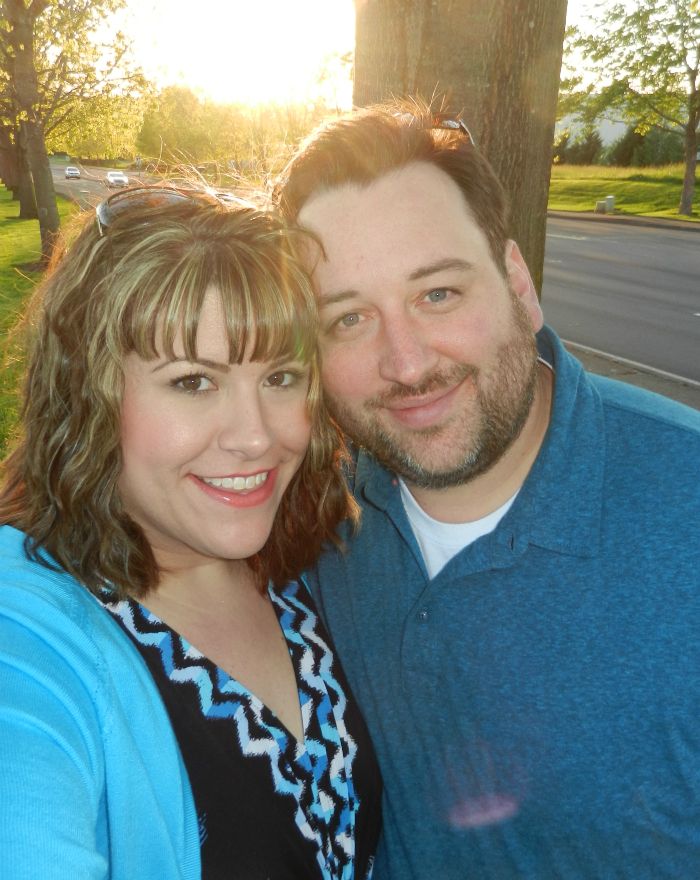 Chevron At Dawn Maxi
- c/o Catherines
Keswick Cropped Cardigan
- c/o Catherines
De La Mer Bracelet - c/o Catherines
Kylie Sandal in Rose Gold
- Trotters
Stay tuned this month for more fun fashion from Catherines! If you'd like to see what previous featured bloggers wore, you can visit Liz of
With Wonder and Whimsy
and Marcy of
Fearlessly Just Me
.
What are your summer staples? What styles are you looking forward to wearing this season? What are your favorite looks from Catherines newest collections? I'd love to hear your opinions!