As you may remember, Sean and I celebrated our seventh wedding anniversary on May 31st. Per tradition, we like to go back to the
hotel/winery/golf course/brewery/restaurant/distillery
where we were married and have dinner. Sometimes we stay overnight and hang out in the garden where we got engaged, sipping wine and reminiscing and taking tons of pictures. Because we are planning two trips this fall, we are trying hard to rein in the spending. So this year was just dinner; and it was so tasty!
This is the first time I've worn white in a long, long time. I just never thought it looked that good on me. My wedding dress wasn't even white - it was champagne-hued. So imagine my surprise when I
tried this dress on a whim
and loved it so much that I just had to have it! My mother-in-law bought it for me for my birthday and I've been so excited to finally wear it!
The end of May turned out to be pretty warm, so the gauzy material was perfectly weather appropriate. I made sure to take photos pre-dinner
(in the same spot Sean and I first saw each other on our wedding day
) in the event I spilled something on my dress. I will have you know, I was super careful over dinner and came out unscathed!! I even had steak with a red wine sauce!
On to the dress! This knee-length number has a more full skirt, ruched waist, and flutter sleeves. The v-neckline is mimicked in the back, with a strip of gauzy material across the shoulders. Originally, I
tried this dress on
in a 4 at Torrid. It fit fine, but was a little baggy right above the waist band all the way around the dress. Sizing down to a 3 was perfect for me. The embroidery is such a beautiful touch that lends something special and charming to the dress. I imagined being a Mexican princess. I can't be the only one that creates characters based on outfits, can I?
Ruched waistbands like this can sometimes migrate a lot and need constant readjusting. I didn't feel like I had any issues with this one. It was tight enough that it stayed in place well, but it wasn't so tight that it accentuated my tummy roll. The flutter sleeves kept me nice and cool and added such a ruffled femininity to the dress. The lining is such that you don't need a slip either. I simply wore my
leopard print thigh smoother shorts
from Yours Clothing to banish the dreaded chub rub.
I wanted to keep the accessories simple and sparkly for the special occasion. Rhinestone embellished sandals, while not the most comfortable shoes, provided a lot of that extra sparkle. I didn't want my footwear to feel too heavy for such a light (
in color and material
) dress. The Swarovski pendant necklace was a gift from my mother-in-law that she bought while in Europe a couple years ago. I love its simplicity and sparkle. I've been finding more ways to incorporate it into outfits this year. I don't have a similarly rhinestoned bracelet, so I reflected the black embroidery with this black beaded bracelet I made years ago.
The building behind us is where our wedding reception took place.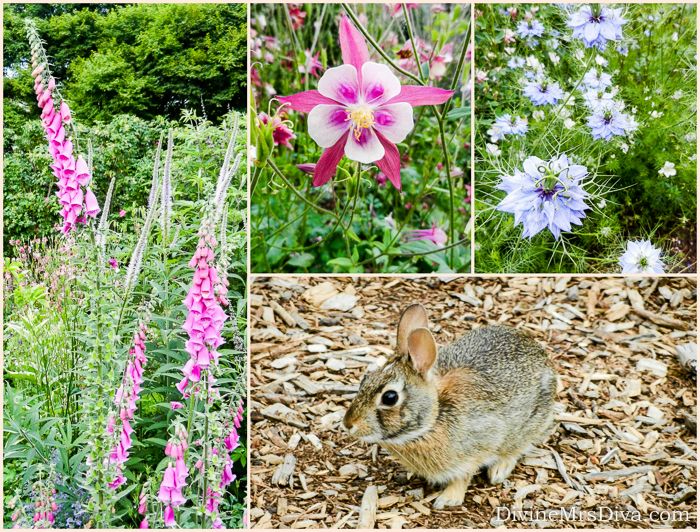 After taking loads of photos, we headed to dinner at
The Black Rabbit restaurant
. We've never had a bad meal there and keep going back year after year. We broke from our usual scallop appetizer and ordered the cheese plate. The blue cheese was our favorite. We mixed it with walnuts and apples and had a great time coming up with the perfect ratio of ingredients per bite. For dinner, Sean opted for the salmon with asparagus, arugula, cornbread croutons, and romesco sauce. I went with the steak, fingerling potatoes, and braised greens. We splurged on dessert with a mini German chocolate cake and passionfruit cheesecake tart.
Full of food and wine, we strolled around the grounds checking out the gardens and watched rabbits hop around and eat clover (and took tons of selfies lol). Then we watched the sun set over the grapevines, reminiscing about our wedding photos we had taken in the same spot. It was a beautiful, fun, and tasty evening spent celebrating our marriage and our friendship.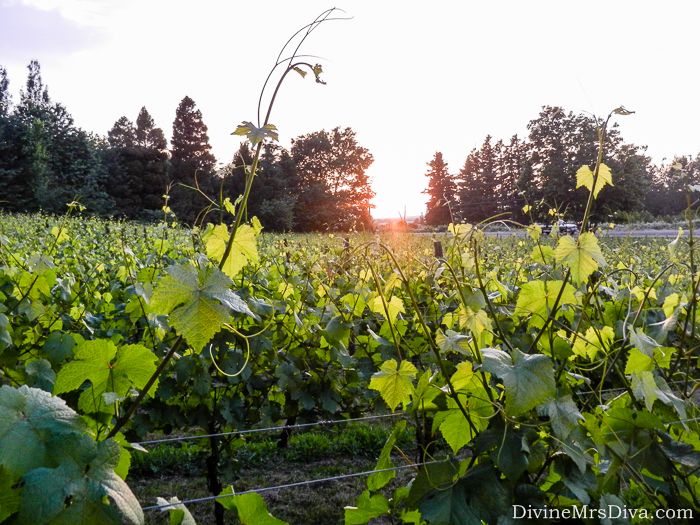 Embroidered Flutter Sleeve Dress - Torrid (More white dress Torrid offerings
here
)
Seahorse Sandal - Nine West via 6pm (
Rhinestone Sandal Options
)
Swarovski Aline Pendant Necklace
- Gift from Mom-in-law
Beaded Bracelet - DIY made by me
Lipstick is
Revlon Balm Stain
in Crush
Do you have adverse reactions to wearing white? Do you try to embody characters when you put on an ensemble? What's the best meal you've ever had? Tell me more, tell me more - in the comments!