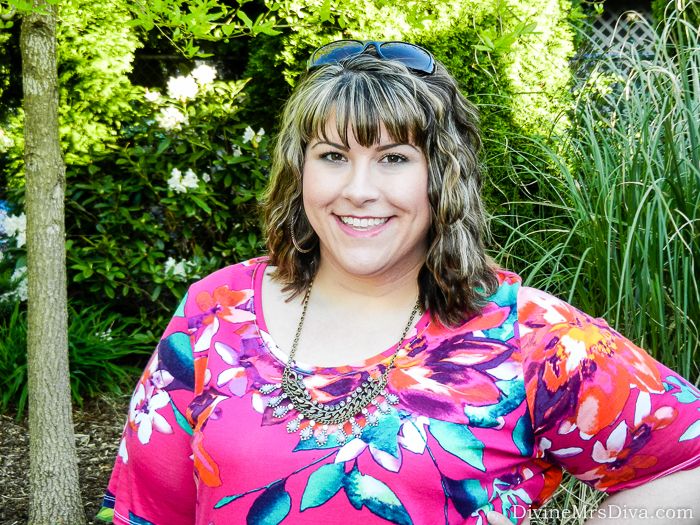 Sometimes
Most of the time, I just need a basic, comfortable, non-fussy outfit that allows me to run around town and hang out with friends. Back before I was a more confident version of myself, I lived in jeans, some kind of tee or tank, and a velour hoodie. I got in a deep rut with only wearing versions of that outfit. I don't know if it is because I felt less than at that time in my life, or if my uniform of that time just made me feel less than, but I have been fearful of getting stuck back in that rut anytime I wear jeans and a t-shirt. Occasionally, with travel or errands or to combat the weather, I have to go with the classic combo.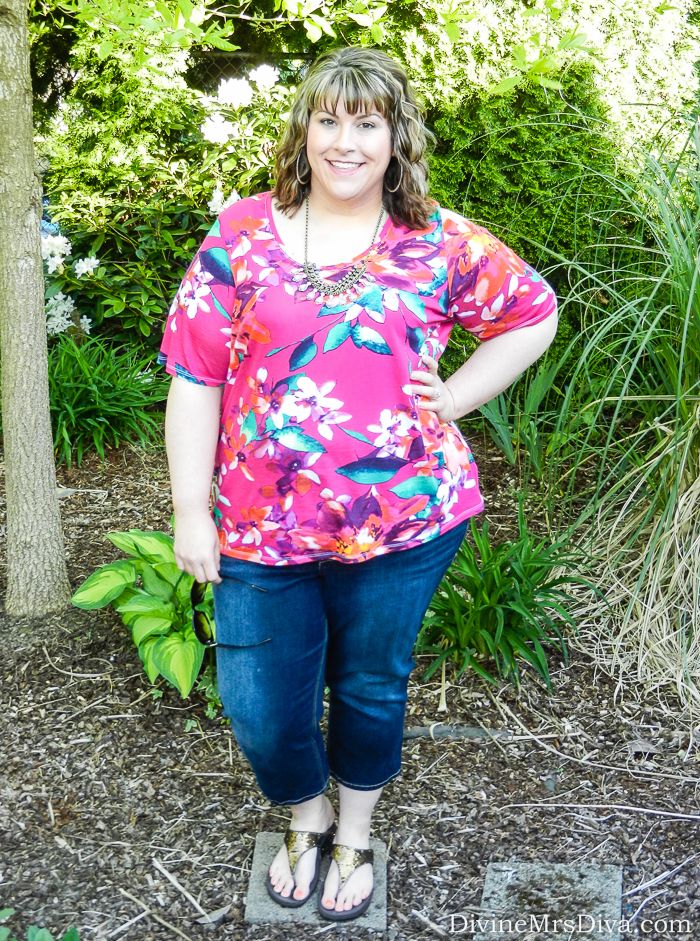 These days, I choose dark wash jeans, colorful tees, and dress them up with statement necklaces. It makes me feel vibrant, sparkly, and cute, but provides that comfort level that only jeans and a tee can. Lane Bryant has had a few versions of this tee available this spring. I've previously
worn my navy striped one on the blog
. I love to add shine and a little bit more dressiness with a statement necklace. Whatever accessories you decide to go for, it can make the outfit look more thought out and put together. Plus, you look like you actually care about your appearance, which can make you more confident. Confidence can make you happier, then people treat you nicer, and then you have a better day overall. So just wear the damn necklace and have a good day!! lol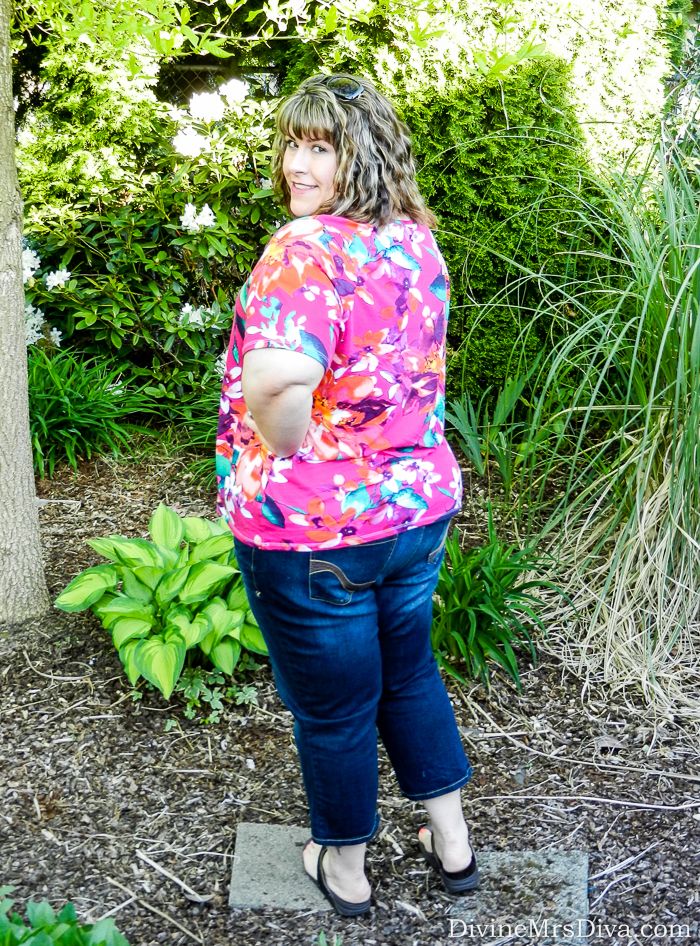 I joke. But look, it takes the same amount of time to put on a cute pair of jeans and a cute t-shirt as it does to put on a crap pair of jeans and a dirty t-shirt. Or pajama pants and a sweatshirt (
which people wear to the frickin' grocery store and it drives me insane
). Also, a maxi dress or some other pull-on style of dress takes the same amount of time to get on your body. So if you want to look cute or pulled together, there is really no excuse. Rant done.
These tees are soft and stretchy, but hold their shape well with wear. Sometimes I stretch the hip/tummy portion out just a bit to make more room because they seem a little fitted at first. The sleeves aren't too crazy short and fit my large upper arms nicely. I am wearing this one in a 22/24.
The capris are my fourth pair of Genius Fit capris. They have become a summer staple for me. They do stretch out with a few wears, which can be a bit annoying, but I keep going back to these. The cuffs are usually rolled up, giving a way more casual vibe. When I am in "Dressy Casual" mode, I just unroll them. This pair is a 24, but next time I buy I may want to size down because of the stretch. I am still at a weird in-between-sizes phase and my missing thyroid is in no mood to help me sort that out.
Accessories include sequined FitFlops that are really comfortable (
unless you are walking really fast for at least seven miles a day in Las Vegas. In that case, the sequins will begin rubbing your toe web and slice into them and make you bleed and then you are trying really hard not to hobble in your pretty maxi dress on your way to dinner. True story
.) and a rented-from-Rocksbox necklace with a fun design and just a touch of sparkle.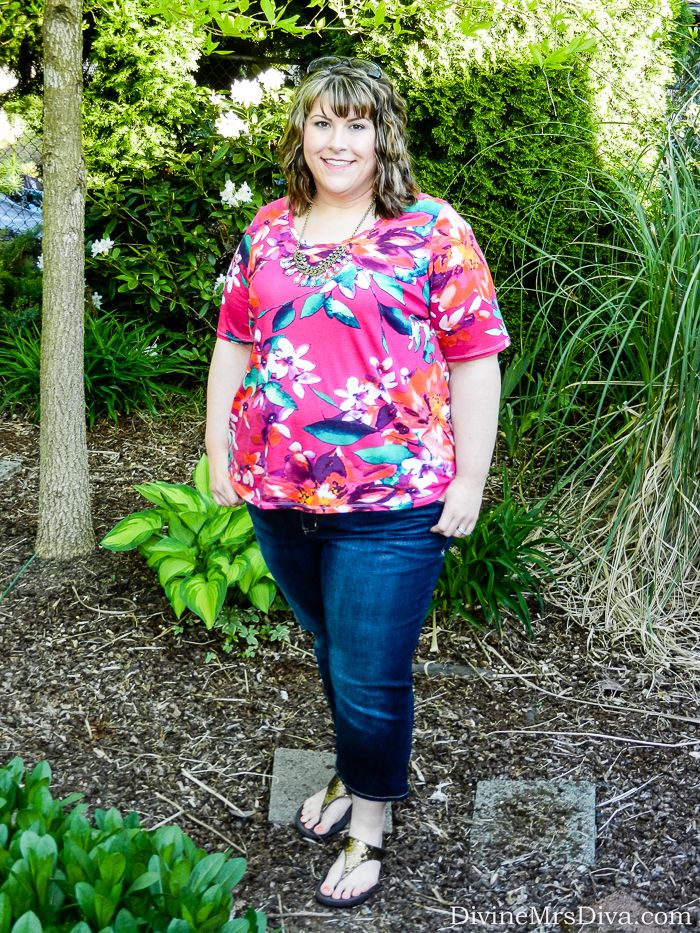 Floral Modal Scoop Tee
- Lane Bryant
Genius Fit Dark Wash Crop
- Lane Bryant
Electra Sandal
- FitFlop
Perry Street Alice Necklace - via Rocksbox (Use code
HAILEYBFF27
for a free month)
What are your thoughts on jeans and a t-shirt? Do you run errands in any old thing? Do you sacrifice comfort for style? How do you take a casual look to the next level? I want to know what y'all are into, so share with me in the comments!
Disclosure: This post contains affiliate links.