Last weekend, Sean and I headed out to Battle Ground for the 3rd birthday of my cousin's adorable daughter, Stella. Lewisville Park is really gorgeous, with tall shady trees, trails, and a river. I remember the first time I visited the park when I moved from Georgia to Washington State almost 18 years ago. (
The longest I have ever lived anywhere - ever.
) I could not believe the water was so clear! But I digress....
The day of Stella's party was set to be a hot, hot day. Anytime I want to be cool and look put together, I love to break out a trusty maxi skirt or dress. This month's Sartorial Medley theme is all about maxi skirts and dresses (
find out how to participate in this month's theme at the end of this post
). Kiyonna recently sent me their new
Jetsetter Maxi Skirt
in this vibrant tie-dye print, so I jumped at the chance to wear it on this super-hot day.


- Kiyonna gifted me the skirt in this post. Opinions are 100% my own. -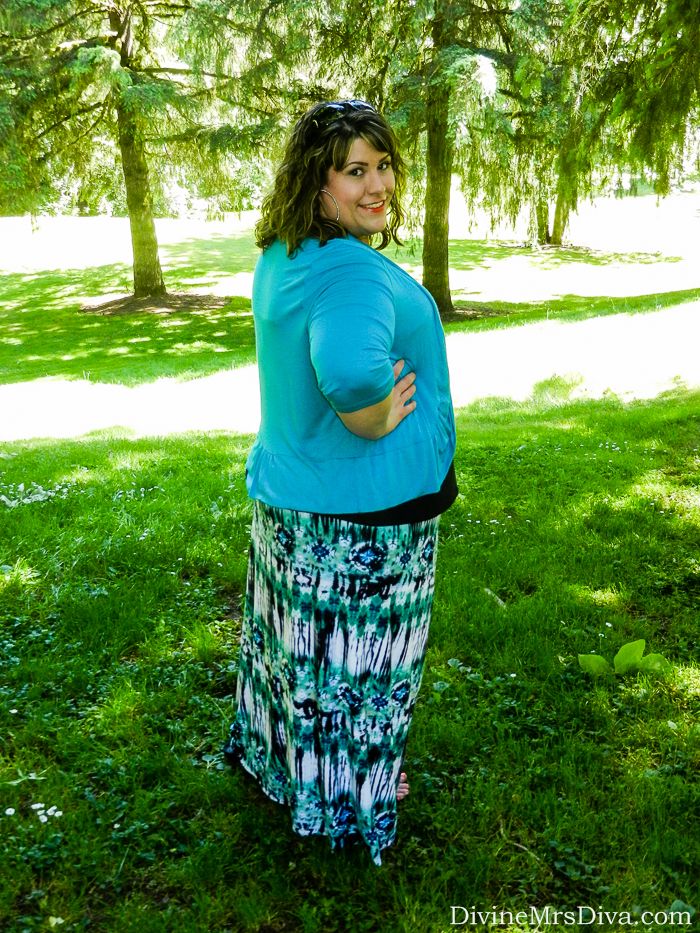 I wear my
Chameleon Convertible Maxi Skirt
from Kiyonna all the time, so I was really excited to see a new maxi skirt this summer. Whereas the Chameleon is a more full A-line silhouette, the Jetsetter is a little more fitted or column-shaped. It has a similar ruched waistband, but features an off-center gathered detail reminiscent of a sarong or wrap. I think it is such a unique and sexy detail. Because I knew the skirt would be a bit more fitted at the hips, I was worried about how it was going to hug my tummy. Fear not, pear-shaped friends! I was really happy with the fit and look of this skirt style. (For reference, I am wearing a 3X, my measurements being 52/50/59.)
I am 5'9" and this skirt hits me a little bit lower than the tops of my feet, with the waistband at my natural waist. The poly/spandex material is definitely stretchy and comfortable. It is smooth and cool against the skin, which is why it was such a perfect choice for this particular weather. The fabric also has a great weight to it so it hangs well and moves beautifully. The tie-dye pattern is black and white with a vibrant green and hints of an almost turquoise blue. I received so many compliments on my ensemble both at the party and running errands around town afterward.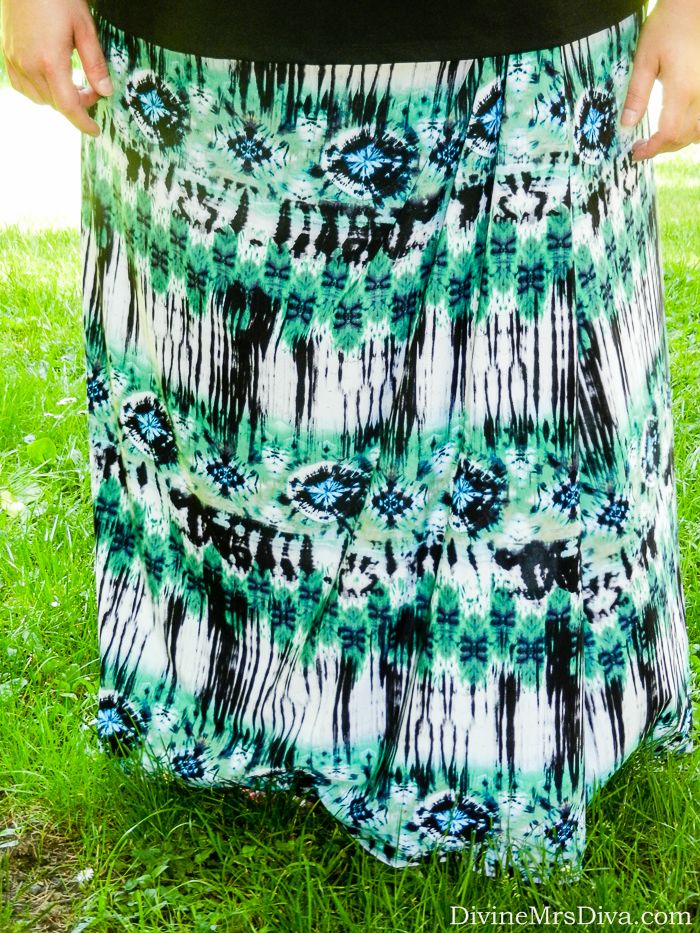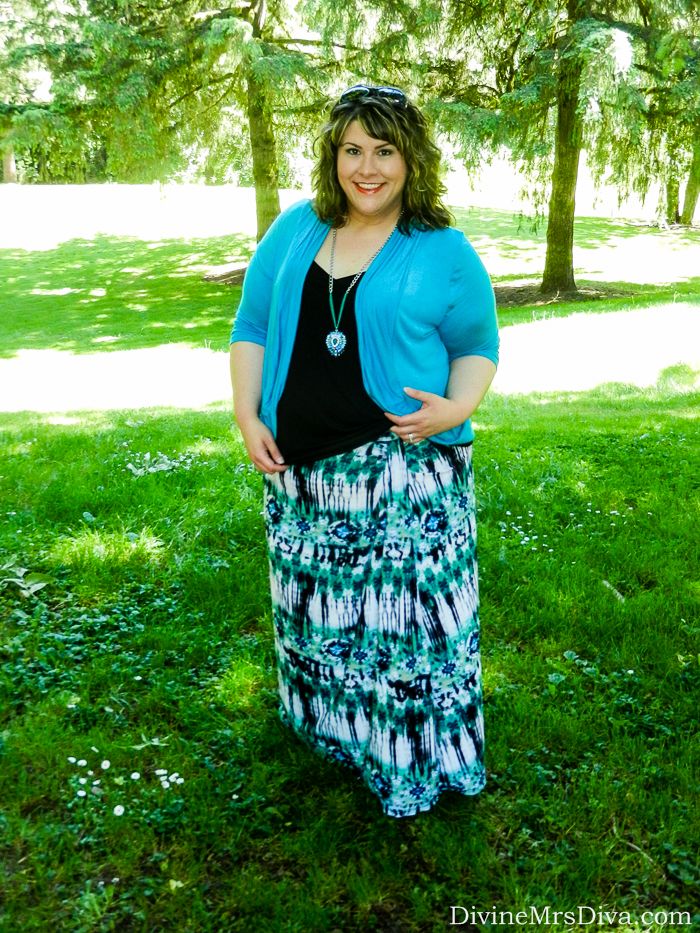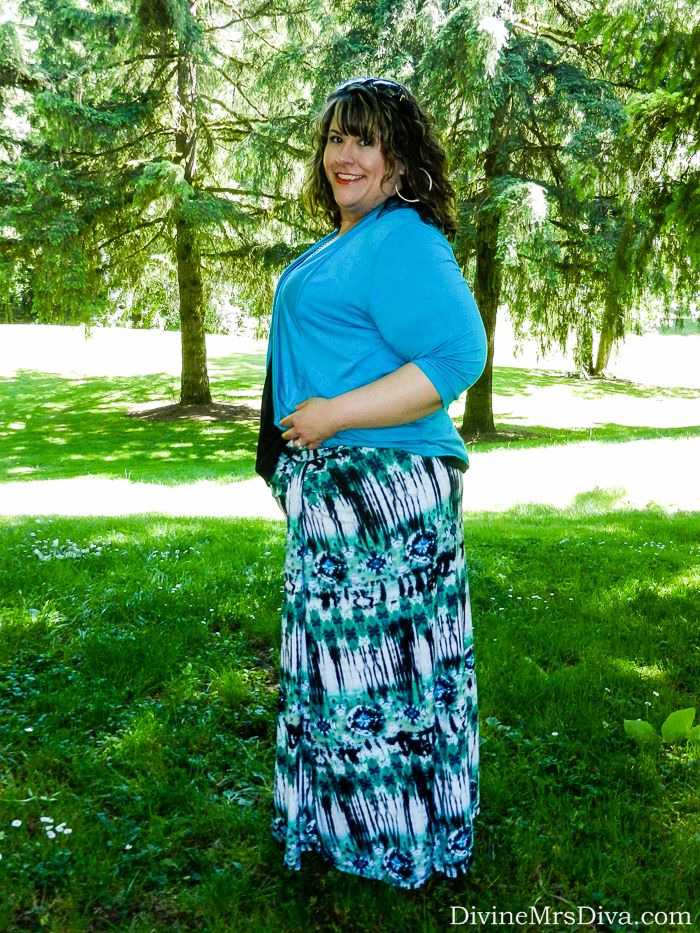 Because the skirt is a bright, all-over pattern I really wanted it to be the main focus of the outfit. I chose black sandals and a black tank to ground the outfit and bring out the black in the skirt. I think it makes the green and blue in the pattern look much more dynamic. I am a girl that loves to wear color though, so I added my turquoise shrug and a long necklace of varying blue shades. While the shrug doesn't quite match the blue in the skirt, it really helped highlight both the blue and the green hues and pull everything together. I was really thrilled with the finished look.
It was such a gorgeous day, but the shade of the trees could only keep us cool for so long. The party winded down and I scurried off to take some photos before I melted. I may be a Southern Belle, but I am no longer accustomed to humidity or weather over 75 degrees. hahaha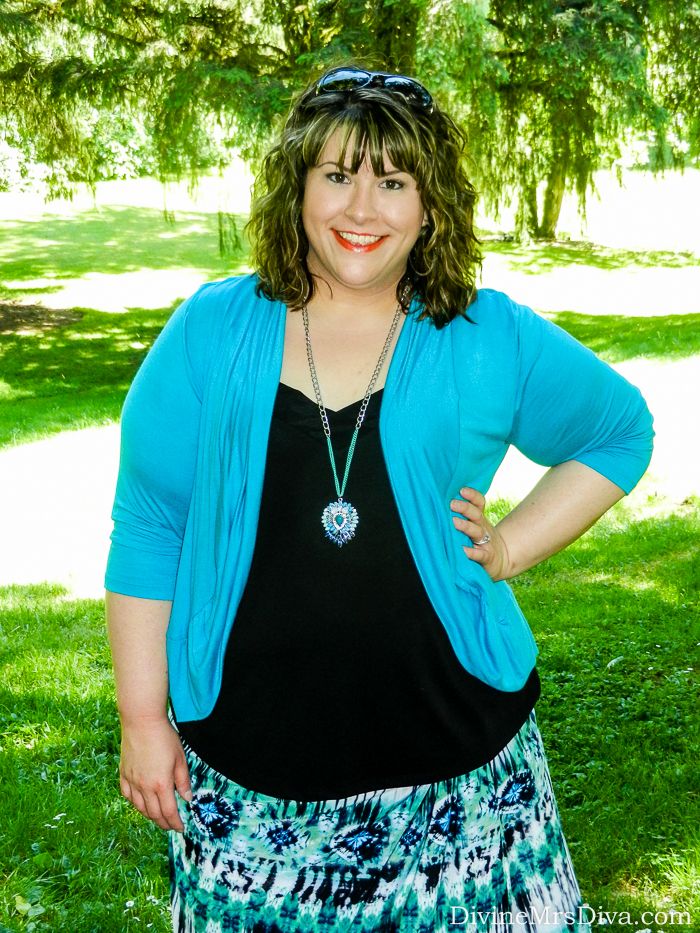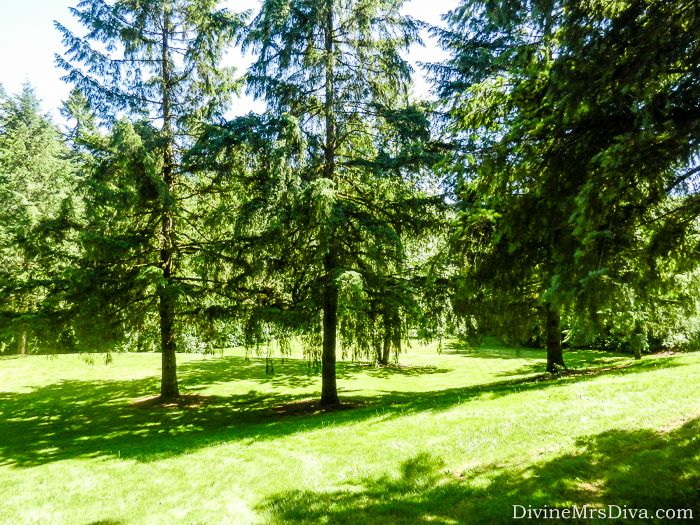 Jetsetter Maxi Skirt
- c/o Kiyonna
Black Swing Cami - Lane Bryant (circa 2013/14)
Amber Shrug
- SWAK Designs
Pippa Sandal
in Black - Isotoner
Multi-Chain Pendant Necklace
- Lane Bryant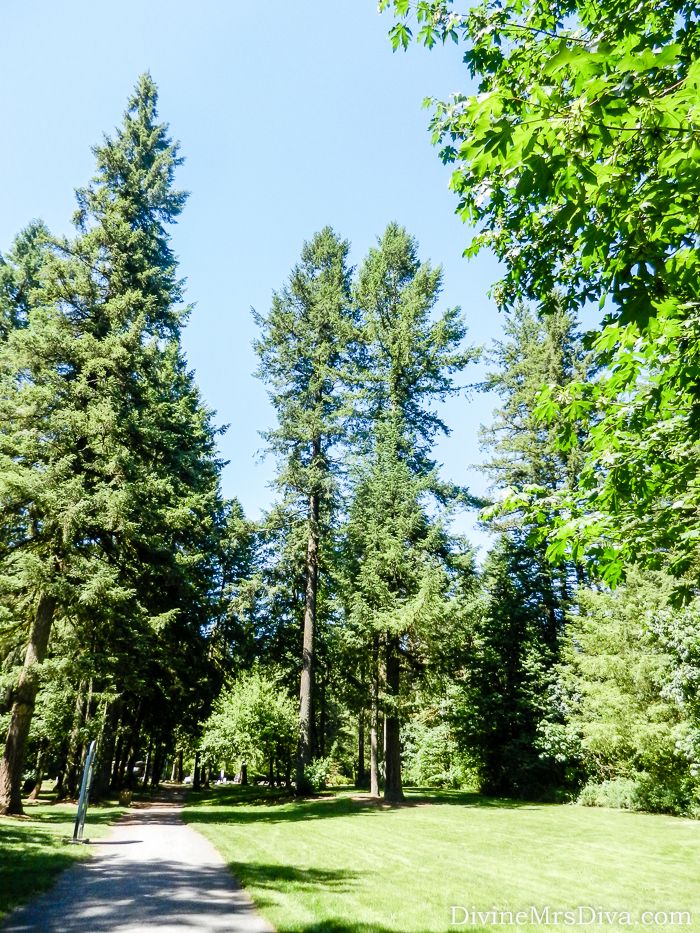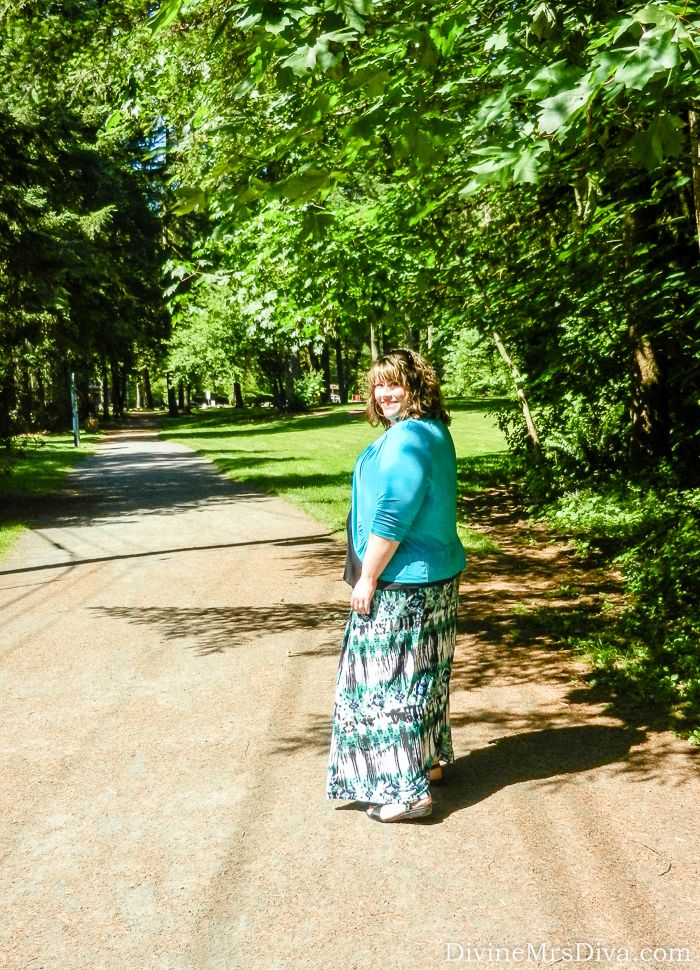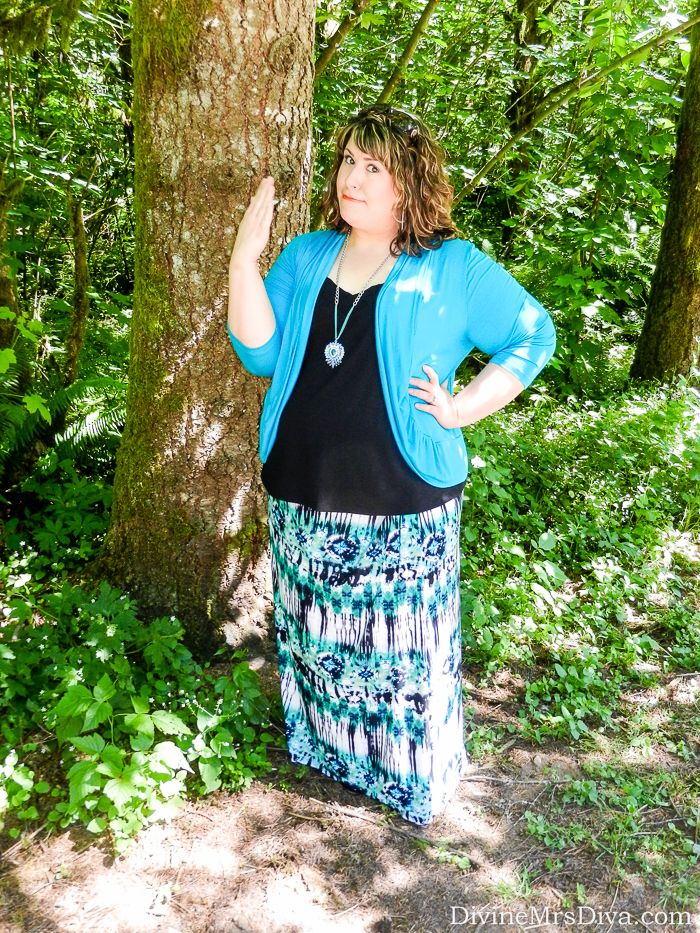 Fanning myself in the heat. lol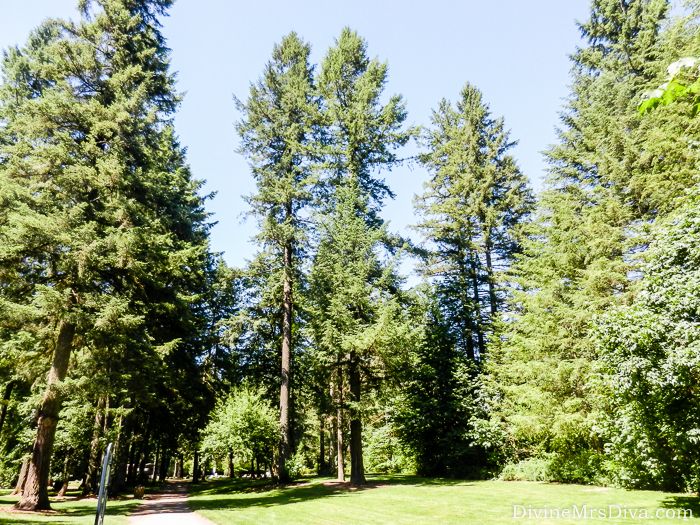 Sartorial Medley is a monthly themed fashion post hosted by myself and Aislynn of Aislynn's World. (Did you miss the previous posts? Check them out!) We welcome participation from anyone, regardless of your dress size. Email me your photo and link to your blog post - diva (at) divinemrsdiva (dot) com.
To participate, even if you don't have a blog, just Tweet/Instagram/Pinterest/etc. your photo with #SartorialMedley to be featured in the blog post. We can't wait to see you rocking your outfits! (Follow me on Twitter/Pinterest/Instagram @DivineMrsDiva.)
Visit the ladies below to see their "Maxi" ensembles:
Do you rely heavily on the comfort and style of a maxi dress? How do you feel about tie-dye patterns? How would you style this awesome skirt? Chat with me in the comments!
Disclosure: I am a member of the Kiyonna Blogger Brigade and they provided me with the dress in this post. All opinions on the item are my own.