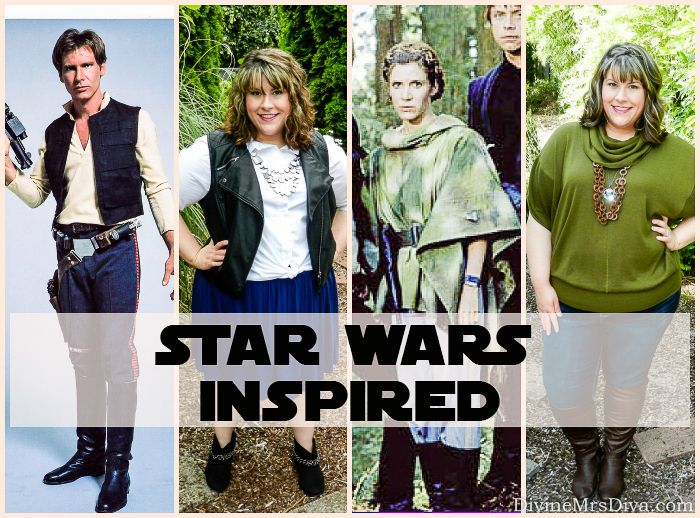 I'm really excited about today's post! Janeane of
Designing From My Closet
and I teamed up to celebrate our love of
Star Wars
! For our collaboration, we each chose a look or two from characters from the movies and used those costumes to inspire real-life looks. I've been obsessed with
Star Wars
for as long as I can remember. As an eight-year-old,
Return of the Jedi
was my absolute favorite movie ever. I watched it countless times, even pouring over a storybook that outlines the entire plot of the movie. Certainly, I loved the Ewoks and was smitten with Luke Skywalker, but there were so many other aspects of the film that drew me in.
As most of my real-life friends are not as geeky as I, it makes me happy when I find other female
Star Wars
fans! I hope you enjoy the looks I put together. Don't forget to check out
Janeane's post
as well!
The first look I chose is Han Solo. I prefer the blue pants look from
A New Hope
to the brown pants of
Return of the Jedi
. A few months ago, I decided I wanted to create my own Han look for Halloween and definitely for wearing to a showing of the new
Star Wars
film
in December. Her Universe has a cute
Han dress
, but it is no where near "plus size" enough to fit me. This bums me out, but it also pushed me to get creative and try to create my own ensemble. So when Janeane talked about doing a
Star Wars
inspired post, a version of this Han look was the first thing that popped into my head.
Obviously, this one is less cosplay than what I will be wearing at the end of the year. I wanted to keep the look as wearable and current as I could. I started with a navy blue flippy skirt, which was my eBay purchase in compiling my costume for later. (
eBay is a great place to look for older Torrid and Lane Bryant pieces, among others, that you may have missed out on. And definitely a source for cheaper clothes if you are looking to put together a costume or just want to save some money.
) Lane Bryant carried this style of skirt in lots of colors and patterns last summer. I should have bought more of them because they are comfortable and easily styled. I chose to tie the white shirt at the waist and opted for booties over knee-high boots to keep the look more casual and youthful. The shiny, brushed silver necklace stays within my color palette and acts as a nod to the
Millennium Falcon
.
I would totally wear this look out for dinner or drinks with friends. And just by adding some leggings or tights and my knee-high boots, it becomes a winter ensemble.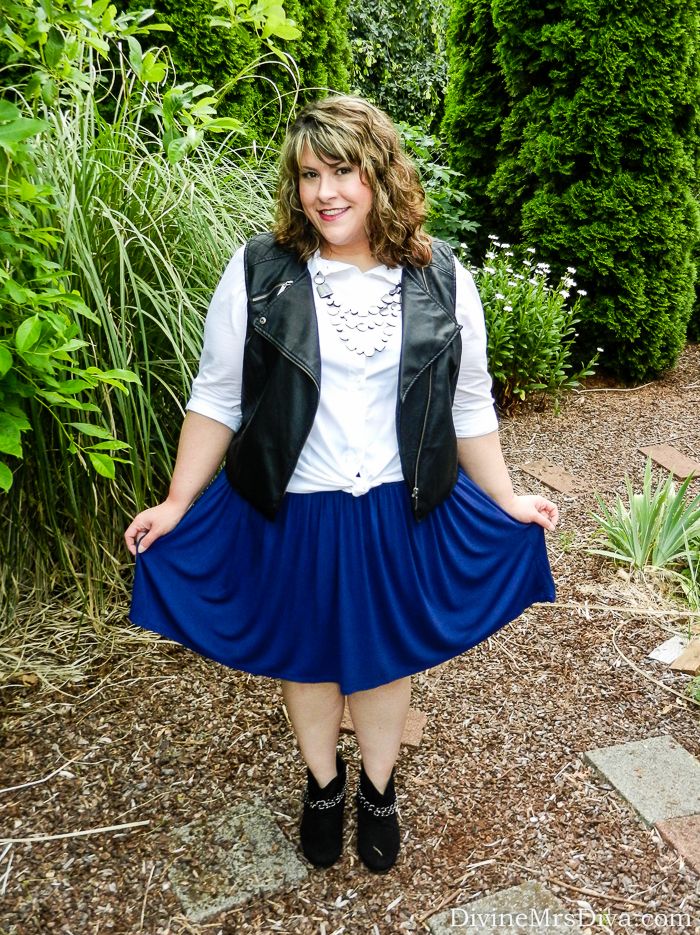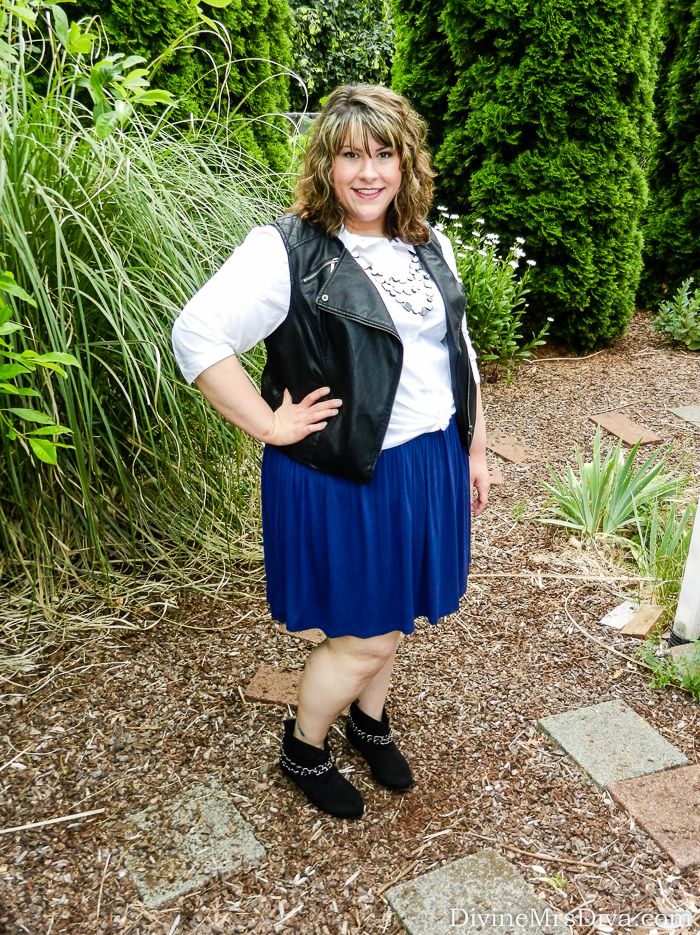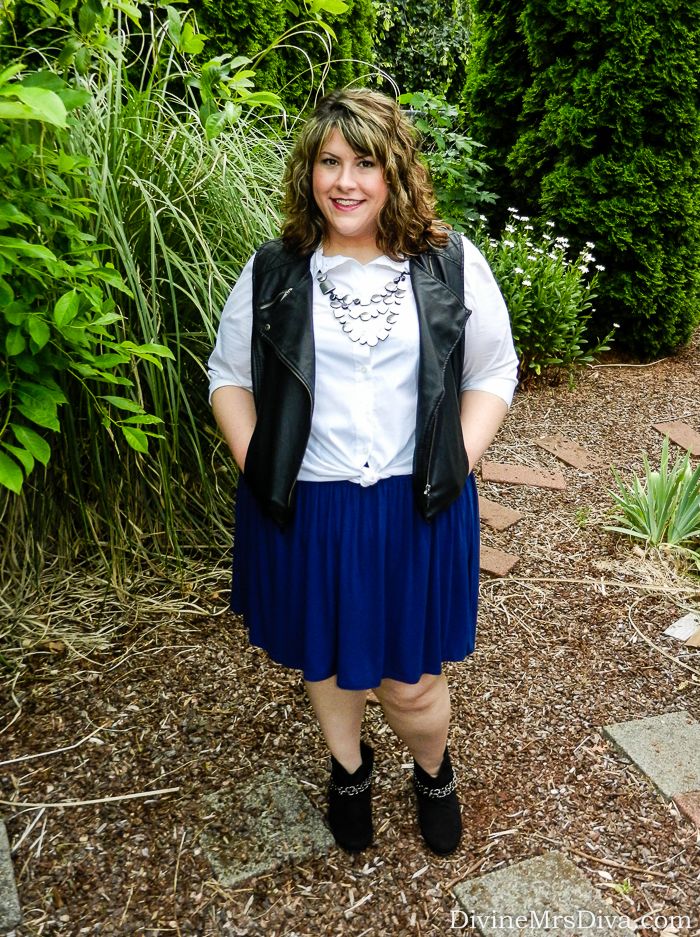 The second look I chose to be inspired by was Princess Leia's poncho ensemble from her time on Endor. I actually bought this sweater years ago when K-Mart introduced their LYS label in an attempt to offer more fashion-forward pieces at crazy low prices. This sweater was on clearance for $5, but upon arrival it didn't fit me very well and was never worn. It always reminded me a bit of Leia's poncho, but I've never really compared the two until now. Again, when Janeane and I agreed on a
Star Wars
collaboration, this outfit popped into my head as well.
Happily, this sweater fits me now and I was able to finally use it in a Leia-inspired outfit. This definitely screams fall. With the super hot temperatures we're having, I cannot wait for cool fall weather and a chance to wear this ensemble again. (
Fun fact: It was 90 degrees outside when I took these photos.
) The cowl-neck is really what brings it to life for me. I also tried using it as a hood reminiscent of Leia's white dress in
A New Hope
, but the cowl was a little too short for that. Keeping with the casual theme, jeans and boots were the perfect addition. Accessorizing is always the fun part though! I put a little braid in my hair and donned necklaces inspired by the tall trees of the Forest Moon and its furry inhabitants.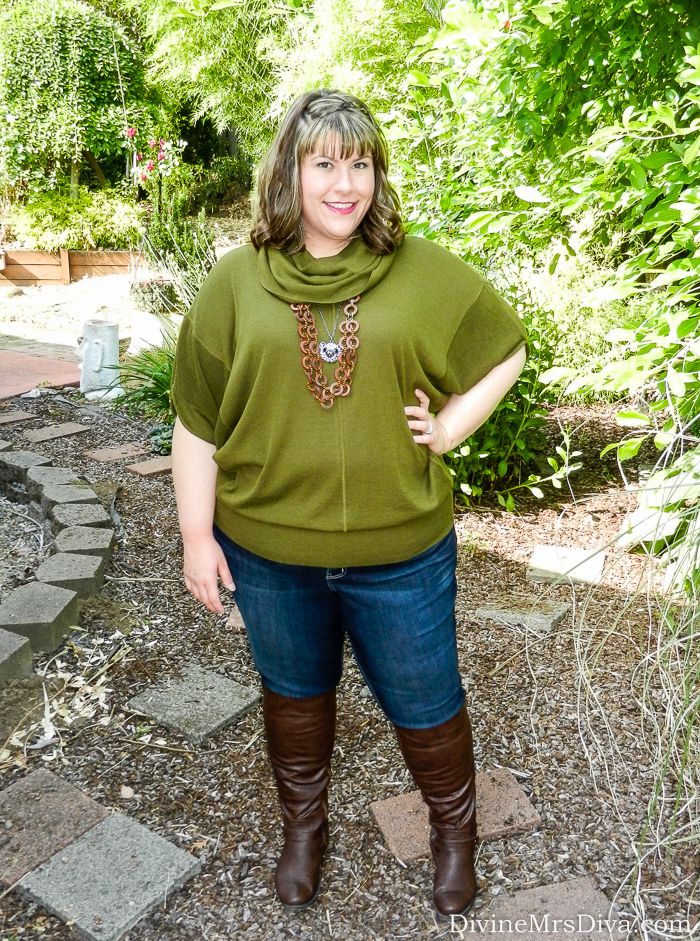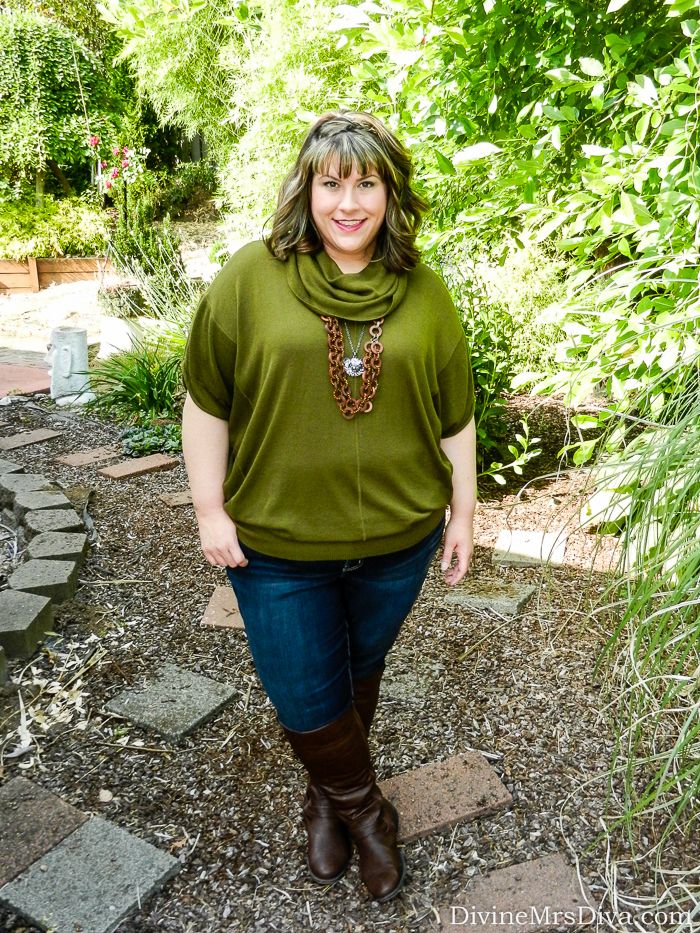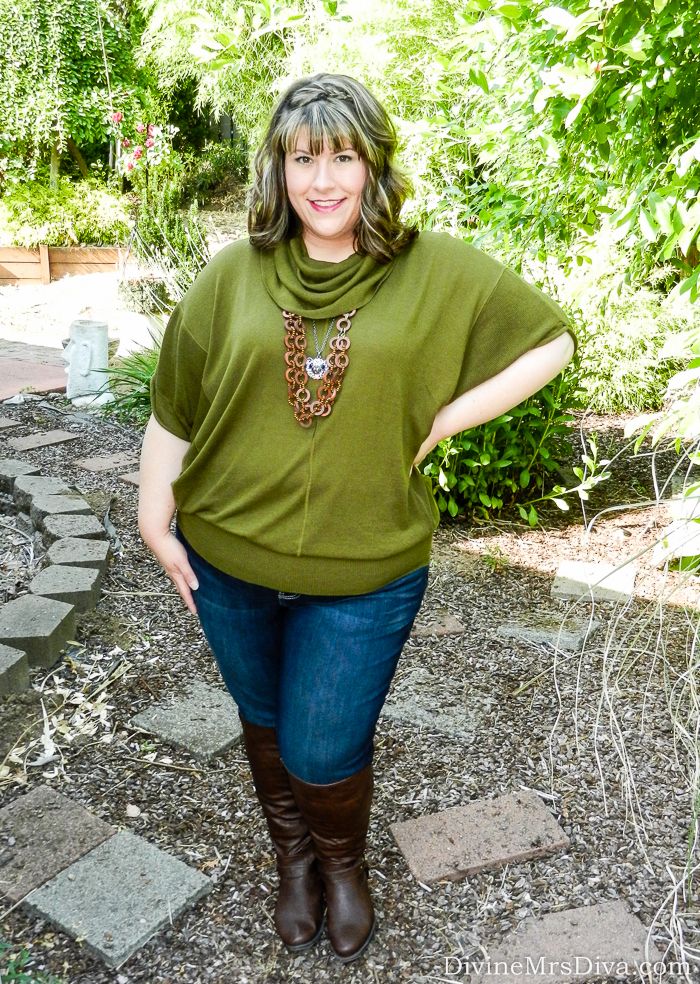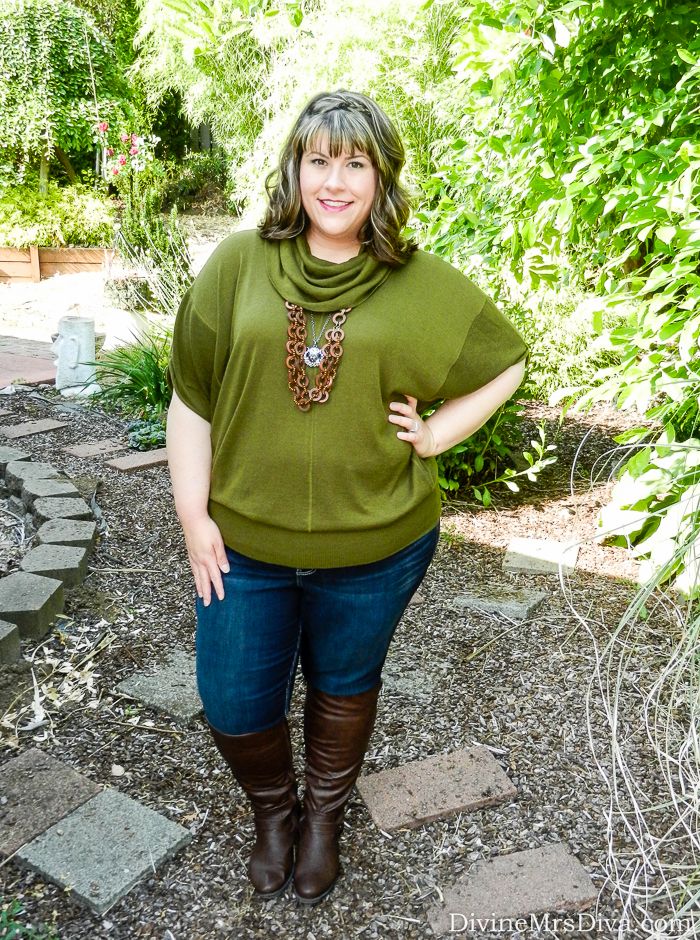 | Han Solo Look | Princess Leia Look |
| --- | --- |
| White Button Down Shirt - Torrid | Cowl-Neck Sweater - LYS at K-Mart (similar) |
| Faux Leather Vest - Lane Bryant (similar, similar) | Skinny Jeans with TTT - Lane Bryant |
| Navy Blue Flippy Skirt - Lane Bryant via eBay (similar) | Perry Stretch Riding Boots - Avenue |
| Booties - Avenue (similar) | Woodland Necklace - Catherines |
| Brushed Silver Necklace - Avenue | Teddy Bear Rhinestone Necklace - Torrid |
Janeane chose the regal, crimson robe dress of Queen Amidala as her inspiration, creating a summertime look of texture and pattern. You must
check out her post
and read about her inspiration and styling tips!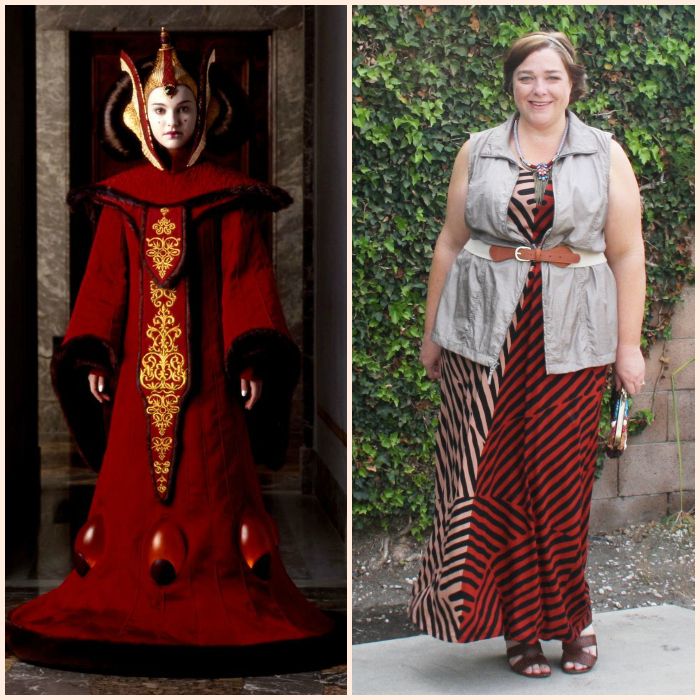 Are you a Star Wars fan? Did you enjoy our inspired looks? Would you like to see more ensembles fashioned from costumes and characters? I would love to know what y'all think!!
Disclosure: This post contains affiliate links.