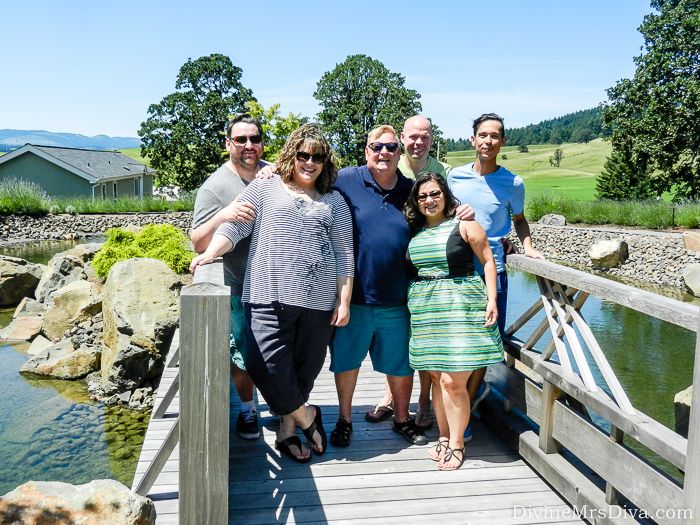 I've spent my morning today in a rare burst of productivity. I managed to fold laundry from five different loads, run two more loads of my clothing and hang those to dry, start the dishwasher, distribute supplements into my vitamin container, make breakfast, and get dinner going in the slow cooker. It may sound like a typical Tuesday evening to some of you, especially to those of you who have kids, but I was pleasantly surprised by my burst of energy. I have more good days than bad days since my
thyroid surgery
, but the productive days always surprise me. I'm too hard on myself sometimes.
So I'm just gonna think about my leisure day of wine tasting with friends. I
talked about the day trip on the blog last week
, and this week I can focus on my outfit!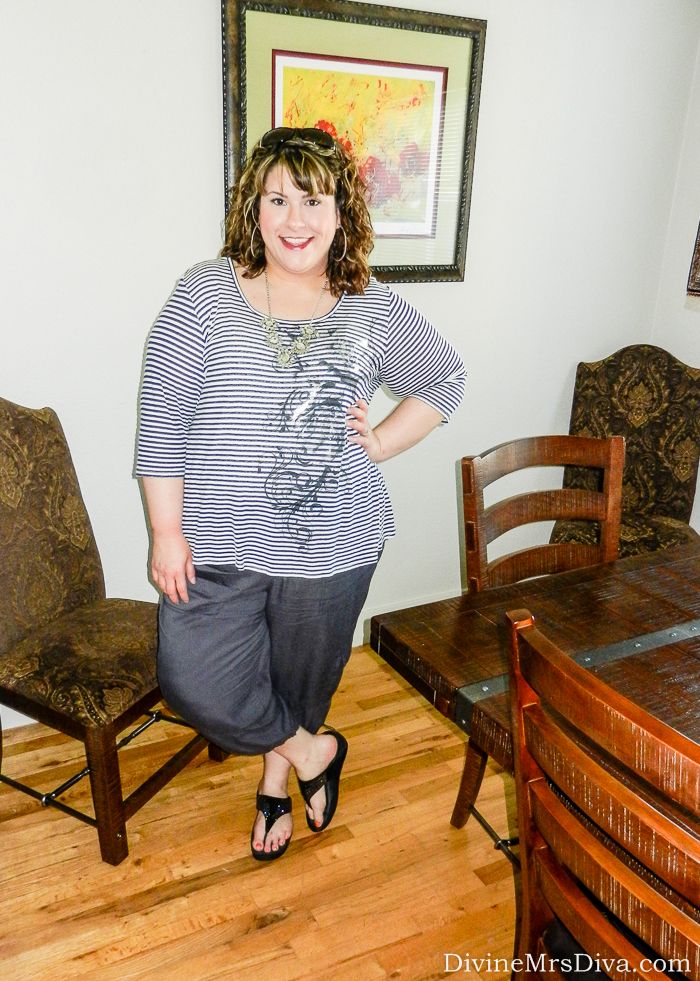 It was really hot that day, so my outfit had a lot of requirements. I decided to wear my new soft cargo capris (size 22/24) I bought from Lane Bryant during a recent sale. I tried them on in the store originally and was on the fence about them. I am so used to wearing skinny jeans and the like now, anything loose seems odd. They do look cuter on me when the bottoms are tapered just a little. They are lightweight and silky, so they feel cool against the skin. The material isn't strechy, but the waist band is elastic with a drawstring and the hem of the legs features a bungee cord-like drawstring. I am wearing them in the color "Nine Iron" which is a silvery-grey. These capris do wrinkle easily in the creases, but it didn't look sloppy or unkempt at the end of day.
Keeping with the comfy and cool vibe, I added this striped top that is made of a thinner, breathable material. As it is kind of see-through, I added a cami underneath; but the 3/4 sleeves kept me from adding a shrug layer. The top has the extra navy and silver scroll embellishment that dressed it up a tad.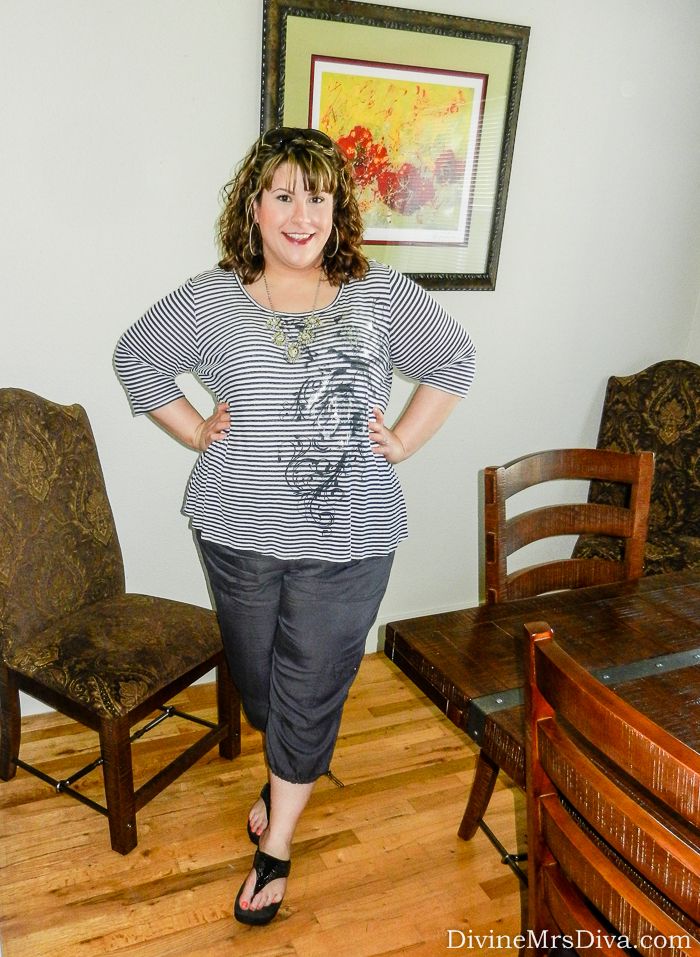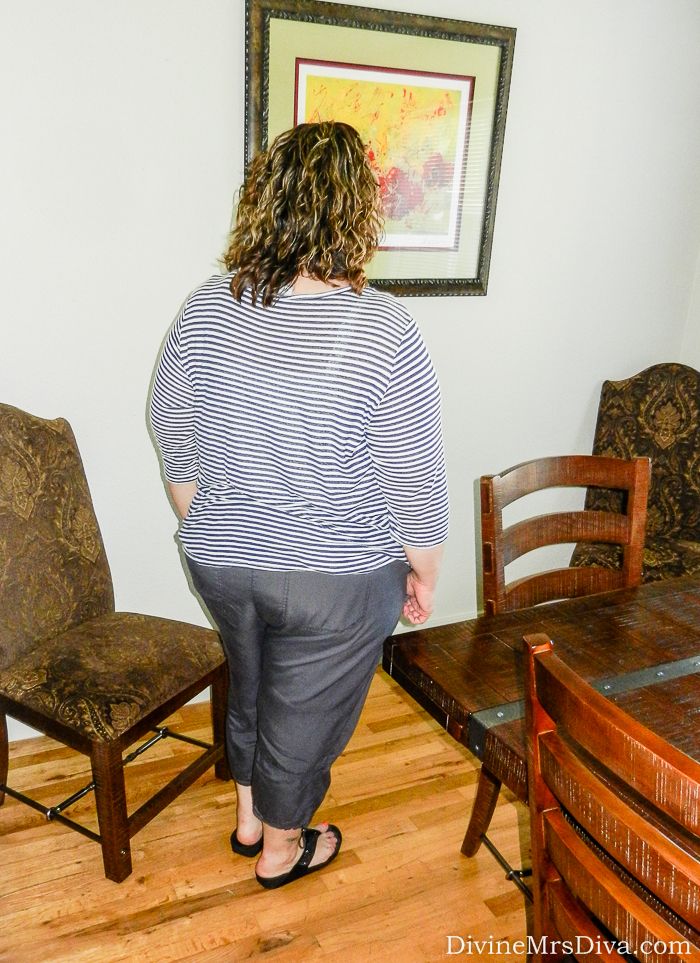 I accessorized with my comfortable black rhinestone FitFlops that I
bought in Vegas
during the
Great Toe Irritation
. These sandals are comfy, but they also have that bling I require on a daily basis. I also added my Perry Street necklace I bought via Rocksbox for extra sparkle.
This look kept me cool, casual, and comfortable, with the occasional coruscation caused by the sparkles. (
Confession: I had to look up words starting in "c" that also mean sparkly and "coruscation" was the only thing I could find. It means "a gleam or flash of light" or "a sudden or striking display of brilliance, wit, etc". Use it in a conversation with friends and feel like a total genius!
)
Soft Cargo Pant
- Lane Bryant
Striped Top - c/o Avenue (circa 2013) (
similar
,
similar
,
similar
,
similar
)
Flare Thong by Fitflops
- Amazon
Perry Street Selina Crystal Necklace - Bought via
Rocksbox
(use code HAILEYBFF27 for a FREE month)
Do you make a list of requirements for your outfits when planning an ensemble for a specific event? What would you wear wine tasting? Chat with me in the comments!
Disclosure: This post contains affiliate links.