It is hot, hot, hot here this week!! (
And has been off and on for a few weeks now.
) I can't say that I am a fan of the heat. My perfect weather is 70 and mildly sunny with a cool breeze and zero humidity. lol But I've already had to pull out the shorts and took the opportunity to style a fun summer outfit.
A week ago, we had a full day planned, ending with Bunco at a friend's house. This outfit was so great for staying cool in the weather. This Dressbarn top is new to my wardrobe. You may remember it from a
Dressbarn fitting room post
I put out this spring. When I first put it on, I loved the look of it. However, the crocheted material felt really stiff and scratchy so I didn't buy it. Flash-forward to mid-May when I went out shopping with my mother-in-law. I had some Dressbarn bucks to spend that week, so we headed to our more local store to look around. I tried this top on again and found it much softer and not scratchy at all. So I bought it!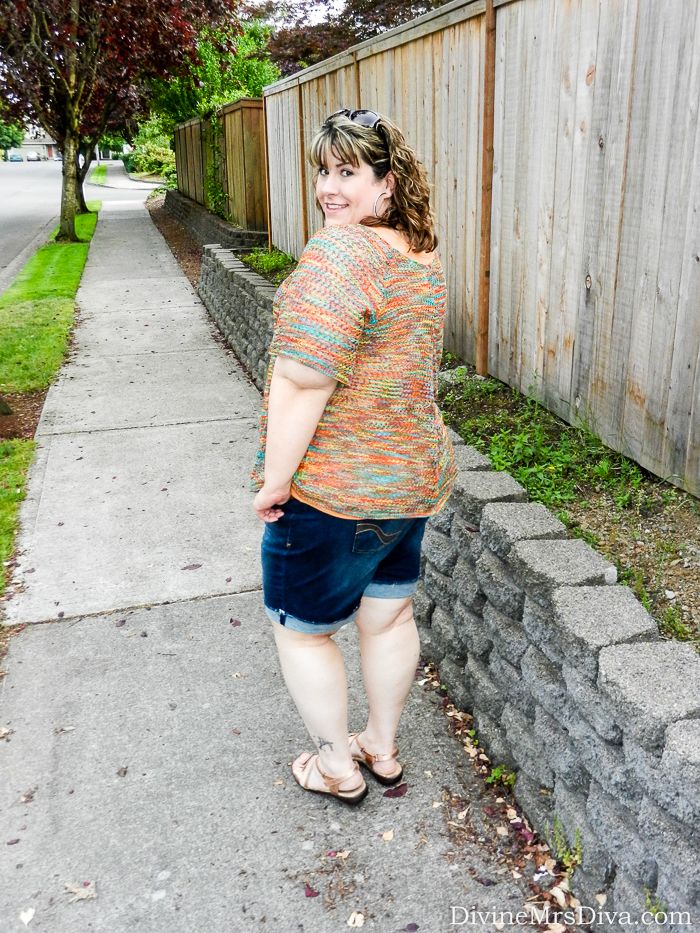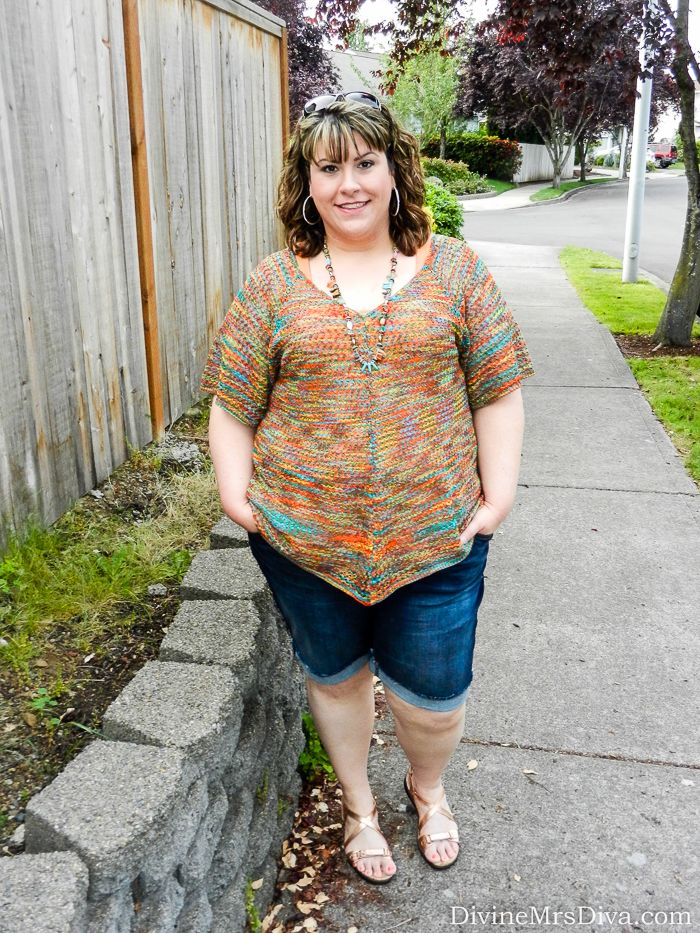 I love the looser bell-shaped sleeves, V-neckline, and pointed hem. I think it provides a nice coverage of the tummy without being too long and bulky. It is really light-weight and, with the little spaces in the crochet, feels breezy enough for hot weather. I am wearing this in a 3X and find the fit to be spot on for me. I feel like it accentuates my curves nicely and skims over things I want it to hide. I paired the top with a bright apricot colored tank to keep everything light and fresh. I actually found that I have so many tanks I could pair it with that give it a different look by making certain colors pop. My brown and black tanks give it a depth and make the bright colors brighter. Each tank - kelly green, neon green, turquoise, red, etc. - changes the look just a bit and brings out different colors. It will be fun to try out different looks this summer and share them all with you.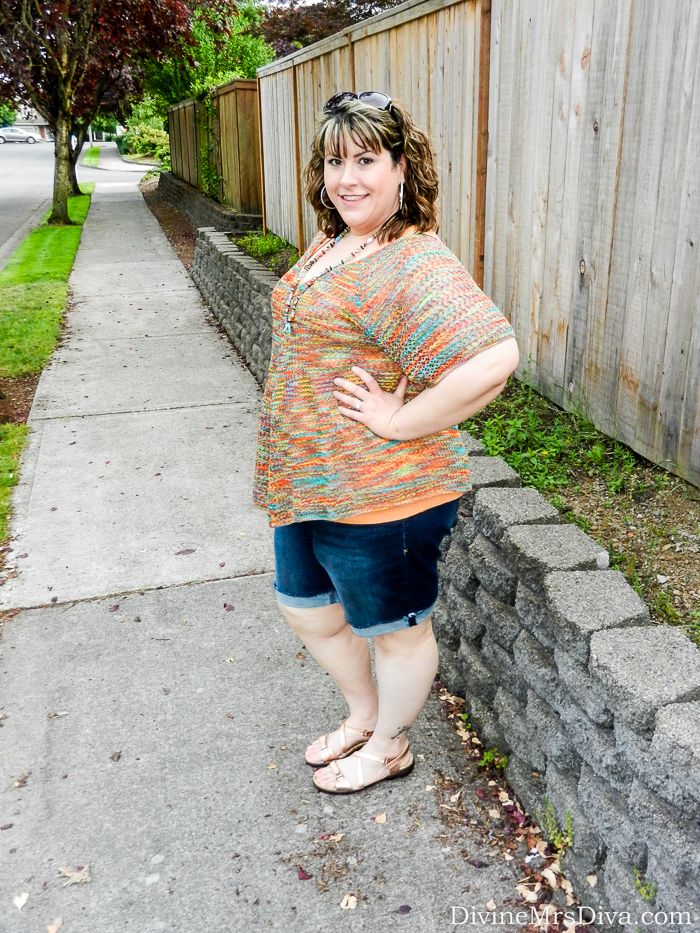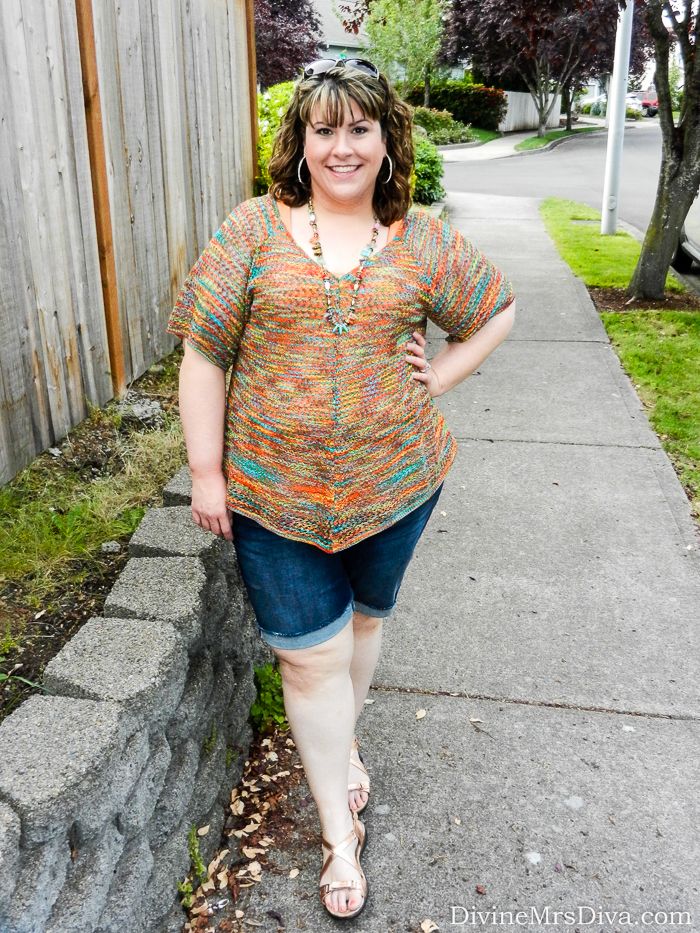 I adore these Bermuda shorts from Lane Bryant (
wearing a size 24
). You may remember
I bought them last summer
and wore shorts for the first time since middle school. You can also see a couple other looks with them
here
and
here
. I love these shorts because they are comfy and stretchy, but hold their shape pretty well. They are long enough that I don't feel super self-conscious, cover any chub rub area, and seem proportioned to my body. I'm really happy I bought them. Some lady on the internet recently brought up that my legs are too white and pale and that I should "do something about them". But I love my pale legs and don't want to fuss with self-tanners and refuse to lay out in the sun. So that lady can take a hike!
Coincidentally, this new Charming Charlie necklace I bought a couple months ago goes perfectly with the top. They have identical colors, so it was a match made in wardrobe heaven.
Multi-Color Textured Pullover
- Dressbarn
Genius Fit Bermuda Shorts
- Lane Bryant
Kylie Sandal
in Rose Gold - Trotters
Multi-Color Stone Necklace - Charming Charlie
Ribbed Tank - Old Navy
Do you have a favorite pair of shorts? What do you wear to beat the heat? What are your favorite things about summer outfits? Let me know in the comments!
Disclosure: This post contains affiliate links.