As spring takes shape and summer fast approaches, I am thinking more about how to utilize my current warm weather clothing items to get even more use out of them in the coming seasons. I finally caved and bought shorts last summer, after not wearing shorts since 6th grade. I wore them and felt liberated and free and happy and proud of myself. My legs may be pale, but they are awesome legs that work properly and help me through each and every day! So here's an outfit from last summer I never got around to posting....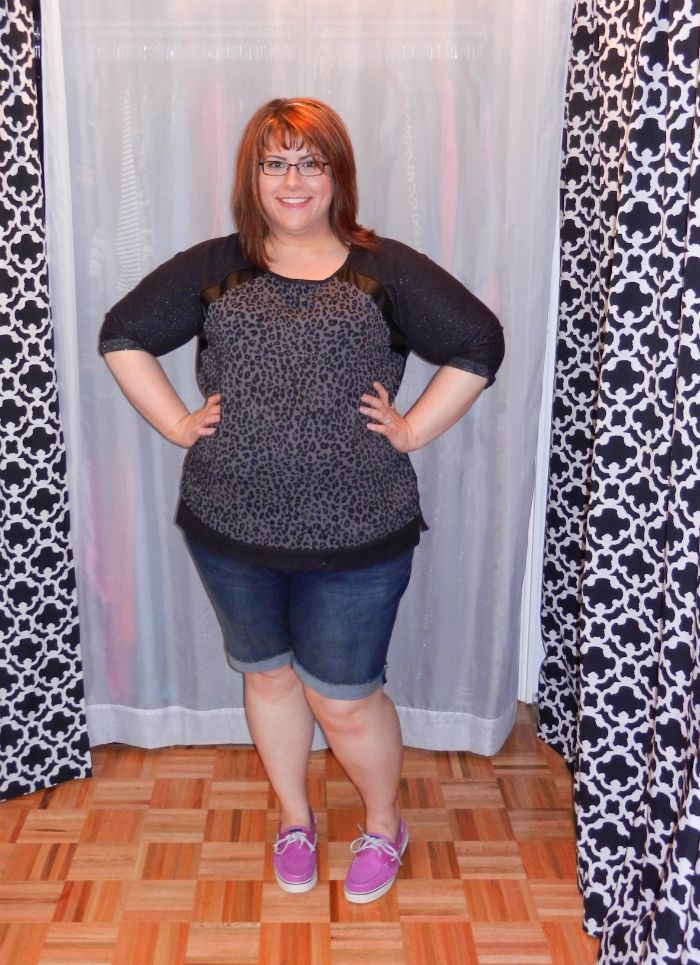 This sweater is the first Jessica Simpson clothing item I have ever tried. I really liked the look of the grey leopard print, faux-leather trim at the sleeves, and shimmery threads of the sleeve fabric. I feel like it is kind of a more toned down version of me - casual, practical, but with a bit of pizzazz! This made it fun to wear. The material is like a mix between a sweater and sweatshirt, but did feel a little scratchy against my skin. (I think it was the sparkly threads.)
When it arrived in my Gwynnie Bee shipment, it looked really small, but I tried it on anyway. I am wearing a 3X and it fit pretty well in all areas, although a little more fitted than I would have liked. Still, I didn't have to wear Spanx or anything like that, which is always a plus. While this exact top is no longer available through Gwynnie Bee, I have seen similar styles in Jessica Simpson collections throughout the seasons.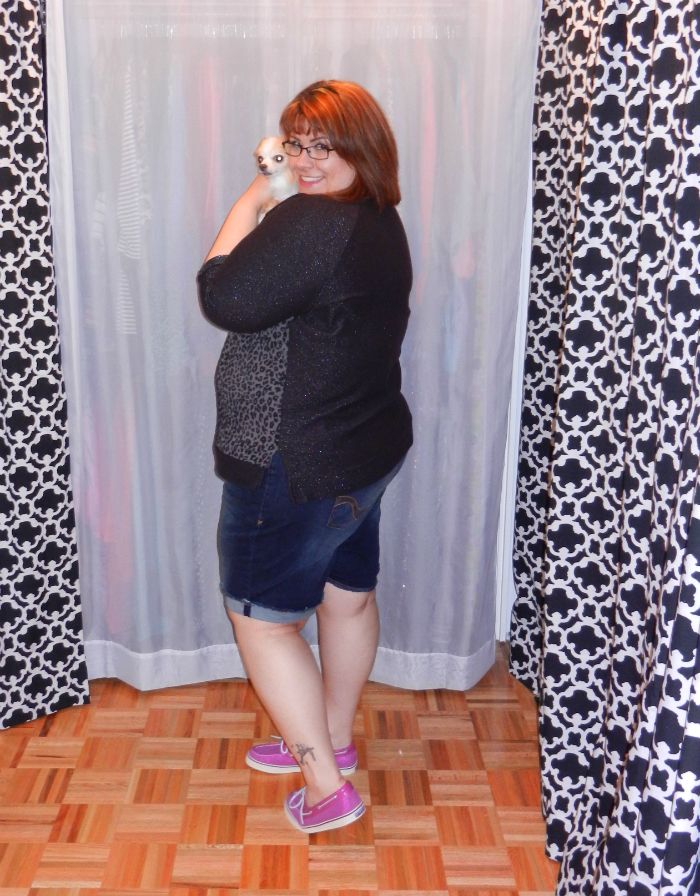 The shorts are being carried by Lane Bryant again this year. The Bermuda cut is longer than most of the others I have tried on and, therefore, gives me leg coverage while still being shorts and not capris. I love the super stretchy denim that makes them easy to wear; and they don't ride up between your thighs!
PS - This photo shoot was last summer while my sweet baby boy was still alive. He really wanted to be a part of these photos, as he kept asking to be held. Kiki was always a great little model. It is kind of painful seeing these photos actually. I miss him so much.....
Tommi French Terry Sweater
- Jessica Simpson via
Gwynnie Bee
Genius Fit Bermuda Short
- Lane Bryant
Bahama Sparkle Suede Boat Shoe
- Sperry Top-Sider
Have you tried any Jessica Simpson clothing items? Have you branched out and worn something totally new lately? Fill me in!
Shop Selected Jessica Simpson Collection Items: