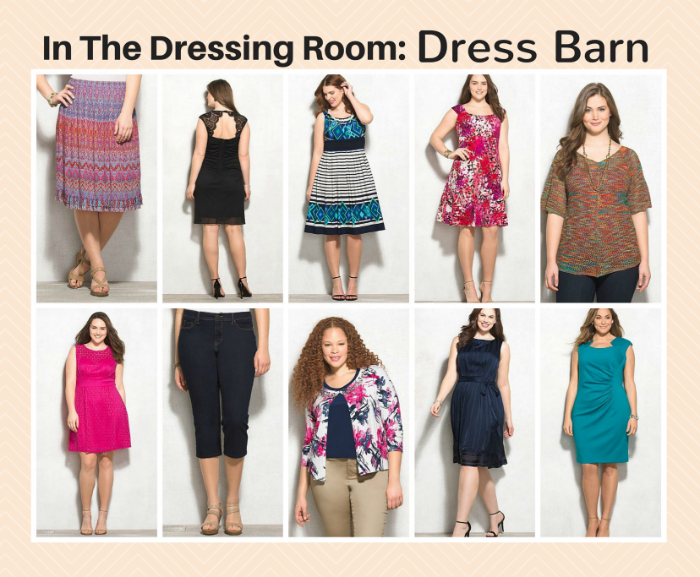 Just a couple weeks ago, I meandered into my local Dress Barn for the first time in a long while. I was excited to look through the spring colors and patterns and test fit in various styles. Since I've lost weight in the last year and a half, it is an interesting experiment to try new brands and silhouettes to see what works for my ever-changing body. Even as my weight has reached a plateau, my body continues to change in proportions, so I am always pushing myself to continue trying new things. Part of the fun (
besides trying on clothes and shopping
) is sharing my discoveries and experiences with all of you.
In March, Dress Barn introduced their DressBar, featuring designer collections and pop-up stores. The
DressBar
portion of their website offers fashion advice from "guest gurus" and the ability to shop for dresses based on a particular occasion or even a mood. While my local store had plenty of bright colors and eye-catching patterns, I had trouble finding dresses in my size (24). I visited right after Easter, so I think it was just a popular time to go buy a dress. Plus, it seems that the 22/24s in my area sell out very quickly. Still, I found plenty to try on and had a good experience. I should also mention that the prices were very reasonable. Here are the dozen plus items I tried on and what I thought about them (
Pardon, my crazy eyes and dazed looks in some photos. I was super tired
.):
Multi-Color Textured Pullover (3X)
-
I was first drawn to this pullover tunic because I loved the marbled rainbow colors (mostly oranges, yellow, teal, and reds). The crocheted style made it great for summer, but it still had arm coverage from these *almost* flutter sleeves and a V-neckline. I thought it fit great across the board. I imagined it with my shorts on a trip to the beach, but it looked cute with my jeans as well. The con for me was that the acrylic/nylon material was a bit scratchy against my skin. I don't know if it would soften when washed, but that was the only thing that turned me off about it.
This top retails for $42.
Coral Embroidered Tank (3X)
-
This top offered pretty white embroidery and a swinging silhouette. I've been kind of obsessed with swing tops lately. The longer length appealed to me too, though I think it was a bit too long to be super versatile. If I bought this, I would have to cut about five inches off. That said, I thought the coral hue and embroidery were very pretty. The flowy fabric was soft against the skin and perfect for warmer months.
This tank is not online.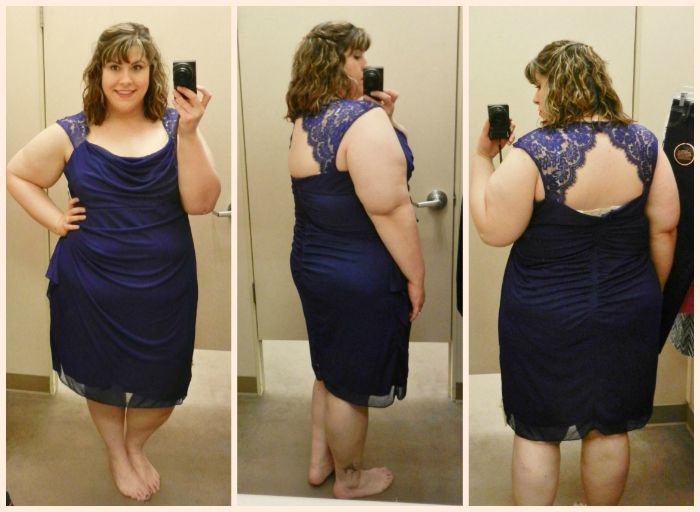 Lace Shoulder Dress (24)
-
There was really no part of me that thought this dress was going to fit. But I am dedicated to trying styles I wouldn't normally choose for myself in the name of blogging! haha Suprisingly, it did fit! Below is a pros and cons list to make it a little easier.
This dress retails for $52.
Pros


Beautiful lace shoulder detail
Draping at the bust
Rear ruching helps shape the booty a bit
Great length

Cons


The bust and mid back were too big on me
100% polyester
The side ruffle wasn't for me
Body con style means I would need to wear Spanx
Sometimes the ruched lining would pull up at the base of the zipper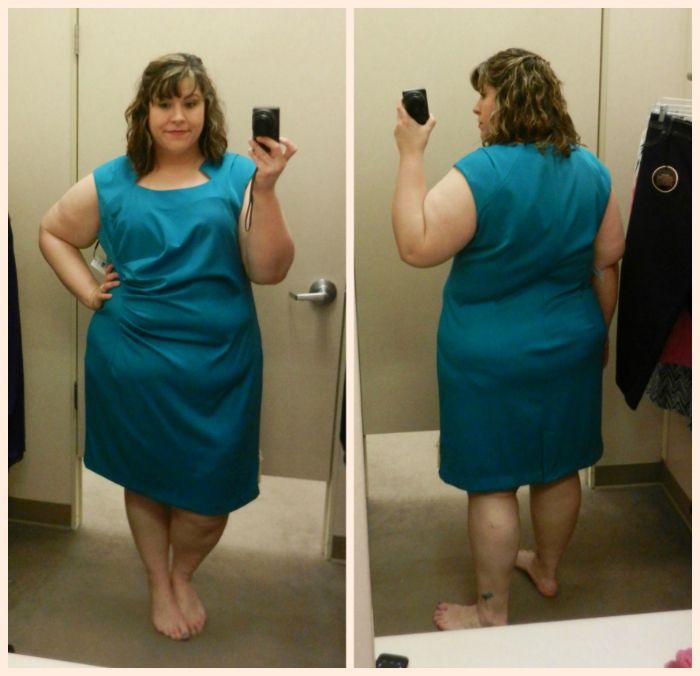 Calvin Klein Ruched Sheath Dress (24W)
-
I grabbed this dress because it is a gorgeous teal color and the tag said Calvin Klein. It has an interesting neckline and side ruching, but I also wanted to compare the hip room of this sheath to the hip room in the shifts and sheaths I have tried at Catherines. The material itself is comfortable with stretch but is dry clean only. I liked the neckline, length, and color on me, but the rest was just
no
. The hip portion was too small, while the bust was huge. Even the armholes were big on me. It would be a very lady-like and professional dress for someone else.
This dress retails for $67.50.
Luxe by Carmen Marc Valvo Belted Dress (24W)
-
In this age of social media, dressing rooms really need better lighting. I wish y'all could see the gorgeous colors in this dress! Reddish pinks, almost corals, and purples dominated the color scheme of this designer collaboration frock. (
Straight size photo here
) Shimmery ribbons of material mixed with more matte, chiffon-like pieces vertically, with a width of horizontal at the hem. A ribbon belt helped cinch in the waist. The fit was perfect, the fabric was flowy, and I came very close to blowing my remaining monthly spending budget on this dress. I think I danced around the dressing room for ten minutes.
This dress retails for $70.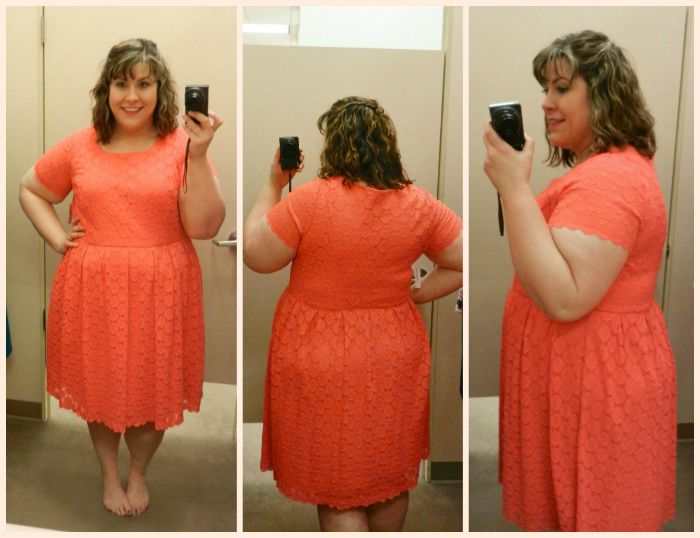 Coral Lace Dress (3X) (Similar here and here)
-
This dress was too adorable to leave it on the rack. I adore the bright coral color and fit-and-flare silhouette. The material was stretchy and comfortable and everything fit well overall. I do wish the sleeves were longer though and stopped at a more flattering spot on my arms. If the sleeves had been about four inches longer, I think I would have bought it.
This dress isn't online.
Crochet Lace Dress (24)
-
Again, lighting in dressing rooms is lacking because this dress is actually a vibrant fuchsia pink hue! It is really cute and the way it was styled on a mannequin in-store made me pick it up. My common issue, of course, is that the bust was too big. It hung lower with extra fabric so you could almost see my bra. I also wasn't really crazy about the two pleats on the sides of my tummy. I would prefer pleats all around or just a fuller skirted part. The other issue was a really obvious lining bunch at the base of the zipper. This was probably caused by my booty being large so the zipper didn't lay flat. It was still a really cute dress and comfortable to wear. It also comes in a mint green.
This dress retails for $54.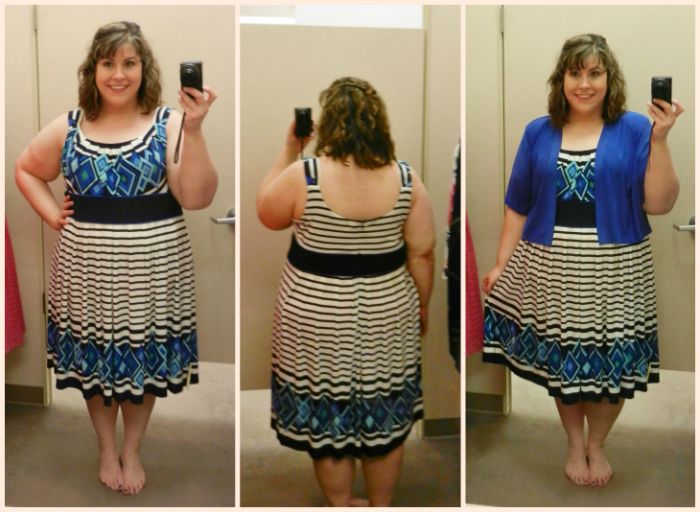 Geometric Jacket Dress (24)
-
The aqua and blue geometric shapes and fun stripes on this dress are so cute! I picked this one up because it is the exact same style as a coral number from Catherines that I haven't had a chance to try on yet. I love the style and how the solid band breaks up the print. The length was perfect and, while it was a little big in the bust, it fit good overall. My only real issue with this one was that it was a little big in the waistband. The back of the waistband sank down to more of my natural waist and gave me a frumpy look from the side. By pulling the straps up four inches, it gave it a much better profile. It is possible I could size down in this one (
and I will try that when I head to Catherines next week
). The coordinating jacket was a gorgeous royal blue, but had HUGE shoulder pads I would need to cut out. I am not sure why things still come with shoulder pads. lol
This dress retails for $60.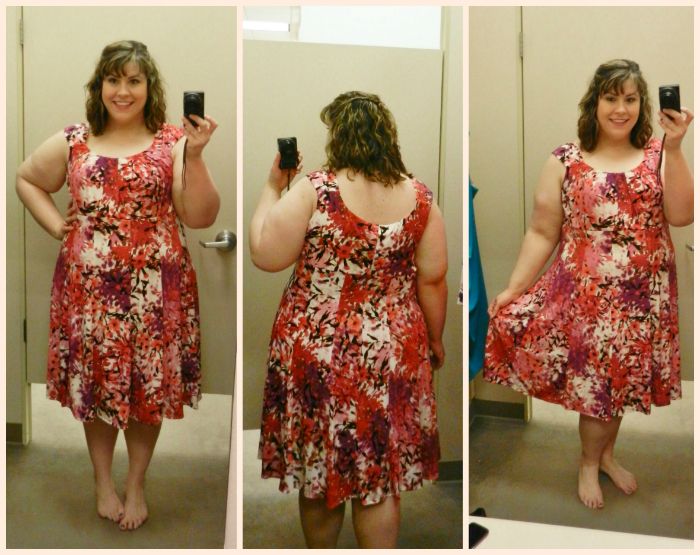 Floral Dress (22W)
-
As you can see, I sized down in this dress. I wanted a smaller size to compare things, plus this was sold out of 24s. The gathered bust fit beautifully and the back fit well too. The front portion was just more fitted in the mid-section so my tummy rolls were visible. Now Spanx would easily solve this because the dress fit great otherwise. The colors and print were just beautiful and the silhouette made me think of the 50s. This dress was definitely in my Top 3 from this visit. Because the skirt was full at the bottom, I did spin and dance around the dressing room again. lol
This dress retails for $52.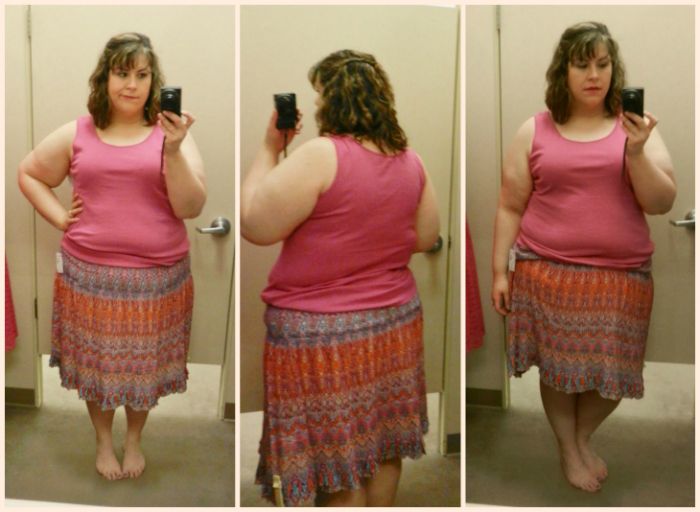 Multi-Color Textured Skirt (3X)
-
Some things that definitely didn't work? Oh so sad about this skirt. I loved the Ikat-like print and all the colors. I wanted it to fit more like the flippy skirts from Lane Bryant. Sadly, that dumb panel at the top ruins it. I tried to pull it up as if the panel wasn't there. It would have been much better. I hate this about the LB skater skirts too. I do not want a wide panel of fabric hugging my tummy roll; I just want a circle skirt.
This skirt retails for $38.
Cotton Rib Tank (3X)
-
The tank was soft and comfortable, but very fitted. It would make a decent layering piece for me, but that is about it.
This tank retails for $16.50.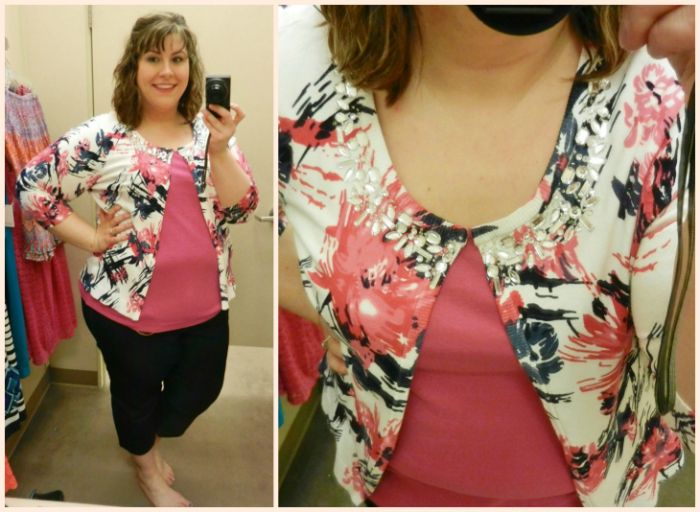 Embellished Floral Cardigan (3X)
-
I loved this cardigan on the hanger for the contrasting and vibrant color combo and jewel embellishments. It is certainly an over-piece that could go with dresses, skirts, jeans, capris, etc. The color combination felt fresh, but a bit more sophisticated. This is the biggest size, a 3X, and as you can see it didn't fit correctly. It needed to be much bigger around the hips at the very least.
This cardigan retails for $48.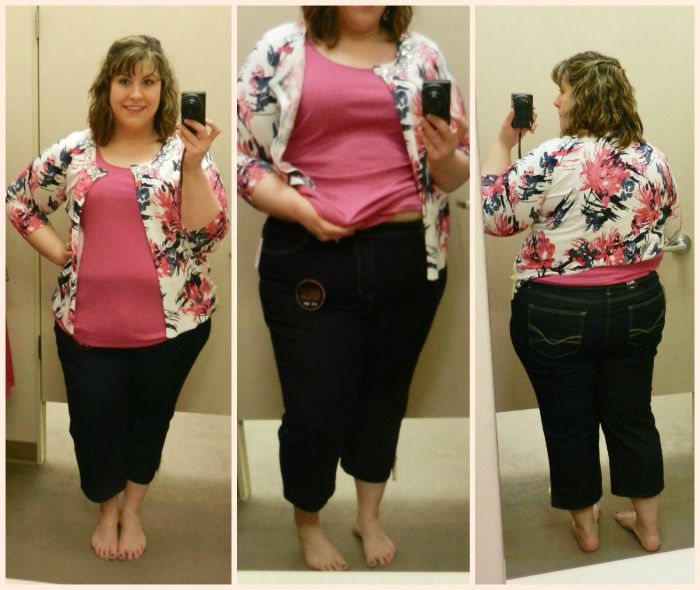 Roz & Ali Lux Stretch Denim Capris (24)
-
I am always in the market for dark wash, no-whiskering capris and jeans. When I saw these I knew I needed to try them on. The fit was fantasic! They are stretchy and not too thick, comfortable, and a great length. The large, wide-set pockets can make booties look larger, but most of my shirts are long enough to cover this issue anyway. I love love love the dark wash! I did end up buying these because the price was fantastic, especially compared to the prices of their counterparts in other stores. I am wearing them out for the first time this weekend, so you will see them (and a more extensive review) in upcoming blog posts.
These capris retail for $32!!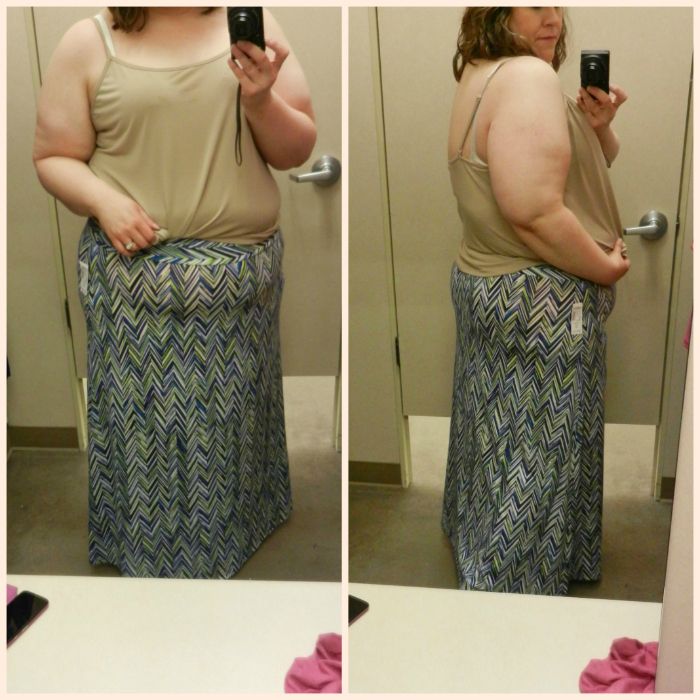 Multi Zig Zag Maxi Skirt (3X)
-
Meh. This skirt fit like the
Ava & Viv Target maxi
. The length was great, loved the color and pattern, but it was just NOT cut for someone with hips. Instead of being an A-line shape, it is just straight up and down. Such a bummer.
This skirt retails for $34.
And there you have it! I did find a lot of great items at Dress Barn and was really impressed with quality of most pieces and price. They also had a fun selection of jewelry, handbags, scarves, and sunglasses. I ended up picking up this
pink jewel statement necklace
as well. I would definitely encourage you to check out your local Dress Barn and try lots of things on. The plus is you can also shop with your straight size friends because the other half of the store is sizes 4 to 16.
Dress Barn is under the same umbrella as Lane Bryant, Catherines, and Maurices. As I frequently scan all of these websites, I noticed that Dress Barn and Catherines, in particular, carry the same or similar styles in a handful of dresses. Dress Barn also offers various items in similar patterns. For instance, the
striped and floral maxi
at Catherines is offered in
a sheath dress
at Dress Barn. So if something you like sells out or doesn't have your size in one store, you can check the other for similar pieces. And while Dress Barn seems to stop at a size 24, Catherines carries up to a 5X.
What do y'all think of Dress Barn? Have you found any gems you just love there? Are you considering shopping their now? I'd love to hear your thoughts!