My plethora of Gwynnie Bee posts continues! I've been receiving two to three items at a time right now because of some various loyalty rewards that have somehow happened at the same time. This results in a backstock of fun outfit photos that all happen to include GB items. Today's post features this plum-hued skater skirt from Lucie Lu. Because it is fun and y'all seem to enjoy it too, I styled this skirt three similar but varied ways for whatever mood suits you.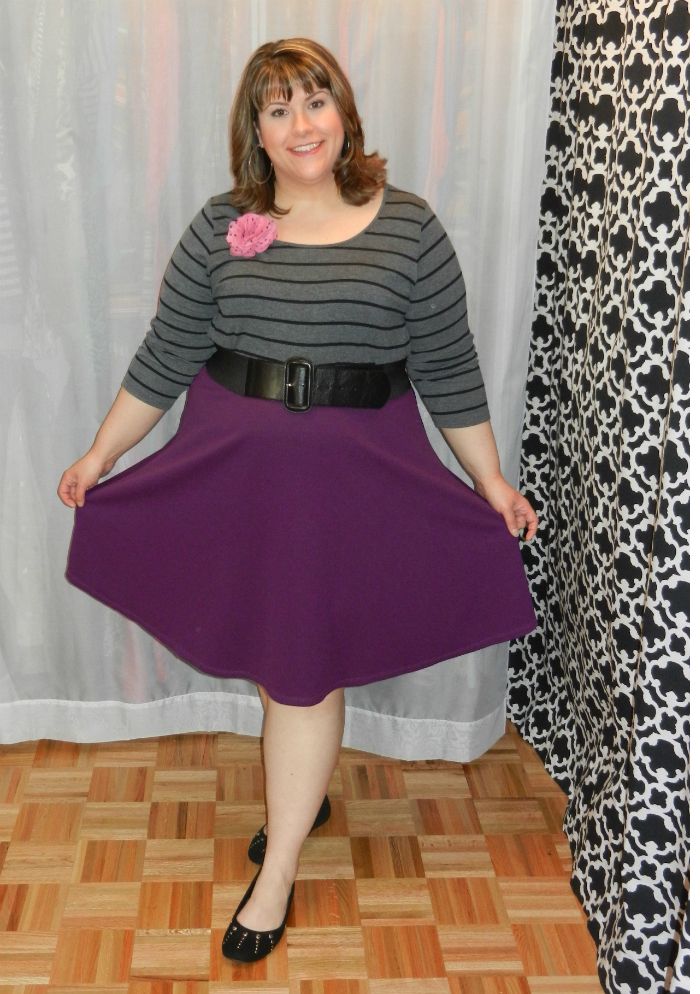 The burgundy version of this skirt seemed to fit me differently (longer, bigger in the waist, and kind of frumpy-looking). I honestly forgot I had the same thing in another color in my GB closet, so I wasn't thrilled when it arrived. However, once I pulled it on I was a very happy lady. This ponte knit skirt has an elasticized waist and embossed texture. It is cut into a more full skirt, but doesn't appear over-sized. I am wearing a 3X. I pulled the skirt a little higher than my natural waist so the hem hit right around my knee. Sitting at my natural waist, the skirt is really long and made me look frumpy. I don't know what the deal was with the other skirt because it was the same size, cut, and texure - just in a different color.
My first look was a bit Parisian-inspired. I loved pairing the striped tee with the skirt. Studded flats, a wide belt, and a pop of color brooch and WA-LA! I thought it would be great for brunch or lunch, an outing with the girls, a birthday party or a baby shower. It just seemed perfect for girly fun.
This led to me trying to make a more casual look with the same basic elements. Maybe you're checking out the farmer's market or doing some weekend shopping. With this look, I traded the brooch for a sparkly necklace, lost the belt, and tied the shirt in a little knot on the side. I knotted it on the inside so it could be tucked away. Finally, I traded the studded flats in for my more comfortable Jelly-like Crocs flats.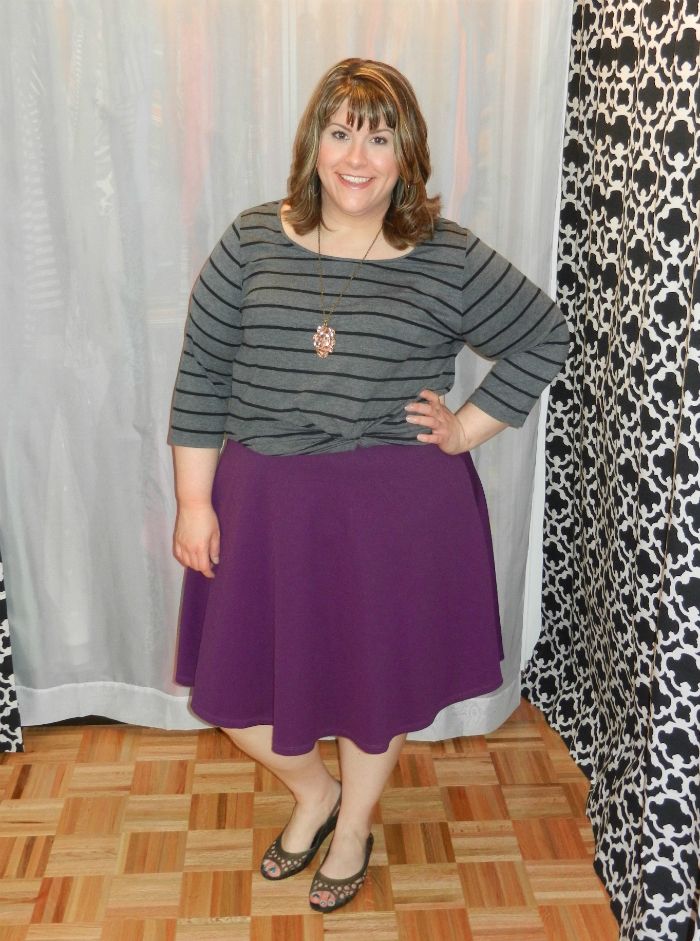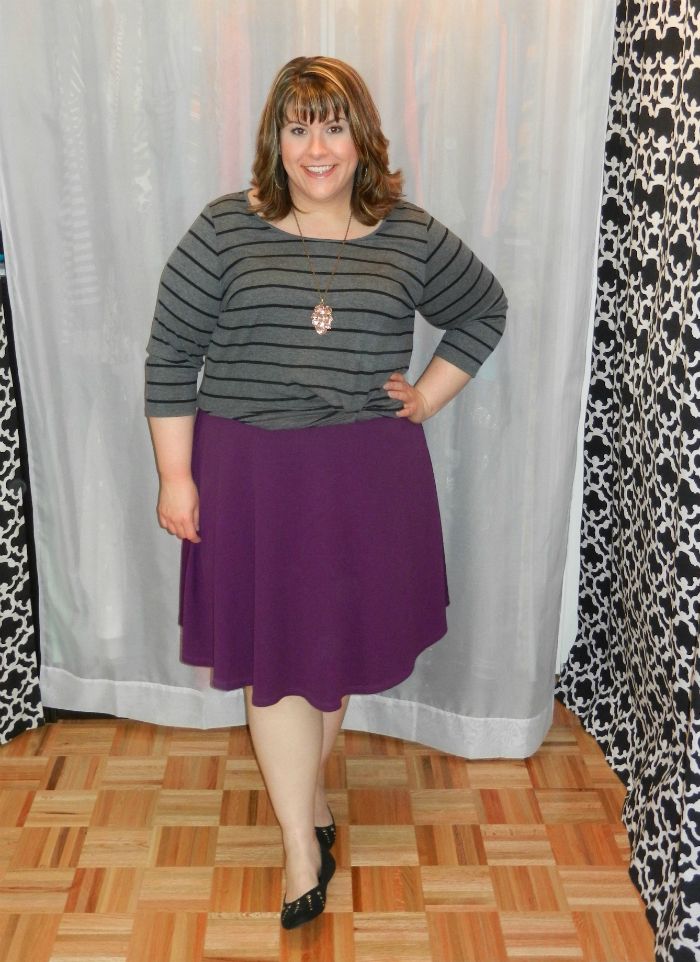 The third option is simple and no fuss. I let the shirt hang on its own (it has ruching on the sides so it isn't too long), which I feel accentuates the fullness of the skirt. This could work for any occasion or double as work attire if your office isn't too dressy. Just remember to play with your clothes and change things up to suite your mood and style. Changes don't have to be huge to have some kind of impact.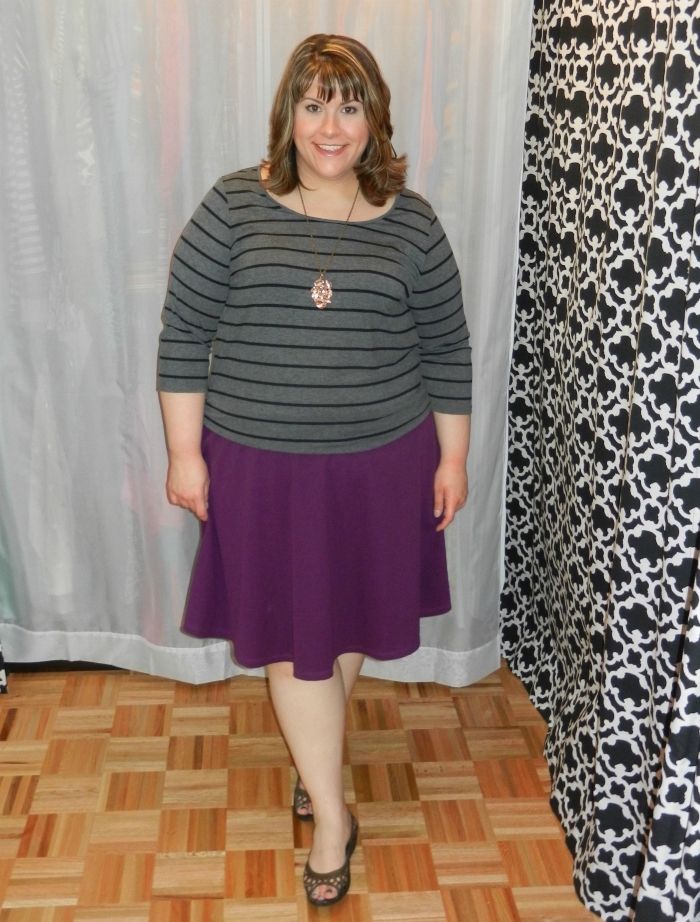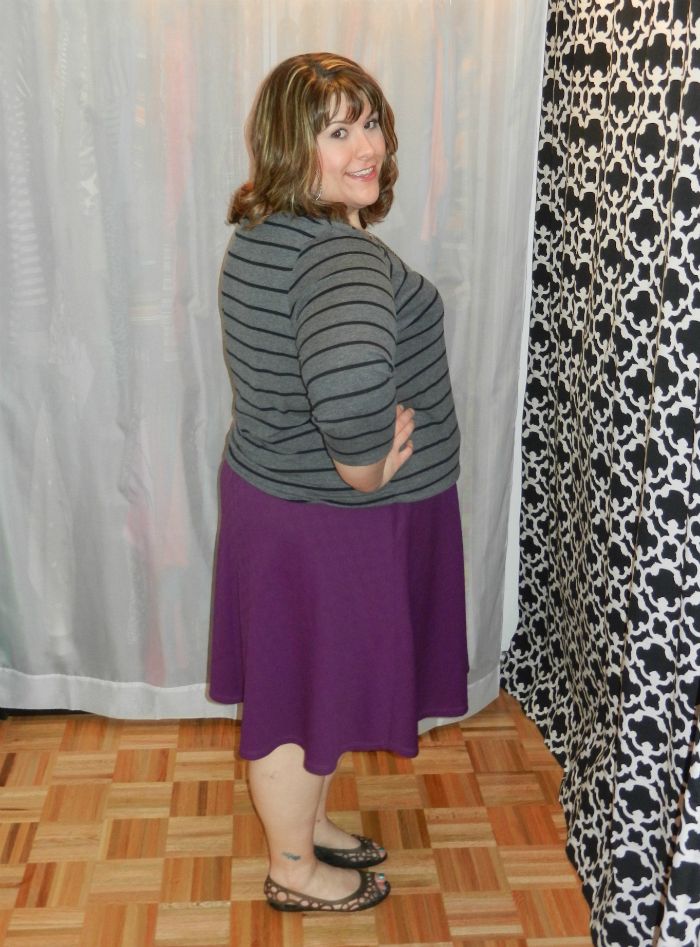 Skater Skirt in Plum
- Lucie Lu via
Gwynnie Bee
Grey and Black Striped Tee - Old Navy
Studded Black Flats - Lane Bryant
Adrina Flats
- Crocs
Wide Stretch Belt - Lane Bryant
What was your favorite styling with these basic pieces? How would you style it? I'd love to know if you've tried this Lucie Lu skirt or have a recommendation for a similar skirt! Let me know in the comments!