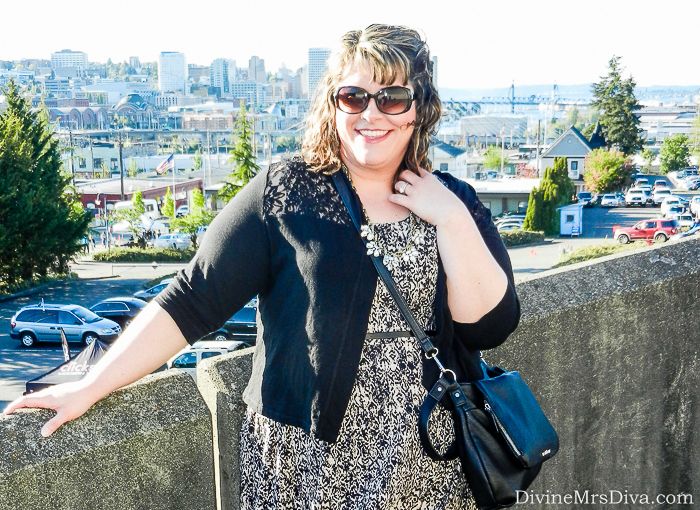 Now that May has moved into June, my super busy time of year is calming down just a little. I finally had time to sift through photos and get some ready for the blog. Today's post features what I wore for the New Kids On The Block concert at the beginning of May. Sean and I took a short road trip up to Tacoma, Washington for the show. It's also a great opportunity for me to review my new pair of sandals! Don't miss tomorrow's post with fun concert photos!
I typically go pretty casual for concert time, unless I have VIP or some crazy good seats. Well, Sean and I had front row this tour!! It is my first time ever being front row, so I wanted to look cute from the top to the bottom. It took me a long time to figure out the perfect outfit because it had to meet the following criteria: cute, comfortable, breathable, not too warm, able to be worn with comfortable
and
cute shoes, able to go with any crossbody concert purse, packable, and mostly wrinkle free. I am sure I have plenty that fits the bill, but it seemed daunting at the time. I put a lot of pressure on myself in these situations.
(
I know my face is super red in these hotel photos. We partook of Jim Beam Honey Whiskey prior to heading out to the venue
.
lol
) I settled on this stretchy, animal print dress from Lane Bryant. I bought it last summer because I am a sucker for a fit and flare, as you well know. The skirted part of the dress isn't quite as full, but it hangs nice and has a great shape and weight to it. You can see it in a previous blog post
here
. I am still crazy about my lace hoodie shrugs from Torrid. I love wearing them with color or printed pieces that show through the lace. This one is thin enough that it isn't too hot, but it provides a great amount of coverage. Not wanting a ton of accessories to get in my way of arm waving to "Hangin' Tough", I kept it simple with a skinny belt, statement necklace, and matching earrings. Hailey Fun Fact: The only time I will ever wave my arm in the air for a music group is for New Kids. It is just my personal rule.
Thankfully, I already had some comfy shoes to pair with my ensemble.
Propet USA
, a footwear company specializing in hard-to-fit feet, sent me a few pairs of shoes to try and review. I've been trying to wear them around whenever I get a chance so I can bring you the most information about my experience with them. The first pair I test drove were these Lizzette sandals.
Propet USA offers varying styles for men (up to size 18) and women (up to size 13) in special widths that are designed to address foot ailments. Their "
Rejuve Motion Technology works by enhancing natural gait and helps to alleviate foot and lower body pain..
.". I was particularly excited when they reached out to me because I am desperately trying to replace my uncomfortable shoe wardrobe with supportive and fashionable options. My feet have typically always been wide. These days I wear a 10.5 or 11 depending on the brand. I received these in an 11 Wide and find the fit to be really comfortable. They feel kind of like my foot is being cradled and feel very supportive.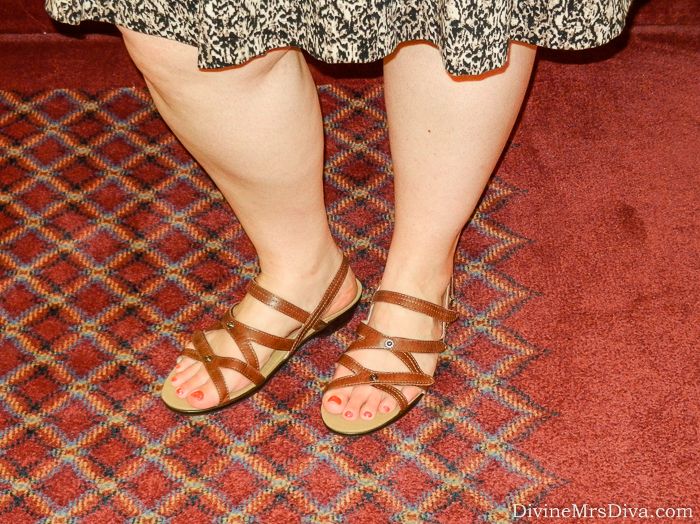 While the shoe fit well width-wise, it was a little loose in the straps. But the awesome thing is that this shoe secures with super strong velcro. This makes them easy to get on and off, but also allows for a more personalized fit. The top cross-straps you see can be pulled up and readjusted to give you the perfect fit, as does the ankle strap. After a few adjustments, these were fantastic.
As far as walking goes, I was impressed by the comfort. We had to walk through a big parking lot and follow a long sidewalk all the way around the venue to get in. There was none of that foot-hitting-pavement vibration like I have with unsupportive shoes. These absorbed that shock and made walking in them quite joyful. During the concert, I did stand and dance for three hours, so naturally my feet were a bit sore at the end of the day. But I know they would have been a lot worse had I worn less supportive shoes. My only issue was that there was an irritating area at the end of one of the underlying straps. A part that rubbed against my skin ended up cutting into me and making an abrasion. I initially thought it was a little sharp part under the decorative embellishment. Upon closer inspection it was actually a little blemish under the strap where a thread was exposed and the soft suede-like under-strap laying against my skin was worn away. I don't see how this would be a common occurrence, but I remedied it with a little piece of felt that I glued to the strap later on.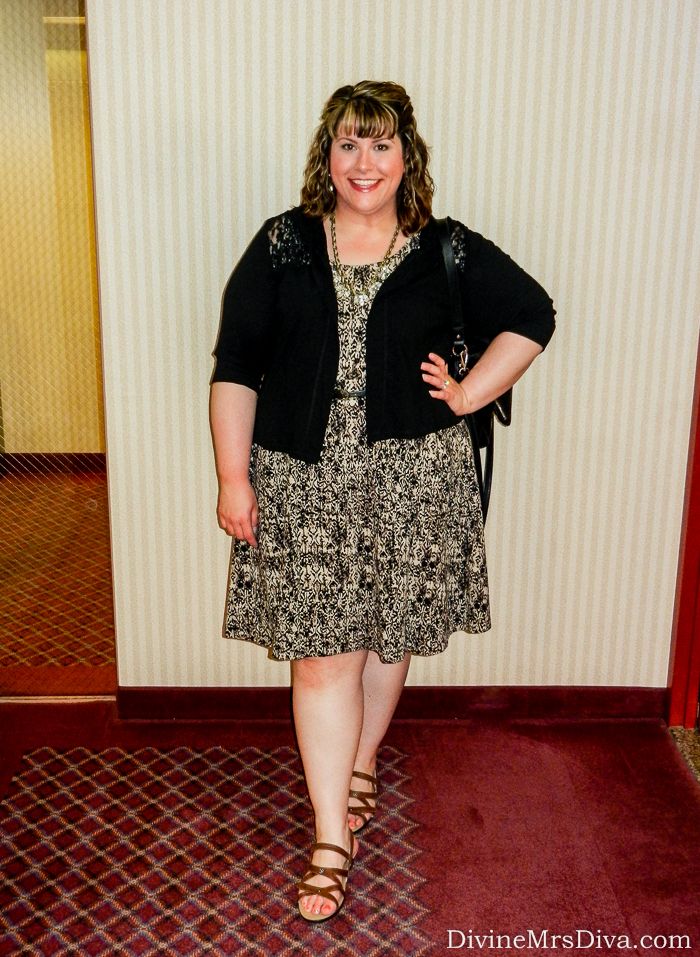 Animal Print Skater Dress,
Patent Skinny Belt
, Necklace - Lane Bryant
Lace Hoodie Shrug - Torrid
Lizzette Sandal in Chestnut
- c/o Propet USA
What do you like to wear to a concert? Have you tried Propet USA shoes? I would love to hear your thoughts!
Disclosure: This post contains affiliate links.