Okay, I just couldn't wait until next week to talk about this jacket. The newest Rebel for Torrid collection came out recently with lace skater dresses, pencil skirts, tees, button-down tops, skinny jeans, and embellished sweatshirts. I'm not really a pastel pink kind of girl, so when I saw this vibrant pink varsity jacket I knew I needed it! Even though I thought the previous black and white version of this jacket was adorable, I chose not to buy it. I wasn't going to let this one pass me by.
Read on for my review....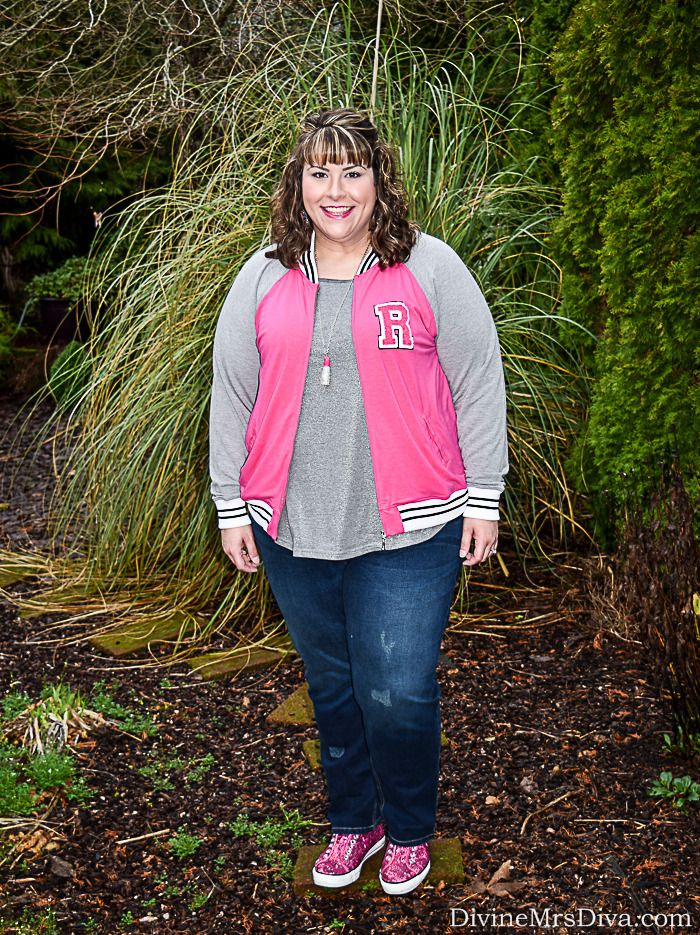 I'm really quite thrilled with this purchase! Even though there have been a lot of items from the Rebel collections that I thought were cute or intriguing, this is actually my first clothing purchase from the collections. I've tried to be particular about my budget lately, opting for sale/clearance merchandise and practical items. But I kind of freaked out about this jacket. I spent a few days staring at it longingly via the website debating on whether or not I should go ahead and snatch it up. As you can see, I couldn't hold out any longer.
I purchased this varsity jacket in a size 3. It fits very true to size, though a bit fitted when zipped (
pictured below
). If you want something with a little more wiggle room, you may want to size up. That being said, I felt this one fit me very well. Sometimes stretchy jackets like this hang back too much on the torso, making the jacket look too small. I don't feel that is the case with this one.
The fabric is a super soft, stretchy knit. It is lightweight enough that I don't get too overheated, but it does provide warmth. This suits me better than a thicker jacket because I am often too hot in stores and people's homes. The jacket is made well and is very comfortable to wear. I do wish it was just a tad bit longer because I am not a fan of my shirt showing beyond the hem of the jacket. But really that is such a minimal issue when compared to how much I love this. Plus, I adore the bright, cheery pink! The varsity letter "R" isn't too large or bulky either. When the weather is a wee bit warmer, I look forward to throwing this over my black and white polka dot skater dress!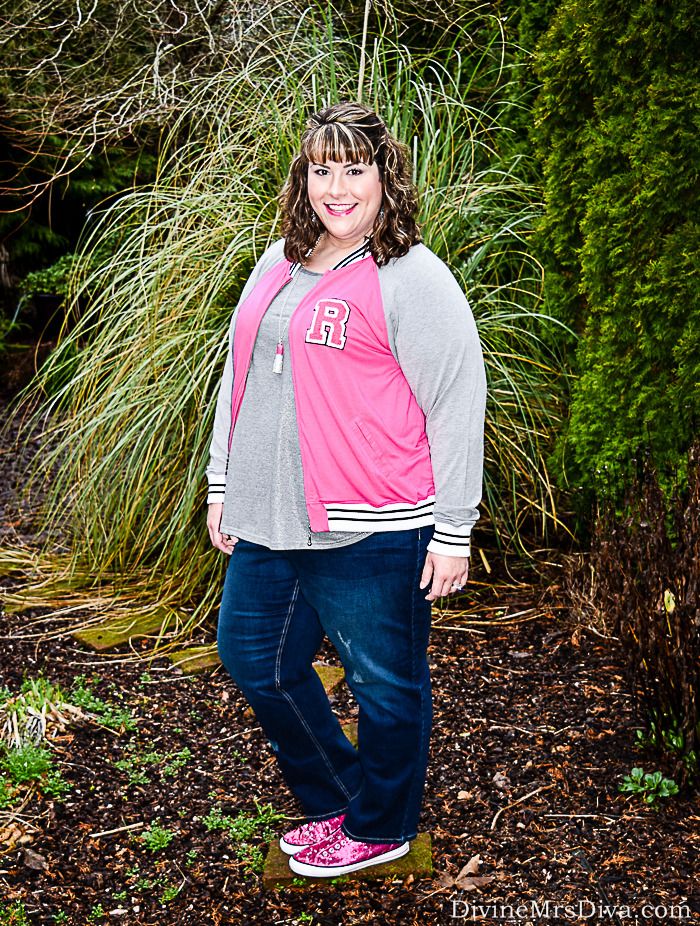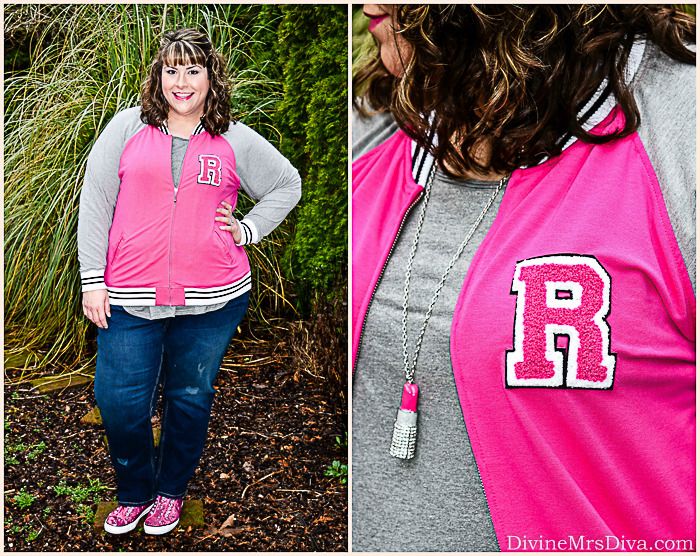 Practical, casual style was the order of the day. Sean and I ran errands, attended a friend's six-year-old son's birthday party, and then headed home to make our Valentine's steak dinner. I paired the jacket with a silver, shimmery pocket tee from Lane Bryant and my Catherines girlfriend jeans. My lipstick necklace and sequin Converse added extra pops of pink for a festive look.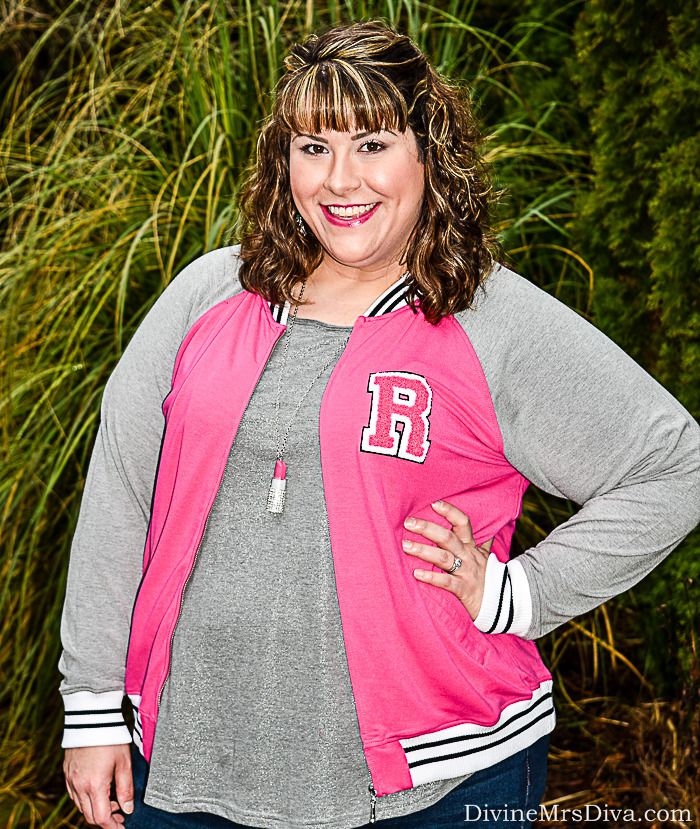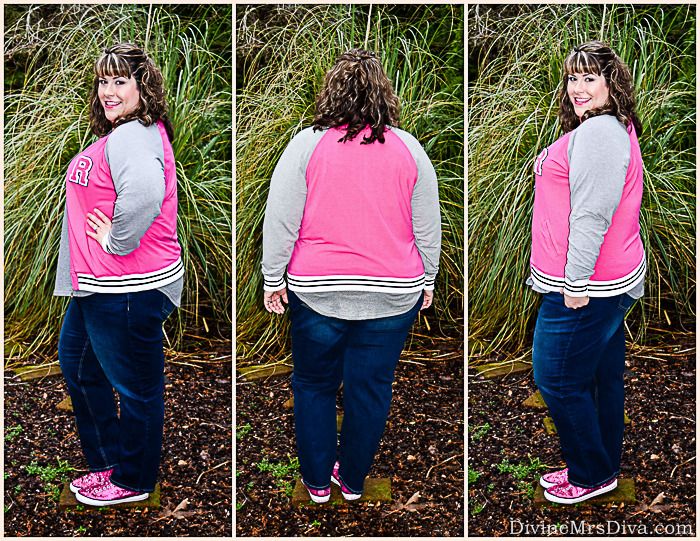 Pink Varsity Jacket
- Rebel for
Torrid
Silver Shimmer Pocket Tee -
Lane Bryant
Dark Wash Girlfriend Jean
- Catherines
Sequin Converse - Target (
similar
,
similar
)
Rhinestone Lipstick Necklace - Torrid (
similar
)
Do you have any favorites from the Rebel for Torrid collection? Are you a sucker for pink? What were your Valentine's Day plans?