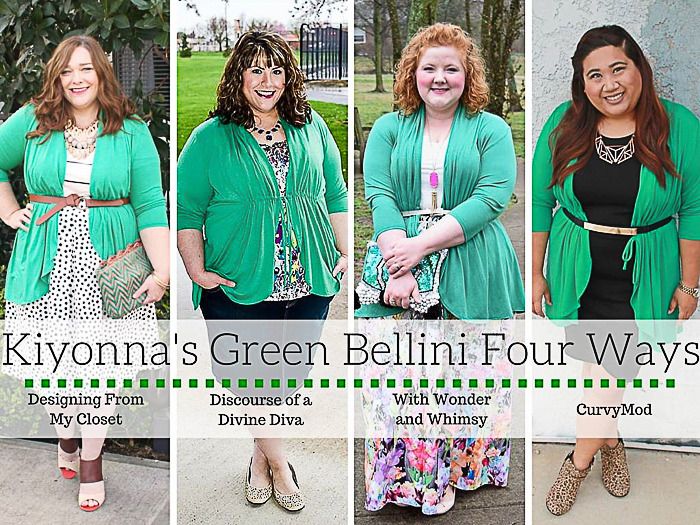 Not too long ago,
I reviewed this Sunset Stroll Bellini
from Kiyonna. For the first 300 Sunset Stroll Bellinis in Promise Green sold, Kiyonna will donate 100% of the sales to Sandy Hook Promise. You can read more information
in the original post
.
In preparation for St. Patrick's Day, I am teaming up with my pals Janeane of
Designing From My Closet
, Nina of
Curvy Mod
, and Liz of
With Wonder and Whimsy
. We're each putting our own spin on the versatile green bellini. Make sure to visit each lovely lady to check out more photos and information they provide! Read on for a look at how I re-styled my bellini with additional outfit inspiration from posts past.


- Kiyonna gifted me the bellini in this post. All opinions on the item are 100% my own. -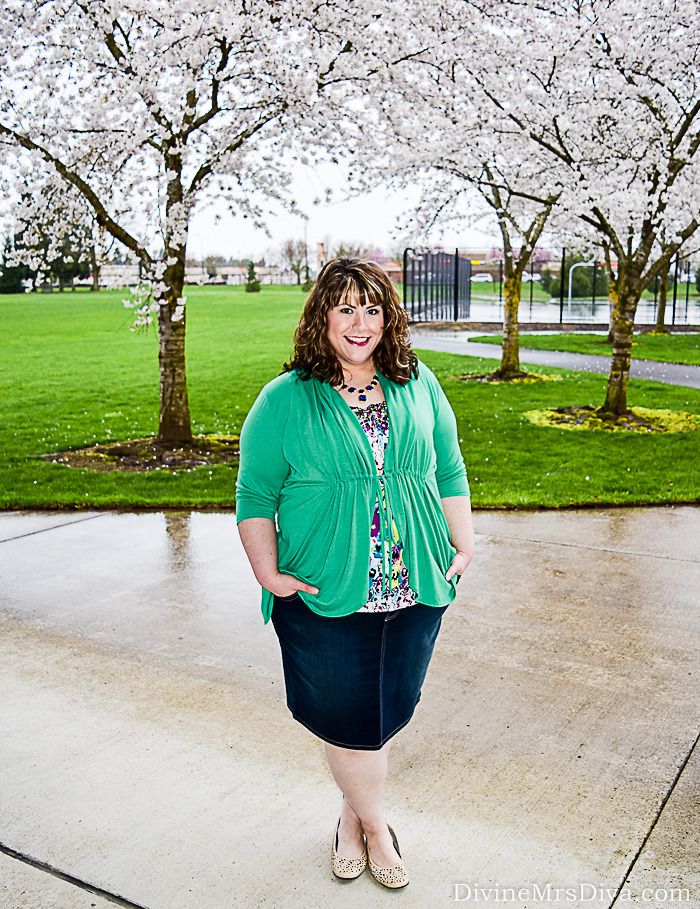 I typically wear my bellinis with skinny jeans and flats or boots. It is one of those pieces you can throw on over a tank and go, but you still look cute and polished. The
Sunset Stroll Bellini
is also a great canvas for an assortment of accessories in any season. I've worn the Kiyonna bellinis with dresses before, so I wanted to go more that route for this look. But I'm still in my trusty denim. lol
I'm wearing this top in a size 3, my typical Kiyonna size. That translates to a 22/24. You can read my full review on the original post
here
. To summarize, the bellini is a lightweight jersey knit fabric with a gathered empire waist. You can gather it as much or as little as you like. The knit strings are very long, making it easy to personalize your fit. For reference, I am 5'9" and my measurements are 52/49/58.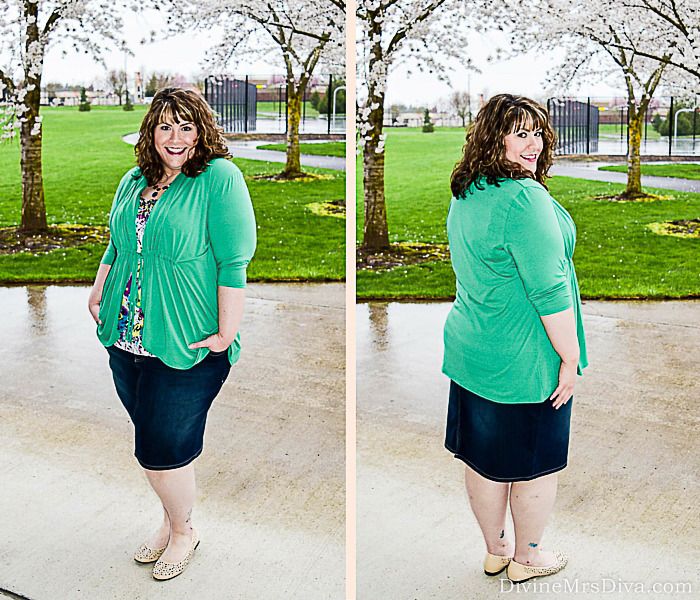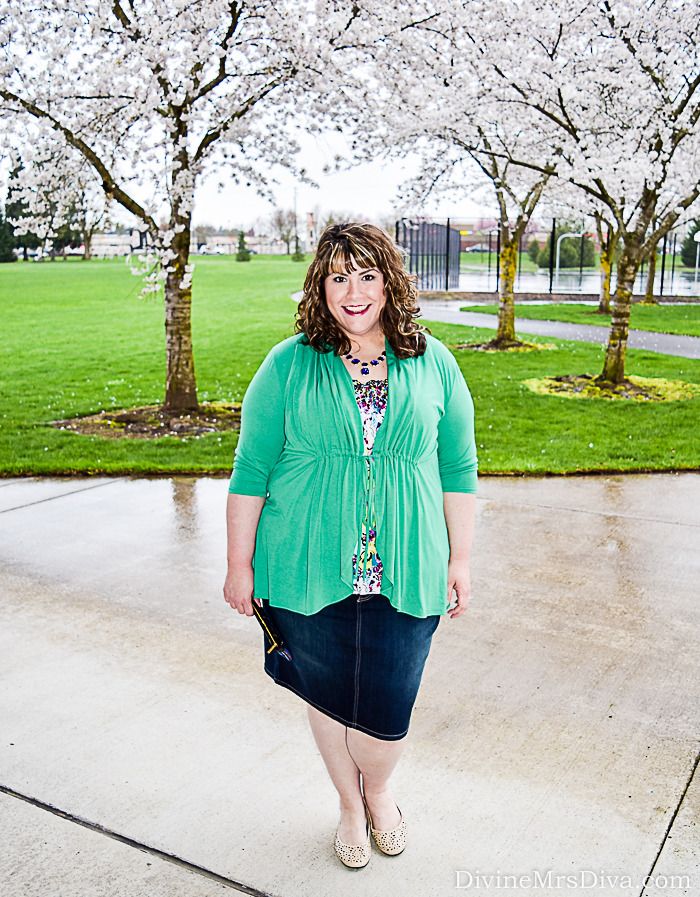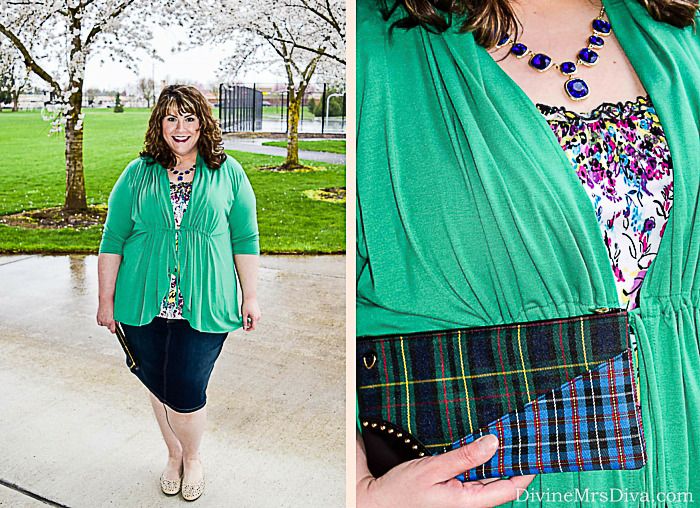 I love adding a pop of color to the bellini in the form of colorful tank tops. This particular tank has a ruffled neckline and multi-colored floral pattern with hints of green and yellow. I chose this tank to also play up the blue and yellow in my necklace and plaid clutch. I love the peeks of floral from underneath the bellini. My denim pencil skirt (
reviewed here
) looks a little dressed up with its dark wash, paired with nude flats to balance all the color. The flats have a cut-out pattern on them that mimics the floral pattern and reminds me of spring!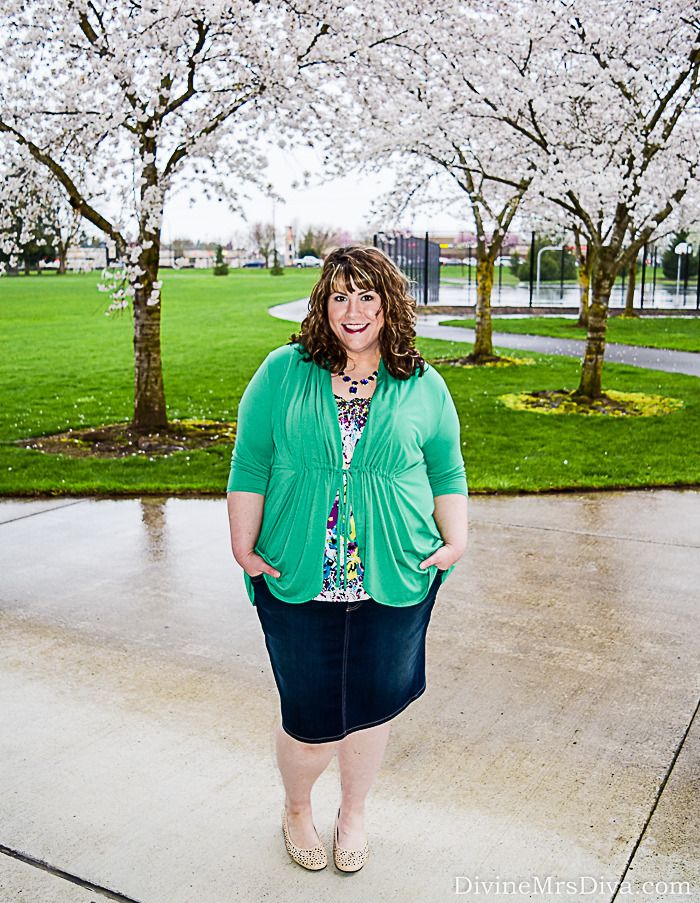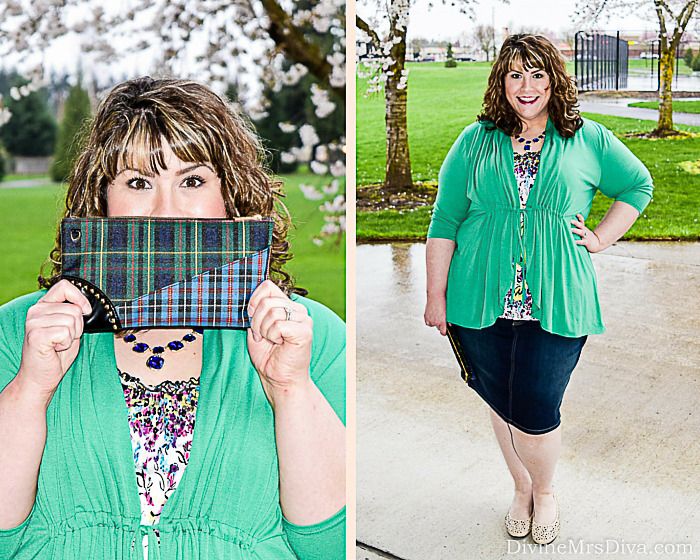 Sunset Stroll Bellini
in Promise Green - c/o Kiyonna
(Use code FRESH2016 for 20% off $150 or more)
Denim Pencil Skirt
- Lane Bryant
Floral Tank -Lane Bryant
Cicely Flat
- Propet USA
Monet Y Necklace - JCPenney (
similar
,
similar
)
Tartan Clutch - MAC via
All Cosmetics Wholesale
(
similar
)
As a member of the Kiyonna Blogger Brigade, I have acquired several bellinis that I have featured on the blog before. I wanted to include photos in the post to show you even more ways to style this piece. You can check out those posts if you like:
Blue Sunset Stroll Bellini
,
Pink Bohemian Crochet Bellini
,
Green Sunset Stroll Bellini
,
Pink Sunset Stroll Bellini
.
Make sure to pop on over to
Designing From My Closet
,
Curvy Mod
, and
With Wonder and Whimsy
to check out their looks as well!!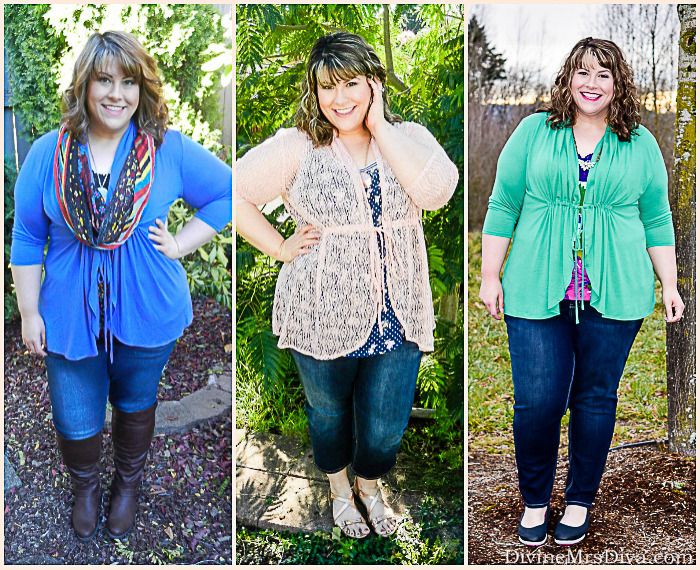 Sean and I are trying to get in the habit of taking more photos when I do my blog photoshoots. Our new camera gives us more control. lol Plus, I couldn't pass up taking more photos of the blooming trees.
How do you, or how would you, style your own bellini? Do you have any St. Patrick's Day plans? Are you looking forward to spring?