My friend Nigel and I have birthdays a couple weeks apart. Last year, we decided to gather some friends together for a wine tour in celebration instead of having separate birthday parties. It was something we talked about doing for a few years, so we were very happy to finally plan it all out. I talked about
our day trip tasting wines
last year on the blog. We had such a fantastic time that we immediately planned to do it all again this year.
Stoller Winery

Again, we chose
Backcountry Wine Tours
(
formerly Backroads Wine Tours
). They have a more laid-back, easy-going, unpretentious but knowledgeable take on the whole wine tour thing. We requested our wonderful driver, Dillon, again. He's friendly and helpful and fun to be around. Plus, he totally puts up with our craziness. We can be an uproarious, somewhat vulgar, and opinionated group, with a penchant for jammin' to Backstreet Boys songs in the van. Dillon gets us, so we were happy he could join us for another day out.
Our group met at Nigel's apartment where Dillon picked us up in a roughly 9-seater van. When you book your tour (for any number of people), you can give them the information of places you really want to go or they can come up with their own list of places to take you. Our collective has done a combination of both each tour. You also fill out a survey at booking to give them an idea of what kinds of wines and what kind of experience you prefer. Pricing depends on how many are in your group. For us, it was $120 per person. This includes lunch and bottled waters. I know some folks in our group thought about hiring an outside friend to drive us around instead, but ultimately we decided that the knowledge and convenience of using this great company is totally worth the extra money. Tasting fees of $10 to $20 are usually required at each location, so keep that in mind when budgeting. Because of the soil here, most wineries in the area offer Pinot Noir, though some do have various other types of wine and a decent mix of red and white.
This year, we told Dillon that we definitely wanted to visit
Argyle
and
Stoller
again. They were new-to-us places that we visited last year and thoroughly enjoyed. Last year, we hit up six wineries, which made for a bit of a rushed experience at some. We also picked up lunch and ate it outside at one of the wineries. This year, we made it to four wineries but felt like we had ample time at each. Dillon took us farther out to experience some new places, so we ate lunch in the car this year to buy some extra time at wineries. While at our second winery, Dillon passed around a menu of a great eatery that wasn't too far away (
Community Plate
) and picked up our food while we hung out at the winery. Again, super tasty sandwiches! Everyone thoroughly enjoyed their meals.
Our first stop was
Brooks Winery
. The location was absolutely beautiful, overlooking the vineyard with mountains off in the distance. We partook of various wine flights, hard cider, and tasty roasted hazelnuts. I loved the peppery notes in the wines, apparently derived from the volcanic soil. However, we weren't extremely fond of any wine in particular. Still, we had fun visiting and taking photos before moving on to our next location.
Maysara
was our next stop. Located in the foothills of Oregon's Coastal Range, they pride themselves on never using commercial chemicals or man-made poisons. The Momtazi family hails from Iran, with their three daughters very much involved in the business and operations. We had the good fortune of hanging out with Naseem. She poured wines for us and totally got our sense of humor. She was a joy to be around. Naseem explained what the different names of the wines meant, all deriving from aspects of Persian culture. Sean and I loved the
Jamsheed Pinot Noir
and
Arsheen Pinot Gris
the best, buying a bottle of each. Our group had so much fun there, we want to make a return trip just to hang out. The location is beautiful. They were setting up for a wedding in the larger room next to the tasting room. We loved the look of the stone and wood used in the construction of the building.
While we were hanging out at Maysara, Dillon went to pick up our lunches and came back to pick us up. We piled in the van and dined on our food as he chauffeured us to the next winery.
Argyle
was one of our favorites last year, its tasting room housed in a cute little house. The Riesling was incredible! This year, the tasting room is in a big restaurant-sized building behind that original house. They have gotten successful and expanded their property. We were shocked by how much they had grown in such a short time. Sadly, we didn't feel the same charm as we did on our first visit. I am happy for their success, but we just didn't really enjoy our visit. The place was packed, the service was lacking, and the wines we had in our tasting flights weren't very impressive.
The last stop of the day was
Stoller
, just like last year. It is such a pretty ending to our fun day! The grounds are lovely, the wines are delicious, and the weather was spectacular! (
Our favorite is the 2010 Reserve Pinot Noir.
) Where last year was hot and muggy, this year was cooler and on the verge of rain. Both years Stoller was this perfectly sunny and breezy location. We tasted some wines, made our purchases, and sat out at a picnic table to enjoy it all. Geoffrey brought chocolates to share from his recent road trip through Pennsylvania. Several of us purchased wines to share with the table. We sat and talked, took photos, ate chocolate, and drank wine. And again like last year, we finished the day with a silly photoshoot and the gorgeous landscape as our backdrop.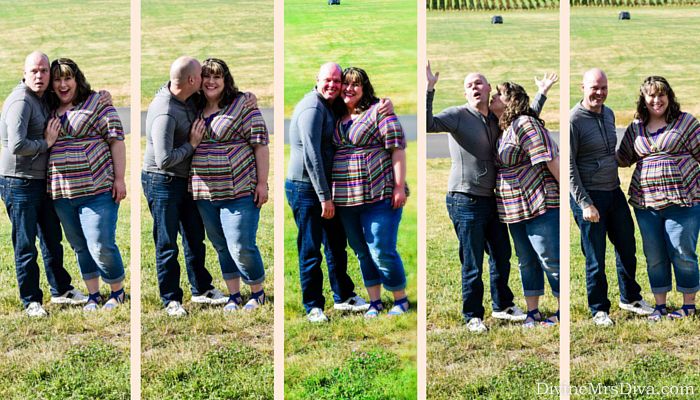 Birthday Boy and Birthday Girl and Birthday Kisses
These gay guys sure do love boobs! lol