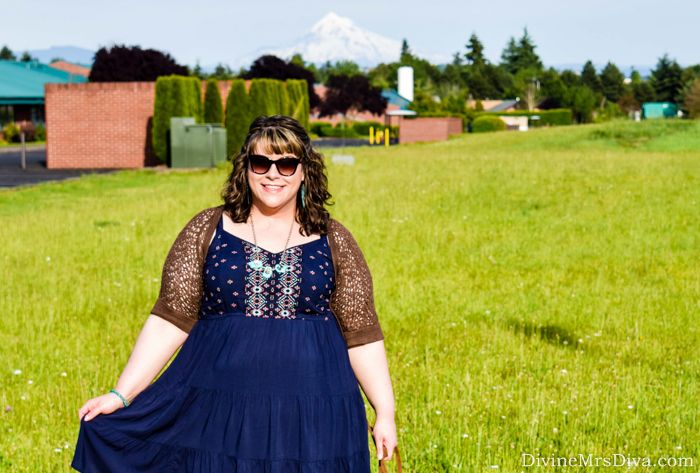 The weekend before last was over 100 degrees. Of course, I had plans (
and thus had to leave the house
) on the hottest friggin' day. Luckily, my scheduled activities were indoor ones, but the heat still makes me cranky. I decided to bust out my newest sundress for staying cool and cute in the dastardly weather. You may remember this dress from
a recent fitting room post
. I now present it to you styled and functional. I stood out in the horrible heat to get these photos for you guys, so
ah, you're welcome
! hahaha :-P I wouldn't do it for just anybody.

Despite the heat, I loved how these photos turned out. I was excited to get the view of Mt. Hood in the background! So you get more photos than you probably want because I have a hard time narrowing them down. lol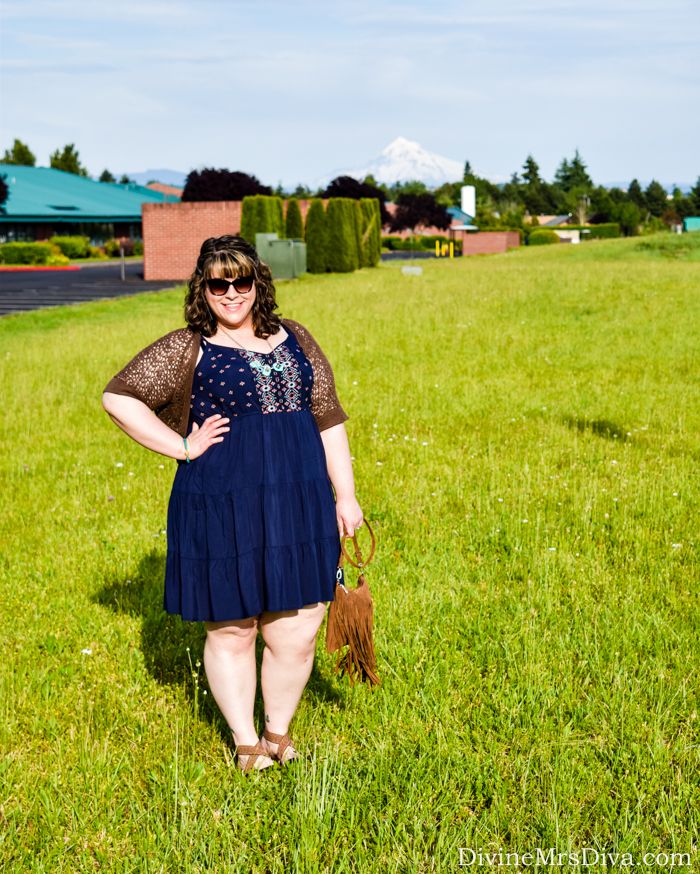 The embroidery and tiered style of this dress really drew me to it when I first saw it online. As with all of Torrid's rayon sundresses, I worried about this one being too short for me. While it still hits above the knee, it is longer than the ruffle-top sundresses by at least an inch or so. I felt more comfortable in this one, not like I was running the risk of exposing my undershorts. The straps are adjustable, which helps in personalizing the fit depending on your shape and bust. Because it isn't very low cut, I think you have a bit more room to play around with the strap length to suit you.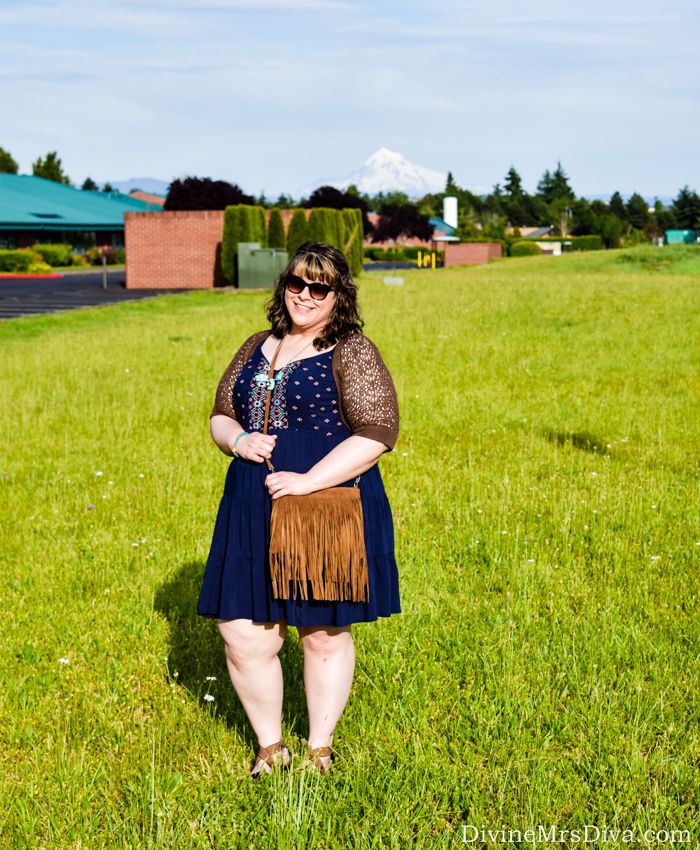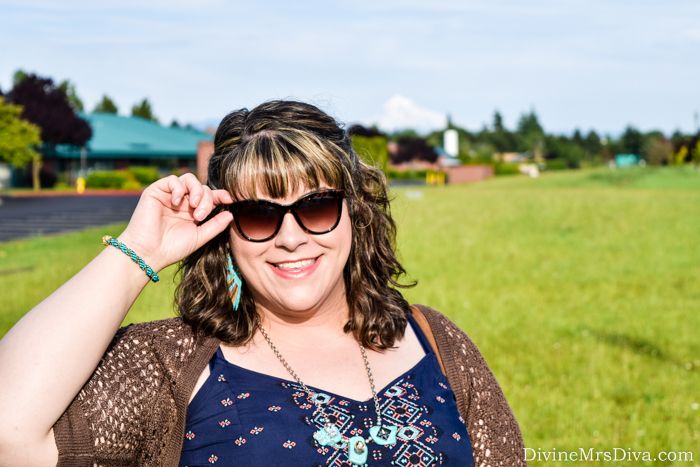 The fabric is rayon, so it is very airy, light, and cool to the touch. This fabric is really perfect for summer styles, but it does tend to wrinkle quickly. When I am wearing the dress, I don't feel like it ever gets so wrinkly that it looks sloppy or unkempt; but I do hate getting wrinkles on anything period. The dress isn't lined, but it also isn't see-through. I wore my new
long-leg shortie panties
from LB underneath. (
Those things are so comfortable, not too thick, and super soft.
) Coral, turquoise, and black embroidery cover the bodice of the dress and is quite beautiful in person. I bought this dress in a size 3 and feel it is true to size. I still have plenty of room in the hips, but it is also fitted like it should be in the bust. For reference, I am 5'9" and my measurements are 52/49/58.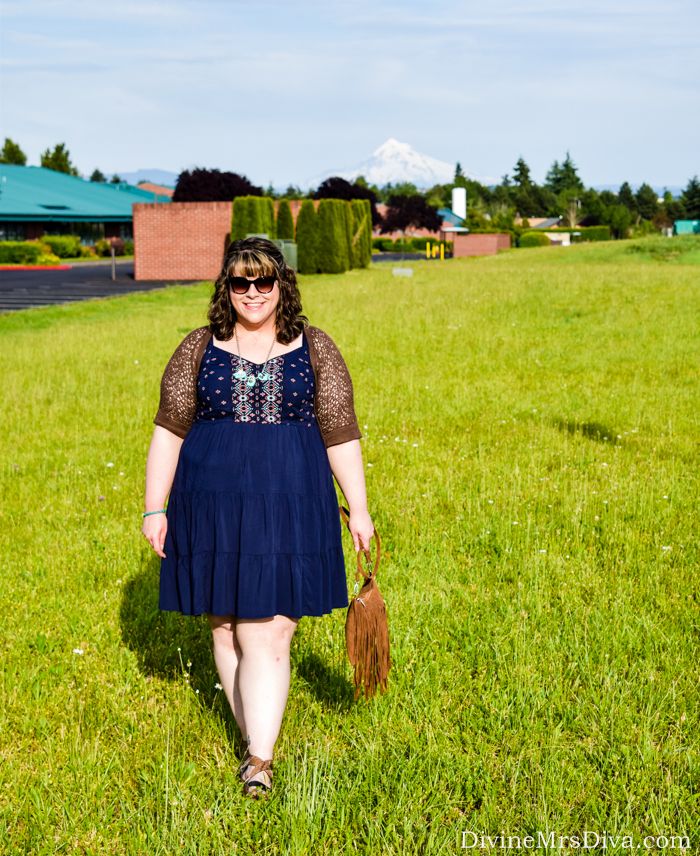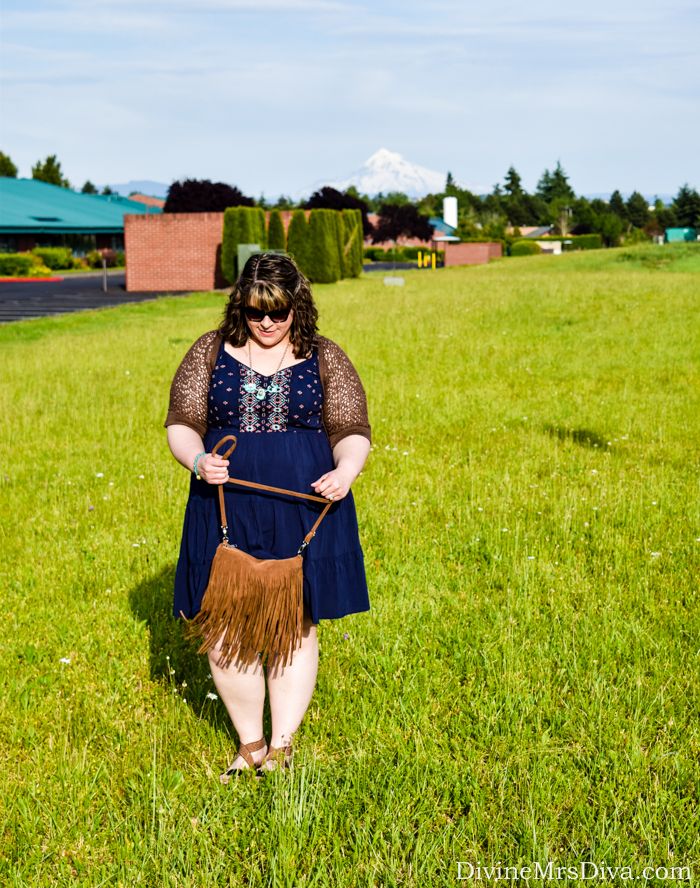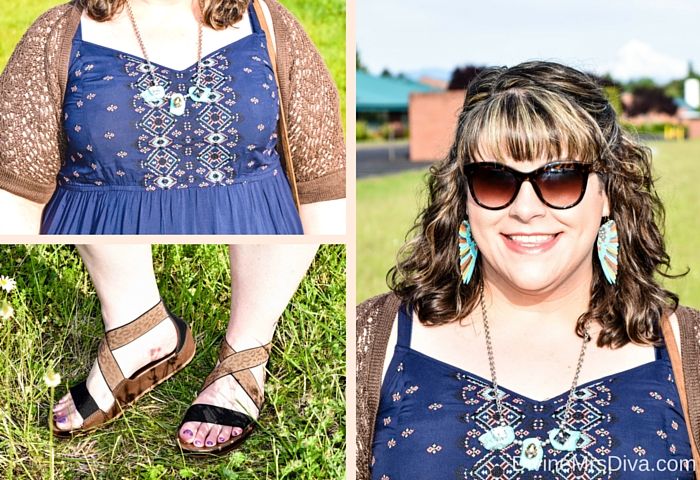 In styling the dress, I wanted to play up the Southwestern aspect with shades of brown and turquoise. I knew I was going to wear my brown Crocs sandals (
I now have all three colors of this style!
), so I pulled out my old crochet shrug for a little bit of coverage. The crochet still keeps a good airflow happening, which was great for this hot day. This fringed purse is so cute, I couldn't wait to work it into another outfit. My earrings, necklace, and bracelet are all shades of turquoise, complimenting the color scheme but not competing too much. I felt super cute and girly in this look, but I loved the different textures and elements and not-traditionally-girly color scheme. And overall, it was a great outfit for the heat. I was slathered in SPF from head to toe, so I felt comfortable exposing some skin. I did try to do a few photos with my sunglasses off, but my eyes were hurting and watering up. Oh well.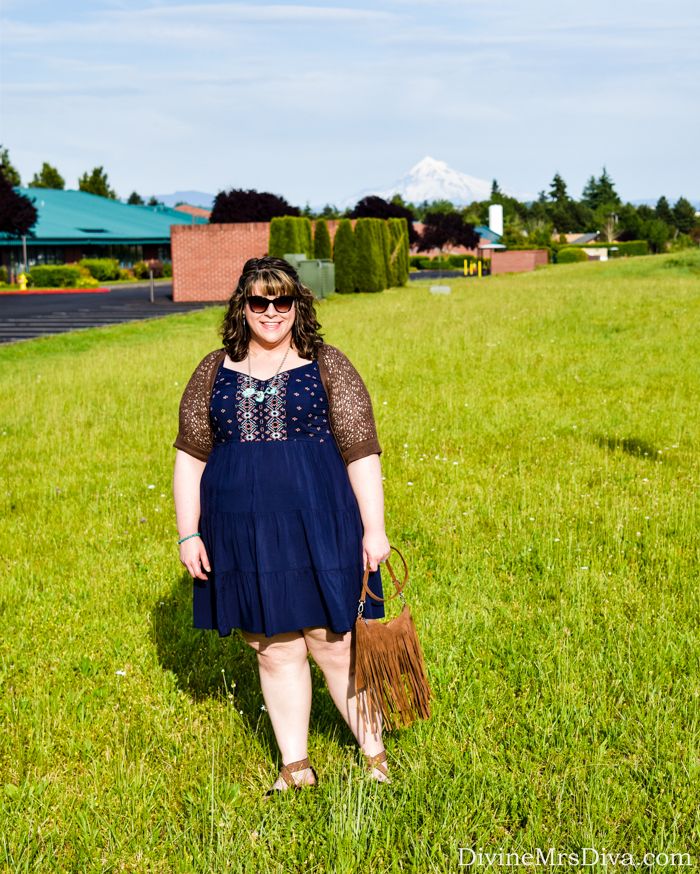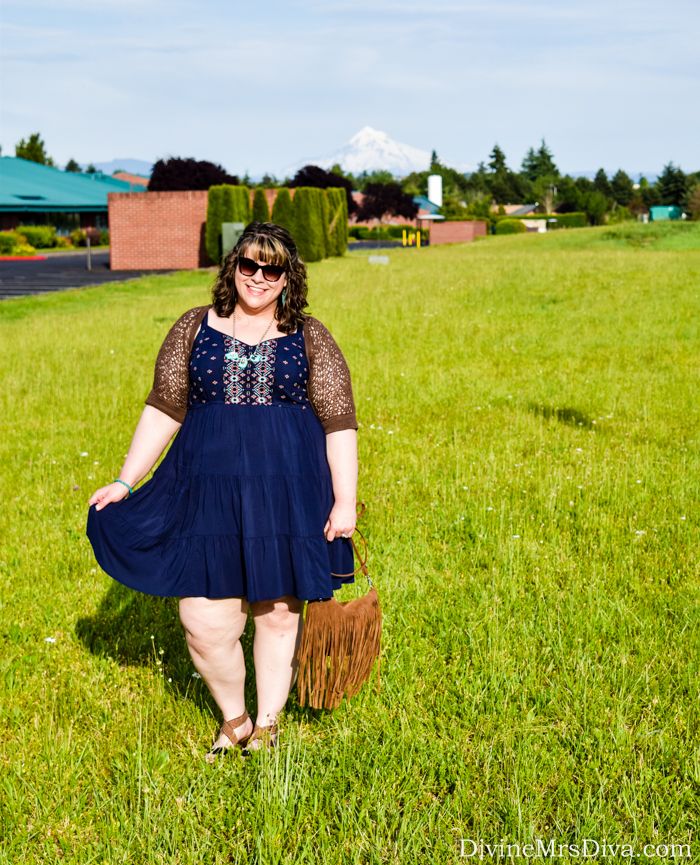 Embroidered Challis Sundress
- Torrid
Brown Crochet Shrug - Lane Bryant (circa 2005) (
similar
,
similar
,
similar
)
Anna Ankle Strap Gladiator Sandal
- Crocs
Tan Suedette Tassel Bag
- c/o Yours Clothing
Turquoise Rhinestone Necklace - Torrid (
similar
,
similar
,
similar
)
Wing Earrings
- Etsy Seller Passionflower
Rock Glitter Sunglasses
- Lane Bryant
Beaded Turquoise Bracelet - A handmade gift
I also wanted to say how proud I am of Sean for taking some fashion risks. He just started pattern-mixing not too long ago, all on his own. Usually when he gets dressed, he thinks I look too dressed up so he asks me if his outfit is okay. He was pretty excited about stepping out of his comfort zone and putting prints together. So I'm showing him off too.
Have you tried any styles recently that surprised you? What are your favorite ways to beat the heat? Do y'all have any fun summer plans?