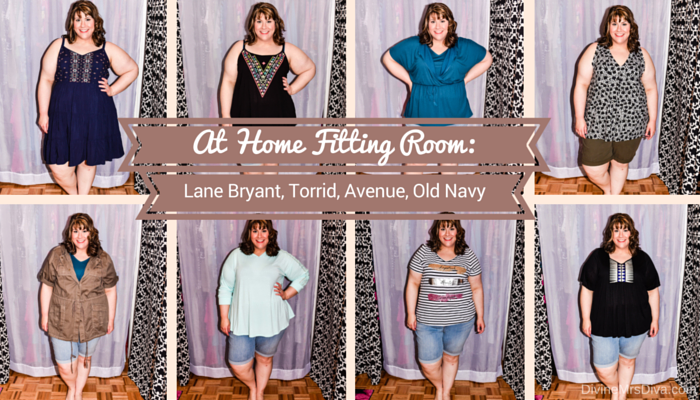 As promised, today's post is a fitting room post with a twist. I haven't had a lot of time to shop in stores or do in-store fitting room posts. However, I have bought some pieces here and there in the last few months. I feel like I shop way ahead of the weather, so it usually takes some time before I wear the pieces in an outfit post on the blog. Inevitably this means that most things are sold out by the time I post it. I loathe when that happens because I hate disappointing you guys. So if I see that I am doing a bit of shopping, I will continue to gather those things for a fitting room post at home.
I asked y'all on
Facebook
if you also wanted to see workout clothes, pajamas, and lingerie. The answer was 'yes!', so those will be in an upcoming post. For today, I offer you a look at pieces from Lane Bryant, Torrid, Avenue, and Old Navy. Enjoy!

Embroidered Challis Sundress
- Torrid - Size 3
While I have a couple of the rayon sundresses from Torrid, they tend to run kind of short on me. Anything above the knee and I feel like I am bound to accidentally flash folks. I was a bit wary of ordering this one for that reason, but I loved the tiered skirted portion of the dress and the pretty turquoise and orange embroidery. This dress is actually a great length for me and fits really well. The adjustable straps do help in personalizing the fit for my tastes. The rayon fabric is soft and smooth and light, making it great for hot summer weather.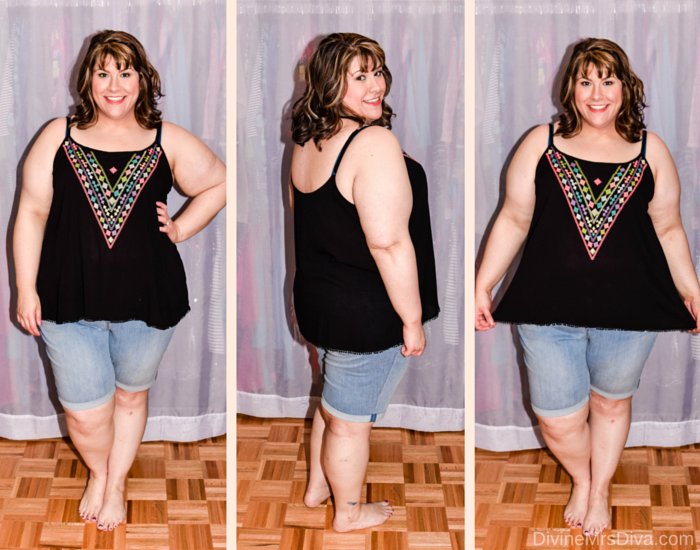 Embroidered Gauze Cami Top - Torrid - Size 3 (Sold Out Online)
Another great lightweight summer top. It is sold out online. Torrid stuff seems to go SO FAST. If I don't snatch something up, I miss out (
though I always wait for a sale
). I never buy things full price. I digress. This top is gauzy and slightly see-through, though not noticeably so that I can tell. It is a longer length with little pompom trim at the hem. I just adore the colorful embroidery on the front. That was the main selling point for me. The straps are adjustable, which helps a lot with my smaller bust. You will see this top on the blog next week, paired with an equally colorful skirt and shrug.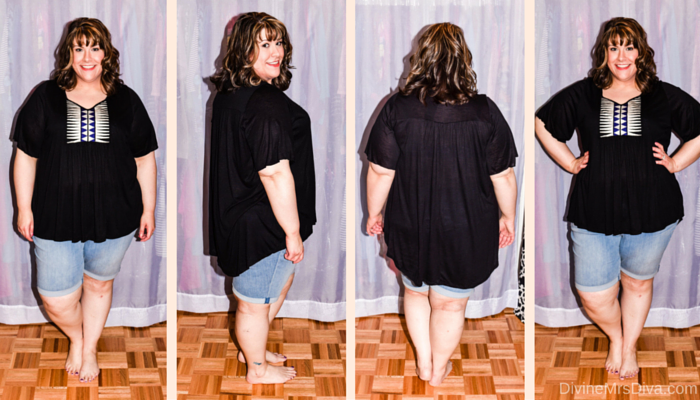 Tribal Tunic Top - Torrid - Size 3 (Sold Out Online)
I bought this top in February after it came back from being sold out previously. It is a bit longer in the back than I expected, but I could hem it if need be. (
Add it to my pile. I have about 6 t-shirts I have to hem now
.) It is also a thinner jersey knit material, so I think it is mildly see-through. The material doesn't appear cheap, it is just thinner weight. The tribal embroidery and longer flutter-type sleeves are what pulled me in and live up to my expectations.
Short Sleeve Anorak Jacket - Torrid - Size 3 (Sold Out Online)
I bought this jacket and a racerback bra during Torrid's latest big sale after my birthday. I had some rewards points and a birthday coupon to burn. I love my long sleeve anorak jacket from Target, so I thought it might be handy to have a short sleeve version as well. This one went FAST, so I am glad I didn't putz around too long thinking about it. It seems a bit oversized, but I know a smaller size would be too small for my hips. The material is like a silky rayon, so it is more lightweight and it has a hood. This is something I could even wear into fall around here because it rains a lot and I don't get too cold.
Crochet Sleeve Hoodie
- Avenue - Size 22/24
I stopped buying from Avenue a while ago when their Portland store closest to me went away. Their prices went up and the quality stayed where it was, which also turned me off. Now, the nearest Avenue store is at least a 40 minute drive, so I don't really have a chance to get over there. I find Avenue sizing can vary, bordering on running a bit large. My favorite style is the 3/4 sleeve top with buttons at the bust that I
have featured on the blog before
. I generally buy those if the pattern really speaks to me. I do like the look of quite a few styles Avenue offers. They have had some great sale prices, so I keep checking them out just in case.
This top is keeping with my vacation wardrobe theme and I thought it would be cute with shorts for a nighttime walk on the beach. The crochet insets on the sleeve are pretty and a little something different. I love the length of this top as well, even though the neckline is a little high for me. The fabric is a super soft, flowy knit in an a-line or swing cut, so there is ample room for my hips and tummy.
Relaxed Plus-Size Graphic Tank
- Old Navy - Size 3X
I have
talked before about my Old Navy boycott
and recent dipping of the toe back in the Old Navy pond. When they have great sales, I usually get Sean some polos and tees and find a little something for myself. Mostly I love the compression capris and shorts, but I have bought a few tanks in various fabrics. The sizing is still very inconsistent in tops. Sometimes they fit perfectly and sometimes they are pretty oversized. Usually it isn't a big deal because most of the things I buy from Old Navy are for wearing around the house. I was shocked that this tank fit so well. It is a little clingy across my butt, but otherwise I love the looser tummy fit. The armpit area is not too big this time. This is a tank I bought for outside of the house, so I am pleased that it isn't see-through and fits well.
Flutter Sleeve Knit Top
- Lane Bryant - Size 22/24
In
my last fitting room post
, I tried on the black version of this top at the store. They only had black and I wanted a color. This teal was the only version available online. I went ahead and bought it because I loved the way it fit. I love the added interest of the layering affect at the top, but it is still a nice basic you can add to. The sleeves aren't too short, the overall length of the top is pretty good for me. I also really like the bloused look and little tassel tie. It is a comfy top that can be dressed up or down, so I am looking forward to styling it multiple ways.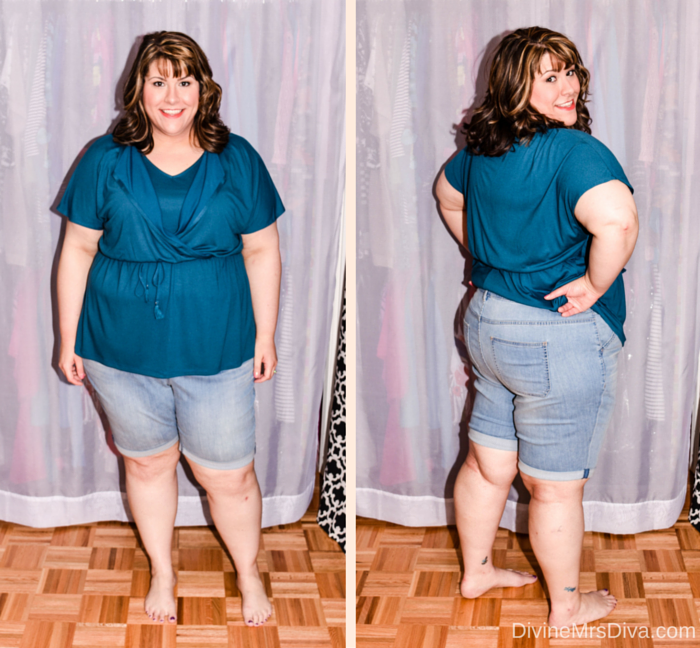 Denim Bermuda Shorts
- Lane Bryant - Size 24
I love
my dark wash Bermuda shorts
that I bought a couple years ago, so I caved and got the light wash. The legs stay in place and don't ride up. I love the length and the overall fit. These haven't been worn yet, so they were a bit tight. The shorts do stretch out some with wear, but not too much.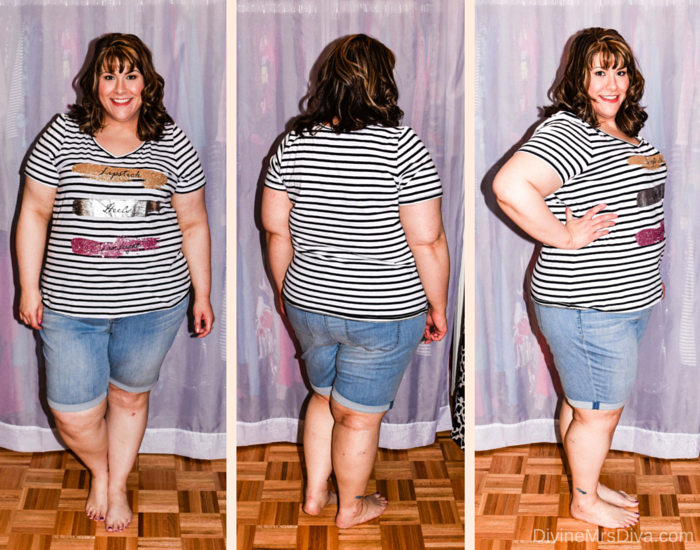 Lipstick, Heels, and Champagne Graphic Tee - Lane Bryant - Size 22/24 (Sold Out Online)
I've been trying to keep
my love of Lane Bryant graphic tees
on a tight leash. I have enough, I keep telling myself. But this one had sparkles, so I
needed
it! It fits really well. The ruched side ones are more fitted and cling to my tummy, so I prefer the ones with no ruching. This tee looks adorable with skirts and great on its own as well. The knit is soft and comfortable.
Layering Swing Tank
- Lane Bryant - Size 22/24
I bought this swing tank in orange and
grey
when it first came out. I love the swing style cut because it is much more accommodating to larger tummies and hips. It is made of a soft knit, is a great longer length, and super comfy. The v-neckline is much preferred over a crew neck. It is just an easy, breezy top that can be worn on its own or layered.
Printed Layering Swing Tank
- Lane Bryant - Size 22/24
After buying the solid color swing tanks, I ended up choosing this black and white and grey patterned one for more versatile accessorizing. It is the exact same style as the others, but the material is a little thicker and not quite as soft. I feel like it skims my tummy rolls a bit better, plus patterns tend to camouflage those things better than a solid color. It is just as easy and relaxed a top as the others for wearing alone or layering.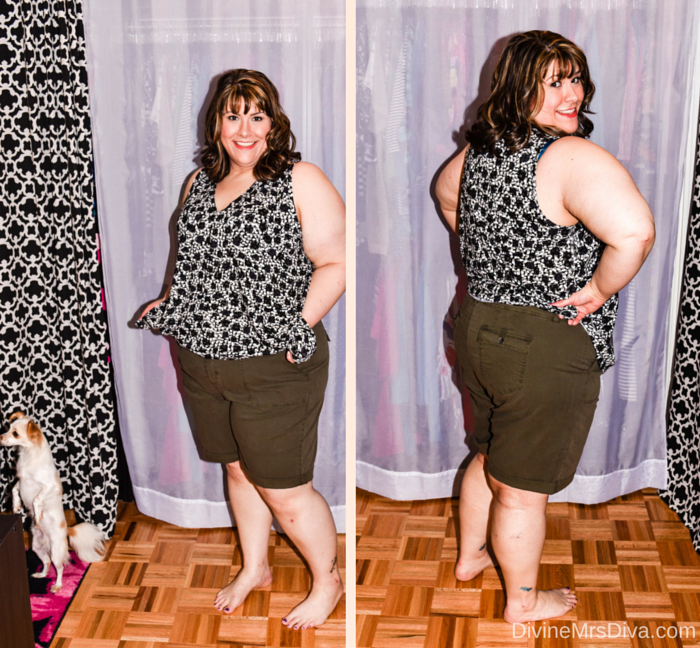 Washed Bermuda Short
- Lane Bryant - Size 24
Lastly I also bought the Washed Bermuda Short in olive to have a non-denim short in my wardrobe arsenal. I tend to shy away from this kind of material, though this one does have some stretch to it. I actually really like these shorts. They are really comfortable with a bit more relaxed fit in the legs compared to the denim shorts. They had them in a few colors and looked so cute in the LB lookbook. I am glad I tried them out and look forward to styling them this summer. It is going to be hot this weekend, so maybe I can take 'em out for a spin!
So those are my latest purchases. While I wasn't able to beat the sold out label on some things, I hope you find this helpful. One of the great things about doing the At Home Fitting Room is that y'all can see Finn hanging out in some of the photos. lol He was just walking around like nothing was going on. I look forward to doing another post along these lines with the aforementioned workout wear, pajamas, and lingerie.
Have y'all done any shopping lately? If so, what item did you purchase that you just love? Any recommendations?