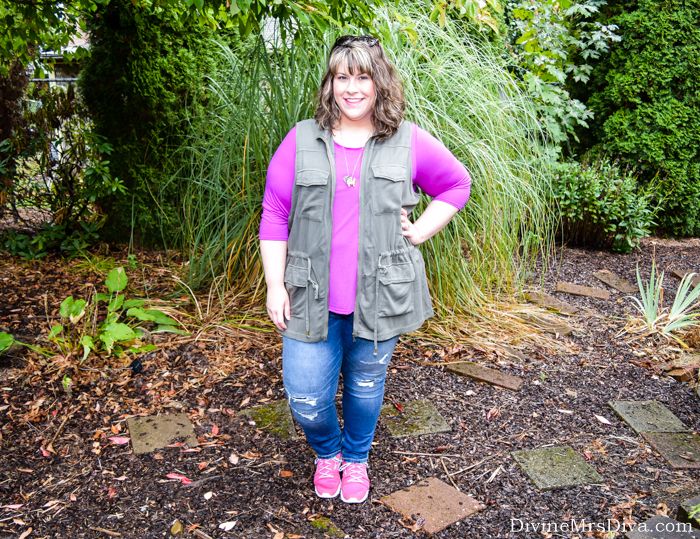 The busy season of holidays, parties, shopping errands, and other fall and winter events is upon us! I'm already tired thinking about the limited amount of free weekends I have between now and January. However, this busy season also means I will have more opportunities to do outfit photos, if the weather will cooperate a bit. With fall comes rain here, so expect soggy scenery for the most part. haha (
For example, we have rain and thunderstorms forecast for the next two weeks straight. Such is life in the PNW
.)
In today's post, I'm showing you an errand-running look with previously-talked-about-on-the-blog tee and vest, but I'll be reviewing these new Ava and Viv skinny jeans for you too.

Before we get to the review, I must ramble a bit. I promise it brings us to the outfit.

Last week, I started my rounds of check-ups with various doctors. Since my thyroid cancer diagnosis, my anxiety often manifests itself as worry that I may have some random, horrible disease. I am assuming this is a normal reaction to having had a scary, horrible disease. I feel like I am very in tune with my body now and have no physical reasons to think something is wrong, but you can't really reason with anxiety. Even though I freak out for months or weeks or days up through the actual appointment, it is usually a huge sigh of relief when it is over and I am told everything looks awesome.
One of those such days was last Tuesday. I had to get up before the sun to make it into Portland for my scheduled ultrasound. While I have blood work done to check my thyroid every six months, I only have to have ultrasounds once a year now. Last year the technician made all kinds of worrisome facial expressions the entirety of my appointment. I left feeling utterly defeated and scared because I just knew this person saw something I couldn't feel. Turns out they were just bad at their job, because they shouldn't be making any faces at all. And I was fine. There was nothing questionable going on in my neck and all my blood work was great. My follow-up for the results of the latest round of ultrasound and blood work is next week, so I will keep you posted.
After the ultrasound, I met up with my regular doctor for a yearly exam. I still have to do general check-up blood work, but the actual appointment went well. She was pretty thorough in checking things out and told me everything looks healthy. Because of my thyroid issues I can't lose weight, but I also don't really gain it either. Aside from losing some inches as I have gained muscle and tone, I have been the exact same weight for two years now. This isn't really an issue for me physically, but we can all continue to make healthier choices that have a positive affect on our minds and bodies. The doctor encouraged Sean and I to do the Whole 30 plan for a month to see if that kicks any metabolism into gear. Next week is blood work, dentist, eye exam, and my follow-up endo appointment. While I am not all zen, my anxiety has been much better managed since my general doctor gave me the healthy and fine sticker.

Which brings me to the clothes. I had to get up at 4:30 AM to prepare for the day and beat traffic in the big city, so I was going for comfort, ease, and cuteness. It wasn't raining but there was a chill in the air, so layers were preferred. I also needed something that was easy to take off since I didn't want to get the ultrasound goop on my clothes. I wanted to wear at least one piece of new clothing that I haven't talked about on the blog yet, since the sun was out and pictures were in order.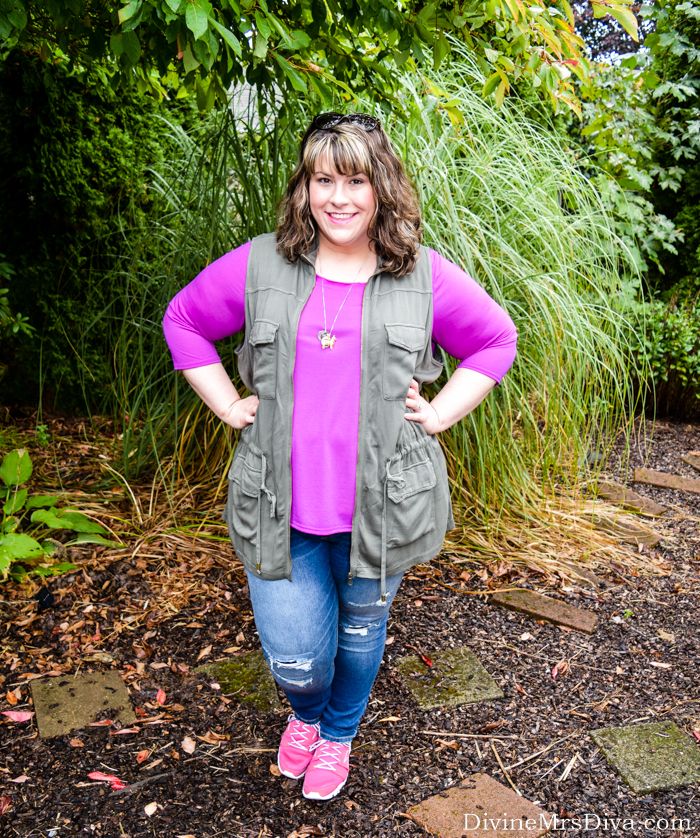 That new piece comes in the form of these
Ava and Viv Skinny Jeans
. I love
my distressed capris
so much, but didn't have a more distressed jean. I just happened upon these while looking at some things on Target's website. It also didn't hurt that Target was having a sale, so all the plus-sized jeans were only $20. I've only tried on jeans in store at Target once. That pair fit really well, but I hated the placement of the whiskering and fading. I eyed the photos carefully and concluded that this latest pair was more to my liking, so I caved and ordered them. I am wearing a 24 and find they fit true to size. The fading isn't a grotesque contrast that draws attention to things I don't want it to. It blends well and looks good in person. I also feel like they hug my thighs better so all the lumps and bumps don't seem as big or obvious. I'm still a bit insecure about the tops of my thighs.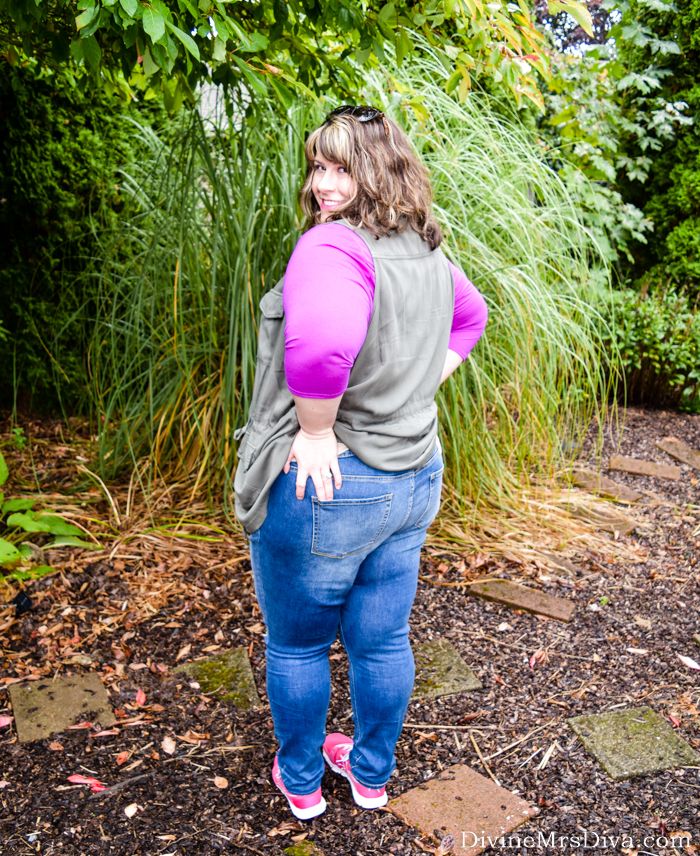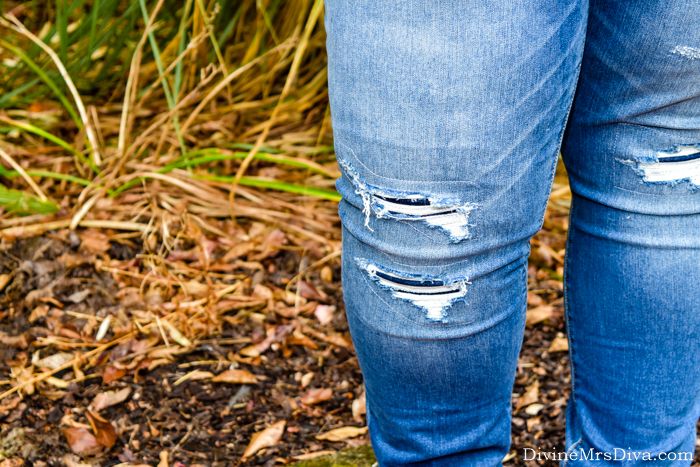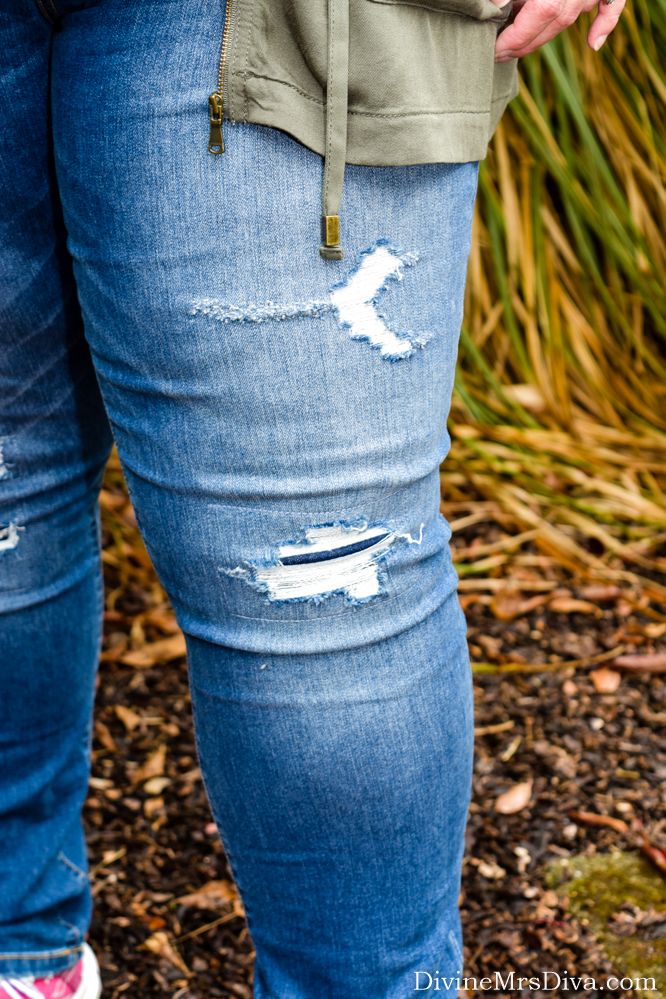 The stretch is very comfortable and they have held their shape well. I was up and down and all over the place that day. When I finally got home at the end of the day, the knees were not baggy and the waist was not stretched out. It is also worth noting that the distressed areas have patches sewn on the inside, so no toes will be harmed in the putting-on of these jeans. (
I always get my toe stuck in jeans holes.
) I also like that my skin isn't exposed to the weather and I don't always have to worry about shaving my legs when I wear them. You can see stitching along the outer portion of the patches. This was something that a reviewer on the Target website did not like. I don't feel that it is really noticeable or weird-looking. I have been really happy with these jeans. It makes me feel more comfortable about trying more pairs from Target. I just had to return two plaid shirts I bought online because the upper arms didn't fit, so I have a gift card of return money that keeps yelling at me. hahaha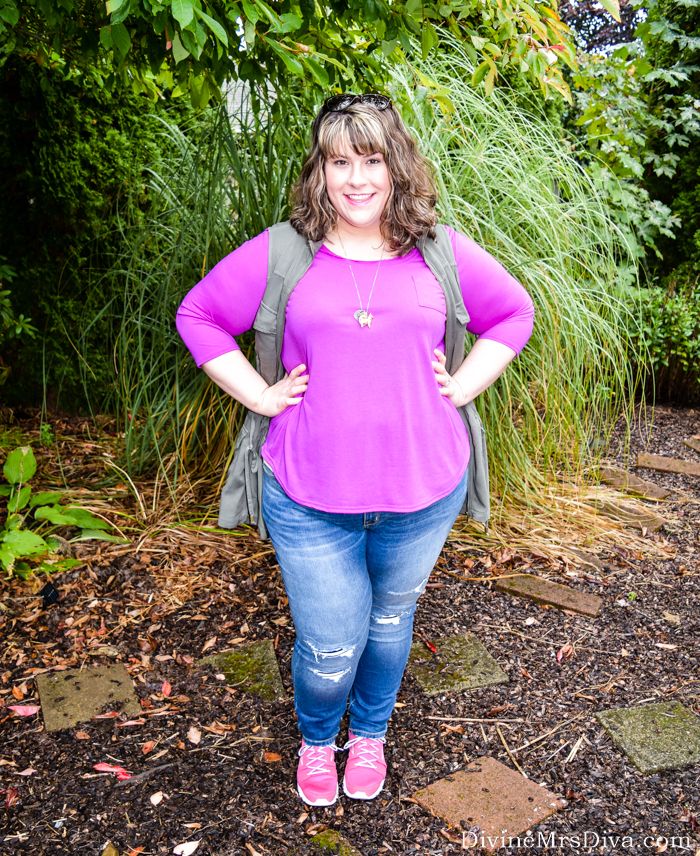 I went with a colorful scoop-neck tee from Lane Bryant as my easy pull-on, pull-off piece. (
I wear a 22/24 in the tees and have them in a handful of colors.
) The more open neckline also meant I didn't need to take my shirt off for my ultrasound. I layered my Ava and Viv Utility Vest over it for some warmth and coverage. I bought this vest in a 3X and have decided I could have sized down to a 2X. I may still get the light wash denim vest of the same style because I really do like it. This one is a little baggy in the front and arms. The drawstring waistline sits at my natural waist in the front, but is at a slightly higher (
and more to my liking
) level in the back. Still, I don't think it looks bad. It is certainly comfy to wear and goes with a variety of looks. Plus, it fits my hips, so I do have the ability to zip it and belt it if I so desire.
3/4 Sleeve Scoop-Neck Pocket Tee - Lane Bryant (Available in other colors
here
and
here
)
Ava and Viv Utility Vest
in Olive - Target
Ava and Viv Skinny Jeans
in Medium Vintage - Target
YourFlex Trainette 3.0 - Reebok (
8.0 is the newest version, though for some reason most sizes are sold out.
)
A look at previous posts featuring the vest and LB tees:
I feel like I am always asking if you have a new favorite pair/brand of jeans. What wardrobe pieces help you transition to cooler fall weather? If you've done the Whole 30 thing, share a favorite recipe with me!