I cannot believe it is almost November already! The weather has been rainy for a while, but finally started to get cold enough that I need a light jacket when I leave the house. I adore the days it isn't raining, or isn't raining too much, which also afford me the chance to take outfit photos.
This look is from another early morning errand-running day. Sean and I had to go get blood work done first thing, and then ran some errands and went to see a movie with the mom-in-law. I always love plaid, but I especially love wearing plaid in the fall. There is always a cozy, laid-back feeling to plaid for me, so I tend to gravitate towards plaid shirts with a more relaxed fit. In today's post, I review this tunic from Lane Bryant!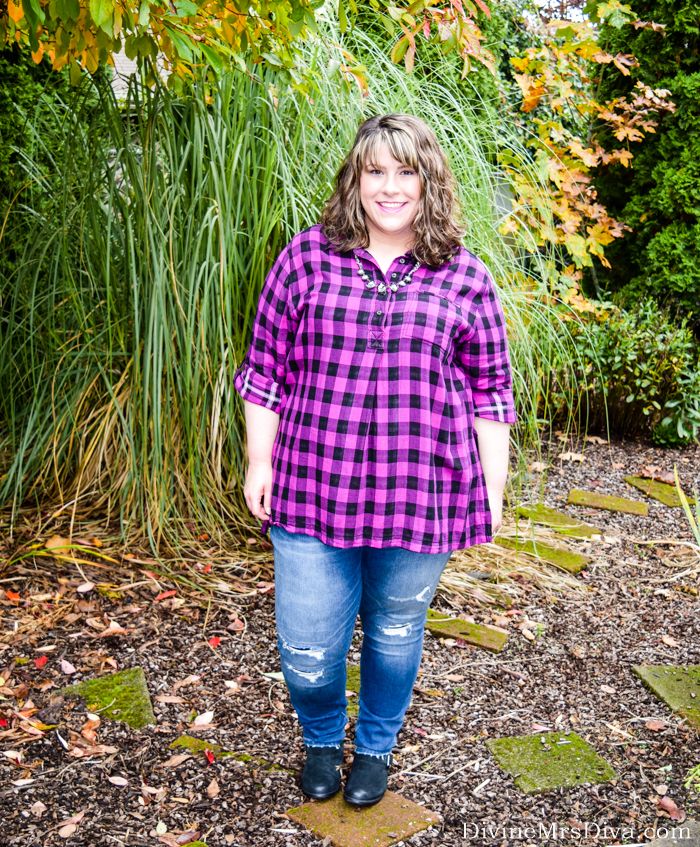 I was out with my mom-in-law one day doing a little shopping. We usually mosey into Lane Bryant on our days out together. By now you should know I adore this bright pinky-purple shade, so when I saw this tunic top I knew I needed to try it on. I was on the fence about it because sometimes oversized tops run the risk of giving me the "pregnancy look". I haven't worn too many longer, oversized tops as of late so the silhouette threw me off a little bit. I walked around in the shirt at the store and spent a while looking in different mirrors and different angles and taking some photos before I finally decided to get it. I also tried on the blue version, but found the major contrast between the navy and white did not look great on me. That's when I knew this one was the right one for me.
I'm wearing this top in a 22/24. I find the fit in the arms and bust true to size, but the rest is an oversized tunic style. It is longer than a typical shirt and longer in back than in front. The material is really soft, but is 100% cotton with no stretch. Reviews on the website say the length shrinks a bit when put in the dryer. I've washed this top, but I hang my tops up to dry so I haven't had that issue. The fabric is lightweight enough that it isn't as warm as a flannel, which works great for me. I'm usually too hot in places a majority of the time. The sleeves can be rolled down, but also roll up and stay in place with a button tab. I love that the underside of the fabric is a contrasting pattern.
The slits on the sides of the top come up to my waist, so I did wear a lacy cami underneath for more coverage. I tucked it into my jeans so it wouldn't hang down on the sides. I was going to let the lace show at the top, but when I finally chose this necklace to go with the look, the top looked better buttoned up a bit more to showcase the necklace. This was a really comfy, easy outfit to wear, but I still felt like a "cool girl". I even had some millennial at the mall holler at me saying my outfit was great. Compliments are always in fashion!
I am pretty sure I owned this top before I bought the jeans (
jean review here
), but once I had them both I could not wait to wear them together! I think the white in the contrasting cuffs of the shirt and the rips of the jeans play off each other nicely. And seeing as how these jeans are very fitted, I felt the larger top would be a great balance. I experimented with tucking the jeans into these boots, but it didn't look right on me. I can't wait to wear this again because I felt really cute in it!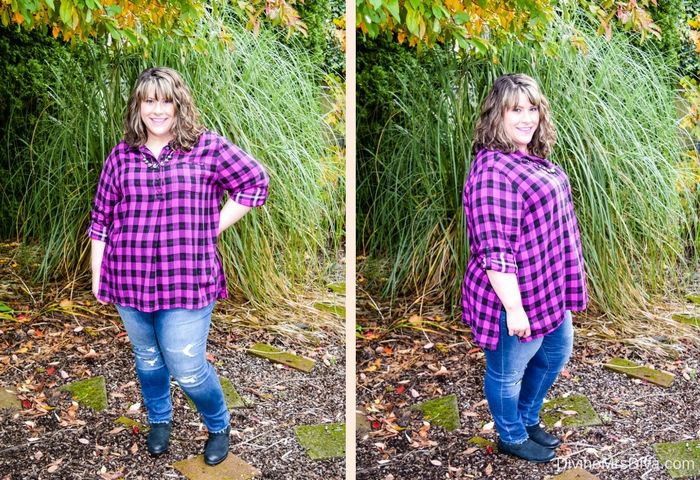 Plaid Casual Tunic
in Pink Reverse Plaid - Lane Bryant
Ava and Viv Skinny Jeans
in Medium Vintage - Target
Clarks Plaza Float Boot
- Amazon
Vera Wang Graduated Stone Necklace - Kohl's (
similar
,
similar
,
similar
)
Are you a plaid-loving person? Do you gravitate toward a particular color or pattern or piece when buying plaid? Are you excited about seeing more fall fashion?