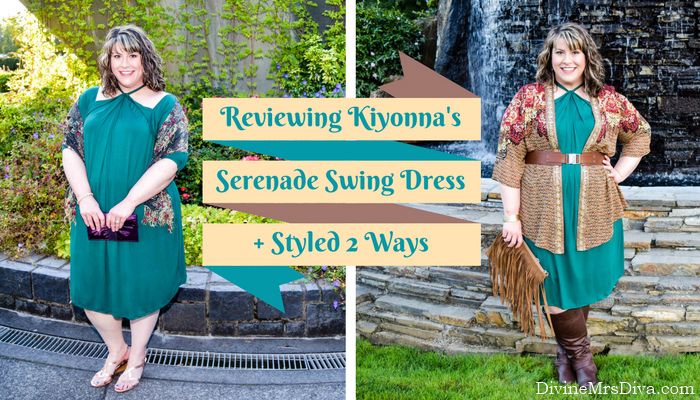 In today's post, I am stepping out of my comfort zone once again and trying something new. After the huge success of
trying a halter top in my last Kiyonna post
, I decided to try a swing dress this time. Swing dresses are such a cute and comfy style, but I think the silhouette has kept me from giving it a try. I am so used to cinching my waist and emphasizing that area to create shape, that wearing something less shapeless really intimidated me.
I had a great time creating different looks with the
Florence Flair Halter Top
to show you the versatility of the piece. I decided to do it again this time, taking the
Serenade Swing Dress
from a dressier date night or wedding guest look to a more casual, fabulous, fall-ready look!


- Kiyonna gifted me the dress in this post. All opinions are 100% my own. -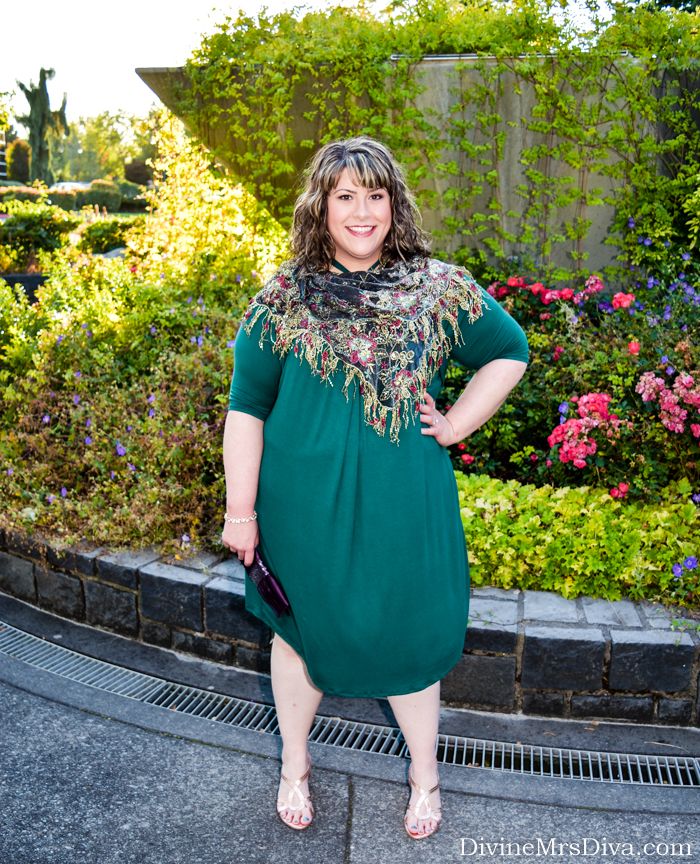 Before we get started, I am 5'9", typically wear a 22/24, and my measurements are 52/49/58.
The
Serenade Swing Dress
(
1X- 5X
) comes in black and the gorgeous emerald shade I am wearing in today's post. The emerald really captured me and pulled me in. I just love when colors sing to me! The dress features three-quarter length sleeves, pleating at the bust, and a halter neck that ties in the back. The ties actually go through loops at the back of the dress, so you don't have something pulling on your neck are tightening around your throat. While I am new to the halter style, I haven't seen one quite done like this. I think it is a great design aspect to point out.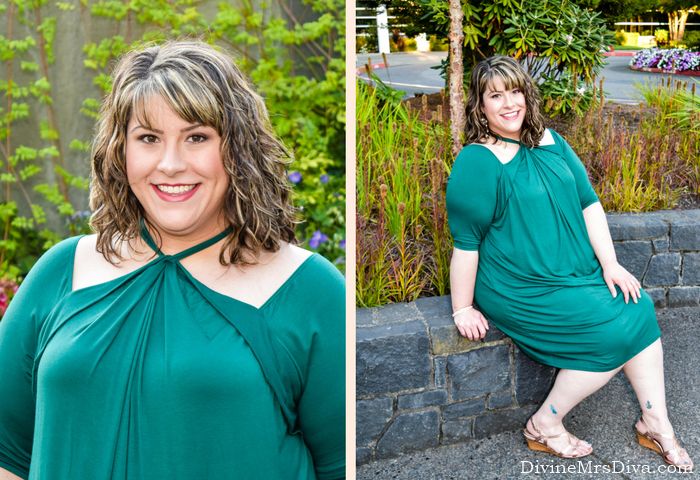 The poly/spandex knit fabric of this dress is soft and stretchy and very comfortable to wear. While the material is a thinner knit, the dress is fully lined. I think the lightweight fabric gives the dress a great flow and movement, but this also means it shows lumps and bumps a bit more. I am wearing a 3X, which I feel gives me ample room in the hips and tummy area. I am not wearing any shapewear in these photos. My undergarments are a strapless bra and some undershorts that smooth and prevent chub rub, but do not act as Spanx to cinch anything in. I do have larger upper arms as well, but the sleeves are very comfortable and not tight. I did steam iron the dress prior to wearing it out, and I found that it didn't wrinkle too much during the course of wear.
Because of the looser fit of this particular silhouette, I did appreciate the knee length of the hem. It was a little higher on me in back than in front, which brings me to the only problem I really had with this particular style. I feel like the design provides ample room for those of us with larger breasts. I just happen to not be one of those people. I am on the smaller side of a B cup, so bust bagginess is a common issue for me in a lot of clothing from a lot of brands. I've learned to live with it. While I don't think it is an incredibly noticeable part of how I look in the dress, I do want to point out that the front hem falls about five inches longer in the front than in the back for me. And I really feel like that is because my chest just isn't very large.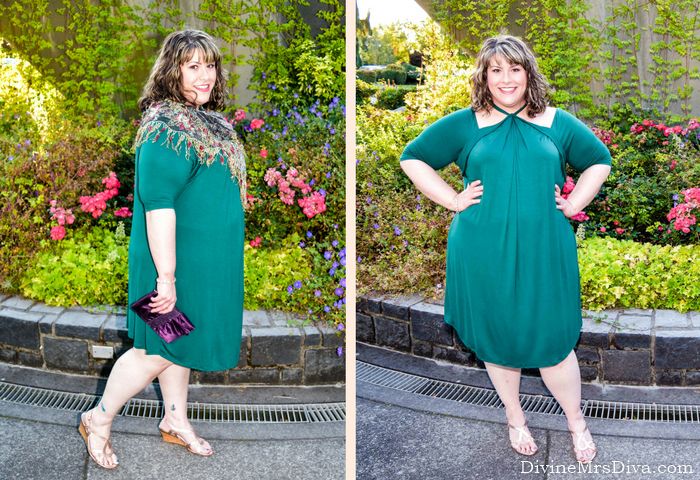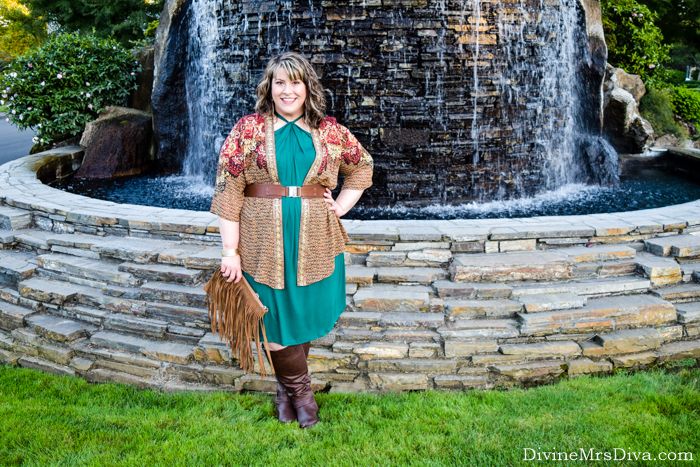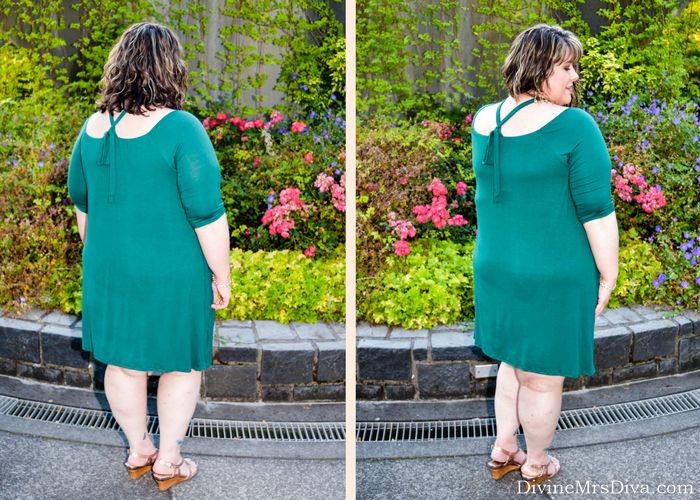 Overall, I really like this dress and was pleasantly surprised with how the style looked on me. I didn't feel like it was incredibly oversized or shapeless. I think the way the bust fits and the way the material flows and pleats and moves makes it much more than some shapeless piece of clothing.
In styling the dress, I went with a dressier look first. Shoes, chandelier earrings, and a shiny bracelet in rose gold were the first items I knew I wanted to wear with it. The dark purple sequin clutch is another great-for-fall jewel tone. My mother-in-law bought this gorgeous embroidered and sequin scarf for me a few years ago when I was diagnosed with thyroid cancer. I haven't had many fancier opportunities to wear it, but I thought it went with the emerald hue beautifully. I can wrap it around my neck to keep the chill off my shoulders, or wear it more as a shawl or wrap.
For the more casual look, I really loved the contrast of the browns, oranges, and reds in the cascade paired with the green of the dress. I belted it, bloused it just a tad, and added tall brown boots. The dress itself is a pretty and simple look, but it also makes a great base for an incredibly comfortable layered look like this.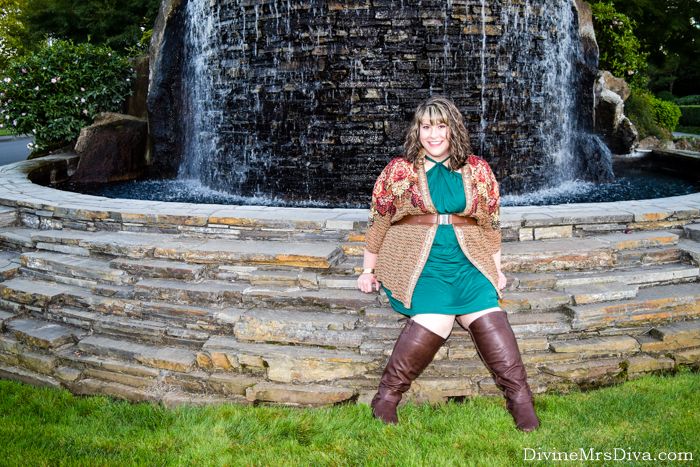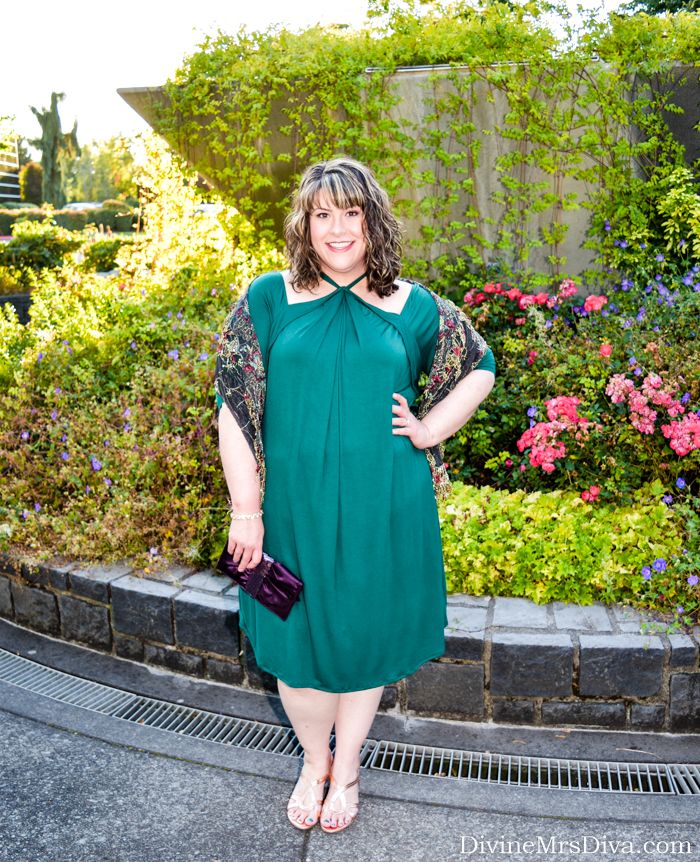 Serenade Swing Dress
in Emerald Isle - c/o Kiyonna
Sequin Embroidered Scarf - Christmas Fair find/gift
Sofft Paharita Open Toe Wedge Sandals - Amazon (
similar
,
similar
,
similar
)
Putting on the Glitz Bracelet
- In Pink
Ornamental Ease Cascade - Catherines (
similar
,
similar
,
similar
)
Stretch Riding Boots - Avenue (
similar
,
similar
,
similar
)
Military Stretch Belt - Lane Bryant
Tan Suedette Tassel Bag
- c/o Yours Clothing
Makeup: Eyeshadow -
Muse
, Lips -
Bumble
, Blush -
Quarters
(All by Colourpop)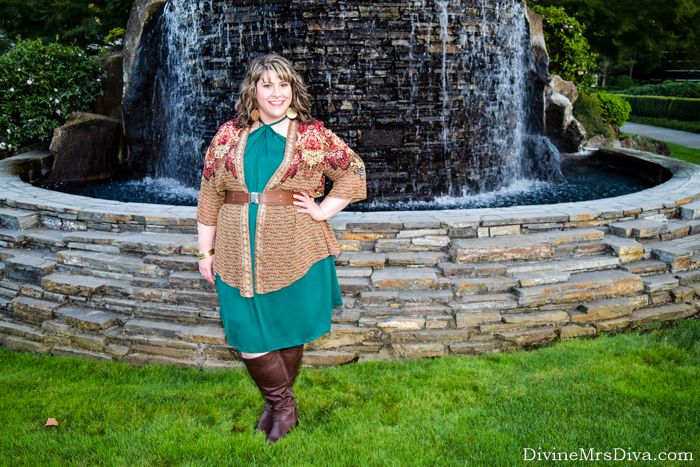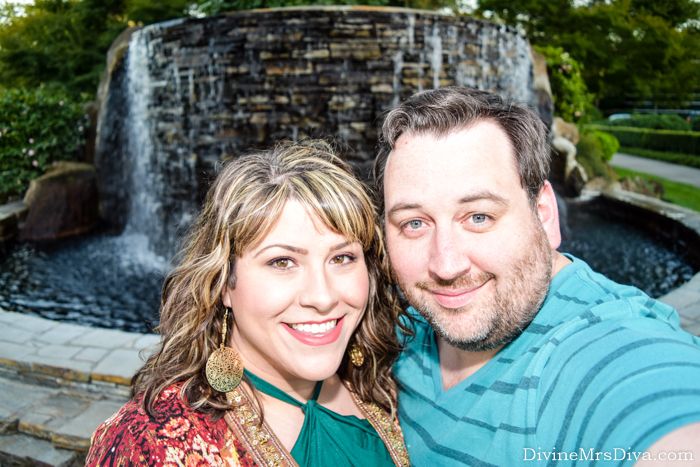 Have you tried a swing dress style? How have you stepped out of your comfort zone lately? Which of Kiyonna's latest looks really appeal to you?