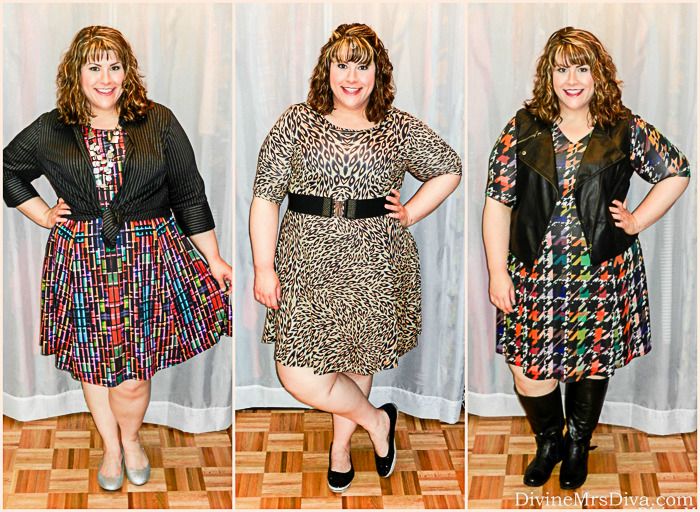 I know I haven't done many outfit posts lately. Well, I haven't done a lot of posts lately period. But I've also been hanging out at home in my pajamas a good chunk of the holiday season, or wearing jeans and a long sleeve tee and a scarf. I'll get back into the swing of things soon, but I thought I would deliver a post of three looks for the time being.
All three dresses are the same style from the same company, the Triste Fit and Flare Dress. I've talked about
Triste on the blog
before, as I have tried various styles from the
Gwynnie Bee
brand. I love their use of pattern and color so much. Read on for my overview of the dress style and more tidbits....

I'm wearing the Colorfully Pixelated dress in a 4X. I chose the larger size after trying a 3X initially. This one fit much more to my liking because it wasn't quite as form-fitting across the tummy or my arms. The longer short sleeves are such a great length! I wish more brands made their sleeves this length. The crew neck isn't too restrictive and the dress length stops right at the knee.
As I mentioned, I love Triste's use of color and pattern, but I am not a fan of the poly spandex material. While it is stretchy, smooth, and easy to wear, it can look kind of cheap up close depending on the pattern and fit. That's really my only complaint.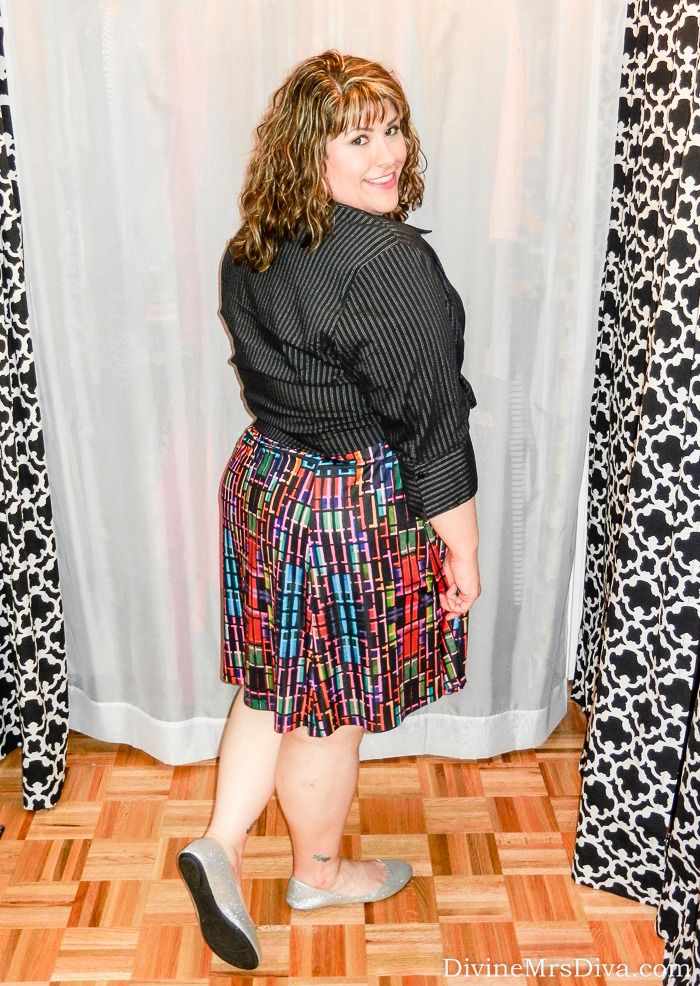 The Colorfully Pixelated dress looked great in person. I chose to accessorize it with silver flats and a silver necklace that didn't distract from the vivid color of the dress. I wanted to try some more pattern-mixing in the form of this pinstriped button-down shirt that I tied at the waist for a more casual look.
Colorfully Pixelated Fit & Flare Dress
- Triste via
Gwynnie Bee
(30-Day Free Trial)
Pinstriped Button-down Shirt - Lane Bryant (
similar
,
similar
)
Silver Disk Necklace - Avenue
Silver Glitter Chelsea Flats
- Payless (
similar
,
similar
,
similar
)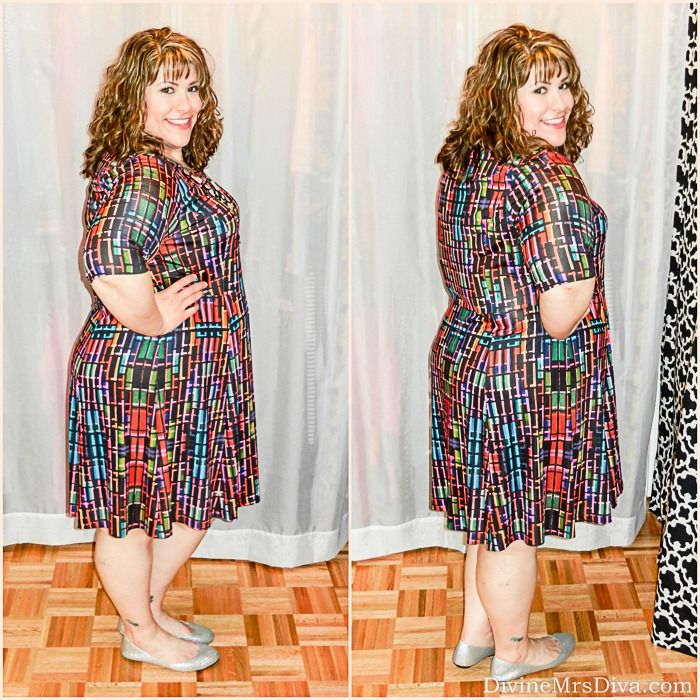 The Spiral Marquise dress is the first dress I received in this style. I am wearing it in a 3X. This particular dress was pretty tight in the arms and a little more form-fitting across the tummy. I camouflaged my tummy roll with this stretchy belt. That did the trick. Again, I kept this look pretty casual, with glittery athletic-looking flats.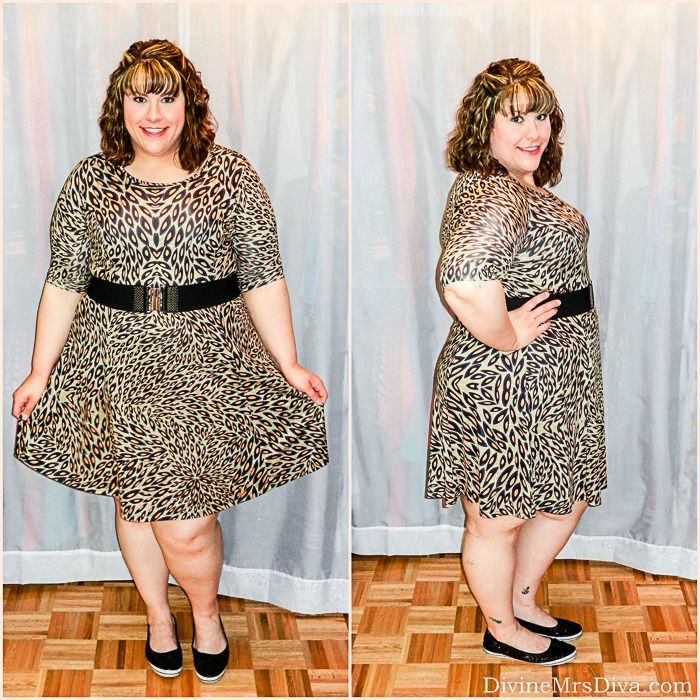 Spiral Marquise Fit & Flare Dress
- Triste via
Gwynnie Bee
Studded Stretch Belt - Lane Bryant (
similar,
similar
,
similar
)
Glitter Flats - Fashion Bug (
similar
,
similar
,
similar
)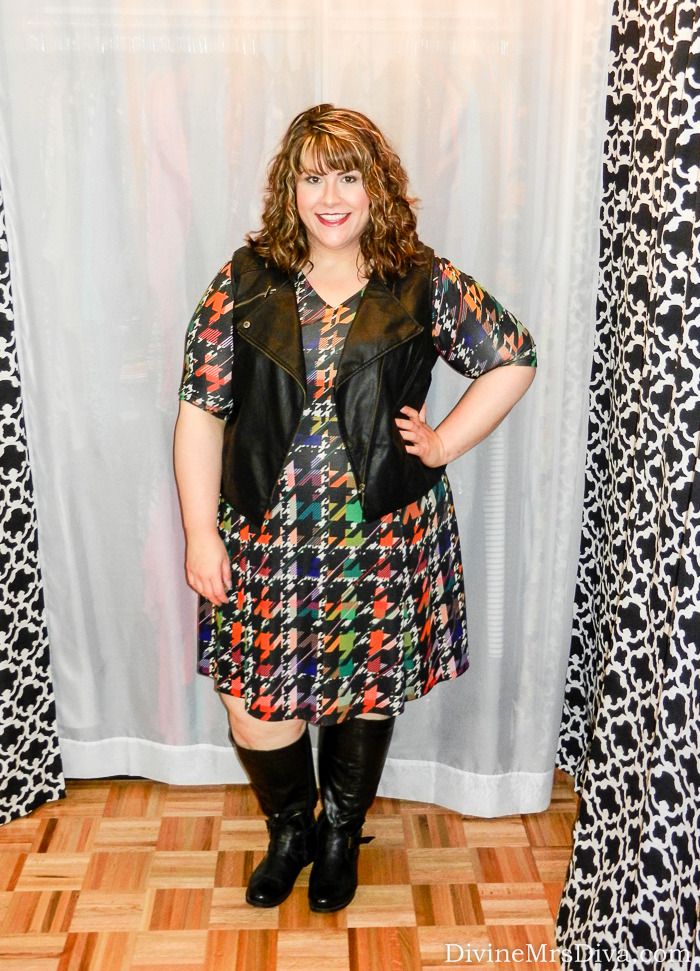 The Houndstooth V-Neck is also a 3X. This particular dress fit looser than the above 3X, though I'm not sure why. It was comfy and vibrant, two awesome qualities I look for in a majority of my clothing. While my general aesthetic is somewhat casual, I gave this look a little edge with my faux leather vest and knee boots.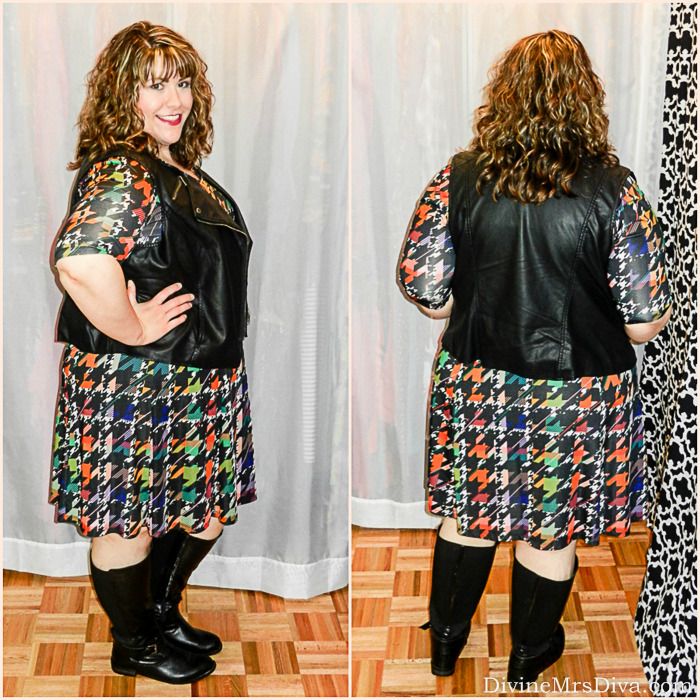 Houndstooth V-Neck Fit & Flare Dress
- Triste via
Gwynnie Bee
Faux Leather Vest - Lane Bryant (
similar
,
similar
,
similar
)
Black Boots - Avenue (
similar
,
similar
,
similar
)
These Triste pieces can be styled so many ways for countless wears. I really like the fit, patterns, and colors overall, but do wish the fabric looked a little better in person. Still, if you are a member of Gwynnie Bee and keep your eye on their shop, you can get these for a great deal.
If you aren't a member of Gwynnie Bee yet and want to give them a try, you can
get a 30-Day trial FREE
!
Have you tried Triste? Do you have a favorite look from this grouping? How would you style your favorite? Do you have any GB recommendations I should add to my closet?