I've been so overwhelmed by all the pretties over at Torrid lately. Plus, they have had great sales. It is becoming increasingly more difficult to keep my wallet in my purse. About a month ago, right after I saw
Star Wars: The Force Awakens
, I ended up ordering a tee with the movie characters on it. During this time, Torrid was having a crazy sale that led me to also buying this dress in that same order. And I'm so glad I did! Read on for my review...

If you've followed the blog for at least a year, you have seen the other similar Torrid dress I own. (
Here
and
Here
) It is a short-sleeved version with thinner navy stripes and a red rose floral skirt. It is also a bit shorter. I own that particular dress in a size 4 and it is still a little tighter than I would like.
Keeping that in mind, I ordered this Striped Floral Skater Dress in a size 4 and it fits pretty darn great! The top portion is made up of a black and white striped knit material with a scoop neck and three-quarter sleeves. The sleeves are a little big towards the bottom, but they definitely fit my large upper arms perfectly. The soft, stretchy knit material is thick and well put together. It keeps its shape and doesn't get stretched out and sloppy.
The bottom of the dress is made of a rayon material with burgundy/white/mauve flowers all over it. Initially, I had to steam/iron the skirted portion. I wore it during the day and into an evening out with friends, after which the dress looked totally fine and didn't need to be ironed in order to wear it again. It also has pockets!! And as mentioned earlier, the dress is about an inch or so longer than my short-sleeved dress. As I am 5'9", this came as great news to me. I tend to feel like I can only wear the other dress with leggings because it is shorter than I would like it to be. This also means that this dress is a more versatile option for me. (For reference, I wear a size 22/24 and my measurements are 52/50/59.)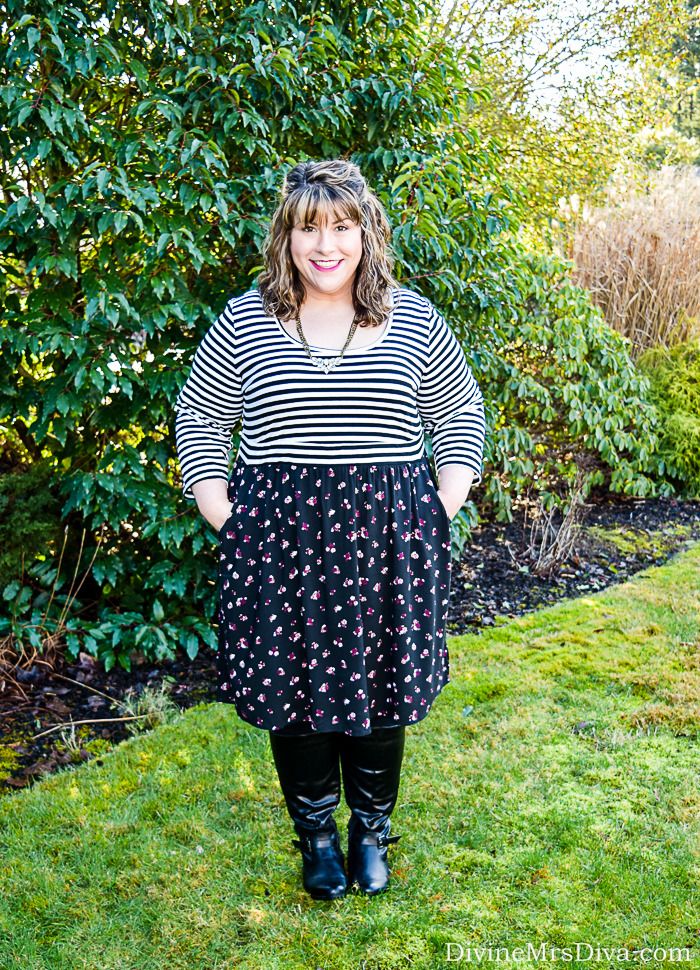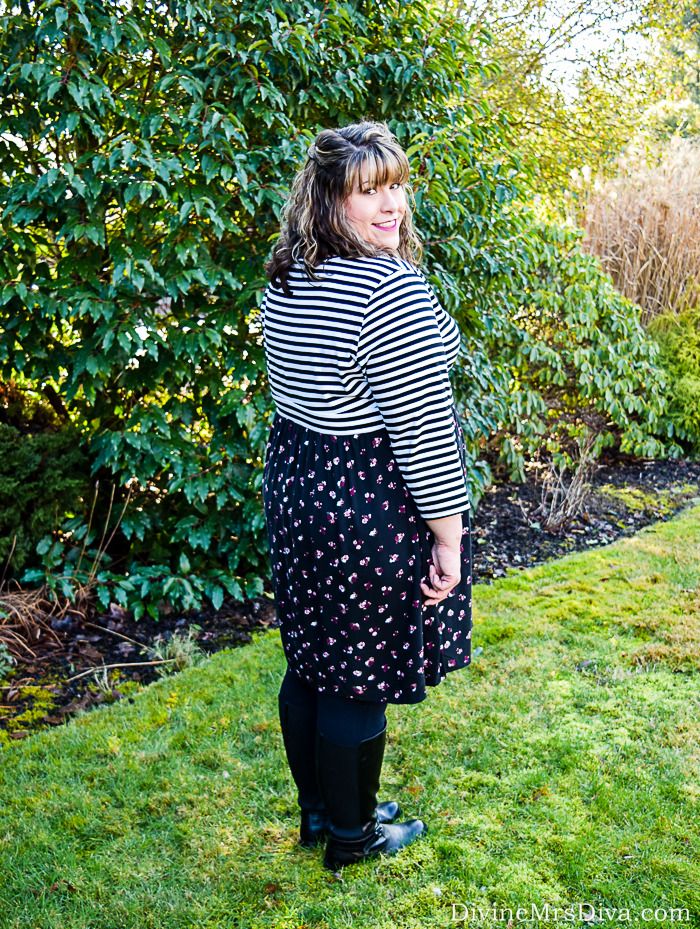 It was wet and rainy when I wore this look out for dinner, so I donned my leggings and boots and added a simple necklace. The dress is cute and playful and I just love it! I think it will be a piece I can travel with and get use out of through the seasons.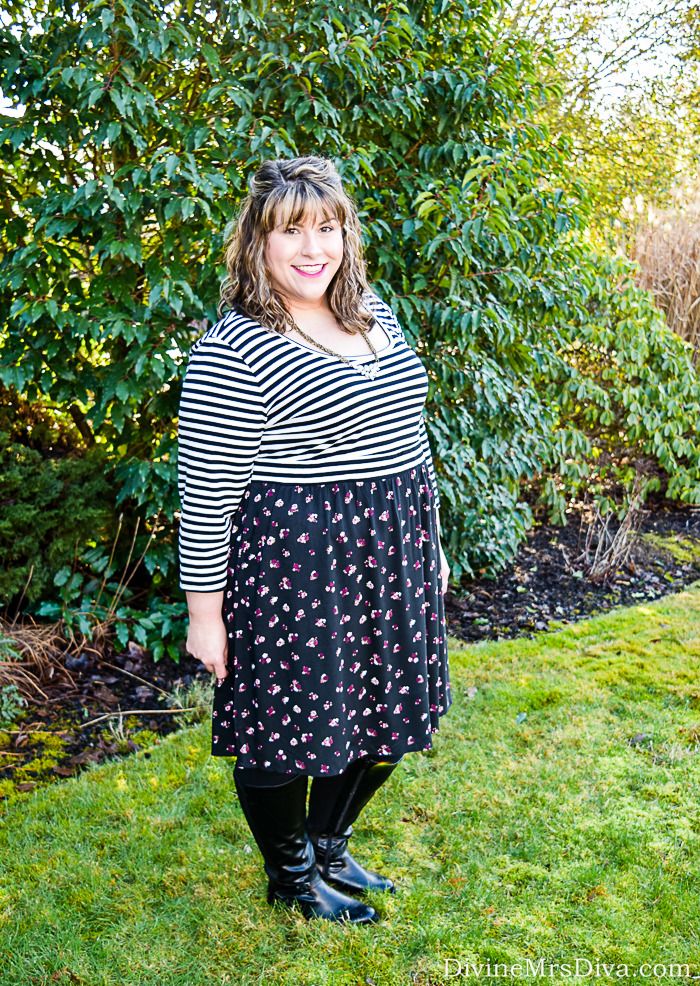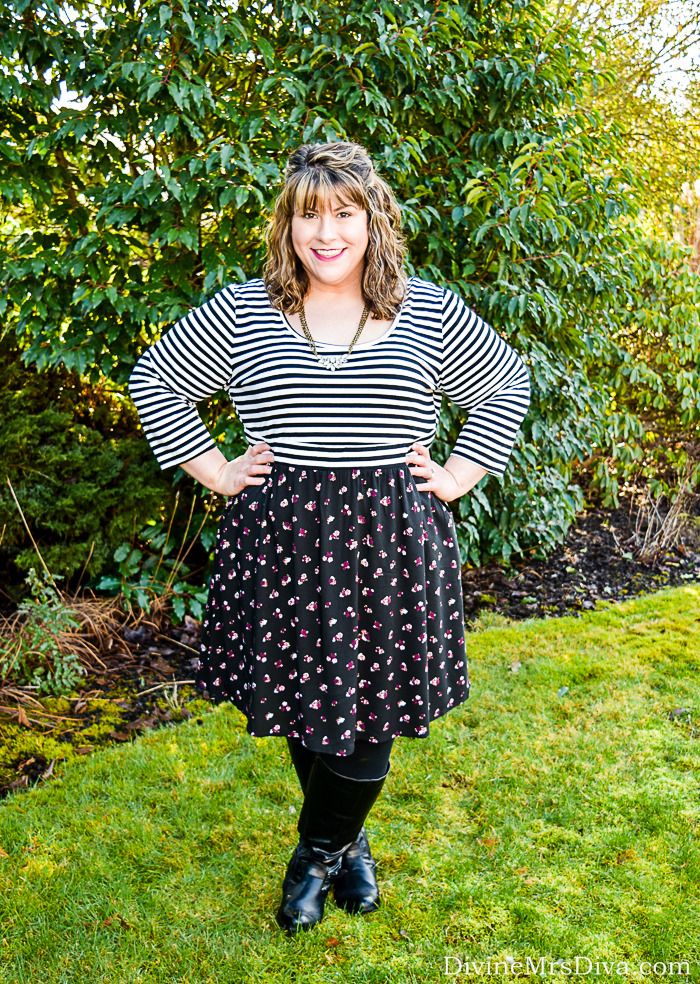 Striped Floral Skater Dress
- Torrid (Now on sale!!)
Black Leggings - Lane Bryant (
similar
)
Black Boots - Avenue (
similar
)
Perry Street Laurel Necklace
Are you a Torrid fan? What is your favorite, most recent fashion find from the brand?