Today I am back at
KATU Afternoon Live
to encourage you to push past your comfort zone and bare your arms! I'm also going to show you different styles that can give you some coverage if you just aren't comfortable doing that yet.
I chose this topic for several reasons. This is very much an issue I struggle with daily.
Last summer
, I finally decided I needed to make big efforts into working through my loathing of my upper arms. While I have been reluctantly sleeveless on various occasions previously, I have always been incredibly self-conscious and uncomfortable doing so - even at my own wedding. I was always the girl shrouding herself in layers and shrugs and the like no matter the cost, situation, or temperature. Despite my lack of comfort with the idea, I pushed myself to wear various sleeveless tops last summer. Those little victories really helped me to start to embrace my arms as they are now.
It is getting hot out there and you have every right to be cool and comfortable like anyone else. The world doesn't end if you show your arms. Nobody says anything negative about them (
and if they do, they are obviously POS that don't deserve to be around you
). Also, life is too short to be sweating because Becky thinks you have fat arms. There are bigger, more pressing matters happening in the world. Your arms are not cause for alarm. Sure, baring my big upper arms can be a rebellious act in this society that values thinness above all else, but I'm feeling like a rebel lately.

- I bought the items in this post. All opinions presented are my own and without influence. This post contains affiliate links and I will be compensated if you make a purchase after clicking on my links. -
Before we get started, I am 5'9", typically wear a 22/24, wear a 40B bra, a size 11 wide shoe, and my measurements are 52/49/58.
Check out the video of my segment below:
I certainly want to encourage you to push yourself out of your comfort zone this summer. I want you to wear the tank top or the shorts or whatever it is that is giving you anxiety or keeping you too warm on a hot day. Look at photos of other people with similar bodies. Can you see the beauty in them? Do you have the same reaction to their bare arms as you do to your own? Where did that negative voice come from? Is it really you or is it someone else telling you that you aren't good enough?
The negative voice in my head is my mom. It is always her voice telling me how ugly or fat or dumb or disgusting she thinks I am. This epiphany was one I didn't have until a few months ago. I knew her decades of berating me had a lasting effect on my self-esteem and my view of myself, but I didn't know that it was so ingrained in me that it was the voice telling me bad things about myself. This voice is most vocal when my anxiety and depression are really bad, or when I'm feeling insecure and comparing myself to others. When I realized that the voice was not mine and not my actual opinion of myself, it was a game changer. I've been able to silence that voice easier now because I know it isn't ME. I still have really crappy days. There are days when I wouldn't dare wear a sleeveless top because of how insecure I feel in that moment. That's okay. I'm human. But it is important to me that I push past that feeling and try again. I know I am a fighter enough to challenge myself, my insecurities, and my fears. You can too!
I highly recommend the book
Beautiful You by Rose Molinary
for practicing self-acceptance and moving you forward to a more positive place. This book has been very helpful to me. It was what brought about my epiphany about that voice in my head. I know it has also been helpful to my girlfriends who have received this book as a gift from me.
Below, I have put together various examples of each category for styles that bare your arms or give you coverage. Links to the tops and blog posts they were featured in will be in the caption for each photo. While I didn't have time to shoot each look I talked about on Afternoon Live, I wanted to make sure to provide examples of those looks and give you links to items I presented on the show.
Tanks
Tanks are an obvious start, but they are the hurdle to jump over when we think of baring our arms. Tank tops are the very definition of and source of that arm-baring anxiety. The three looks above are all from last summer when I promised myself I would push past the fear and wear sleeveless tops in public.
The blue/stars tank has a pretty strappy back and is a
style Lane Bryant brought back
this summer. I started wearing it with my black and white tie-dye kimono, but took it off when I got too warm. The coral top is also from Lane Bryant and has a velour burnout geometric pattern on the wide ruffle neckline. This gives it a little bit of sheer, but still offers a smidge of arm coverage with the wide ruffle. Catherines has
a teal version
now that is about an inch longer and doesn't have the rickrack trim on the hem. It looks so frumpy on the website model, but I bought it and it is the same top. And once it was 105 degrees, I just said 'F**k it!' and wore a tank without a backup plan. The Old Navy
relaxed fit tanks
are really great for cling-free summer fashion. I also ended up buying a black and white version of this Old Navy style (
and a few other solid colors
) that I wore as a swim cover-up in Hawaii. (
see below
)
Short Sleeves
Technically, short sleeves don't count as baring your arms perse, but I wanted to offer the idea because there are sleeve options that can give you a little more coverage but aren't a basic tee sleeve. I prefer elbow length sleeves, which can be hard to come by. Above, we have flutter sleeves, an elbow sleeve with cute ties to add some fun and interest, and dolman sleeves in one of my favorite Kiyonna style of tops, the
Promenade Top
(
I own four of these
).
The flutter option also has a cold-shoulder detail. Cold-shoulder tops have been very trendy the last few years, but not all of them are made equally great. If you've tried a cold-shoulder before and hated the way it looked on you, keep trying them. The cut and placement of the "cold" portion and style of the top are all very important when finding one that works for your body. Also look for tops with slits or lace-up details on the sleeves that provide airflow, but still give you some coverage.
Off-The-Shoulder
As you can see, off-the-shoulder styles are my absolute favorite for adding that arm coverage but staying cool. I was always told my shoulders were too big and wide for me to wear strapless or halter looks. I stayed far away from anything that would expose shoulder skin and draw attention to that part of me. And then I actually tried on off-the-shoulder and halter styles and fell in love with them.
They make me feel feminine, pretty, sexy, and princess-like. I love the romance of the ruffles and draping. Whether it is in dress form or more versatile tops, I can't get enough of this style.
Kimonos
Kimonos come in different shapes, colors, prints, and fabrics. My favorite kimonos for summer are in knits and rayon/spandex, like photo #2 above. I prefer a hip length versus the long ones I am seeing more and more of lately. If the boxy or shapeless look of a kimono is not for you, you can belt it to define your waist. Still, kimonos are meant to be breezy, loose-fitting over pieces. This actually affords me the ability to size down if it is too oversized. If you still haven't found one you like, keep an open-mind and try one on from time to time.
Mesh
When I was in middle school/high school, I had a mesh shirt with a muted rose print on it that I wore under and over my slip dress or a black tank or tee. I wish I had never gotten rid of it because mesh shirts are back! These tops are very lightweight and provide some coverage while still giving you some air flow. The middle top above is the one I showed on Afternoon Live, with pretty embroidery and a small ruffle on the sleeves. Most mesh shirts are pretty basic designs you can wear over any tank. Some tops even have mesh sleeves with a solid fabric body (#3). And while the first top is not mesh but a crocheted pullover, I wanted to include it in this basic idea. Crocheted tops are still going to be items you can wear over a basic tank for coverage.
Light Layering
Overlooking the flannel of #2, I wanted you to see the basic idea of tying a chambray shirt at the waist to give you arm coverage in a sleeveless dress. Chambray shirts are lightweight and very versatile. I love wearing mine over a tank for an extra layer I can shed if needed. Both of the end looks were on vacation, which is when I like having an extra layer just in case. Since my thyroid went away, I am more susceptible to getting cold and appreciate the security of having that layer with me if need be. A chambray or denim shirt can also take you into every season. Mine are from Torrid. While I wear the
light wash
the most (
because I hate that same tone denim-on-denim look
), they also carry a
dark wash
,
grey wash
, and
medium wash
.
I also wanted to point out the pieces below that I talked about on the show. The light wash chambray shirt is the same one I am wearing in the photos above. I tied it at the waist over a
similar skater dress
, also from Torrid. The Hips and Curves boleros are new to me, but having bought this lace version (and a mesh version) makes me excited about the options for layering that they will afford me. (
And they can still be sexy lingerie if I so desire.
)
And as an added bonus, I have included a few more examples that touch on these same categories. I actually own all of the items below (
minus the kimono, that I am seriously thinking about
).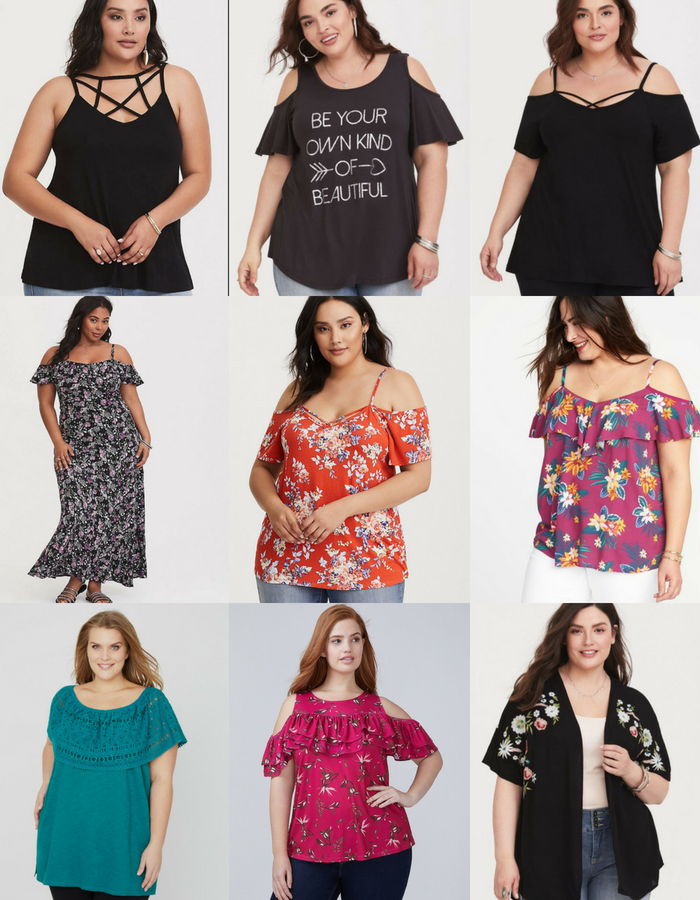 Top Row: 1 / 2 / 3 (same style as orange and navy florals)
Middle Row: 1 (worn on show) / 2 / 3
Bottom Row: 1 (same as coral shirt from tank category. Just looks awful on the model) / 2 / 3
Remember that YOU are not flawed. If something doesn't look right on you, it isn't your body's fault. You are paying the clothes to perform a service for you.
They
need to work for
you
. Every brand is sized and made differently, so do not use a numerical size to define your worth. A clothing size is just pointing you in a direction. It does not control your destination.
If you aren't ready to show your arms to the world, or the general public at least, you are not a bad person. Do not let anyone bully or guilt you into doing it. You have to do it when you are ready. Work on your mindset and bringing more positive thoughts into your head if that is the case. Know that you are worth the work.
I'd love to hear from any of you who have worked your way through this and are on the other side. Do you have more tips for helping someone who is still covering up? How did you get to the point of baring your arms? For those of you who still haven't done it, do you want to share what is holding you back? Do you want to vent? I'm here for you.