For my
first Afternoon Live appearance
, I talked about elevating a casual look. My tips were all about the little things I do to change up a "jeans and a tee" outfit to make it something cute and fashionable, but still comfortable and casual. This formula is one I use when I get myself dressed, so I wanted to wear a springy ensemble that really utilized every one of my tips.
In today's post, I'm showing you a closer look at that outfit, along with reviews of the new-to-us items.

- I bought the items in this post. All opinions presented are my own and without influence. This post contains affiliate links and I will be compensated if you make a purchase after clicking on my links. -
Before we get started, I am 5'9", typically wear a 22/24, wear a 40B bra, a size 11 wide shoe, and my measurements are 52/49/58.
The first item I chose for this look was the
Floral Print Cold Shoulder Knit Top
from Torrid. I also have the navy version of this shirt and
reviewed it on the blog
last summer. When I saw the orange one pop up online, I grabbed it right away. I am wearing a 3X and find it fits true to size. The swing style of the top means I have room in the tummy and hips, with no odd clinging. The rayon/spandex fabric is lightweight, moves well with the body, and drapes well on the sleeves. Did I mention how soft the fabric is? The strappy detail at the neckline adds a little something extra. I did find that one strap was a little longer than the other and lays a little odd, but it isn't that noticeable to other people. I really love the contrast of the purple florals with the orange background.
They really inspired me to pair the top with my purple
Ankle Jeggings
from Slink. I've
reviewed the jeans on the blog
previously. While the colored denim is no longer in stock, Slink still offers this style, among others, in different washes and levels of deconstruction. I am wearing a size 24 and find it fits pretty true to size. Sometimes they feel more loose than they actually look. My Universal Standard jeans are like that too. I believe they are made of a similar, super stretchy material, so while they do stretch out some they usually just feel a little baggier than what they seem by just looking at them. Sizing down would probably not be the best for my thighs, but I'd be interested to know how a size 22 fits.
I kept the accessories neutral to balance the overall color. The taupe Cobb Hill
Zahara Flats
have been worn quite a bit on the blog. They are my most comfortable slip-on sneaker shoe. eBay has been a great source of shoe-hunting for me lately. Though they are selling out online, I managed to find a black pair of Zaharas on eBay in barely used condition. I wear an 11M in the Cobb Hill line, but find I need an 11 Wide in non-Cobb Hill Rockports and most other brands. While the top doesn't have pink in it, I opted for rose gold drop earrings I picked up on clearance at Lane Bryant, and a blush pink bag. The bag is from a subscription box service called
Ivory Clasp
, which sends you a different purse each month based on a style survey you fill out when you sign up. The main reason I tried it out was because I was able to get a discount on my first month through the website
My Subscription Addiction
. I love that site so much! Everything you ever wanted to know about any subscription box service is available to you. I digress.
I signed up for Ivory Clasp because of the huge discount. I did it for one month, receiving this pink bag, before I unsubscribed. I think it would be a really fun service if you really need more purses and aren't super picky. I, however, have very particular taste in what I look for in a handbag and felt that Ivory Clasp couldn't handle me. hahaha This bag is definitely something different than I already own, but the color and small size would not be something I would usually go for. I was also concerned that Ivory Clasp really didn't have a plus size consumer in mind, because this crossbody strap is way too short for me. Still, the purse itself seems very well made and came with a dust jacket bag to store it in. It is certainly a cute addition to my wardrobe for the time being.
The weather was cooler when I went to the studio for my appearance, so I popped on the dark wash denim jacket. It is from Old Navy many moons ago.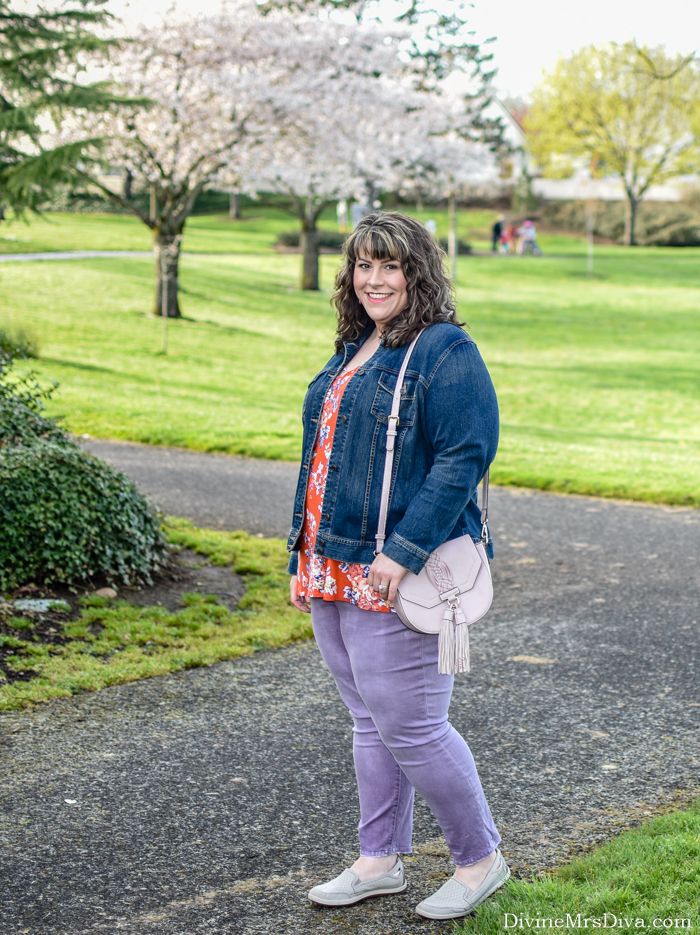 Floral Print Cold Shoulder Knit Top
- Torrid
Ice Dye
Ankle Jeggings
- Slink Jeans (
similar
,
similar
)
Zahara Flats
in Taupe - Cobb Hill by Rockport via Amazon (
similar
,
similar
,
similar
)
Moda Luxe Tassel Purse -
Ivory Clasp
(
similar
,
similar
,
similar
)
Rose Gold Bracelet - In Pink (
similar
,
similar
,
similar
)
Rose Gold Drop Earrings - Lane Bryant (
similar
,
similar
,
similar
)
Dark Wash Denim Jacket - Old Navy (circa earlier 2000s)
I'll leave you with a look at the beautifully fluffy trees from this shoot, where petals rained down in the breeze! (You can see a video of that on Instagram!)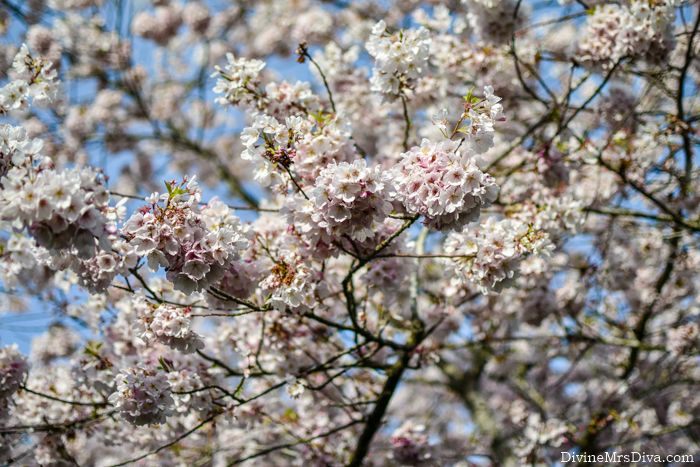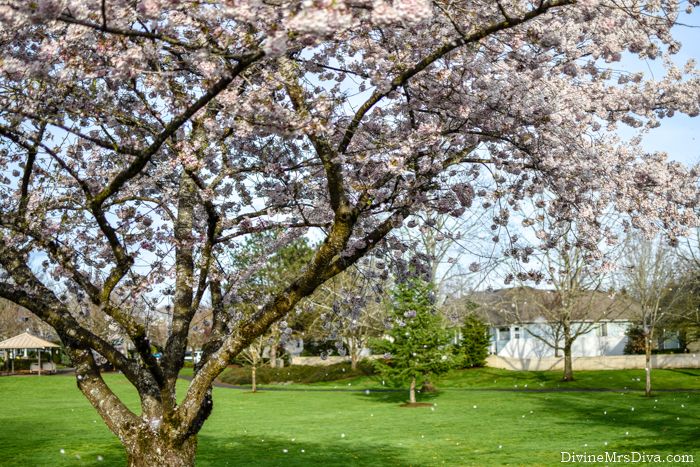 What hue of colored denim do you want to find? Do you have an outfit formula?