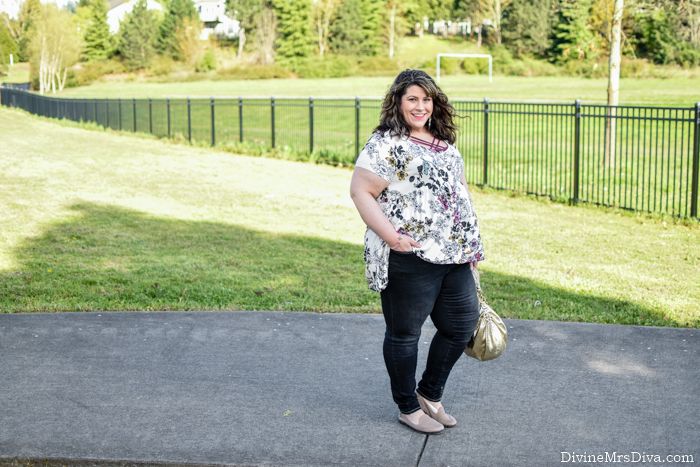 I'm terrible at coming up with titles for my posts. It is my least favorite part about writing on the blog. Today's title is all practical and no frills. I put together a slightly layered spring look for one of our first sunny days this season. It was finally warm enough to wear this short sleeve Torrid top that I found on
ThredUp
but, because of the wind, cool enough I needed to wear jeans. So I'm also reviewing these
Universal Standard jeans
as well.

- I purchased the items in this post. All opinions presented are my own and without influence. This post contains affiliate links and I will be compensated if you make a purchase after clicking on my links. -
Before we get started, I am 5'9", typically wear a 22/24, wear a 40B bra, a size 11 wide shoe, and my measurements are 52/49/58.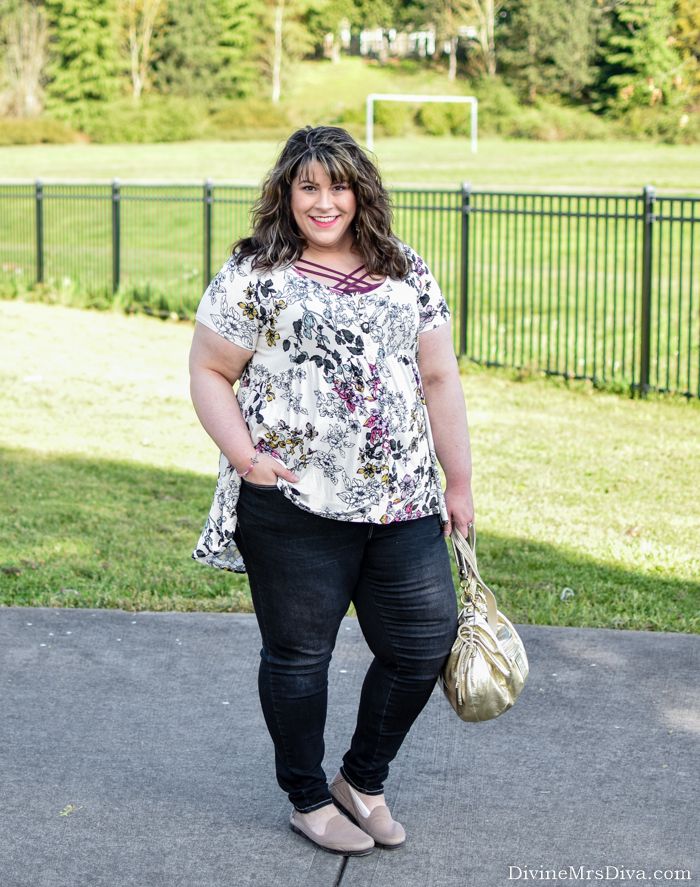 I've been checking thrift sites like
ThredUp
a lot more lately, looking for colors, styles, and specific pieces I want in my wardrobe. During one such search, I came across this short sleeve babydoll tee from Torrid, in a size 3, on ThredUp. It is a style that Torrid has all the time, but I only have a couple three-quarter sleeve options. This top was new with tags for $12.99!! I snatched it up. It fits really well throughout, though I do wish the sleeves were a tad longer so I didn't have to pull them down a lot.
Admittedly, I am still not super comfortable with my upper arms. I have been working on that issue and making strides (
like finally going sleeveless last summer
), but it is still a conscious effort and one I have to just do and fight through the discomfort. Still, I don't like it when the sleeves constantly stay in my armpit. I want elbow length sleeves!!
I added this
Strappy Foxy Cami
for some layering, cleavage cover, and the added color and interest of the straps. I think it just adds that little something extra to this floral top.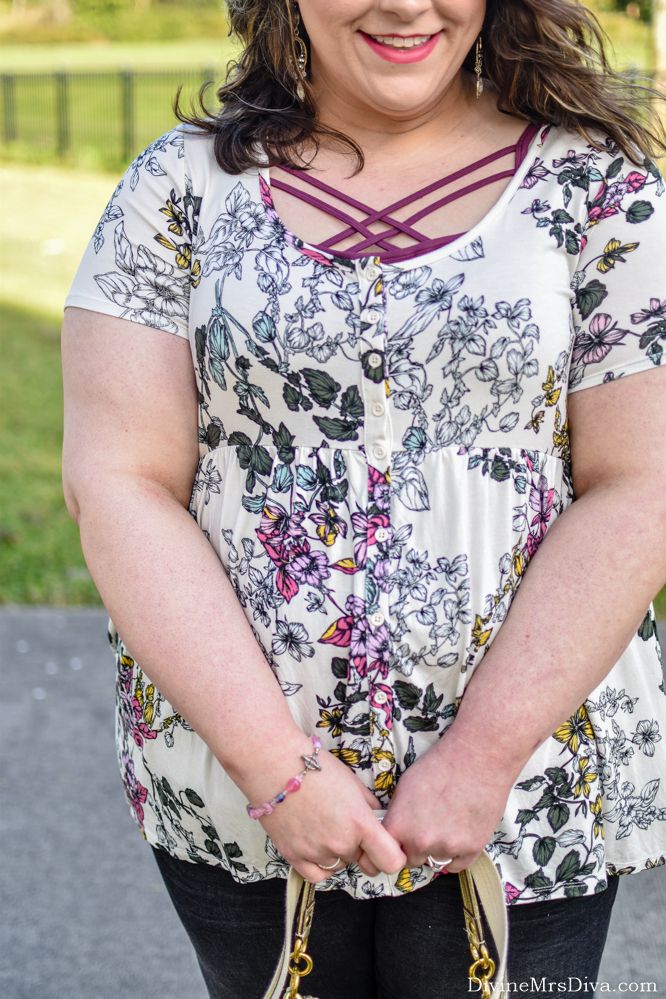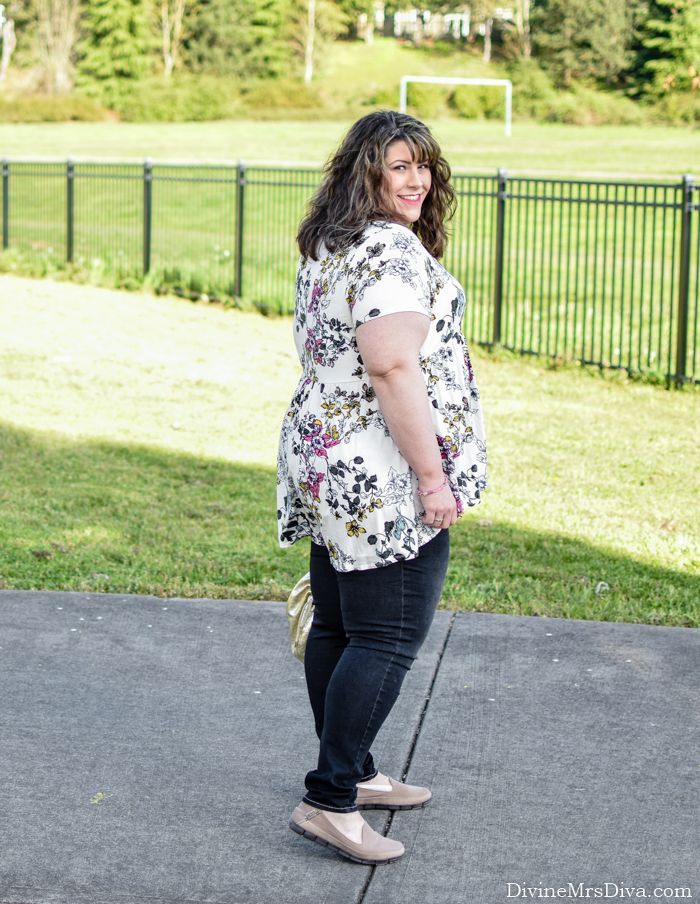 These
Universal Standard Seine Jeans
(32 inch) have been a favorite since I purchased them. There was a deal offered by Universal Standard in which you could purchase these $90 jeans for only $10 if you also agreed to send in a couple pairs of your old jeans for recycling. The old jeans were donated to Blue Jeans Go Green to provide denim insulation used to build homes across America. Seeing as I have a pile of jeans to sell or donate, it was a no-brainer. And, I was able to share it with my Facebook readers so they could participate as well. Over on
the Facebook page
is where I am able to share lots of sales info and shopping alerts, so "Like" the page if you want in on those deals!
Though I had heard of Universal Standard at that point in time, I had no idea what their sizing was like. It was a bit of a struggle to find the right size for me, so I want to make sure I go over all of that with you here. According to their size chart, my denim size should be a 28. Because I don't wear a 28 in pants anywhere and because the website says these jeans run large and recommend sizing down, I went ahead and ordered a 24. When they arrived, I found them to fit slightly big, though not enough that they looked sloppy. They also fit more like a straight leg versus a skinny. I wore the 24 during ECCC (
see below
) and found they fit well until they stretched out later in the day. I was constantly pulling the waist up and the crotch was super baggy.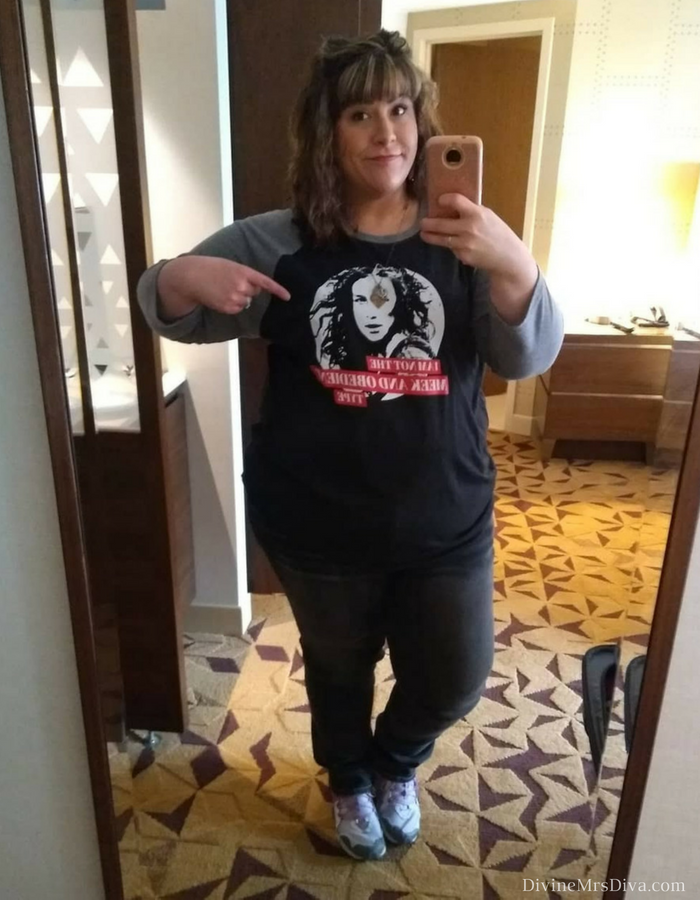 The fabric is a very soft, sturdy (
read: nice thickness
), super duper stretchy fabric. While I knew the jeans were oversized and felt very baggy, I don't think it was so bad that other people really noticed. Because Universal Standard has their
Fit Liberty program
on pieces from their core collection, this offers the ability to get a replacement pair of a different size for free during your first year of purchase. I used the Fit Liberty program to exchange my size 24 for a pair of
size 22 jeans
. These fit MUCH better. They fit more like a true skinny, but are still very comfortable. In fact, I almost think a size 20 might work for me as well. These jeans do stretch out a little throughout the day, but they end up feeling more loose than they actually are. I thought my butt was saggy and the crotch was huge (
they do seem to be a little long in the torso
), but they actually didn't look like they had stretched at all. So while you may feel like you look sloppy, it really is not going to be something that other people notice. I have gotten several wears out of them before I feel like I have to wash them.
I've been wearing the Seine a lot lately and really do like them. I would definitely order more denim from Universal Standard in the future. I will also add that I purchased the
Universal Standard Elbe Shirt
when I found it on
ThredUp
for $18 (regular $80). I bought a size XL, which is supposed to be roughly a 26/28 according to the Universal Standard size chart. It is extremely comfortable and super stretchy, but actually fits more like a 22/24. I wish I had more wiggle room in it, though I do love the more generous cut through the tummy and hips. However, it comes up in a rounded shape on the sides of the top to a shorter point where you can almost see my tummy on the sides. I would definitely prefer this in a version with longer sides or just the bigger XXL size altogether.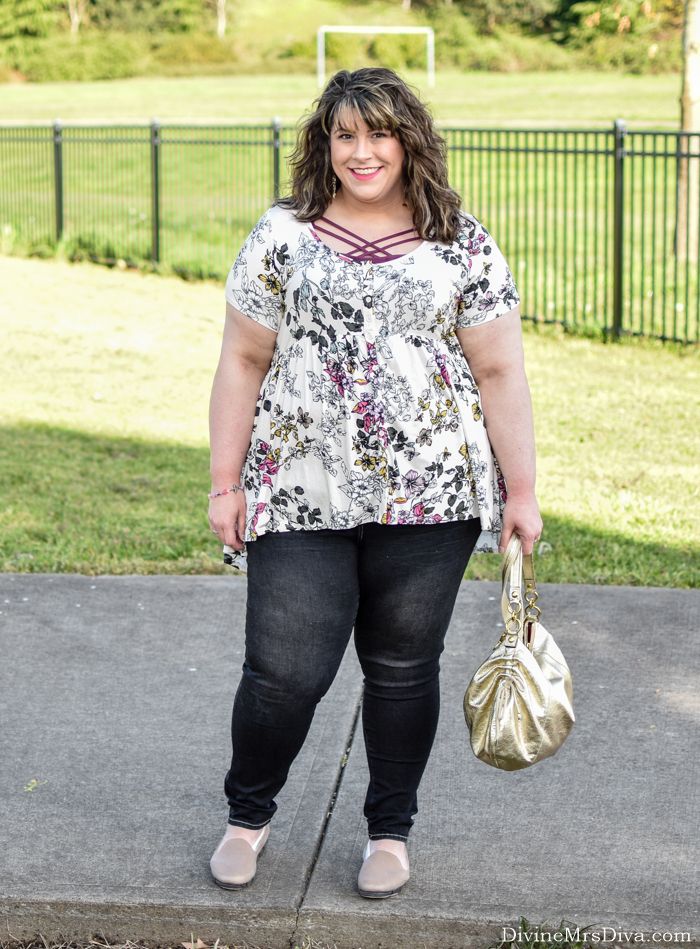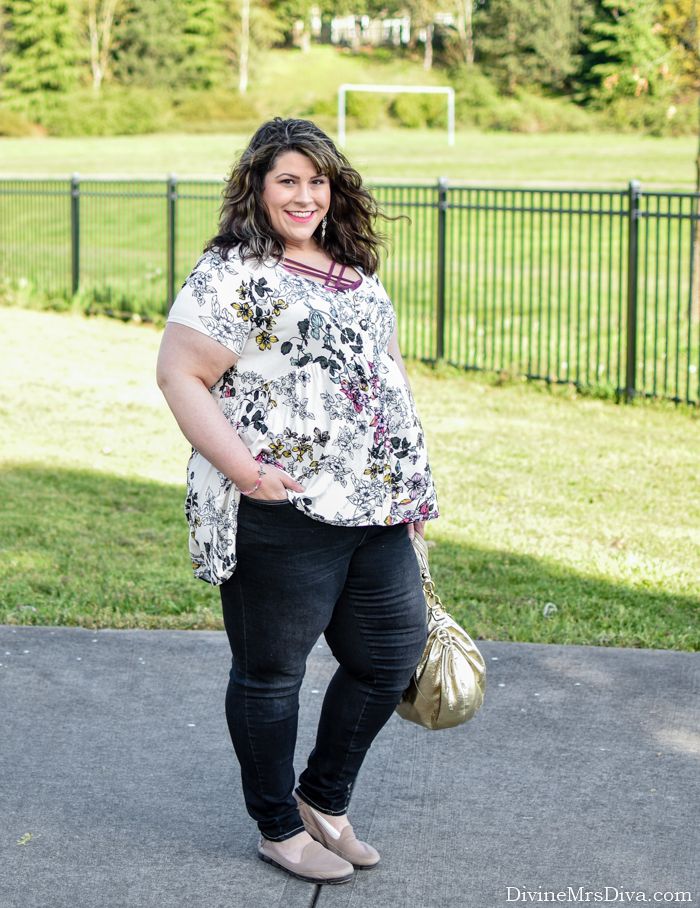 Short Sleeve Floral Hi-Lo Jersey Babydoll Tee - Torrid via
ThredUp
(
similar
,
similar
,
similar
,
similar
)
Strappy Foxy Cami - Torrid (
similar
)
Seine Jeans 32 inch in Distressed Black
- Universal Standard
Crocs Stretch Sole Skimmer
- via Amazon (
similar
,
similar
,
similar
)
Gold Poppy "Jazzy" Hobo Handbag
- Coach (circa 2014) (
similar
)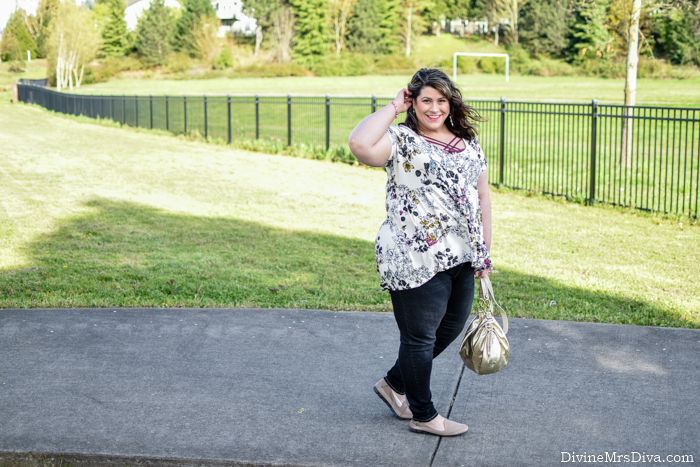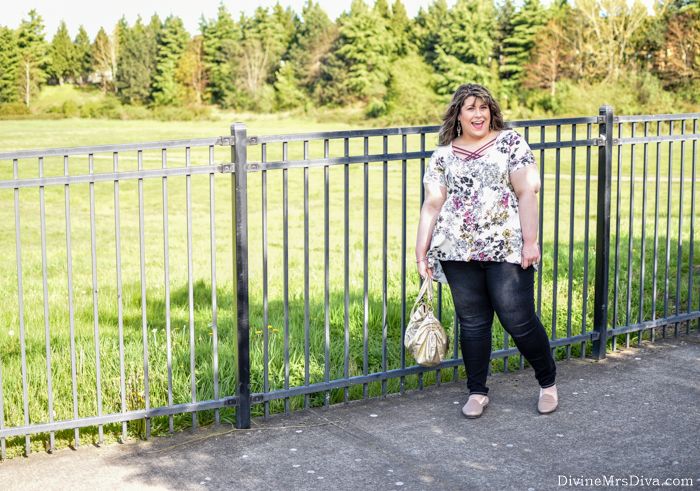 Have you bought any items from Universal Standard? What did you think of the fit and quality? Do you have a favorite thrifting site? Have you found any treasures from ThredUp?