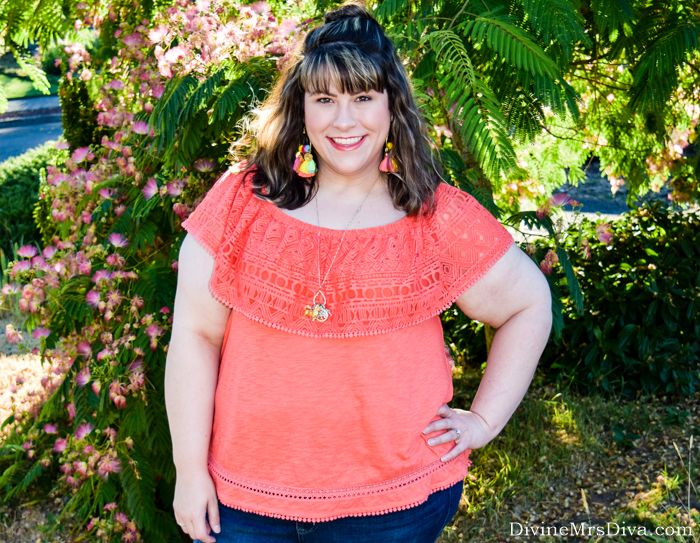 If you read
yesterday's post
, you know it is too friggin' hot for me this week. It managed to get up to 104-ish today, which it will also be tomorrow when Sean and I head to doggy training class with the boys. PEH. I am super cranky about it.
I've mentioned this before but, in an effort to get over my fear of showing my arms, I decided to make this summer about working on exposing my upper arms more. I vowed to myself to wear more sleeveless or shorter sleeve tops. I'll talk a bit more about that later in the post, but today's outfit includes a sleeveless top that has helped me embrace this new positive goal. I'm reviewing this bright off-the-shoulder piece from Lane Bryant below.

- I bought the items in this post. All opinions presented are my own and without influence. This post contains affiliate links and I will be compensated if you make a purchase after clicking on my links. -
Before we get started, I am 5'9", typically wear a 22/24, wear a 40B bra, and my measurements are 52/49/58.
The
Lace Off-The-Shoulder Top
is a sleeveless knit top with a wide ruffled overlay at the bust. It comes in Hot Coral and Black and is only available in the coral, size 14/16, online. I found mine in store a few weeks ago, so check your local store if you like the top. I bought the 22/24 and find it fits true to size. The knit material is lightweight and comfortable with some stretch to it, but the trim at the hemline doesn't have stretch. The body of the top skims over my tummy and doesn't cling. I have room to move around. However, I do occasionally have to adjust the hemline and pull the shirt down because the non-stretch trim gets caught on my hips. This doesn't take away from the top for me. I find it looks cute even bloused a little if the trim sits higher on my hips. But it certainly isn't a swing silhouette like on the website model.
The large bust ruffle is made of a coral mesh with coral flocking in geometric patterns. It is really pretty in person and adds some texture and interest. I have already washed the top and found that the flocking did not rub off or get messed up in the process. The neckline is made with elastic so you can pull the top down off the shoulders completely if you prefer. I've only worn it how you see here, so I cannot attest to whether it stays in place or not if you pull it down.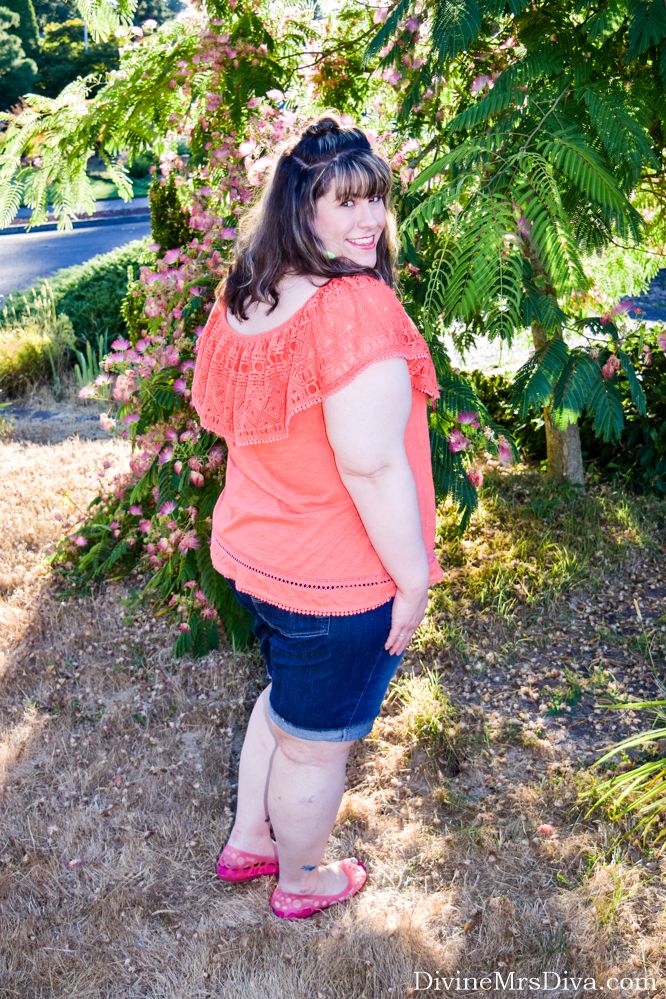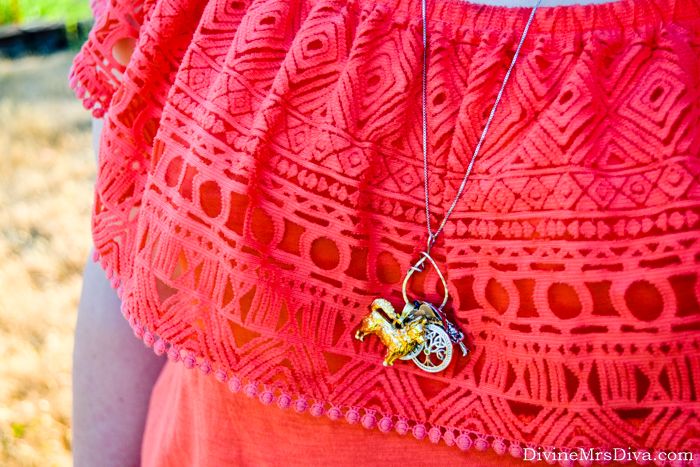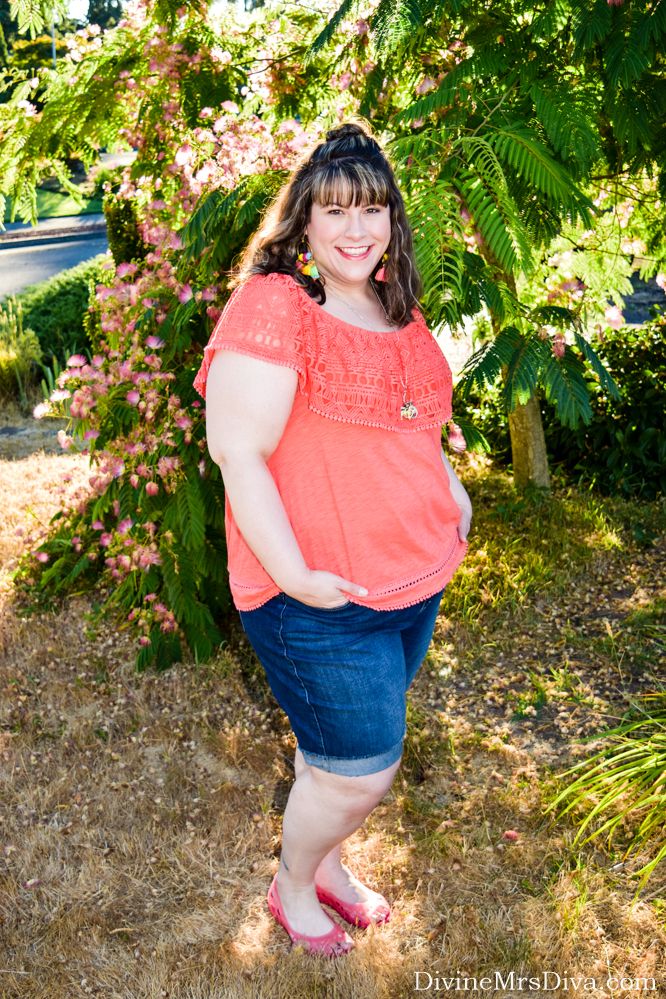 I wore this top out to the Farmer's Market over the weekend. Sean and I ate shave ice and walked though the park downtown. It was really hot out, so I am glad I went with this sleeveless top. I paired the top with my Melissa McCarthy Seven7 shorts. I have worn them multiple times and they do not seem to stretch out at all so far. I will have a bigger shorts comparison post coming up later on for all the pairs I have bought this year, most of which are from the Melissa brand. I accessorized with my coral-hued Crocs flats. The sole is pink so they aren't
too
matchy-matchy. I decided to play up the bright coral and pink with my pom pom and tassel Charming Charlie earrings I picked up recently. I LOVE these earrings! They are so big and bright and colorful! I think they added an extra festive-ness to the overall look.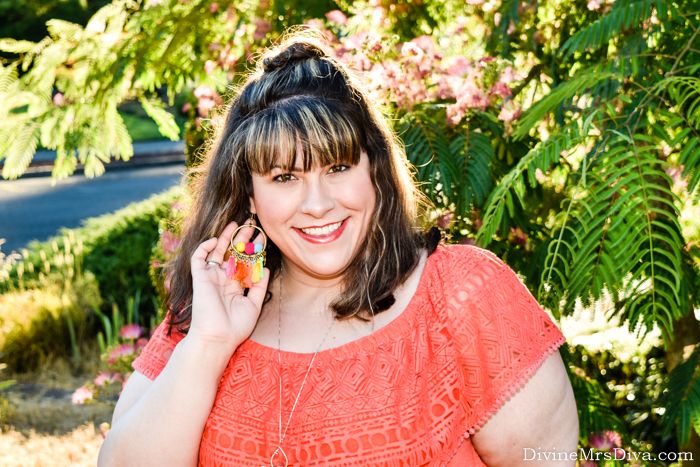 Once we arrived home, we finally took some family photos with the boys. I still haven't had a chance to write a post about Dobby, but he's been a wonderful addition to our family. We've had him for about four months now. He's a hungry little snuggle bug that enjoys soaking up the sun, burying toys in beds, and playing with this brother. Finn is still not totally convinced Dobby is a positive thing and is still adjusting to Dobby's presence. They like to play together, but Finn still won't share too much space with Dobby. It has definitely been an adjustment for all of us, but we're really happy to have welcomed Dobs into the family.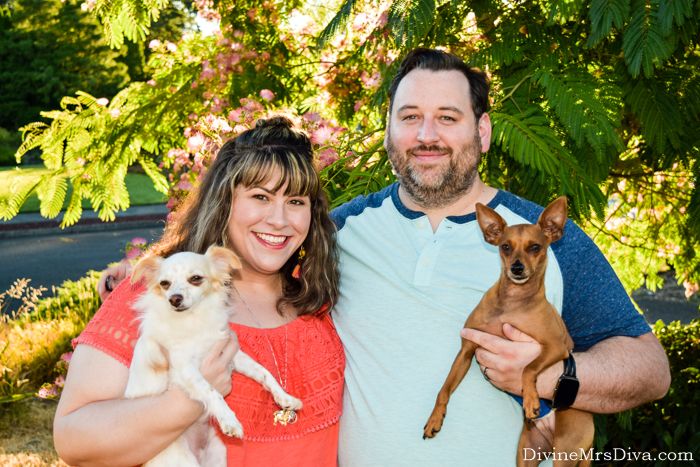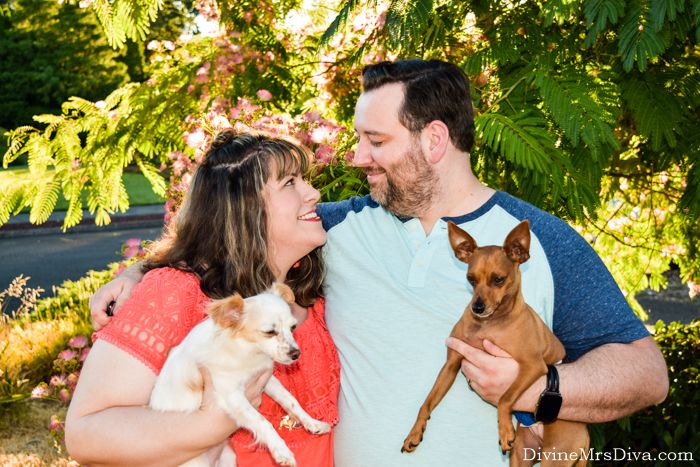 Lace Off-The-Shoulder Top
- Lane Bryant (
similar
,
similar
,
similar
)
Roll-Cuff Denim Short by Melissa McCarthy Seven7
- Lane Bryant (
similar
,
similar
,
similar
)
Adrina Flats
- Crocs (
similar
,
similar
,
similar
)
La Paz Statement Earrings - Charming Charlie (
similar
,
similar
,
similar
)
Lipstick - Colourpop
Blotted Lip in Exotic
with
NARS Lip Gloss in Orgasm
on top
I wrote the following on my personal Facebook page and wanted to share it in this post because it involves this outfit, but is also relevant to what I talk about here on the blog.
I think it is important to acknowledge victories big and small. I've spent a majority of my life hating my body as a whole and as various parts. A lot of you know that from growing up with me. You know how I was ridiculed at home and at school for being a big, fat, disgusting, worthless, ugly, stupid, waste of space. Once you hear it enough, especially when your own family is telling you this, you start to believe it.

As I started finding the plus size blogger community and becoming my own voice within that community, I started to shift my thinking. Getting the toxic people out of my life was also a huge step in the right direction. As I've grown and learned and become more "me", I've tried to utilize the tools I've learned in getting myself away from negative self-talk and a negative body image. I've used these tools to shut down the negative talk in my head (which Sean is convinced is always the voice of my mother telling me what a piece of shit I am....and he's probably right). Does it still happen? Of course. I am human. Sometimes I have shitty days. But I can shut that voice down faster now. I dwell on it less. I move on faster.

I've realized that having cancer was a big motivator for me also. Nothing says "Life is too short" like being told you have cancer. Loving and accepting your body in all its forms and in every part of its journey through life is tough. It takes work. It takes diligence. It can be extremely exhausting. But once you get in a groove, it is much easier to take down the negative and put positive actions into place. Because life is too short, y'all! You are more than what you look like anyway.

And I say all this to acknowledge that I am finally getting over my arm issue. I've hated my arms for as long as I can remember. They have always been big, much bigger than anyone else's upper arms that I know. I have always made every excuse to cover them up, no matter the situation or heat level. I would always wear some kind of overpiece or shrug and I would never take it off. I managed to wear a strapless wedding dress for the ceremony, but as soon as I got to the reception I put on a shrug. I vowed to myself I would show my arms more this summer in an effort to get over that fear. And it is starting to pay off. I wore this sleeveless top this weekend and didn't even think twice about my arms being exposed. It was only when I got home that I realized my arms had been exposed all day, in public, and I never once thought about it.

Victories big and small. 🏆
Do you make little goals for adjusting your mindset? What kind of tools do you have in your arsenal to help with negative self talk and body issues? Are there any current goals you are working on?