In today's post, we're talking about the
Winnie Wrap Dress
from Kiyonna. The wrap dress is a classic style and silhouette and a great wardrobe staple. Kiyonna always excels at this style and adds other details - like ruffles, rouching, cold shoulders, and fun prints - to take it up a notch. Wrap styles are versatile pieces that can work for every occasion, dressed up or dressed down.
I styled this dress as a look I would wear to a wedding or shower, with wedges and a beaded clutch. I fought the windy weather to take some photos out at Fort Vancouver, where my sister-in-law had her wedding. Read on for my review of this lovely floral frock!


- Kiyonna gifted me the dress in this post. All opinions presented are my own and without influence. This post contains affiliate links and I will be compensated if you make a purchase after clicking on my links. -
Before we get started, I am 5'9", typically wear a 22/24, wear a 40B bra, and my measurements are 52/49/58.
I'm wearing
Miss Winnie
in a 3X and find it fits true to size. The poly/spandex material is smooth and easy to move in with definite stretch to it. I also find that this material holds the knot/bow/ties together well, giving you a secure closure. You can machine wash this dress; and I didn't have to steam it right out of the package. The dress features a front and back V-neckline with a ruffle going along this entire neckline area. The 3/4 sleeves are slit down the middle and tie at the elbow. This mimics the true wrap style of the dress with a sewn-in band in front to keep the ties in place. The skirted portion of the dress is finished with a wide ruffle hem and hits just below my knees.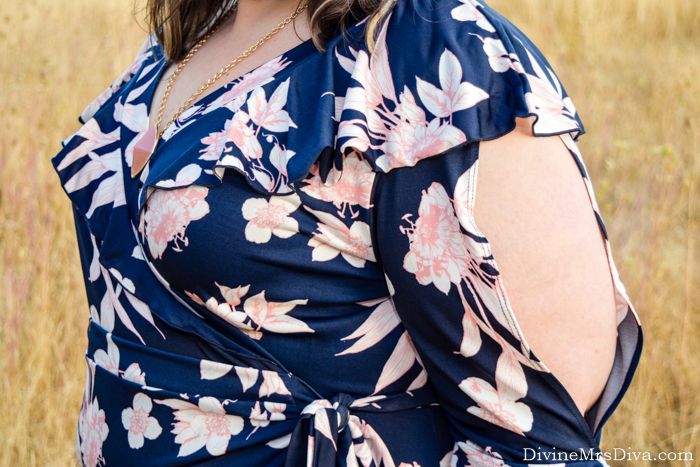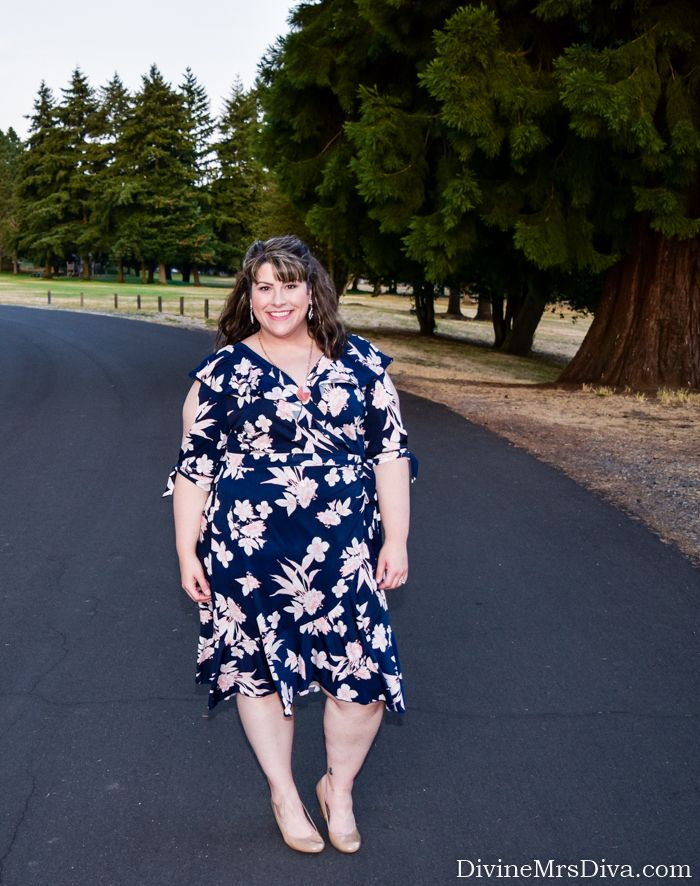 This dress is basically the
Flirty Flounce Wrap Dress
with a different neckline and cold shoulder sleeves. Of course, this comparison makes me happy because I absolutely adore my Flirty Flounce dress. I am a sucker for ruffles because they add such a fun and feminine touch to the look. The ruffle hem is indeed flirty because it kicks around as you walk. With the addition of the curve-skimming wrap style, I feel positively ladylike and sultry. The style, along with the pattern (a navy background with pink and white floral print), lends a 1940s vibe to this dress. I'd love to style it again with Victory Rolls and light brown oxfords. The Winnie Wrap Dress is definitely a dress you can wear for a number of occasions - bridal/baby shower, wedding, class reunion, graduation, date night, work, etc.
I am not wearing any shapewear with the dress and felt pretty comfortable. I tied it a little more loosely at my waist to give my tummy some room. The dress clings a little to my top tummy roll close to my waist, but it doesn't take away from the look at all. I did find that, because of my smaller bust, the shoulder on the opposite side of the tied knot would get a little loose and show my bra strap now and then. This is an easy fix wherein I can use a safety pin or fabric tape to keep the shoulder in place. If you have an ample bosom, I don't see this being an issue.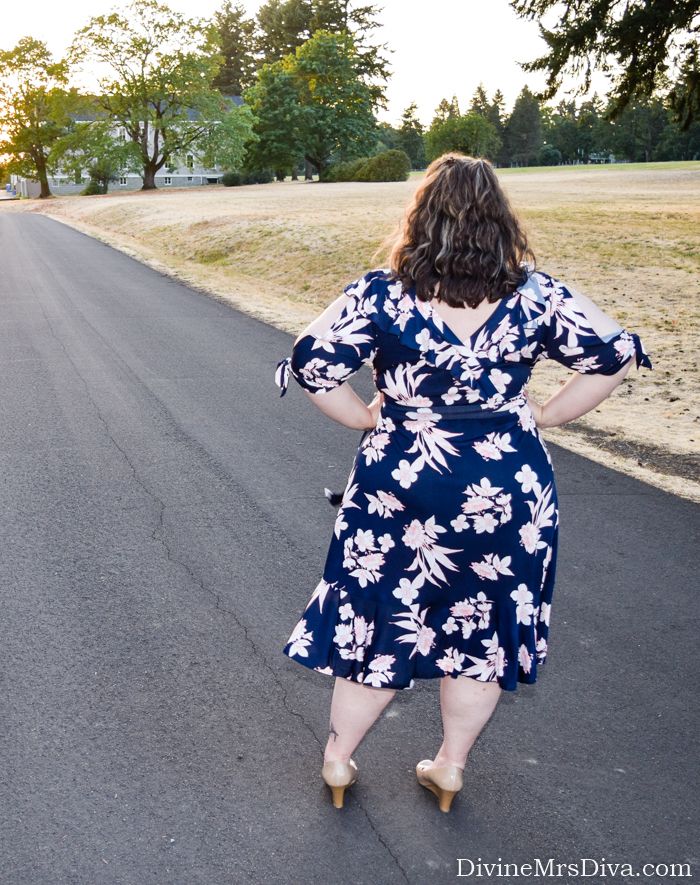 For accessories, I kept the look very simple. I opted for shimmery rose gold earrings, a gold necklace with pink pendant, and nude shoes. I added a beaded clutch for a dressier look, and changed to nude flats for a more comfortable, casual style.
As an added bonus, I wanted to show you both true wrap and faux wrap styles I have tried from Kiyonna. Below each photo will be links to my post reviews and links to the item if the style is still available. My personal favorites are the Velvet Luxe, All Work and Play, Flirty Flounce, and Lustrous Lace Top....and also the Moroccan Maxi. It is hard to narrow it down!