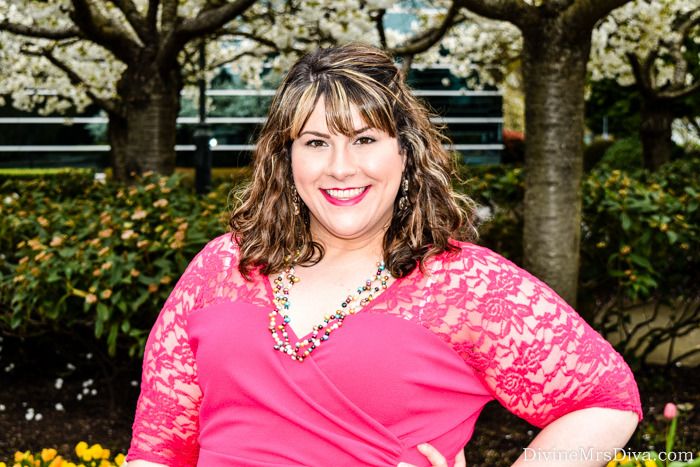 Slowly but surely it is feeling more like spring here. We still get our fair share of rain and cloudy days, but this weekend is actually dry and in the 70s! I am so excited about this because I will have more opportunities to take better outfit photos. Plus, it also means drinking wine around the fire pit, taking Finn for walks, and going to the beach. I like those nice weather activities.
In preparation for this nice weather time of the year, today's post is all about Kiyonna's Lavish Lace Dress. It is a perfect option if you have a wedding to attend this upcoming wedding season, or if you just want to look amazing in pink. Read on for my review and tips on sizing and fit.


- I am a member of the Kiyonna Blogger Brigade and was gifted the dress in this post. All opinions on the item are 100% my own. -
I chose the
Lavish Lace Dress
in the color Pink Passion. It is a beautiful vivid, deeper pink that I adore! If I was a crayon color, it would be this - just with lots of glitter. The dress is an a-line faux wrap style with gathering at the waist. I am wearing this dress in a 3X (22/24) and feel that it is true to size. The poly/spandex fabric is heavy enough that the dress drapes beautifully, but it isn't as heavy as a ponte knit in my opinion. It also has a little bit of texture to it for an added touch of detail. The bodice replicates that wrapping style, so those with larger busts do have some room to work with. I wear a B cup and the bust of this dress was just a little big on me. It didn't sag or hang weird in any way as it has structure, but there was some extra room.
The shoulders and three-quarter sleeves of the dress are made of a mesh lace. This lace portion is not lined, but the solid portion of the dress is. I wore a regular nude bra with this dress. You can see the straps, but I don't think it is a glaringly obvious or atrocious look. My larger upper arms can sometimes be an issue with sleeves like this. These lace sleeves are fitted but not restrictive. They were not uncomfortable in any way.
At 5'9", the hem stops just below my knee. While the skirted portion is an a-line and not a full skirt, the gathering on the side gives it a little bit of extra room and makes it appear to be more full. Since the front of the skirt is smooth, I chose to wear shapewear underneath to streamline things just a bit. My VBO (
visible belly outline
) shows on occasion, but it didn't make me feel self-conscious. In fact, I felt very pretty in this dress. I love the feminine details, gorgeous color, and great fit. It made me feel girly but sexy in a sophisticated way. What's not to love about that?
I had a lot of fun accessorizing this look! It also gave me the idea that this would be a great bridesmaid dress. This was a very similar color to the bridesmaid dresses I chose for my own wedding. I wish this dress would have been around back then!
In thinking wedding season, I wanted to keep the look dressy and bright. I was ecstatic to throw on my new colored pearl necklace. This is my first time wearing it and I am in love! Sparkling rhinestone earrings and my DIY pearl bracelet (
I made it for my wedding
) finish off the jewelry. My shoes are nude wedges to keep everything light and springy. The clutch I am using is actually a Lilly Pulitzer cosmetic bag my mother-in-law gave me last year. It is also keeping with that bright spring theme and adds some extra color with the yellow, turquoise, and gold. My hair is a bit thick and unruly lately, so I pulled the thickest portion back into a roll and pinned it with bobby pins. This is a little something different for me and I liked it a lot. It feels a little fancier without being too involved.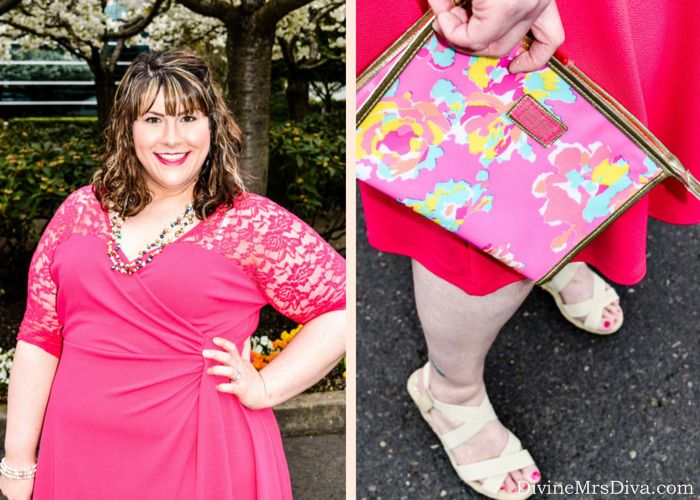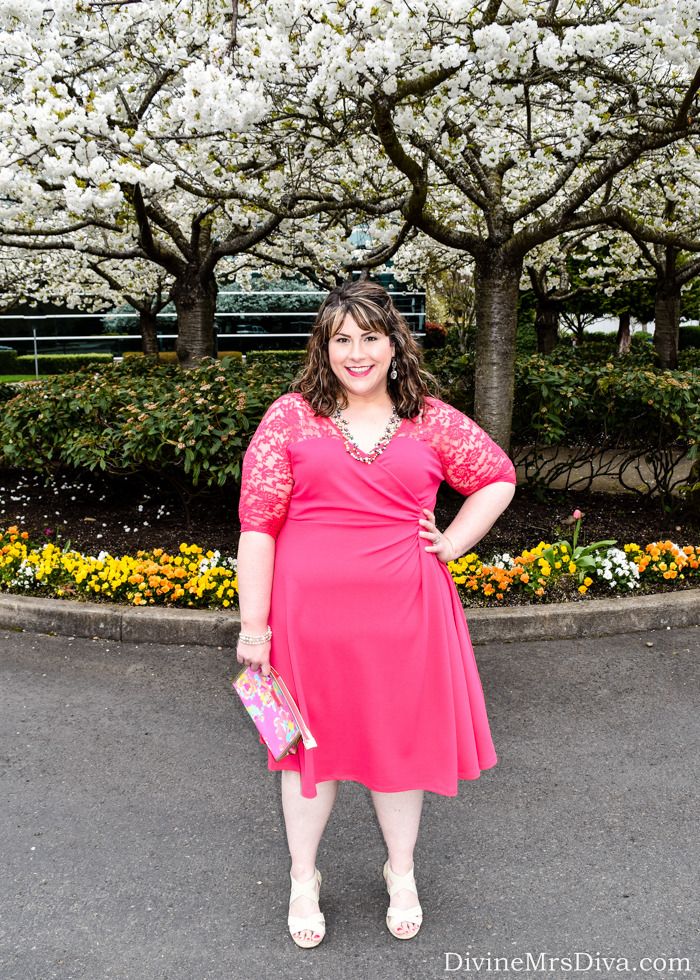 Lavish Lace Dress
- c/o Kiyonna
(Get 20% off $150 or more at Kiyonna.com)
Rainbow Pearl Necklace Set - Pavcus Designs via
Zulily
Pearl bracelet - DIY project I made for my wedding
Bella Earrings - Charming Charlie
Nude Strappy Wedges - Avenue (
similar
,
similar
)
Lilly Pulitzer Cosmetic Bag - A gift from my mom-in-law
Lipstick is
I Heart This
from Colourpop
Do you have a wedding to attend this year? What color were your bridesmaid dresses? Do you have a favorite Kiyonna dress that is calling your name? Tell me what you think!