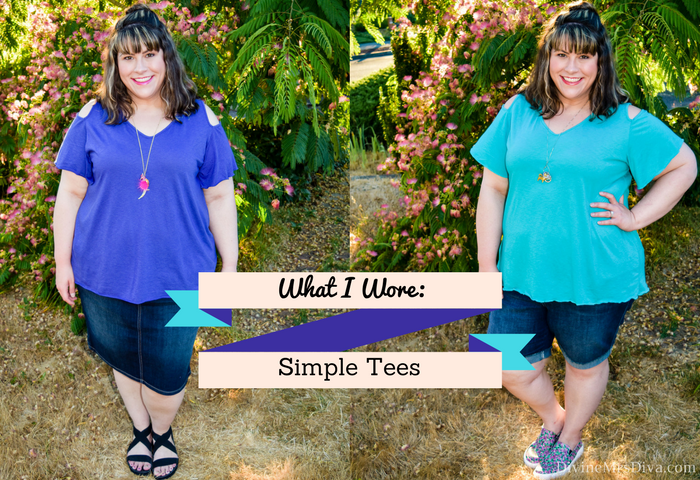 I like the idea of summer, but not the execution. I hate the heat. Anything over 75 starts making me super cranky. This week we have two days of 107 degree weather followed by two weeks of temps in the 90s. (
It is 97 so far today.
) It is all I can do to keep from just crying with how insanely hot that is. AND we have dog training class on one of those 107 degree days. It is just NOT supposed to be that hot here. I want to strangle folks already.
So this week, in abhor-ation of this shittastic weather, I am bringing you two posts with three different looks that I have worn in the heat this summer. Today's post is about a basic cold-shoulder, flutter-sleeved top I picked up recently. It has been a great piece to dress up or down and makes me feel cute despite the sweat.

- I bought the items in this post. All opinions presented are my own and without influence. This post contains affiliate links and I will be compensated if you make a purchase after clicking on my links. -
Before we get started, I am 5'9", typically wear a 22/24, wear a 40B bra, and my measurements are 52/49/58.
I picked up the
V-Neck Cold-Shoulder Tee
at Lane Bryant a few weeks ago when I was in-store to spend some Rewards Points. It was a top I was unsure about, but I tried it on anyway because it came in pretty colors. I ended up loving it and bought both the purple and turquoise. It is very limited in sizes and colors online, so you may want to check out your local store if you like it. I bought the 22/24 and find it fits true to size. It isn't a fitted top and doesn't cling to my fat rolls at all. Instead, it skims over my body and has a nice amount of room to move in.
I love the lightweight knit that isn't too thick or heavy, perfect for hot weather. Flutter sleeves are always a detail I love because they add some femininity to a plain top. This particular small cut-out on the shoulder looked really dumb to me at first. I generally feel like cold-shoulder tops need to actually have minimal fabric at the shoulders. But it has grown on me and I don't think it looks as off as it did to me initially. In the fitting room, I'm one of those people that takes a while looking in the mirror and taking photos of the item to see what it looks like on me. This tactic does help though.
The length of the top isn't quite what I would categorize as tunic length, but it is definitely longer than a regular tee with a slight high-low hem. I really like this aspect of the top and find it is still a really great length. The website says the tee is 28 inches long. I measured my 22/24 top, which is 30 inches in back and 28.5 inches in front. This top could also be tucked into a skirt or worn with jeans for various looks. It is versatile enough to pair well with many bottoms for various activities, and it will travel well.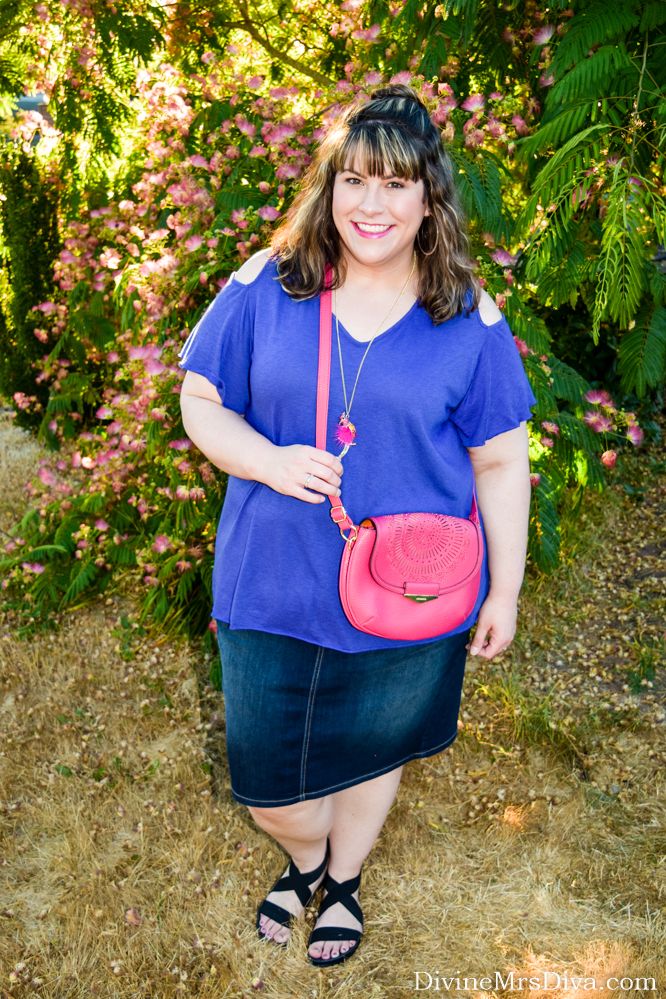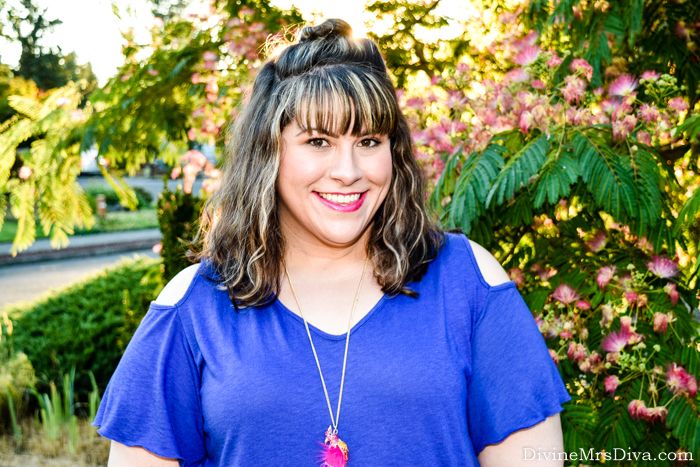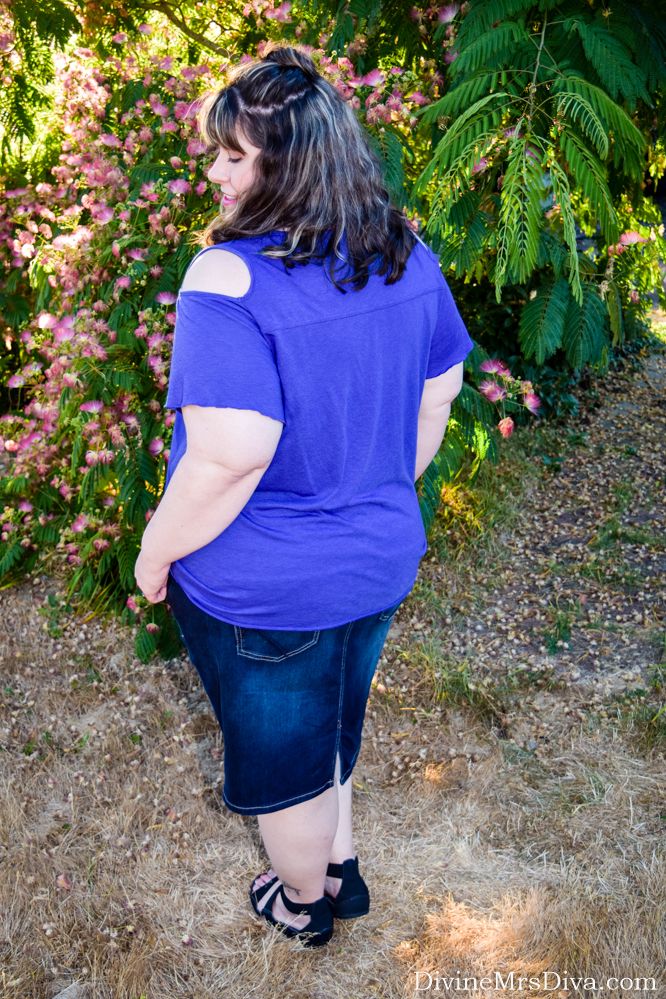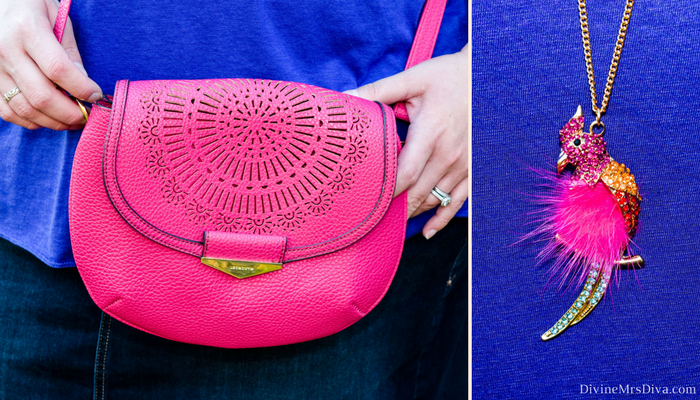 I wore the purple one first when Sean and I went to see a comedy show in Portland a few weeks ago. It was supposed to be a really hot day that ended up being breezy and nice in the city. We hung out on the rooftop bar for a bit before getting in line for seats at the general admission show. (
We saw Ron Funches at a new-to-us venue called Revolution Hall. We ended up loving the venue and had a wonderful time at the show!
) I paired the top with my denim pencil skirt, Crocs gladiator sandals, and pops of pink in the parrot necklace and handbag. I was really happy with the finished look because it was totally functional and weather appropriate, but still had some personality to it.
This was also the day I tested out my
Bandelettes
. I bought them a long time ago and wasn't super into them initially. I have worn them a few times before and remember them feeling a bit weird, so I put them away. Knowing it was going to be a hot day, I decided to test them out again just for you guys. I have the
Beige Dolce lace pair
in a size E (29"-30") and almost think I could size down. The biggest part of my thigh is 34.5 inches. If you are new to Bandelettes, they are stretchy pieces of fabric with silicone strips inside to keep them in place against the skin. They do come in lace and solid fabrics. Unless you are used to wearing thigh-highs a lot, it will take some time to get used to the feeling of them. The Bandelettes do not feel tight or restrictive or uncomfortable in any way, but it does take some getting used to. As far as performance goes, I had no issues with them moving or rolling down. They stayed perfectly in place and prevented chub rub all evening. For reference, we walked around the building, walked up and down stairs, and ended up walking down the street to a restaurant afterwards for dinner. I did sweat in the sun, but the Bandelettes never moved. Personally, I think the lace ones look pretty sexy too. It is like wearing thigh-highs without the hosiery. In addition to their website, you can find the
solid
and
lace
pairs in limited colors at Lane Bryant and
Amazon
.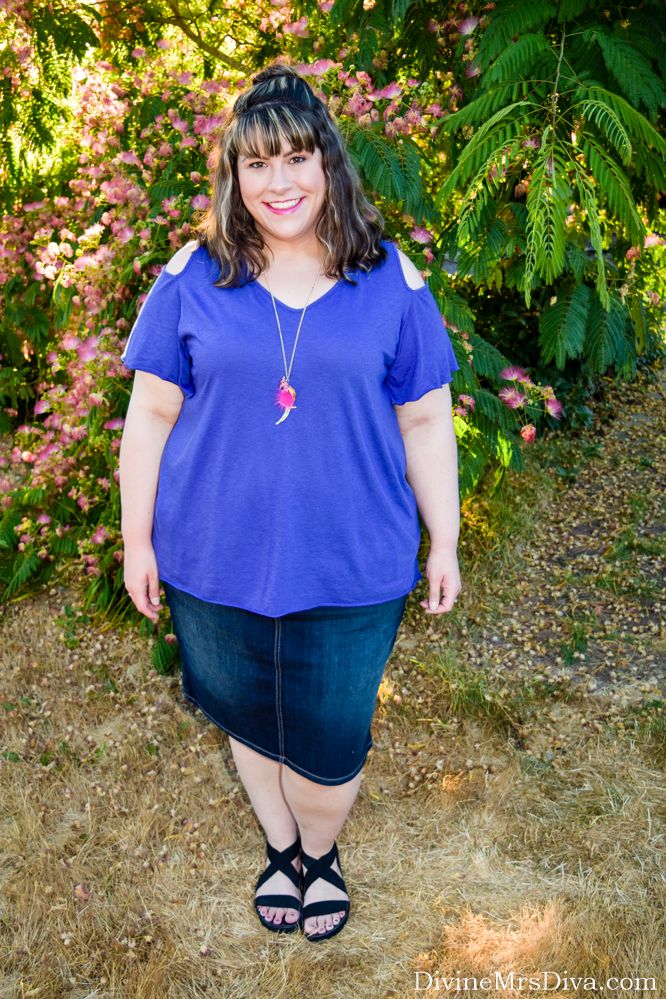 V-Neck Cold-Shoulder Tee
- Lane Bryant (
similar
)
Denim Pencil Skirt
- Lane Bryant
Anna Ankle Strap Gladiator Sandal - Crocs via Amazon (
similar
,
similar
,
similar
)
Parrot Pave Pendant Necklace - Charming Charlie (
similar
,
similar
,
similar
)
Liz Claiborne Joan Crossbody Bag - JCPenney (
similar
,
similar
,
similar
)
You may have seen this next outfit via
my Instagram
. I posted it while we were out running errands after dog training class. I kept it simple with the turquoise tee, my Melissa McCarthy shorts (10" inseam), hoop earrings and my charm necklace, and my new Crocs slip-ons.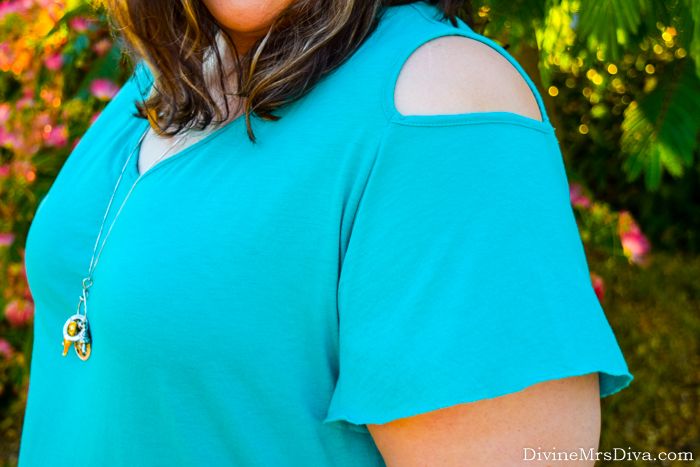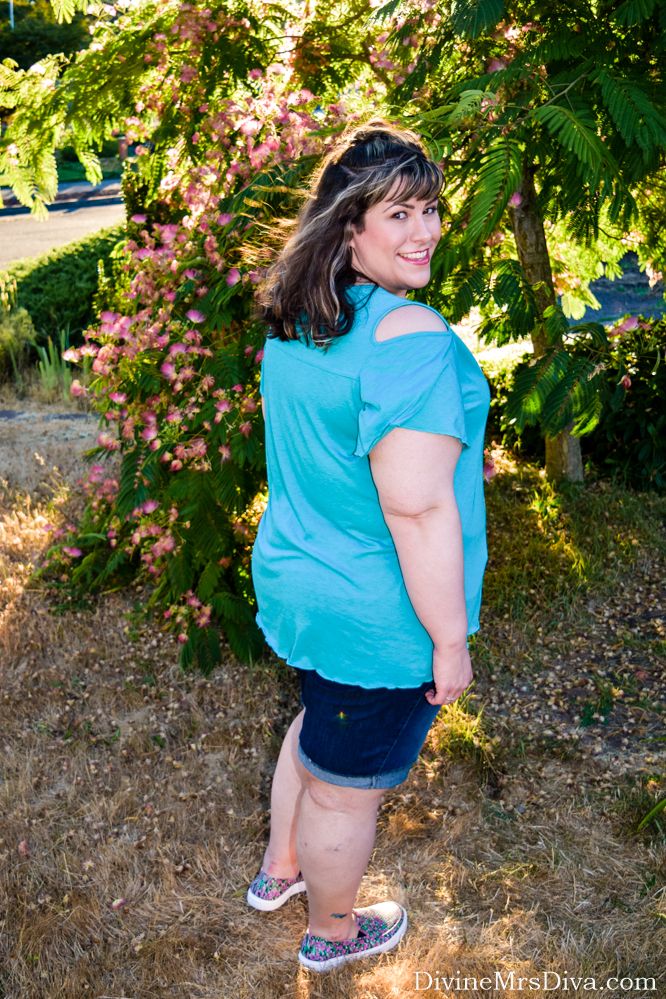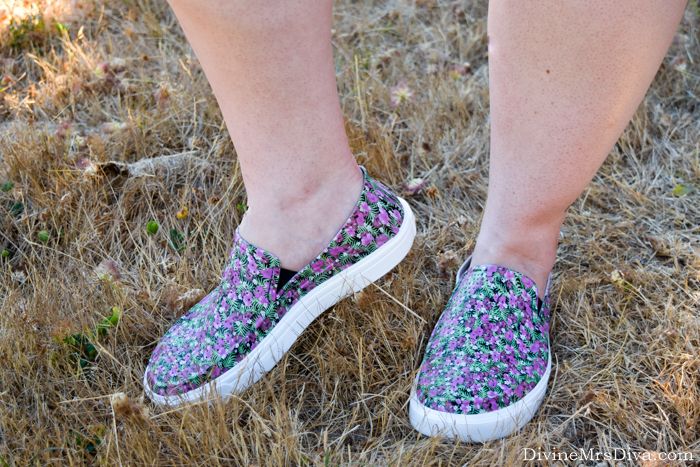 I am wearing the
Citilane Roka Graphic Slip-Ons
in a size 11. They fit really well. A lot of reviews said the heel rubbed people and gave them blisters, but I didn't have any heel irritation at all. These shoes are a medium width, but I have enough room to wear no-show socks with them without the width feeling too tight. Overall they are pretty comfortable, though the arch support feels just a little off (as in, not totally lined up with my arch). I liked them enough that I bought a second pink pair though.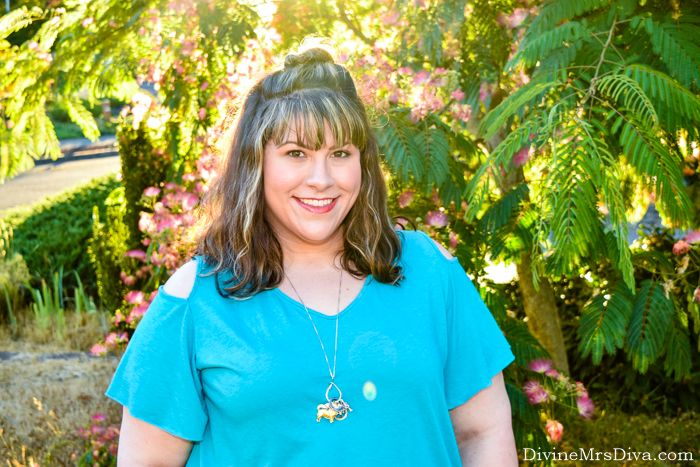 V-Neck Cold-Shoulder Tee
- Lane Bryant (
similar
)
Roll-Cuff Denim Short by Melissa McCarthy Seven7
- Lane Bryant (
similar
,
similar
,
similar
)
Citilane Roka Graphic Slip-On
- Crocs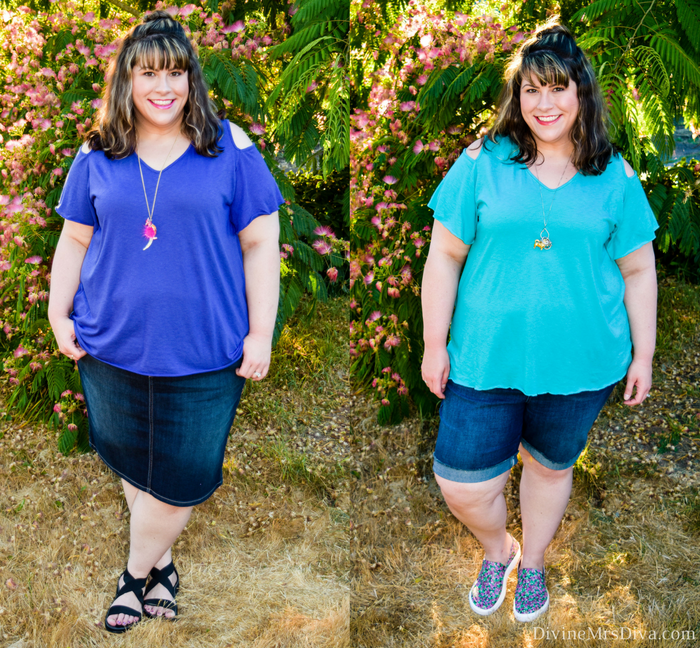 Do you gravitate to basics in the hot weather? How do you add your personality into your look? Where is your favorite place to get simple tees and basics?