As a complement to
yesterday's post
journaling my first adventure at the Portland Highland Games, today I am discussing the outfit I wore on such an occasion. As mentioned multiple times here on the blog, I have become a huge fan of the show and book series that is
Outlander
. When Torrid introduced their
Outlander
collection last fall, I bought the tartan coat, sweatshirt, and tartan dress (reviewed
here
). While I thought the kilt was adorable, I felt it was probably way too short for me so I passed on it, only to be kind of mad at myself for doing so when it sold out super fast.
Fast forward to April of this year, they restocked the kilt and a few other items. So I snatched up the kilt fast! I finally had a chance to wear it last month to the Highland Games, and I couldn't be happier with it. Read on for my review. TULACH ARD (the war cry of Clan MacKenzie)!

- I bought the items in this post. All opinions presented are my own and without influence. This post contains affiliate links and I will be compensated if you make a purchase after clicking on my links. -
Before we get started, I am 5'9", typically wear a 22/24, wear a 40B bra, and my measurements are 52/49/58.
In putting the outfit together, I wanted an ensemble that met a variety of needs - weather appropriate, easy to move in and comfortable to wear all day, super cute, must include the tartan skirt! Starting with the skirt, I was able to build a casual look around it. I have mentioned before how happy I am I bought the
Kiyonna Kelsey Flounce Top
in black, in addition to my gifted sangria color. This top has been such an easy piece to wear that I have worn it all summer long. It goes with pretty much every skirt I have, is knit and comfy, and makes me feel really cute. I recently wore it with a red, black, and white pleated plaid skirt to Sean's 20-year high school reunion. I'll definitely be showing you that outfit soon. You can read my
initial review
on the Kelsey, and check out my
most recent post
.
Since this was my first time wearing the
tartan skirt
out, I can finally review it for y'all. It is still available on the Torrid website in sizes 12 through 18. I am wearing a 24 and find it fits pretty true to size. Many of the reviews speak of how the skirt is made smaller and is a more snug fit, so I made sure to go with my regular size. The waist band and slightly below are a bit snug, but not uncomfortably so. It doesn't cut into me or cling to my tummy, but the fabric has zero stretch. There is a hook and zip closure on the side for taking on and off, with no elastic in the waist band. I was a bit skeptical of how the flat front would look on me, but as soon as I put it on I just loved it! The detail of the Celtic buckles is beautiful. I adore the drapey, ruffle-like pleats, especially in the back. It has such a cute, flirty look. To my utter surprise, the skirt was not indecently short! It hit me just slightly above the knee, so I wasn't stressing about flashing my business. I am so happy I was able to purchase the skirt and am so happy with the look and fit of it. I have a few more ideas for styling it and know it will be cute in the fall with a sweater, tights, and boots. You'll definitely be seeing it on the blog again in the future.
While I didn't feel exposed in this slightly shorter skirt, I still wanted to wear some undershorts with it for comfort, anti-chub rub, and to combat the weather should it be windy. Basically, I wanted the added protection so I wasn't worrying about anything I didn't have to. Y'all know my anxiety is through the roof! I've been looking for the right lace-trimmed under short for a while now. I bought a black pair from ModCloth that is a bit too snug, but they were sold out of a bigger size.
I ended up finding the
Zerdocean Mid Thigh Shorts
on Amazon during one of my many internet searches. I hadn't heard of this brand before, but they do carry other leggings of various lengths, with and without lace hems. And the
really
good news - they are only $12.99!!! They carry sizes 1X, 2X, and 3X. I am wearing the 3X and find they fit perfectly. They aren't too snug but fit comfortably against my body. The waist is elastic, covered by the same Modal fabric as the rest of the shorts. If you feel like you don't know what Modal is, you would know if you felt the fabric. It is a type of rayon, so it is lightweight, soft, and comfortable. This also has the benefit of being a knit, so it is stretchy and breathable. The lace stretches too, so it isn't cutting into your thigh. The shorts actually stay in place well! I never had to fidget with them or pull them back down throughout the day. I initially bought the black and green (to go with my skirt). I was skeptical about what they would be like, especially for that price. When they arrived, I tried them on and wore them with another outfit. I was sold! I came home and bought the dark gray, nude, and dark blue shorts also. These shorts are available in eight different colors, though it looks like the white is sold out in a 3X right now. If you want an undershort that looks cute at the hem and isn't some form of tight shapewear, I highly recommend these. I have been so excited to share them with you because they are incredibly comfortable, and you can't beat that price!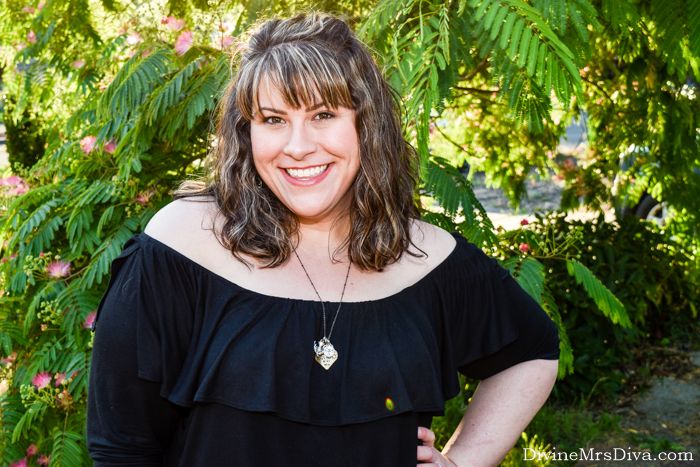 Also new to the blog is this necklace by
Sparkle Designs
. I picked it up at the
Emerald City Comicon back in March
. I've worn it on various occasions, but hadn't photographed it with an outfit yet. It features a metal diamond shaped pendant with a line from the books - "Don't be afraid. There's the two of us now." I love this quote because it reminds me of Sean - how lucky I am to have him and how grateful I am that my mother's prediction of me being alone forever did not come true. Life was rough and depressing and chaotic before Sean. Now, I don't have to be afraid. In addition to the quote pendant, the necklace has little charms of a Scottish thistle, dragonfly, heart, and sparkly bead. While Sparkle Designs doesn't have this exact necklace available on their website, they do take custom orders also. And they don't just sell
Outlander
things. They carry artwork, bracelets, earrings, lip balm, mugs, etc. for all your geeky loves. Along with
Outlander
, they have items inspired by
Harry Potter
,
Doctor Who
,
Sherlock
,
Game of Thrones
, Tolkien,
Star Wars
,
Star Trek
,
Hunger Games
, Disney, the list goes on! They are based in Lawrenceville, Georgia and travel to cons all around the country. The ladies I interacted with at the ECCC were so friendly and helpful. I know a lot of you are awesome nerds that geek out about something or the other, so check out the site!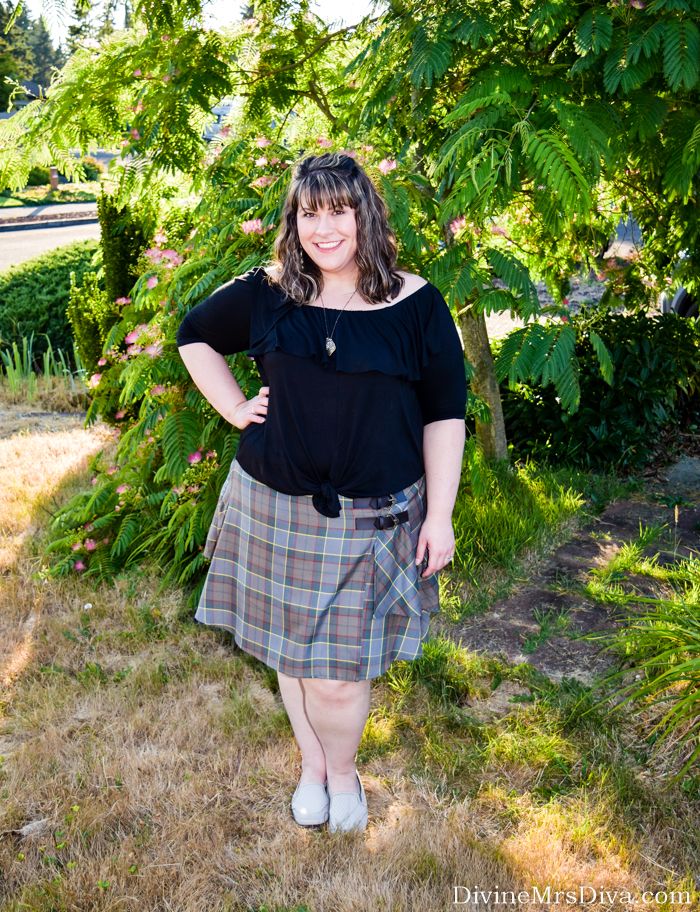 Kelsey Flounce Top
- Kiyonna
Outlander Fraser Tartan Plaid Skirt
- Torrid (
Still available in sizes 12, 14, 16, 18
)
Zahara Flat
- Rockport Cobb Hill via Amazon
Outlander
Quote Necklace -
Sparkle Designs
Zerdocean Modal Mid Thigh Shorts with Lace Trim
- Amazon
You can check out other Outlander-inspired posts here. Who's ready for Season 3??? Only 23 more days!! Did you purchase any of the Torrid Outlander collection? Do you have a favorite show you wish would inspire a Torrid collection?