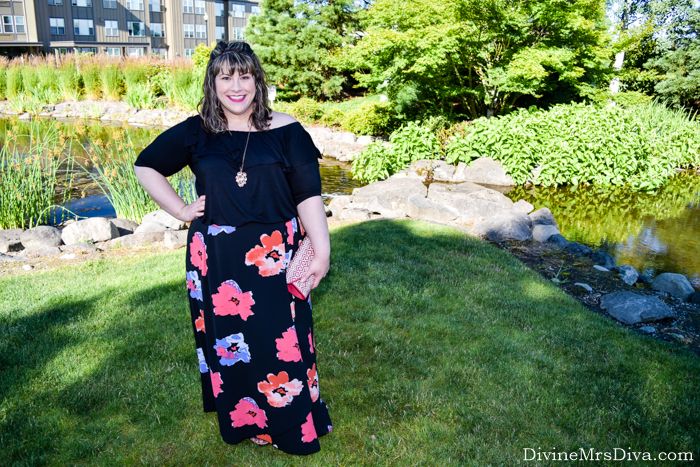 We're certainly in the midst of summer now! I hope you are all staying cool and are busy with fun summer activities. Sean and I finally had a chance to clean up and work on the office recently. I installed a sit-to-stand desk attachment that I am excited about using. I have been so busy and so tired as of late, so I spent last week trying to catch up on photographing outfits and items for upcoming blog posts and getting photos ready for blogging. I'm hoping I can get back to posting two or three times a week again. I never really did much of a house tour when we moved, so if you guys are interested in a house tour post, let me know.
In today's post, I'm reviewing the lovely
Celine Chiffon Maxi Skirt
from Kiyonna. I donned my July review choice for an afternoon out to lunch with my stepdad and Sean over the holiday weekend. We were able to take advantage of the gorgeous weather where this skirt really shined. Enjoy!


- Kiyonna gifted me the skirt in this post. All opinions presented are my own and without influence. This post contains affiliate links and I will be compensated if you make a purchase after clicking on my links. -
Before we get started, I am 5'9", typically wear a size 22/24, and my measurements are 52/49/58.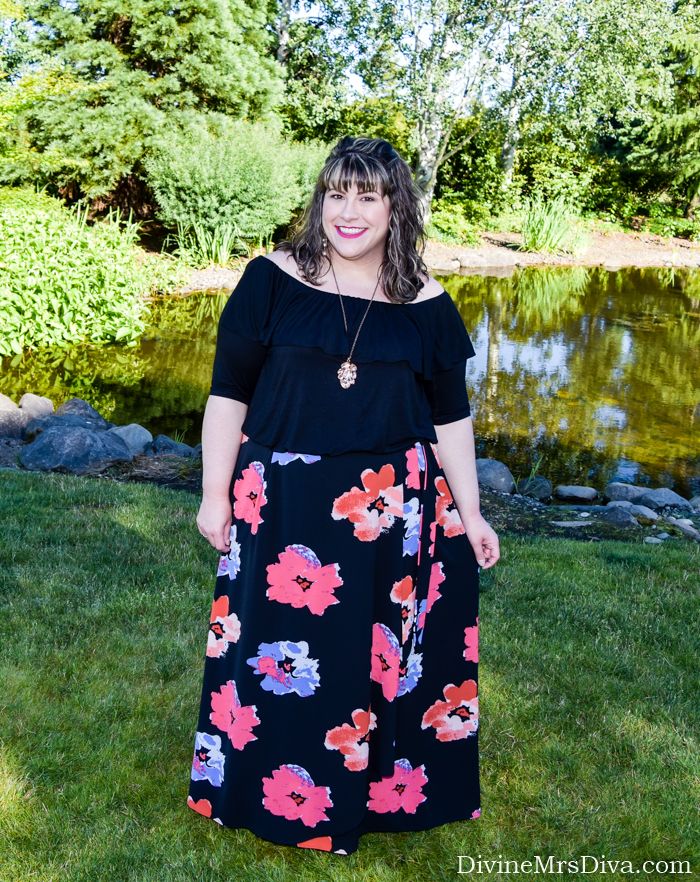 The
Celine Chiffon Maxi Skirt
is a floor-length, faux wrap skirt with a wide, elastic-back waistband and waist ties for a more personalized fit. I am wearing a size 3X and think I could have sized down one as the waist is a bit loose. Especially because I tend to wear skirts a little higher than my natural waist, I feel I could have benefited from a more fitted waistband. Still, the 3X is a totally wearable size for me because the waist ties allow me to tie the skirt tight so it stays in place. The chiffon material of the skirt and ties is slightly stretchy with a little bit of texture, so the ties do stay put and don't budge during the day. No slipping! While the chiffon fabric feels light and airy, it isn't very see-through. Being a faux wrap, there is a base layer of the chiffon material and a panel in front to give the appearance of a wrap. There is no need to worry about flashing if something were to come undone. The skirt also has a shorter knee-length polyester lining underneath.
I absolutely love the bold lavender, fuchsia, and coral floral print and the way the colors pop against the black background. It's bright and festive and fun, but sophisticated in faux wrap form. It was a comfortable and easy skirt to wear, even in the heat and sun. Being a maxi skirt, you already know it is going to be long. Worn at my natural waist, this skirt was definitely touching the floor. I wore it higher because I like that look, but it also helped shorten the length of the skirt to just grazing the floor instead. I'm 5'9" and also wearing a two-inch wedge sandal. If you are substantially shorter than I, you will definitely want to hem the skirt. I look forward to dressing the skirt down a bit with a chambray top, and transitioning it into fall as well. If you prefer separates and longer skirts for formal functions like weddings, this is definitely a great contender.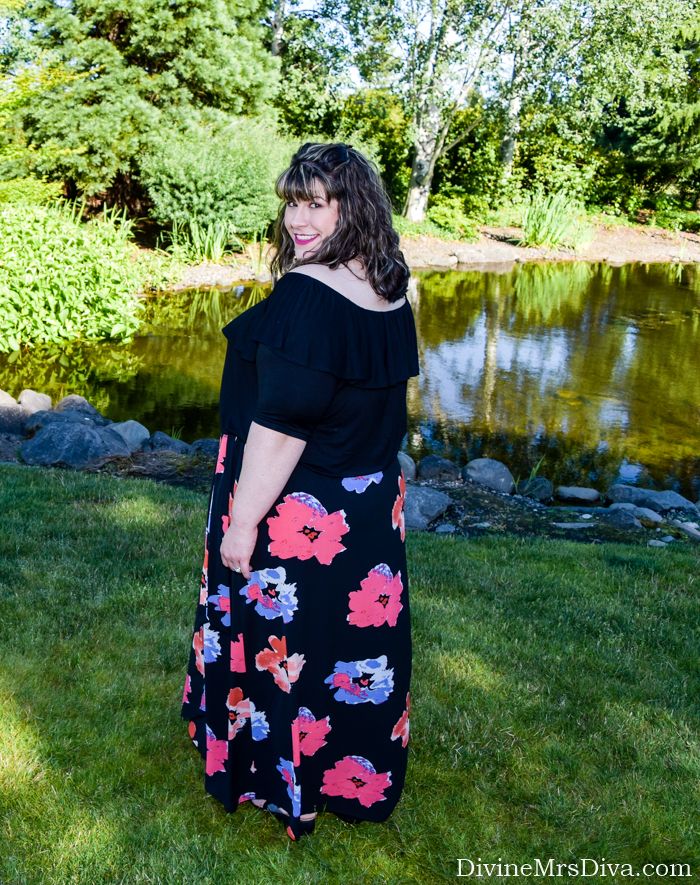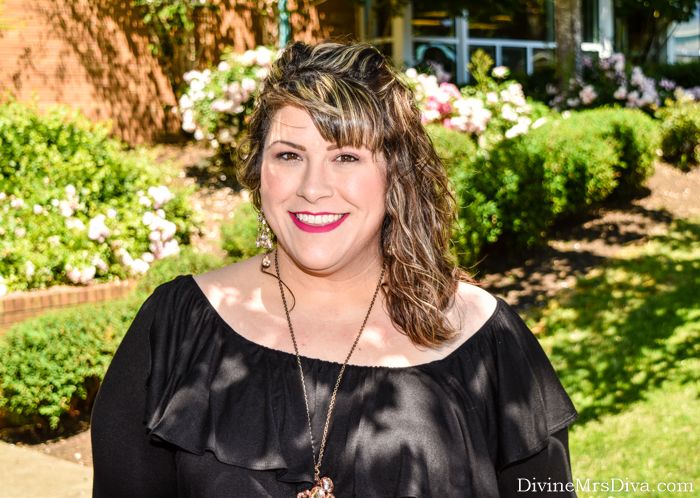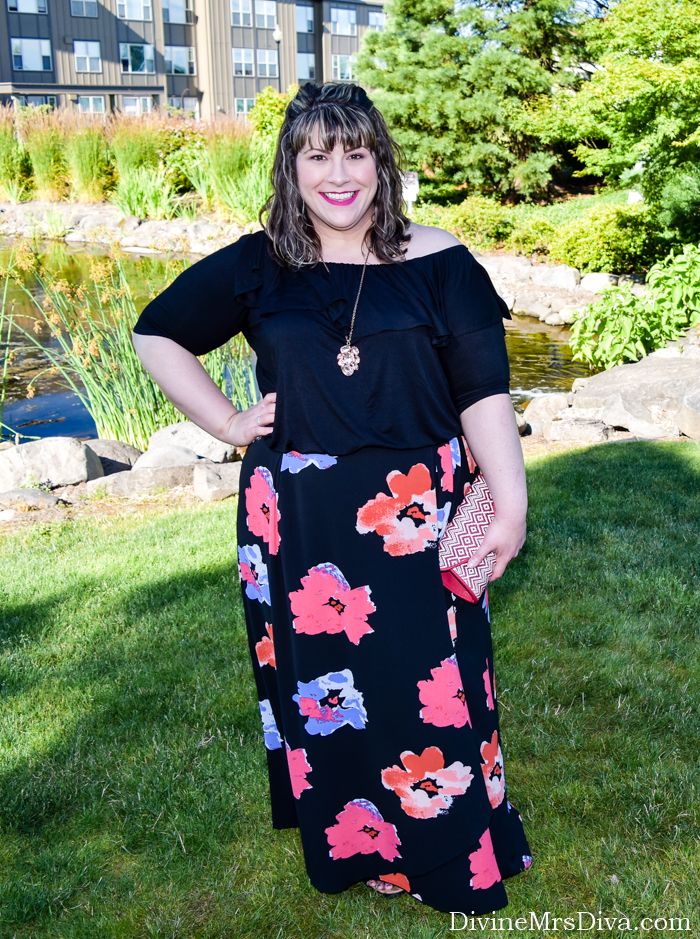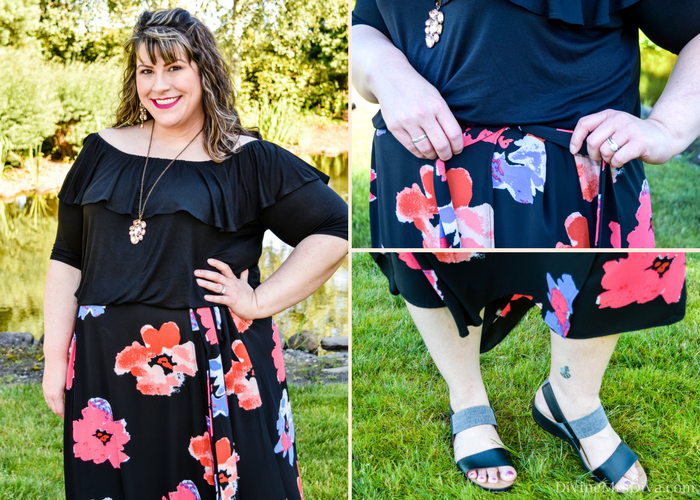 I paired the skirt with my black
Kelsey Flounce Top
. I
reviewed the wine-hued Kelsey Top on the blog
back in March. I knew it was going to be a helpful and versatile piece (
and I don't have a lot of black tops
), so I went ahead and purchased the black version also. I'm so glad I did! The black happens to go with a lot of skirts I own, so I love having the option of tying it, tucking it in, or wearing it tunic-style with jeans. I just adore the ruffled, off-the-shoulder neckline, three-quarter sleeves, and lightweight knit fabric.
I wore this look out to have lunch with my stepdad. I don't get to see him often, but when I do we pick a restaurant with a great wine list, order a bottle and some tasty food, and chat for hours. Sean was off over the holiday weekend, so he was able to join us this time. We had a wonderful visit!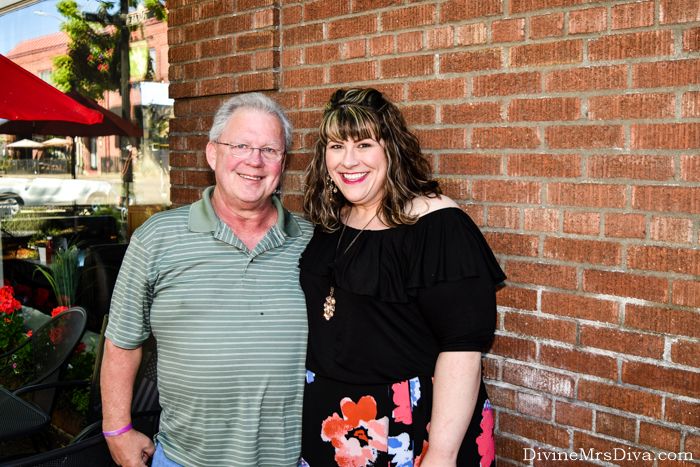 To accessorize, I chose a peachy vintage rhinestone necklace to play off the lighter floral colors in the skirt and peachy/rose gold chandelier earrings that had the same look as the necklace. They sparkle and shine and pop against the black top. I've been collecting cute clutches as I try to pair down what I carry with me for events, so I broke out my new coral chevron clutch from Charming Charlie. Along with the graphic print, this clutch has a great woven texture to it but is sturdy and easy to carry. I liked the way it matched the coral color of the skirt, but also added another pattern to the ensemble.
I found these
Easy Spirit Black Kaffi Leather Sandals
on
Zulily
for a fraction of their $80 price tag. They are comfortable and look very polished, with wide bands - one black and one grey and black textured - that cross the foot. I bought the 11W because these higher end comfy shoes are generally much more narrow. The front of the shoe fits great, but the ankle strap is a little bit loose. Because it has elastic at the back, there isn't a way for me to tighten it. They are wearable, but I do have to walk a little more carefully in case my ankle wants to slip. The 2" heel with 0.5" platform make them easy to walk in regardless.
*Fun fact about me: I am terrified of my shoes falling off my feet in public. I tend to tie my shoes too tight because I am scared they will fly off my feet. This is also why I don't tend to wear shoes without some kind of heel strap very often. I'm kooky like that. haha
Celine Chiffon Maxi Skirt
- c/o Kiyonna
Kelsey Flounce Top
- Kiyonna
Black Kaffi Leather Sandal
- Easy Spirit via
Zulily
Peach Rhinestone Necklace - Antique Store find
Rose Gold Rhinestone Chandelier Earrings - H&M (
similar
,
similar
,
similar
)
Sabine Envelope Clutch - Charming Charlie (
Tote version
)
Lipstick -
Poppin'
by Colourpop
After lunch, Sean and I drove around looking for a nice spot to take outfit photos and found some lovely views of Mt. Hood in the distance. We had to stop and take a few photos, though the harsh light and heat of the sun was beating down on us. Not ideal for outfit photos, but still pretty to look at! Seeing these mountains in the distance here (
Mt. St. Helens can also be seen from time to time
), still seems unreal to me. They look like movie backdrops. I didn't grow up with this kind of scenery, so my head has a hard time realizing they are real. hahaha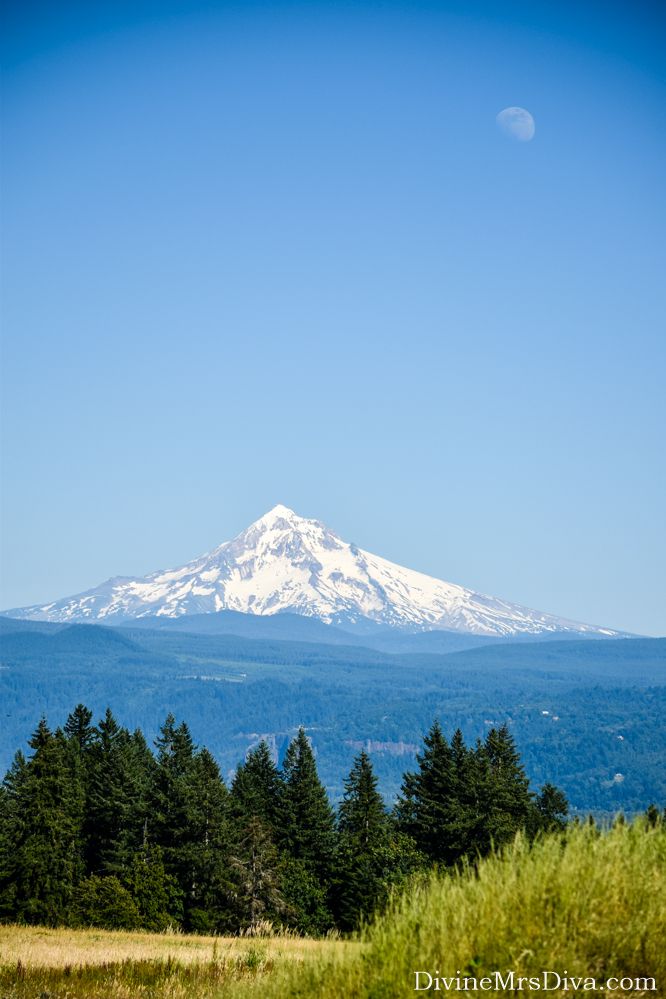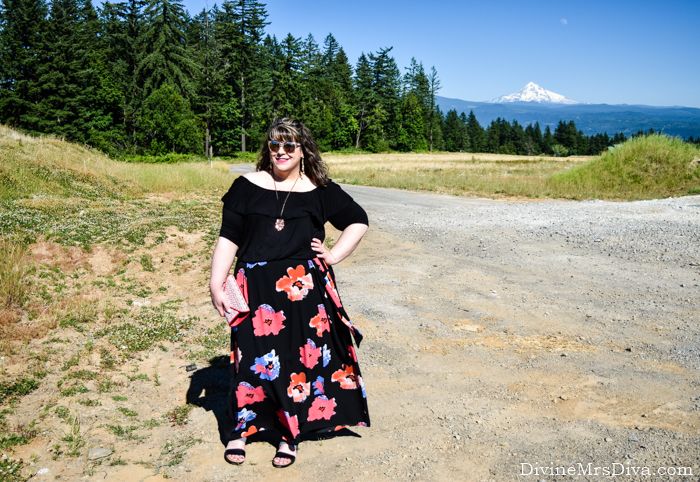 Do maxi skirts play a big part in your wardrobe? What would be your ideal maxi? How would you style this skirt? I hope you are all having a great week! Drop me a line and let me know how you are doing.