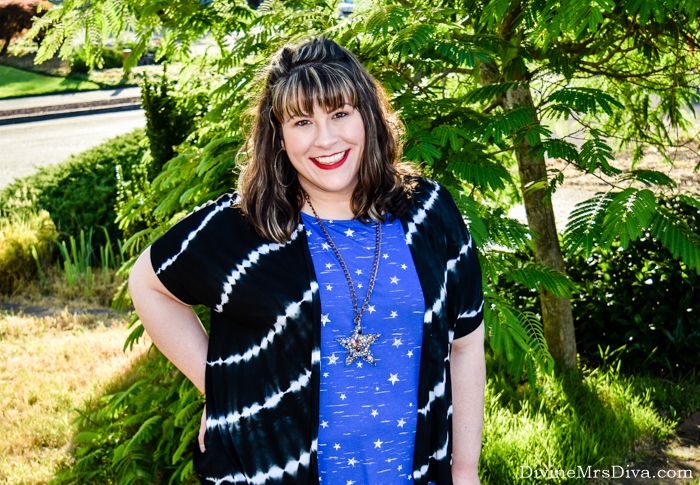 I've always viewed the Fourth of July as a very romantic holiday filled with excitement and anticipation. As a single person for a majority of my life, I often fantasized about strawberry-flavored kisses under the fireworks in balmy summer breezes. He would wrap his arms around me as we gazed at the bright showers of light overhead. Happily, I finally found what I was looking for.
I still think the holiday has a romance about it, but these days we stay home with the furkids to keep them from stressing too much because of the noise. In today's post, I'm showing you a casual ensemble I wore for running around town pre-Fourth of July. This starry Lane Bryant tank and distressed denim short combo are perfect for a lightweight, no fuss look.

- All items were bought by me. All opinions presented are my own and without influence. This post contains affiliate links and I will be compensated if you make a purchase after clicking on my links. -
Before we get started, I am 5'9", typically wear a 22/24, wear a 40B bra, and my measurements are 52/49/58.
I don't get to shop in stores much anymore because I just don't have too much extra time to do so. I miss trying things on and browsing racks, but I do love the convenience of shopping online. I receive Lane Bryant Rewards bucks from using my credit card with them, so I am forced to go in store to spend those rewards. While I did see this tank online and really liked it, it wasn't until I saw it in store that I finally decided to give it a chance. I'm still working on the idea of showing more skin. As you know, I declared this summer to be one in which I would show my arms more. I think I have done well with that, but then I realized I hate showing my back. I had really bad back acne as a kid/teen/young adult, so I still feel really self-conscious of my back even though my skin cleared up a while ago.
I digress. I decided to go ahead and try
this tank
on since it was available at my local store; And I just loved it. I'm wearing a 22/24 and find it fits true to size, though not as much of a "swing tank" style as it appears on the website model. Still, there was ample room for my tummy and hips. The knit material is soft and not too thin, while still being cool and lightweight. The strappy back detailing was out of my comfort zone, but also so pretty and sexy. It ended up really selling the top for me. Because of the high halter neckline, I did wear my
racerback bra from Torrid
underneath it. I like the pretty lace back of the bra that peeks out from under the top. I also liked that the armholes weren't obscenely large.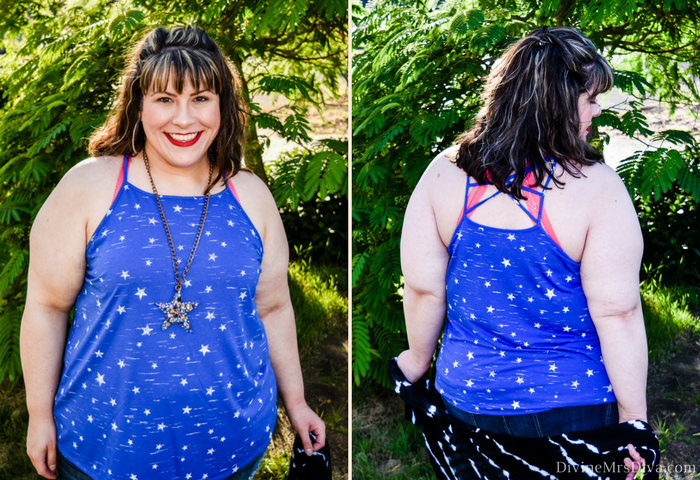 Also new to me and the blog is the Distressed Denim Bermuda Shorts from Lane Bryant (no longer available online). I went shorts crazy this year and bought six pairs of shorts - five pairs from Melissa McCarthy's website on super sale and this LB pair. My dark wash LB Bermuda shorts are
much loved and fit amazing
, so I was super excited about these. I bought them in a 24. They fit great out of the package, though the legs near the hem were wider than my other Bermudas. Now that I have worn them twice in a row without washing, I can say that they do stretch out more and I totally could have gone down a size. The material is thicker and softer than my other LB shorts and has more stretch to it. I am hoping they shrink a little in the dryer. I like the distressing and dark wash, but I do wish the legs were tapered a bit more. This outfit was my first wear of them and I thought they looked great. It was only the second wear, where I saw them while passing a mirror while I was out shopping, that I thought they looked a bit oversized.
For accessorizing, I added my sparkly Betsey Johnson star necklace, big hoop earrings, and sparkly sandals. I love the finished look with print-mixing and the way the
tie dye cardi
popped against the bright blue of the tank. It was such a comfortable ensemble for running around town, with a little twist on traditional red, white, and blue.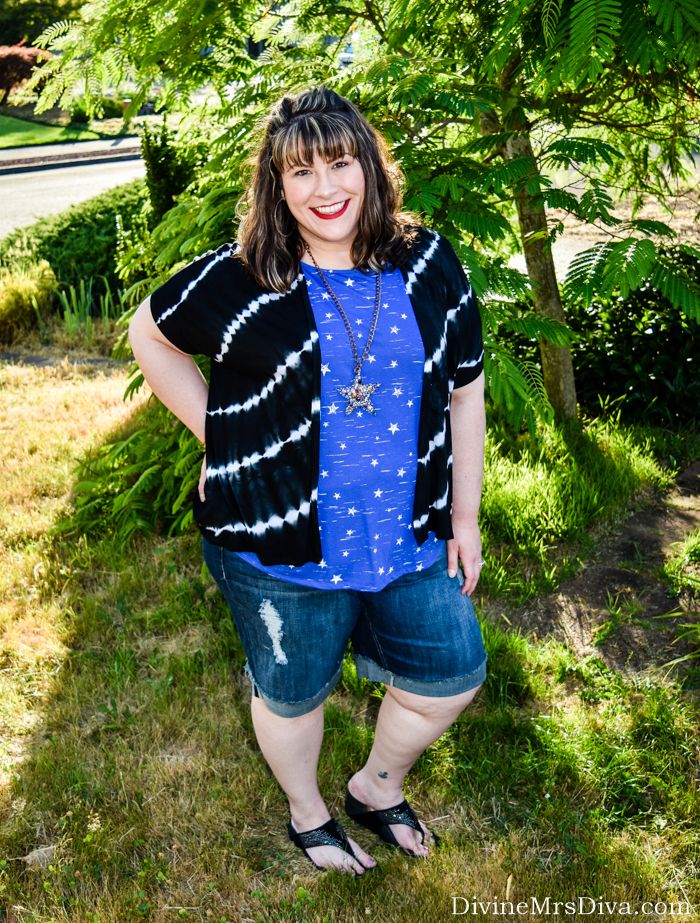 Star Tank with Criss-Cross Back
- Lane Bryant (Clearance Buy 1, Get 1 for $5)
Distressed Denim Bermuda Short - Lane Bryant (
similar
- Clearance Buy 1, Get 1 for $5)
Tie Dye Open Front Cardigan
- Torrid
FitFlop Rokkit Sandal
- Bought in Las Vegas
Betsey Johnson "Confetti" Lucite Star Long Pendant Necklace - Gift from Sean years ago (
eBay
,
Amazon
)
Lipstick -
Stila Stay All Day Liquid Lipstick
in Beso
Did you romanticize holidays like me? Did you go crazy over a certain item of clothing this season? Are you concentrating on accepting a certain body part as of late?