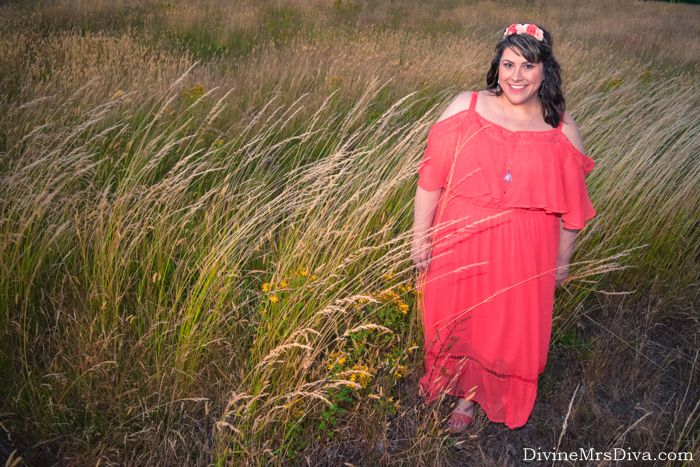 Happy Wednesday!
I hope you are all having a lovely week. Over the weekend, Sean and I were joined by my mother-in-law and headed to our first Highland Games! I'm looking forward to telling you about that adventure, even if it was way too hot for me to be outside. This week, we start dog training classes with the boys. I'm really excited to get them some better manners so they understand commands, but it does make my weeks more hectic. I'll keep you posted on how that goes.
In today's post, I'm reviewing this Ashley Nell Tipton Boutique+ Cold Shoulder Maxi Dress I picked up from JCPenney. I couldn't pass up the romantic ruffle and lace and vibrant coral color!

- I purchased this dress. All opinions presented are my own and without influence. This post contains affiliate links and I will be compensated if you make a purchase after clicking on my links. -
Before we get started, I am 5'9", typically wear a 22/24, wear a 40B bra, and my measurements are 52/49/58.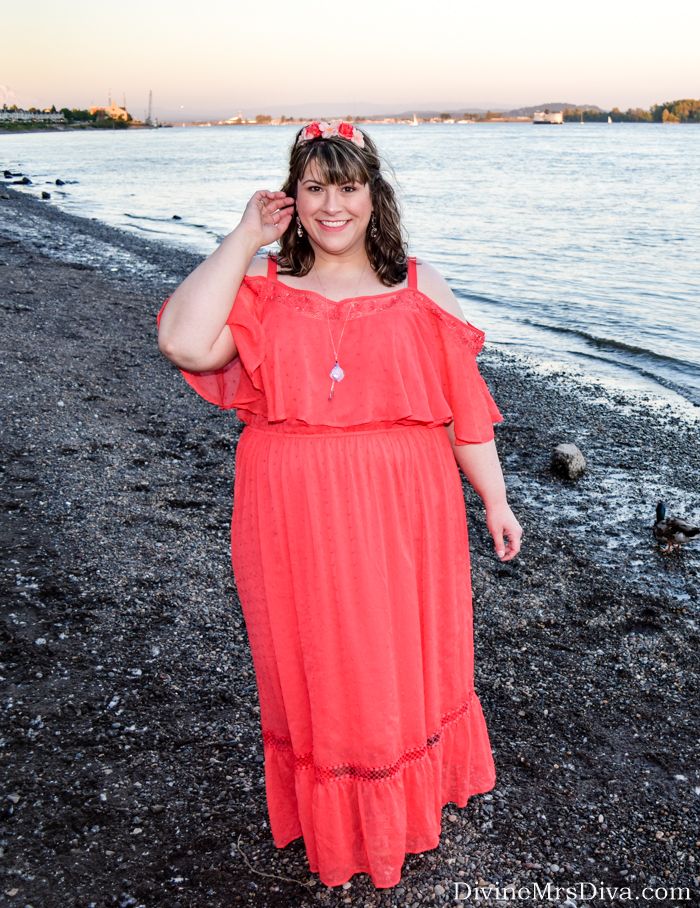 The
Cold Shoulder Maxi Dress
is part of the Ashley Nell Tipton Boutique+ line at JCPenney. I've become such a huge fan of this particular neckline/flutter sleeve combo on myself, so it didn't take long for me to purchase it after seeing it on Ashley and some other plus size bloggers via social media. I knew it would be a great lightweight maxi for summer, in a unique silhouette I didn't have in my closet. Plus, I love the vibrant coral color (
called Hibiscus on the website
).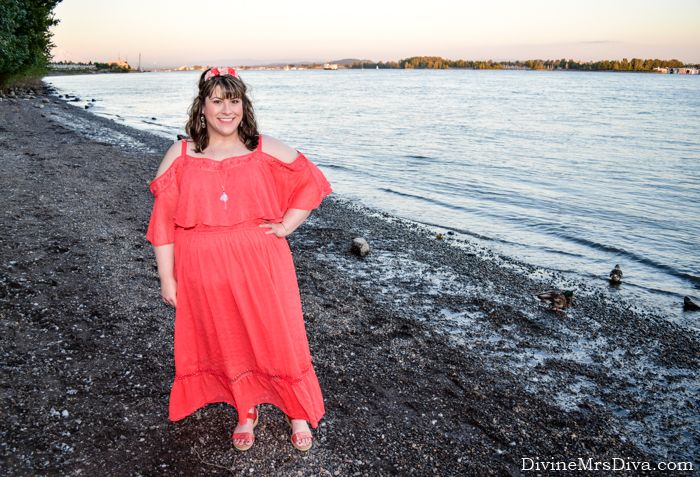 I bought a 3X and find it fits pretty true to size. The bust area is only slightly large but not big enough to look ill-fitting, and the adjustable straps make it easy to personalize the fit to my smaller bust. An elasticized waist band gives some shape, but isn't too restricting. I would have preferred the waist to be just a smidge tighter, but it stays put well as is. The length of the dress isn't quite floor length on me, hitting around my ankles. I think it looks shorter in some of the photos because of the wind and angle the photos were taken. It was long enough that I picked it up to walk up and down stairs. The overlay fabric is a sheer poly with little dots of texture. I like that it isn't simply solid and smooth. The tonal dots add some interest and fun and help tie together the floral lace at the neckline to the dotted lace at the bottom of the dress. A lining of the same color is sewn into the bust area of the dress and goes to about knee length, leaving the bottom third sheer. I have never been much of a fan of the partial sheer skirt look (even though I have seen it on multiple people of all body types and thought it was cute
on them
), but I don't mind it in this dress. I don't think it is quite as obvious as some of the lace overlay skirts with partial lining.
The bust ruffle seemed really big and wide at first, but it grew on me the more I looked at it. I love bust ruffles because they add a little more bulk to my bust and balance out my overall shape. The flutter sleeves are easy to move in and give this dress such a romantic, dreamy vibe. While the sheer fabric feels light and delicate, it held up well to all my activities of the day - errand-running, grocery shopping, having dinner, taking photos. I stayed cool in the warm summer air, received lots of compliments, and felt very bright and pretty. This dress is
still available
in Hibiscus and White in sizes 1X to 3X, and on clearance for $32.99 (regular $75). You can also use the code FUNDEAL through July 31 to take an additional 15% off your online order, which brings the dress total to $28.04.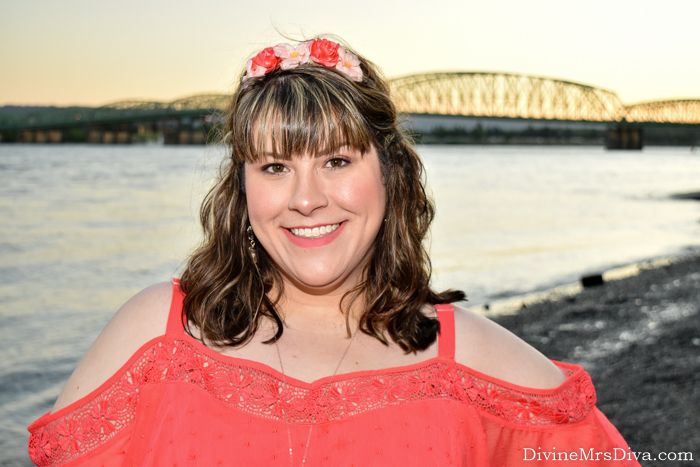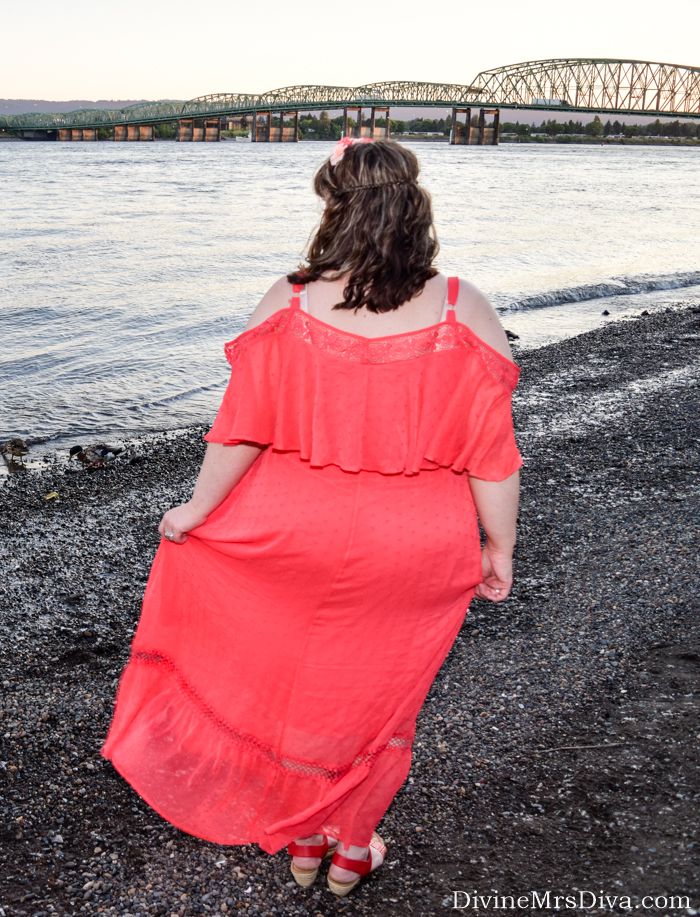 In accessorizing this dress, I was excited to wear my new
Comfortiva Beck Wedge Sandals
because they totally matched the vibrant coral of the dress. I love the shorter heel and gold stud details across the toe. I picked up these $90 sandals on Amazon for $16!! It is, of course, an amazing deal. Comfortiva has become one of my go-to brands for comfortable footwear and these sandals don't disappoint.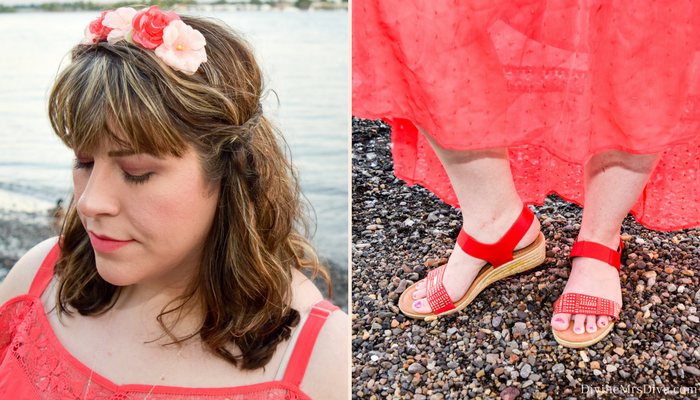 My hair braids and flower crown were inspired by the fact that I have been watching a lot of the show
Reign
on Netflix. If you haven't seen it, the show is set in the 1500s and is about young Mary Queen of Scots. Don't expect the researched historical accuracy of
Outlander
though.
Reign
is basically a CW high school drama set in the 1500s. The girls wear fancy prom dresses, lots of jewels, hair braids, tiaras, and flower crowns. The soundtrack is hipster folk music with violin versions of modern songs like Sia's "Chandelier" thrown in. It is a guilty pleasure as of late. Anyway, I have been inspired by the hair and accessories of
Reign
, which led me to wear my matching flower crown and try some braiding of my own. The flower crown is a DIY project from a few years ago. I took a clearance flower headband with the elastic band (those never stay on my head), cut off the flower portion, and glued it to a skinny "no slip grip" headband. Easy peasy! I added my purple orchid necklace for some floral romance and to add a pop of color to my overall coral look. I love the finished ensemble. It made me want to run through a field of flowers in the warm, fading light of sunset.
Cold Shoulder Maxi Dress
- Ashley Nell Tipton for Boutique+ at JCPenney
Comfortiva Beck Wedge Sandal
- Amazon
Laniakea Petal Necklace with Chain Dangles
- Nagasako Designs
Flower Headband - Ulta & DIY
Lipstick - Colourpop's
Ultra Blotted Lip in Out of Beach
Sean and I found a grassy field and decided to try to take some artsy photos while we still had some light. I really like the way these photos turned out. And while the second one below is super dark and had to be lightened up quite a bit in the editing process, I wanted to share it because it really spoke to me. There is something about the dark dreaminess of it that I am really drawn to. I posted that photo on my personal Facebook page to show it to my friends and talked about how, when we shot these photos for the blog, I had to endure a lot of car honks, yelling, and gawking from cars full of folks. While attention while being photographed normally isn't a big issue for me, the yelling and honking gave me some roadside PTSD from when I used to walk everywhere. People yelled insults at me, threw things at me (
like drinks and firecrackers
), almost hit me with their cars, and a guy even attempted to kidnap me once. Those were all extremely scary and frustrating times for me when I was stuck in a dark place I never thought I would get out of - both mentally and physically. Feeling those feelings again as a flashback shook me up a bit. When I posted the photo on Facebook, a friend said, "You look beautiful in the face of the pain of the past." That poetic statement really resonated with me and made me proud of who I am today and how far I have come. I try not to think too much on painful things I have been through, but in that statement I was reminded of just how much I have to be proud of. So if that photo was a work of art, I would call it "Wistful Warrior".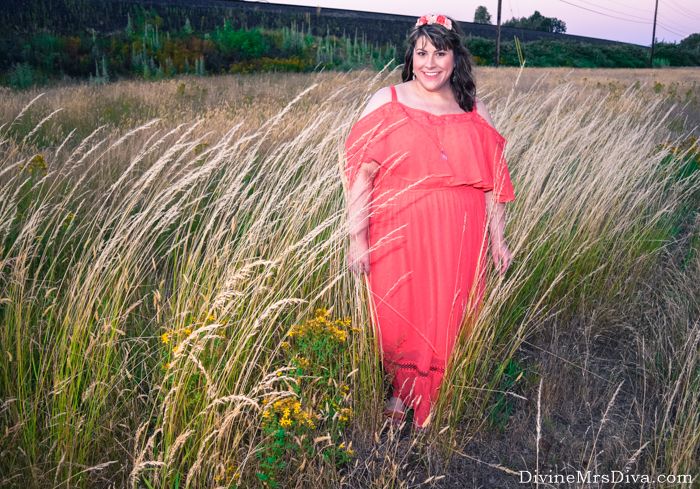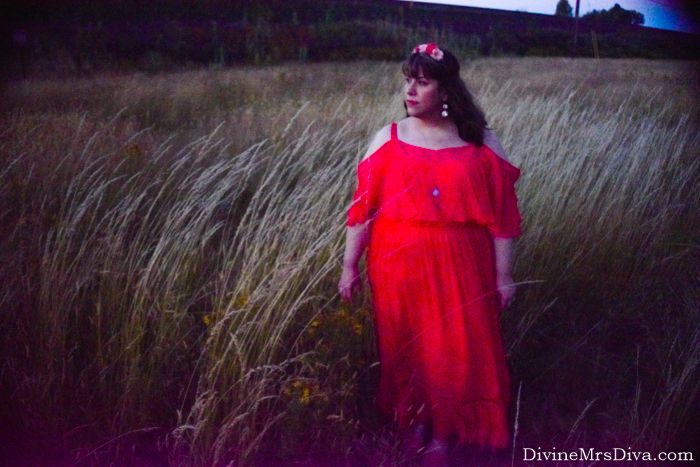 Do you shop at JCP and/or love the Ashley Nell Tipton line? Are you binging a show on Netflix? Do you forget to give yourself credit for everything you've made it through? Let's chat.