Yesterday I had the pleasure of being a guest on my local news station's afternoon show, KATU Afternoon Live. I've been prepping for about a month, narrowing down topics and trying to find just the right pieces to present in my segment.
I chose to talk about elevating a basic jeans/tee/sneakers look because so many of us are just casual folks. I am a very practical girl that likes to be comfortable. Casual fits my lifestyle. But I also love adding color, sparkle, fun and personality, feminine details like ruffles and lace, and other interesting embellishments to my ensembles. I always have people ask me how they can be more fashionable and look cute, while still being comfortable.
I hope you enjoy the video and find my tips for elevating your look helpful!

First up, I want to give you some links to items in the video for those of you who saw something specific you liked. Some of the items are no longer available, but I will share similar item links when I can. Then I am going to talk a little about why I am passionate about this topic before I go on to talk about each category I mentioned in the video. I may elaborate on each of these topics, but will definitely provide you with more examples for each category. Finding deals, sales, and being budget-friendly is also very important to me. I will also provide links to consignment and secondhand websites and give tips for saving money. When I link to similar items, I do my best to find items that are much like the item in question and cost around what I paid for said item (
or cheaper, if I can
).
As seen on KATU Afternoon Live
Shoes
(Clockwise from top left)
Jeans
Tops
Jewelry
(From left to right)
Purses
Consignment/Secondhand Stores and Websites
Subscription Services
Casual and Comfortable Doesn't Mean Unfashionable!
If you are a casual lady browsing the Internet, you may sometimes feel that casual and fashionable don't mix. As a blogger, I often feel there is a pressure or judgment on me for not being dressier. I like to get dressed up now and then, but for the most part I live a laid-back life in a laid-back part of the world where dressing up is not usually required. There is nothing wrong with being casual or dressy, but I find that a lot of brands and bloggers promote a dressed-up version of casual that just doesn't fit into a lot of people's lifestyles. This ends up making women feel less than or unfashionable because they don't want to wear 4-inch heeled boots or fussy dresses or pleather pants to run errands or take their kids to the playground.
You don't have to dress in a way that is impractical to your life to be cute or fashionable. And the idea that a lot of women feel that way encourages me to continue being myself. I see it as my calling to help other casual, practical, comfort-loving women like me know that they can be spectacular and fashionable and cute and sexy and pretty, while also being being comfortable, feeling like themselves, and wearing clothes that fit their lives.
More Examples
This is by no means a comprehensive list, but I did spend days of
compiling these examples
in hopes that it will help you brainstorm future ensembles! I stuck with stores I actually shop from, in sizes I actually wear, with varying price points. If you are feeling a little nervous stepping out of your comfort zone and trying all of these ideas for yourself, start by picking one category you feel comfortable with. Try it out. Whether it works for you are not is an adventure waiting to unfold! Once you feel comfortable with something new, try the next new thing.
I encourage you to try on everything! This is the best way to shake up your thinking and help you see clothing and your body in a new (and awesome) light. Take a trusted friend and try everything on. Take pictures on your phone so you can go back and look at them later. Clothing is supposed to be fun. Your body is not the problem just because something doesn't fit. You are paying for the clothes to work for you. They are performing a service. They should work for you, not you conform to them. I go into the dressing room like it is a science experiment. I have no expectations and just see how things work. I have never done this and not learned something new and exciting about myself. I've found colors and styles I thought I couldn't wear that ended up looking wonderful on me. I learned how my body has changed shape since I had cancer and as I age. It isn't about judging yourself, but celebrating your beauty and your body and looking for items that make you feel great.
So go out there and HAVE FUN!
Ways To Save Money
Below is a sampling of items I curated for
a Pinterest board
that expands even further on today's post. You can see many more examples of items in each category that follow along with the tips I am presenting.
Look for shoes beyond the utilitarian sneaker. Fashionable sneakers and slip-ons with comfort exist! Add color, print, and texture to your look by seeking out shoes with these details. Go with prints that include at least one color you have a lot of in your closet to maximize their wear. This also applies to flats, sandals, wedges, boots, and more! I wear an 11 wide typically. My favorites are Comfortiva (
in which I wear a wide
), Rockport Cobb Hill (
in which I can wear a medium width
), and Crocs (
mostly for sandals. I can't always comfortably wear a regular width. It really depends on the style of the shoe. Most flats and sandals work just fine
).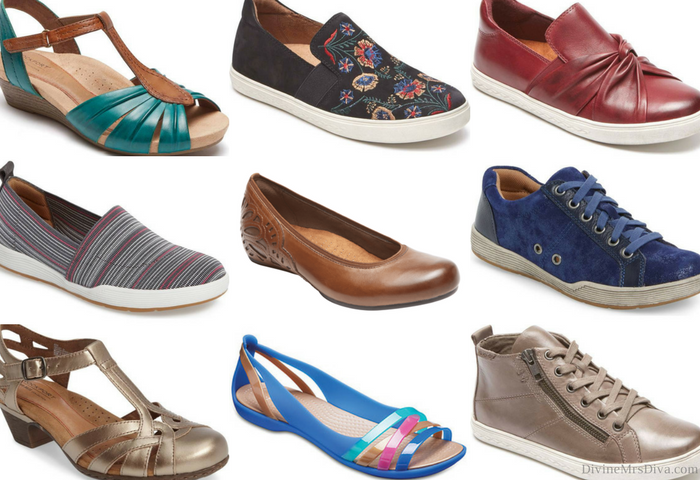 Top Row: 1 / 2 / 3
Middle Row: 1 / 2 / 3
Bottom Row: 1 / 2 / 3
Swap your plain jeans for some with embellishments and deconstruction. Embroidery, pearls, and painted designs are very on trend as of late, so now is the time to start looking for items you love if this style appeals to you. As always, fit is key. Try on as many brands as you can and be open to trying on multiple sizes. Jeans shopping can be a pain for women across the size spectrum, but plus size women don't have nearly as many stores or options to try out. Most of my jeans are from Lane Bryant, Melissa McCarthy Seven7, Catherines, and Torrid. In more generous boyfriend styles, I am able to size down. Just TRY IT ON!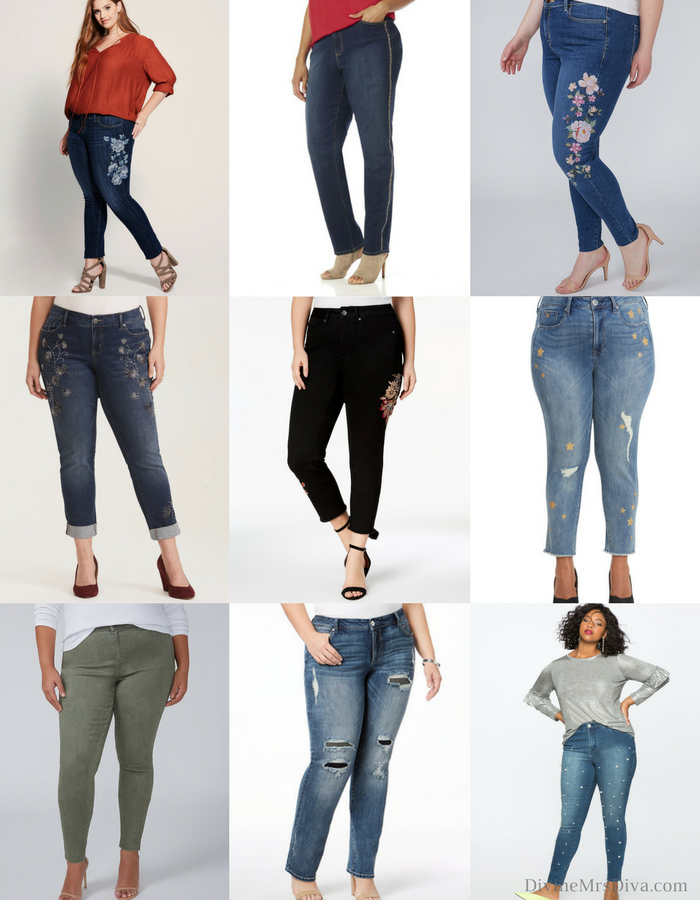 Trade in that plain tee for easy pieces with interesting necklines, gorgeous prints, happy colors, and fun details. Layer with cardigans, kimonos, blazers, jackets, and scarves. Don't be afraid to bare your arms if that is something that is holding you back from trying a new style. Trust me, I know it can be hard. I actually didn't start going out in public with bare arms until the last couple of years. But it is 2018 and you are a fierce, badass, take-charge lady! If it is too hot to wear a shrug, don't wear it. Practice baring your arms in public in small increments of time at first - 5 minutes, 10 minutes, etc. The more you practice, the better you will feel.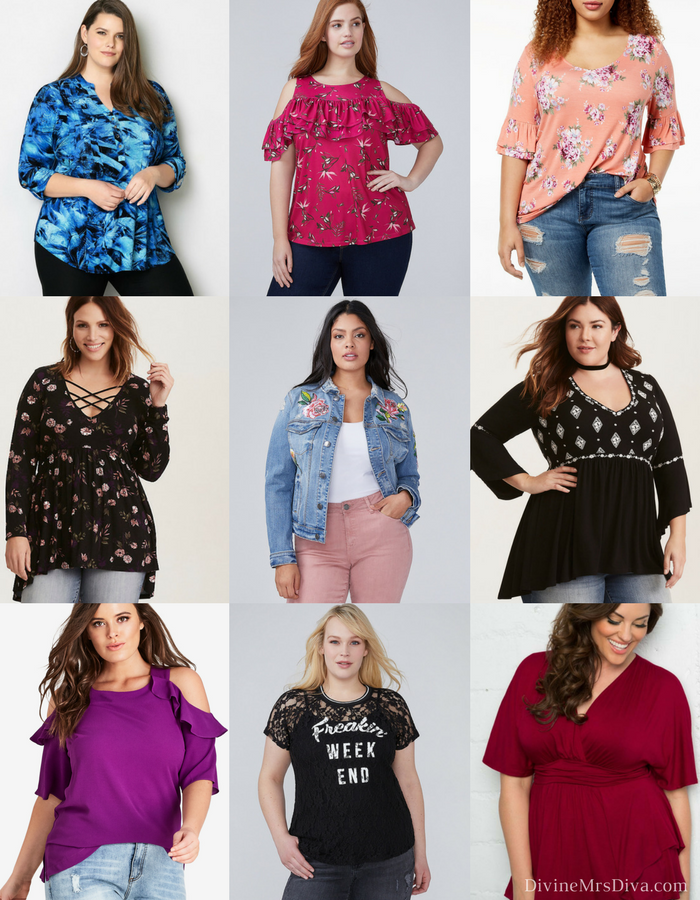 Accessories are a great way to add color, sparkle, and more fun to your look. This is also the easiest and least expensive way to add pizazz. Statement earrings and long necklaces are my favorite accessories. Quirky long necklaces with rhinestone animals are kind of my jam. Don't be afraid to add your personality and humor into your outfit! Of course, if earrings or necklaces aren't your thing, try bracelets or rings. Charming Charlie is one of my favorite places to find a variety of jewelry, handbags, and other accessories. They also tend to have some great quirky pieces too. Their website is still down as they are retooling, but you can head to a store near you!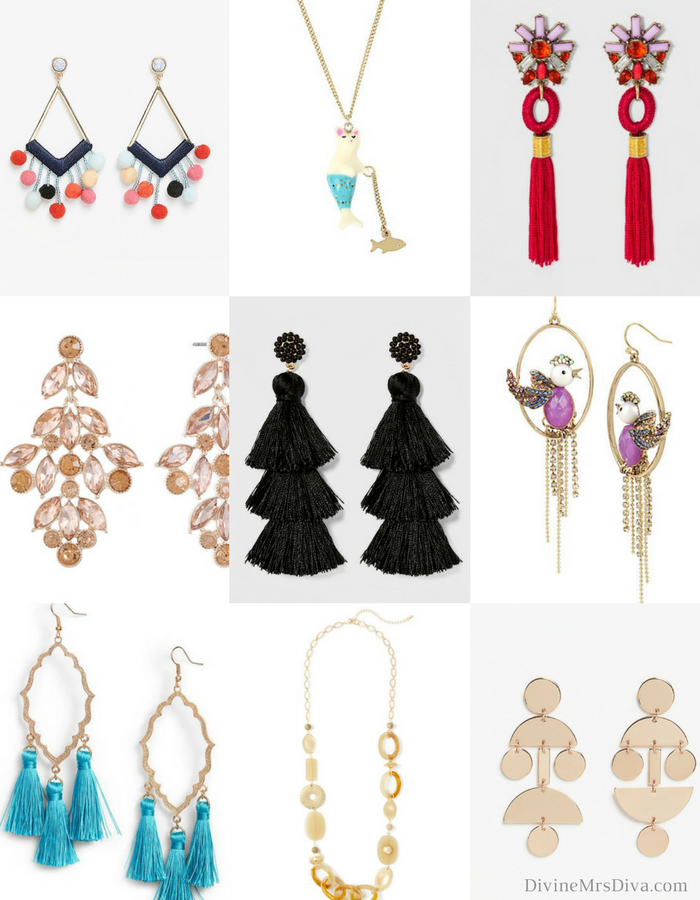 Handbags can also add color and texture to your look. Had the same black purse for 10 years? Try adding a pop of color with a brightly-hued bag. Embroidery, prints, and colorblocking are also great features. Use scarves tied to the purse handle for a touch of color and print. Additionally, if the strap can be removed, find interchangeable straps with color and print to change up the look of the purse! Amazon is a great place to
find extra straps
. I found that a 53-inch strap is about ideal to fit across my body.
Throw out all the rules. Embrace your body. Only try the trends you want to try. In the end, it is about wearing what makes you feel like YOU and what makes you feel like your best self.