Today's post features a couple of new pieces to both myself and the blog. I'm happy to announce that I will be on a local news program next week talking about how to elevate a casual look. I'm really excited to talk about what I love, and terrified to be on television and do something so new to me. (
But also really excited about that too!!
) I'll keep you posted via social media and here on the blog for all the details and video.
If you have been reading the blog for a while, you know how much I love being casual and comfortable. You also know how much I love color, sparkle, and pulling together looks that make me feel super cute. So today's post is a prime example of how I like to elevate a jeans/top/sneakers ensemble, while keeping true to my personality and need for comfort.

- I purchased the items in this post. All opinions presented are my own and without influence. This post contains affiliate links and I will be compensated if you make a purchase after clicking on my links. -
Before we get started, I am 5'9", typically wear a 22/24, wear a 40B bra, a size 11 wide shoe, and my measurements are 52/49/58.
Let's start with this top! I love this pleated Avenue top and own various colors/print versions of it. You can check out a couple of those
here
and
here
. What I love about this top is the pleating that gives it a more A-line shape. This allows the top to flow away from my tummy rolls and not cling. The pleating adds that extra room that accommodates my figure nicely. I particularly love the v-necklines with a zipper instead of buttons, so I have the option to make the top a little more sexy if I choose. A three-quarter sleeve means I can wear this top for a majority of the year here. Any multi-season top is awesome in my book!
The
Lace Yoke Pleated Top
is only available in a size 14/16 now. Regular $49, it is on sale for $24.88. Avenue does tend to have a lot more sales now, so it is a safe bet you can purchase these tops for around $25 throughout the year. They come in many colors and prints, so even if you don't see anything that speaks to you now, keep on checking back. This is a style that Avenue carries year round, in multiple colors and prints, and even in tank form. While they don't always call them the same thing, search for "pleated top" or "popover" to find this style. (
See the end of the post for a variety of colors available now!
)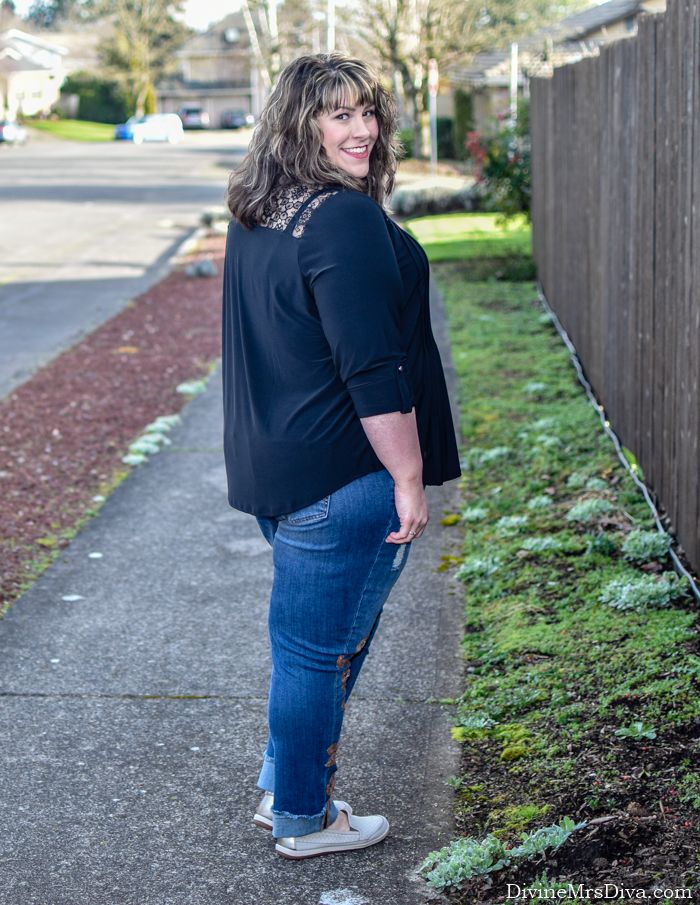 I am wearing a 22/24 and find it fits true to size. The fabric is a polyester/spandex, so it does have stretch. This also means it is pretty lightweight and travels well. Because of the polyester content, I wouldn't recommend wearing it on really hot days. It can be too stifling in super hot weather. I don't wear a lot of black but needed more for my wardrobe this past year. I definitely bought this one for the lace shoulder detailing. It adds such a pretty touch to the all-over black and makes it a little lighter and brighter near my face. I am wearing a regular black bra with this top. If you hate seeing the straps, I nude or strapless bra are both great options for an undergarment.
I paired the top with my new Melissa McCarthy Seven7 Sequin Applique Skinny Jeans. As you know, Melissa's line is no more. I was able to snatch these up for $15 during the final clearance sale. You know how much I love to sparkle!! These jeans are sold out online, though
Amazon
does still seem to have a big selection of Melissa's brand. I am wearing a 24 and find they fit true to size. They have stretch and are super comfortable. I was a bit intimidated about what to wear with the sequins at first. Black is a natural choice, but they go with so many colors. Gold is a neutral, people. I love the contrast of the gold sequins and destruction, and definitely look forward to wearing these jeans a lot more.
I kept my shoes neutral with my taupe-nude
Cobb Hill Zahara slip-ons
. These are one of the most comfortable shoes I own, even more comfy than my Danskos. I've become a huge Cobb Hill fan, but you already knew that. Still, the outfit needed some color, so I went for that pop of pink in my brightly colored purse and fuchsia fringe earrings. I wore this look out to the comedy club when Sean and I went to see Guy Branum perform. I just adore him!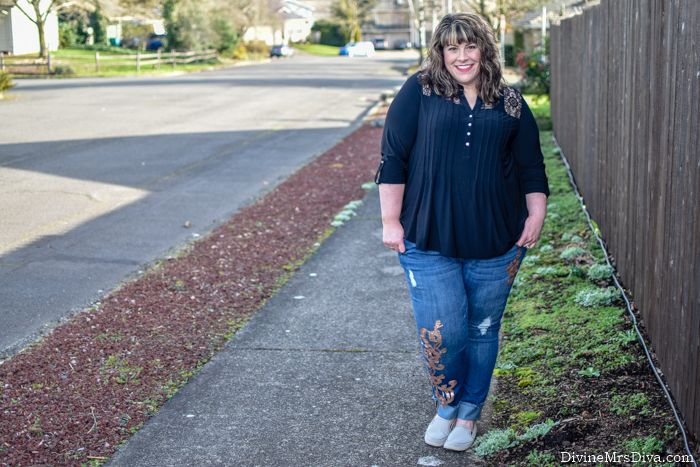 Lace Yoke Pleated Top
- Avenue
Sequin Applique Skinny Jeans
- Melissa McCarthy Seven7
Zahara Flats
- Rockport Cobb Hill via Amazon (also available
here
)
Liz Claiborne Joan Crossbody Bag
- JCPenney (
similar
,
similar
)
SugarFix by BaubleBar Fringe Earrings
- Target (
similar
,
similar
,
similar
)
A look at all of the tops in this style available right now over at Avenue!
Top Row: 1 / 2 / 3 / 4
Middle Row: 1 / 2 / 3 / 4
Bottom Row: 1 / 2 / 3 / 4
Top Row: 1 / 2 / 3 / 4
Middle Row: 1 / 2 / 3 / 4
Bottom Row: 1 / 2 / 3 / 4
Top Row: 1 / 2 / 3 / 4
Middle Row: 1 / 2 / 3 / 4
Bottom Row: 1 / 2 / 3 / 4
Have you tried this style of top? What are features you look for to add fun and personality to your casual ensembles? How would you style these sequin jeans?