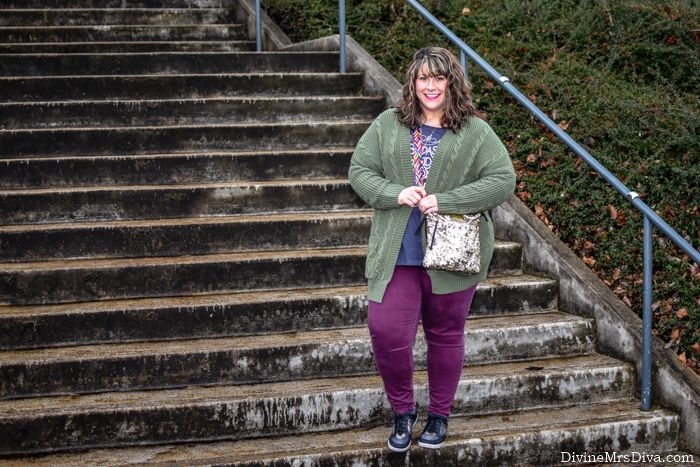 I've had a cold for a week now, but finally started feeling more like myself today. I am seldom sick, so when I am it is so frustrating. I hate not feeling productive, but Sean made me rest and be still.
It is still sweater weather in my neck of the woods, so today I'm talking about trying out the oversized cardigan trend. I first saw this particular sweater on Amanda of
Fashion, Love, and Martinis
. We wear similar sizes even though our bodies are shaped different, so I figured I would give it a try. I'm not a huge fan of oversized pieces. As you know though, I am always pushing you to try everything on and keep an open mind. I practice what I preach. So read on for my review of the various elements of this look and my feelings on the oversized cardigan.

- I bought the items in this post. All opinions presented are my own and without influence. This post contains affiliate links and I will be compensated if you make a purchase after clicking on my links. -
Before we get started, I am 5'9", typically wear a 22/24, wear a 40B bra, a size 11 wide shoe, and my measurements are 52/49/58.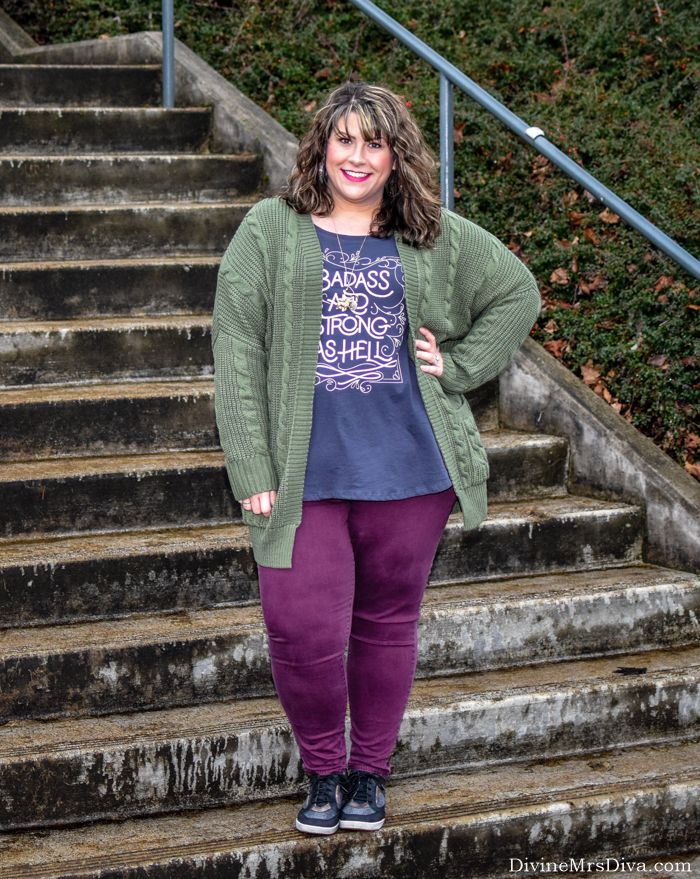 This cardigan
is an Amazon find and retails for $27.99. It also comes in black, mustard, and grey, in sizes 4/6 to 18/20. I'm wearing the Army Green color in a size XXL, which translates to an 18/20 according to their size chart. However, I typically wear a 22/24 and found it to fit as I imagined. It wasn't quite as "oversized" as I thought it would be, which suited my personal aesthetic just fine. The sweater is plush and thick without feeling overly hot or heavy (but it did keep me warm). It is soft and cozy and incredibly easy to wear. The tag says it is 100% acrylic.
This shade of army green is definitely more muted in person than it appears on the model. I am not a fan of the drop-shoulder and more dolman-like sleeves, but I chose to push beyond that when trying out this look. I initially hated this sweater on me when I tried it on because I am not used to wearing really oversized pieces. I came really close to just sending it back because I kept telling myself it looked horrible. But after wearing it around town a few days, taking photos, and seeing the photos on my computer, I decided that is was just fine. Sometimes you need to just step back and look at everything more objectively. Obviously, my anxiety plays a big hand in my Negative Nelly freak outs, so giving myself some time is vital.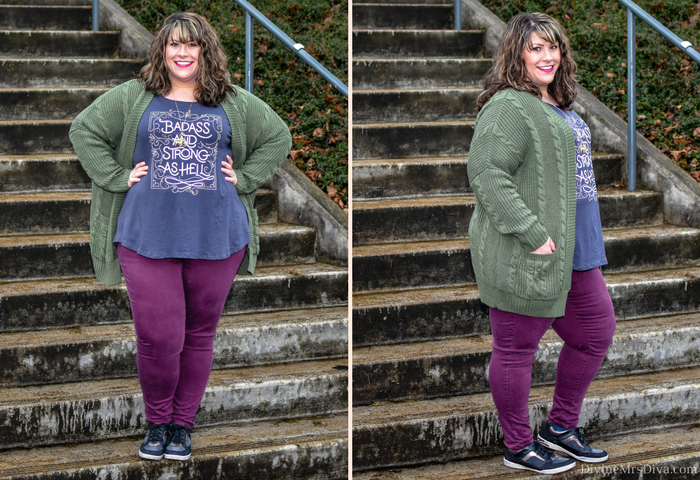 In styling the look around the cardigan, I wanted to try something different than the usual skinny jeans, boots, and tee that so many people wear with it. However, I did want a complementary color with a more fitted silhouette to balance the oversized cardigan. I decided to try out my wine-colored skinny jeans again. You last saw them in
my monochrome endeavour
, in which I felt a little out of place. I'm much more comfortable in these jeans today, and more comfortable with that monochrome look. I am wearing a 22 in the jeans. While the wine color is no longer available online, they do still have them in
olive
, as well as
a host of other colors and washes
in this length and slightly shorter ankle jeans.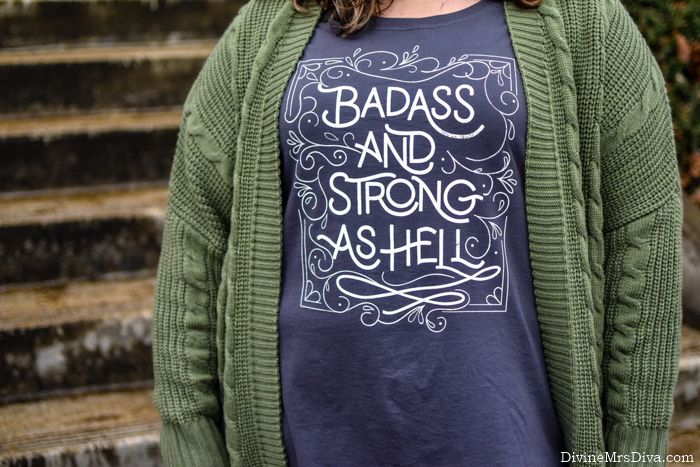 To pull the colors together and give them a neutral base from which to pop, I chose my
black and grey raglan tee
and
new black sneakers
. The raglan tee isn't necessarily fitted, but ended up being a great length to go with the jeans. I am wearing a 3 and find it fits true to size.
This top
is still available in Torrid sizes 0 (12) to 5 (28). When I saw the graphic, which says "Badass and Strong As Hell", I had to have it. It is often really hard for me to acknowledge my strength and badassery, though friends tell me these things often. After kicking cancer's ass, the words mean more to me now than ever before. It is important to acknowledge our strength in the face of adversity, no matter how big or small, and to pat ourselves on the back and honor ourselves for what we have accomplished. For me, this shirt is a little nod to that.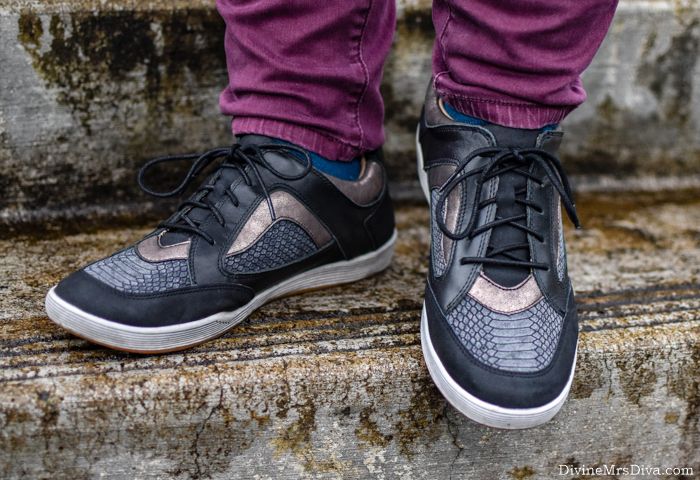 The
black sneakers
are a Zulily find by Comfortiva, one of my favorite comfort shoe brands. They are regularly $90, but I got them for $50 from
Zulily
. They are on sale for $62 on the
Comfortiva website
. I am wearing an 11W and find they fit pretty true to size. They looked super small out of the box. I was actually surprised when they fit. I can't wear a super thick sock with them, but they are a comfortable fashion sneaker. The snake print detail adds texture, while the gold metallic foil detailing adds subtle shimmer. As usual, I want them in all the colors.
This brings us to the last piece of our sartorial puzzle - the bag. I found this sequin crossbody via Kohl's during a holiday sale. It is regularly $60, but I nabbed it for $25. It is no longer available online, but the same style is available in a
black lace
and solid colors
red and blush
. The crossbody strap was long enough (I have pretty good luck with this), but the words "JUICY COUTURE" were written all over it. I don't like to be an advertisement in that way, so I found this colorful strap on Amazon to replace the original. While the strap isn't quite as long as I wanted it to be, it works just fine. It is strong and sturdy, made from a seatbelt-like material. I get so many compliments on this sequin/multicolor combo when I wear it. I also love how the gold sequins play off the gold in the shoes, while the strap contains both the wine and olive colors of the rest of my outfit. I just love the way everything works together in this ensemble.
Dokotoo Open Front Long Sleeve Cardigan
- Amazon
Badass & Strong Raglan Tee
- Torrid
Super Stretch Skinny Jeans
in Wine - Lane Bryant (
Dark Olive
)
Black Lemont Leather Walking Shoe
- Comfortiva via
Zulily
(On sale
via Comfortiva
)
Juicy Couture Sequined Flat Crossbody Bag - Kohl's (
similar
,
similar
)
Multicolor Crossbody Strap
- Amazon
How do you feel about the oversized cardigan, or oversized pieces in general? How would you style this piece? Is there another trend or item you have thought about trying? Is there something you want me to try? Let's chat!