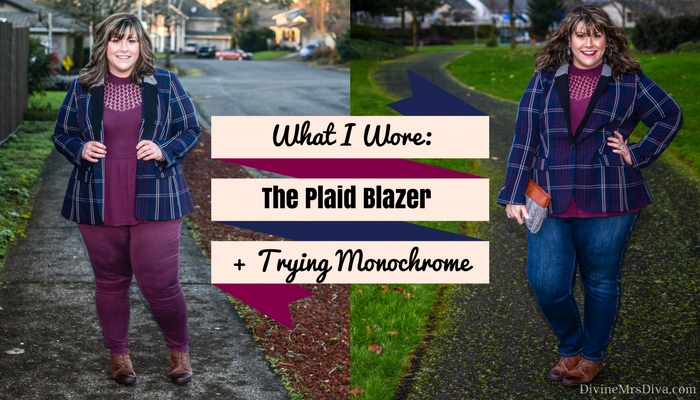 It is very rare that I find a blazer style that fits my body well. Because of my smaller bust and large hips, I have a problem finding a blazer that fits both. There is usually way too much fabric on the sides of the bust, or the jacket is just a rectangle, or the arms are too tight, or the sleeves are too long or short, or the jacket is too short and oddly long. It can be a combination of any of these issues.
But on a recent trip to Lane Bryant to spend my Rewards check (
for using my credit card
), I decided to try on this cute plaid blazer. Because why not? I rarely get a chance to try on clothes in stores these days, so it is still important for me to try new styles and silhouettes when I get the chance.
I was shocked when the blazer fit and looked super cute. It made me feel adorable, look pulled together, and was a great addition to my wardrobe as a jacket. I just had to have it! So today, I'm reviewing new pieces from Lane Bryant in this blazer and Super Stretch Skinny Jean, a Torrid top, and sparkly jeans from Catherines. I show you a monochrome version of the look, and then change it up with blue jeans. Enjoy!

- I bought the pieces in this post. All opinions presented are my own and without influence. This post contains affiliate links and I will be compensated if you make a purchase after clicking on my links. -
Before we get started, I am 5'9", typically wear a 22/24, wear a 40B bra, and my measurements are 52/49/58.
Today, we are talking about about two different looks. I'm going to start with the monochrome look. I was really excited to put this ensemble together and try something new for me. I bought these Super Stretch Skinny Jeans at the same time as the blazer, knowing they would go together well. This monochrome ensemble was the outfit I intended on wearing out, but my anxiety kicked in and started telling me I looked terrible in it. I feel like I even look a bit uncomfortable in the photos. I spent a long time trying to do my hair and get it just right and was bummed when I felt the outfit didn't look like what I wanted it to.
As I was preparing these photos for the blog, I realized my anxiety lied. I was trying something new that was a bit out of my comfort zone, which probably made me freak out a little bit, but it doesn't look bad. Just as I constantly encourage all of you to push your boundaries and try new things, I encourage myself as well. You won't always like it. Items won't always work for you, but I always come away with a new understanding of my body, my mindset, or find inspiration for putting a different type of look together. And sometimes your perception can trick you in the moment. If you are having a bad day, you may think you look terrible. So revisit these times or outfits and give yourself another chance.
Look #1 - Monochrome
When I bought these pieces at Lane Bryant, I immediately wanted to pair them with the burgundy Pointelle Knit Peplum Sweater I purchased from Torrid. Adding a different texture to a monochrome look is a great way to make it more interesting. The burgundy hue matches the jeans almost exactly. This top is no longer available online, but I am wearing a size 3 and find it fits true to size. It looked a little small out of the package, but it hugs my bust just right, while the peplum skims my tummy and hips. I really like the silhouette, plus the soft sweater material is comfortable and cozy to wear. A high neckline is also a bit out of my comfort zone, but I love the crochet detailing and flirty show of skin. If this top comes back in stock, I highly recommend it!

The

Super Stretch Skinny Jean in Wine

(

limited sizes available online

) called to me at the store. There was once a time when I couldn't find any colored denim in plus sizes. When it was super duper popular, I didn't think skinny jeans were my jam. I'm happy colored denim is still being made because it is a really fun way to change up your usual denim look. I'm a casual, jean-loving girl, so having some colorful options to choose from adds selection and makes me very happy.

I tried on these jeans in a 24, but found them to be a little baggy in the booty and waist. I was concerned a 22 wouldn't fit, but I tried them on anyway. These jeans are super stretchy and are still really comfortable. The 22 was perfect. Yes, they are very figure-hugging, but my butt looks amazing in them! I was so excited that the smaller size fit because that meant if they stretched out, there wouldn't be a saggy butt or baggy knees like if I bought the larger size.

I've worn them out twice now. Both evenings were full of walking around, sitting down and standing up, walking up and down stairs, eating and drinking, and other such fun activities. They have yet to stretch out at all and have retained their figure-hugging shape. Most recently, I wore them with a chambray tunic, which I still need to photograph for the blog. I have washed them as well. They have still retained their shape and color. The fabric is 56% Cotton, 34% Tencel (similar to rayon), 8% polyester, and 2% Lycra. The denim soft and not too thin. They seem to smooth out my lumps and bumps instead of accentuating them. The rise isn't too high or low, which is also a plus. I am wearing a regular 30" inseam, but they also come in a Petite 27" inseam. I also bought them in

Olive

.

I think my only complaint is that they tend to gather at the knee a little because they are tight and I have big calves. I don't think it looks bad or takes away from the item itself. I would rather they gather a bit instead of stretch out and get baggy. The

Super Stretch Skinny Jean

is available in many different washes, a few different colors, some different lengths, and with various embellishments and deconstruction as well. If you haven't tried Lane Bryant's new denim, give it a go. I was skeptical. I haven't bought jeans there in a really long time. But I'm very happy with these new skinnies and the fabric they chose to make them.



Look #2 - Blazer + Sparkly Tuxedo Striped Jeans
While I intended to wear the monochrome look out, I ended up changing the jeans when I didn't like the previous look in the moment. I love the way this outfit turned out because the sparkle stripe on the jeans adds an element of "suit-inspired" that really pairs nicely with the blazer. It mimics the lines and feel of the blazer, while adding that extra sparkle I love. I did shoot these pictures the following week. It was really windy out and I am in desperate need of a hair appointment.

The

Bryant Blazer in Plaid

was something I saw online and thought was cute but, as I mentioned above, I didn't think it would work for me. Once I tried it on though, I was sold. The plaid is only available in sizes 18 and 20 online, but

they do carry different colors, patterns, and textures

of the style as well. I am wearing a 24 and find it fits pretty true to size. As I mentioned, it is the best fitting blazer I have found thus far. There is still a little bit of extra fabric on the front sides of the bust, but it is nowhere near what I usually deal with. The stretchy knit fabric (cotton/rayon/spandex) is really comfortable to wear and helps give a better fit. The jacket is lined, with decorative front pockets, one button closure, and sewn cuffs with no button. Apparently the collar and lapel is supposed to be worn popped up. I have only seen the collar up on folks who have been wearing it. I don't really like this look and the collar would bug the crap out of me, so I fold it down. Occasionally, I have to refold it because it does want to unfold if I take the jacket off, but it isn't super annoying. The grey portion of the collar is a thick felt material. It is stiff enough to stay in place, but it is soft enough that it doesn't scratch or poke. The hem hits me right at the mid-hip/top of my thigh, which is a pretty good length on my body. Shoulder pads are included. Right now, I haven't cut them out, though that is something I usually do with anything that has shoulder pads. They aren't too bulky though, and help balance my pear-shaped frame.

The

Sparkle Stripe Jean

from Catherines was an item I had on my Wish List that I was keeping my eye on. Once they went on sale, I decided to snatch them up. I am wearing a 24W and find they fit true to size. I still adore my Catherines Girlfriend Jeans and find their straight leg styles to be similar. While my Girlfriend jeans don't really stretch out, the fabric blend on these (cotton/poly/rayon/spandex) means that they do stretch out a little. I found that the thighs got a little loose after an evening of constantly sitting down and getting up and moving around. They didn't look bad though. The pictures are another wear without being washed in between, so this is how they look stretched out just a little. I love the 29" inseam (I can wear flats!) and the darker wash. These jeans do also come in Petite with a 26" inseam. (Regular $70, they are now on sale for $26.39!)

The sparkle stripe seems pretty durable to me. It is extremely sparkly, nothing has been falling off, and even when I got my pants caught on my friends car seat the sparkles were still in tact. The sparkles are such a fun element to these jeans. I had strangers I walked by in the city tell me they wanted their own pair. That is always a good sign.

I am a little disappointed that these jeans don't have elastic in the waist. You know I was totally against elastic-waist jeans before

I worked with Catherines

a few years ago. Since then, I have come to embrace the positives of some elastic in my jeans. I prefer the hidden elastic like my Girlfriend jeans, or the small side panels

.

With my Girlfriend jeans, the hidden elastic waistband means that the waist doesn't stretch out at all. They are my go-to travel jeans because of this (

and they also don't stretch out fast, they can be jean or capri length, they make my butt look amazing, and WHY aren't they still carrying this style!?!?!

). So yeah, I was bummed these have no elastic waist. That said, the waist was still perfectly fine after my two days of wear, so I shouldn't complain too much.

For accessories, I went comfy with my

Comfortiva Cascade Boots

(11W). We were walking around the city with friends, celebrating Sean's birthday belatedly. I wanted comfort, but something a little more elevated than sneakers. Initially, we were headed to a posh Whiskey Bar, but that four hour wait to get in forced us to bar hop and taste whiskey drinks along the way. We had a great time! My clutch is a

ThredUp

find. It was originally $48; and I bought it for $15. It looks brand new and fits a surprising amount of stuff. I have never been a small purse kind of girl, but I've been trying to carry less, especially for nights out. The soft cable knit sweater material went perfectly with the whole look. I was so happy I finally got a chance to use it.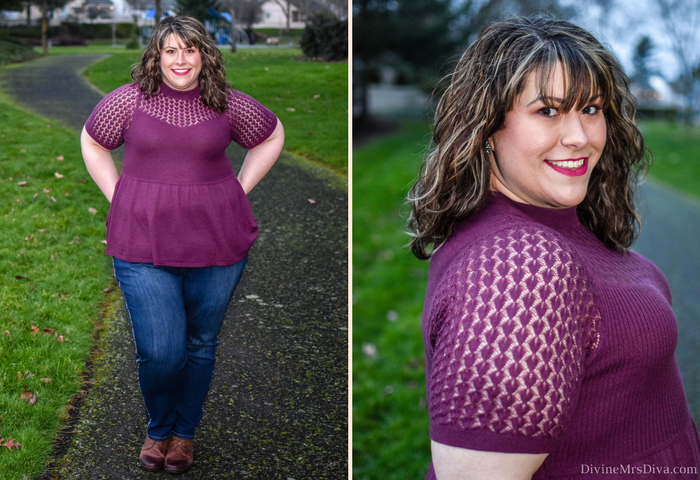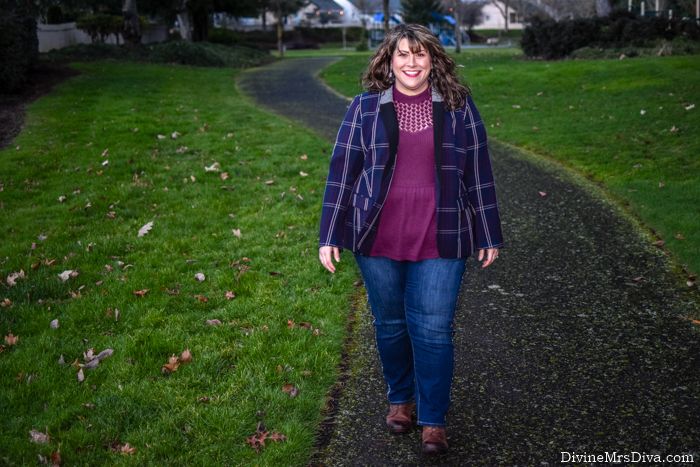 Bryant Blazer in Plaid
- Lane Bryant
Pointelle Knit Peplum Sweater - Torrid (
similar
)
Mud Pie Cable Knit Clutch -
ThredUp
(New customers: Use my referral code to get $10)
I present you with a few photos from our little jaunt in the city. Our friends made a tasty dinner of empanadas, Spanish rice, and a meatloaf roll-up thing that was wrapped in bacon. So tasty!! We had dinner, played a game, and then walked around downtown. We also stopped into Ruby Jewel for some ice cream.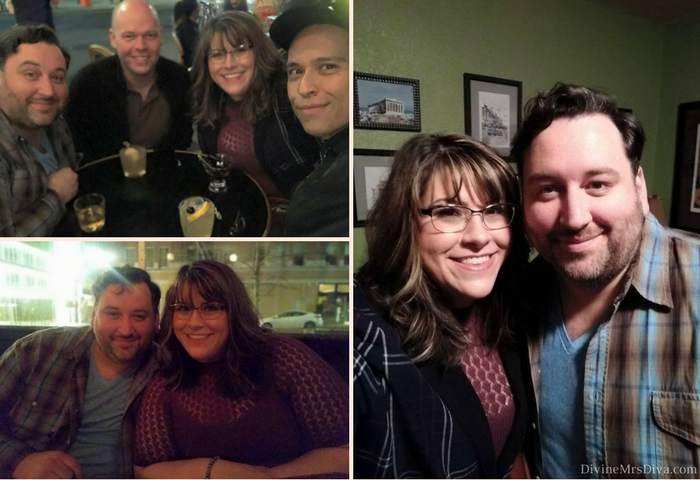 Do you give yourself a second chance when it comes to trying on clothes? Are you able to separate your body from the clothes so you don't perpetuate the negative body comments? Is there a style that just hasn't worked for you yet?